Paul Smith: 'I'm still blessed with enjoying every day'
Paul Smith's first shop, which opened on Friday 9 October 1970 at 6 Byard Lane in Nottingham, wasn't exactly a shop. "I realised I couldn't afford a shop, but found a room and called it a shop," the 74-year-old fashion designer says. There was damp on the walls and no windows; it was only open on Fridays and Saturdays and to reach it you had to snake down a corridor. It had a fancy name, Paul Smith Vêtements Pour Homme, but a modest selection: it sold clothes (made by other people back then) and some odd bits, such as magazines and records. On that first Friday – somehow, he's not sure – Smith took £35. He chuckles, "How the heck it survived is absolutely amazing!"
The manager was an imposing blond named Homer: an Afghan hound belonging to Smith and Pauline Denyer, his then-girlfriend, now wife. "Homer was in charge and I worked with him," Smith explains. "The interesting thing was that we looked exactly the same: big nose and long hair. And everybody talked to him first, of course, which I used to get a bit upset by. They'd all walk in and say, 'Hi Homer!' Then, 'Oh, hello Paul.'"
A half-century on, Smith has grown – somehow, he's not sure – that room in Nottingham into 166 stores in more than 60 countries on five continents. From £35 on that first day, the business had a turnover of £215m last year, which was 9% up on 2018. He is one of fashion's true pioneers: in the 1980s, after a trip to the US, he put his spin on boxer shorts and sold them to the world; in the 1990s, he was one of the first designers to print photographs on to fabric. Along the way, with Giorgio Armani and others, he deconstructed the suit and made it something you might wear not just for work. Smith cannot claim to have invented stripes, but no person is more synonymous with that pattern. As the former Apple designer Jony Ive writes in a new Phaidon monograph, Paul Smith: "He celebrates colour as if it were about to be made illegal."
Smith first went to Japan in 1982, when the country was scarcely a blip on fashion's radar in the west, and more than 100 visits later he continues to enjoy astonishing success there, with more than 200 stores under licence. And, almost most impressively of all, the company that bears his name is still majority-owned by Smith himself. "So many of the brands around the world now are owned by just four companies maybe," he says. "Independent companies are almost like a rare Penny Black stamp these days."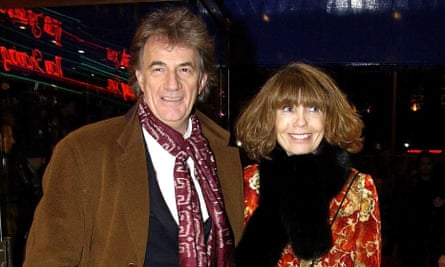 Pauline, the source of my inspiration: 'We still love each other, we're still together, we really enjoy each other's company, we've never aspired to like yachts or private jets.'

Photograph: Alan Davidson/Rex/Shutterstock
Maybe because Smith is so unassuming, he is perhaps not immediately thought of as one of Britain's great business-builders and entrepreneurs. Or it might have something to do with his office in London's Covent Garden, where he is this afternoon surrounded by bicycles, priceless works of art and bizarre curios sent to him by fans. It's been called "the paracetamol room" by staff because it is such a sensory overload that you always stumble out with a headache. Minimalist it ain't. But with the brand turning 50, Smith has had to confront the inescapable truth that he is doing some things rather well.
"More recently, you've had to take the whole thing seriously obviously, because you've got 1,800 staff or something," he says. "But in the early days, I was a shop assistant for six years before I met Pauline. Then we thought we'd open a little shop and we only opened it two days a week and the rest of the week I was doing other jobs that came along just to earn money. It's always been so honest and lovely, and I think that's probably why it's done all right, because it's got really solid foundations."
So what are Smith's plans for the 50th birthday? "I'm going to really let my hair down and get drunk in a pub," he replies, sotto voce. A big bash with five friends? "Yeah, well, obviously it's a bit sad it's in this year, but I'll probably have a nice little quiet dinner with my missus, who was the instigator of the business in the first place anyway."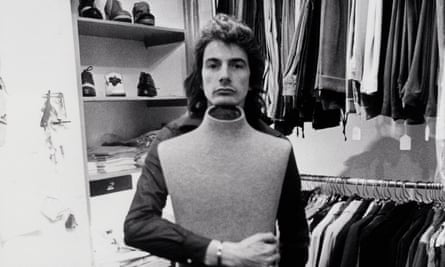 A stitch in time: messing about with a tailor's dummy in the early days.

Photograph: Courtesy of Paul Smith
Part of the fun of the anniversary for Smith has been trawling through the archives and reminiscing on how it all began. Homer's flowing locks featured prominently in the campaign for the spring/summer 2020 collection in the form of a photograph taken by Smith's father, Harold, that was a backdrop for the models. It's also been a reminder to Smith of how much of the Paul Smith ethos was there from the outset. Today, his shops might have a room with 26,000 dominoes glued to the wall (London's Mayfair) or covered in hundreds of old mobile phones (Paris) or cassette tapes (Tokyo), but even starting out, Smith was determined to turn shopping for clothes into an experience. When he learned the building on Byard Lane that housed his first shop had a poky basement, he white-washed the walls and turned it into an art gallery (of sorts). With the help of a friend in the art world, he was soon holding exhibitions of work by David Hockney, David Bailey and Andy Warhol.
"Since I was 15 I've basically been working in shops, serving people," says Smith. "And you get to know about shops, especially in a provincial town, that you get the same customer coming back in. So you're always trying to make the shop look different, and think about how to make their visit worthwhile, even though they'd only been in three weeks ago. So I think it's not really being entrepreneurial, but it's working out how to always be interesting and make people feel welcome."
Smith adores shops: "I'm a merchant!" he often says. But it's a strange time to be having this conversation, when Covid-19 has made retail, and especially fashion, one of the most precarious businesses out there. Smith has been around long enough to have lived and worked through the Three-Day Week of 1974, when he had to use Christmas fairy lights on a generator in the shop, and the miners' strike in the early 1980s, which eviscerated the area around Nottingham. He's survived more financial downturns than he can remember. But the new crisis is different, more global, fewer chinks of hope. "This is by far the worst," Smith concludes.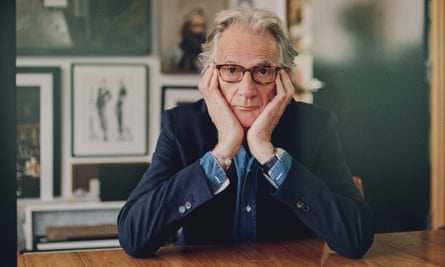 Old school: 'I have a notebook and a pen. We have no computer at home, no answer machine…'

Photograph: Courtesy of Paul Smith
Smith doesn't want to talk politics today, but he has previously noted that he hates how divided society is at the moment. "So much of that is because populist leaders say things people want to hear," he has said, pointing no fingers. Discussing Brexit with Vogue last year, he said: "I was as surprised as anybody on the result of the referendum, but without question, I am loyal to Europe," and reiterated the fact that, as an "independent company, we're flexible enough to weather the storm".
During (the first) lockdown, Smith spent most days in the office, pretty much alone in a space meant for 200 people, doing what he could to keep plates spinning around the world. "Paris is really, really dead," he says. "New York, nobody's daring to go out. Los Angeles the same. If you think about the USA, you've got an election, you've got fires, you've got protests in some cities and then you've got the virus. Talk about everything against you! Anybody who says they've not been affected is not really telling the truth –unless you're PowWowNow, one of those people that have actually probably made money out of the whole thing."
So: challenging conditions, maybe the toughest in the long history of Paul Smith. But Smith himself doesn't really do pessimism; he worked out long ago that people come to him and his brand to be cheered up. "You might run out of cash, who knows?" he says. "But luckily, so far we're very solid."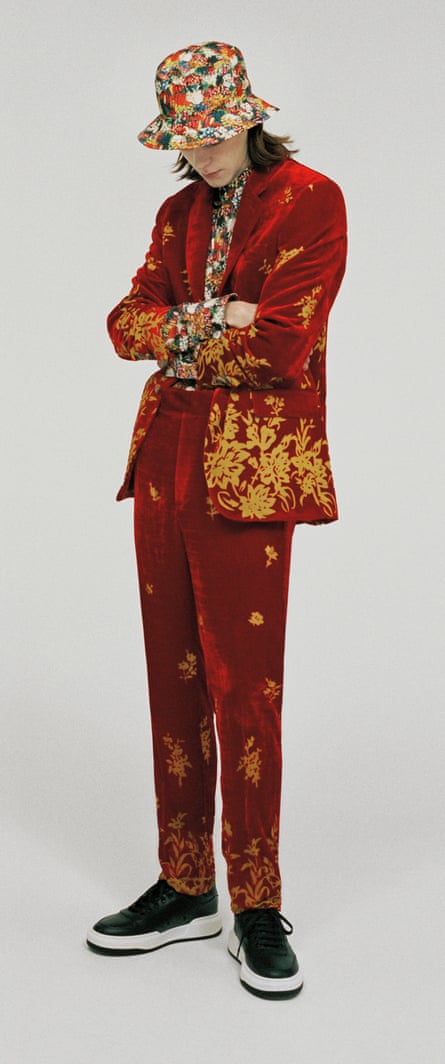 Living in colour: a look from the new Paul Smith anniversary capsule collection
Paul Smith's 2020 actually started off rather well. At his autumn/winter show in Paris in January, critics were impressed as he mixed modern, slim-silhouette tailoring in checks and houndstooth with nods to the archive and photoprints, such as a plate of wax spaghetti he bought in Japan in the 1980s that was emblazoned on everything from hoodies to hats. In the front row Sir Ian McKellen, Susan Sarandon, Bill Nighy, Niall Horan and Jon Hamm were squeezed in. "We had a nice crowd of people there and dinner afterwards," says Smith, "and so many people have said to me since, 'Oh, gosh, Paul, that was the last time we really had fun!'"
Several of the photoprints feature on a new Paul Smith capsule collection for men and women. He first used the wax spaghetti on designs back in 1994, and he likes it because it mixes high and low, good taste and bad, Salvador Dalí and a cheap Tokyo restaurant. "I've always enjoyed that balance of kitsch and beautiful, tongue in cheek," Smith explains. Another series of bold floral prints was inspired by seed packets he bought in Suttons gardening shop while wandering around Covent Garden.
Nowadays, Smith finds that his main role in the business is to supply inspiration to a team of young designers he has collected around him. Sometimes it's just bringing in a Dieter Rams-era Braun radio and announcing, "This is a pair of shoes!" "I always say to them, 'I'm just going to throw lots of ideas out and some you will think are silly or not relevant, but it's my job to throw out ideas, think laterally, maybe bring a book out or a funny hat or toy or a painting or whatever it is.' That starts conversations and before you know where you are, after about an hour, you've got the thin thread of a new collection, which is so nice."
Smith is in many ways ageless, but he does hold out against technology. "I have a notebook and a pen," he says, with a dry laugh. "We have no computer at home, no answer machine. Pauline writes letters, I write letters every morning, at 6am when I get in here, to people." He clarifies that this doesn't apply to Paul Smith the brand: the business has sold through the internet since 2004 and he's well aware that its survival depends on e-commerce. "So as a company, we're very savvy, but as an individual, I don't like cluttering my head by sitting in front of a screen all day. I don't think it's what I want to do."
As to what happens next, Smith is no clearer than the rest of us. But he will continue doing what he does: waking up before 5am, going for a swim to ease his back pains, at his desk by 6am. He then works all day, finishing around 5pm, back in his Mini Cooper and often dropping in on one of his London shops on the way home. He rarely goes out in the evenings, which might seem strange for someone so at ease with people, but Smith has never had his head turned by "the glitzy, superficial side of the fashion business". It's something else he gives credit to Denyer for.
"I'm lucky that I've been with Pauline since I was 21, so I've never been searching for any other lifestyle," he says. "We still love each other, we're still together, we really enjoy each other's company, we've never aspired to like yachts or private jets. We've done well, we've got a nice house in Italy, we've got a nice house in London. We're independent."
Denyer had two children when she and Smith met, but they didn't have any together. One of Denyer's sons worked at Paul Smith, but left to concentrate on acting. Smith knows that people are curious about succession and how long he will stay on, but for now he insists it's not a pressing issue. "If I've got my health and I'm not causing a problem here because I'm out of date, then I enjoy coming in," he says. "Eventually, I have no idea what will happen. If it gets sold, there's a good team here that can carry on the legacy in the way I would like it."
Smith has to move on to his next appointment. Though his company may be facing a daunting, even existential threat, he is approaching it, as he always seems to do, with humour and a Python-esque sense of the absurd. "I'm still blessed with enjoying every day," he says. "Sounds a bit clichéd, doesn't it? But I do. I keep thinking I'll walk outside and a very large double-decker bus will fall on my head from the sky or something. But so far it hasn't."
Paul Smith 50th anniversary capsule collection is available at paulsmith.com
Karen Elson Gets Real With Her Kids About White Supremacy in Fashion
Karen Elson is not what you expect. When she's peering fiercely at you from behind a curtain of red hair on the glossy covers of Vogue, Harper's Bazaar, Muse, and more — that is, where most of us mere humans are accustomed to seeing her face — she's stunning, intimidating, often alien in her beauty and ferocity. Here in her management company's studio in downtown Nashville, however, Elson is humble, warm, open, unassuming, even self-conscious at times — and definitively dressed down in plaid and jeans and clunky lace-up boots. (If the desired outfit effect was to somehow obscure or distract from her utter radiance, though, it is not working.)
In fact, she's so down-to-earth that as we chat, I easily forget that we're not just two tall flannel-clad divorced moms complaining about the trials and tribulations of sending our kids back to school in person during a pandemic here in the ever-frightening, mask-flouting South. I mean, we are those people; one of us just happens to also be a supermodel/musician with two albums out as well as a gorgeous new art book-cum-memoir, The Red Flame.
The book, much like Elson, comes as a surprise. Judging by its cover, it's a coffee table hardback of superb quality, a visual chronicle of Elson's decades-long modeling career since she was discovered in her native Manchester, U.K., as a teen. But start reading it, and you realize this is also a deeply raw, honest, and intimate autobiography in which Elson unearths so many truths about modeling, motherhood, and the ways we live with and learn from our own bodies and minds. And perhaps what speaks most highly of Elson is the fact that she is completely open about all of it — from her eating disorder and being told she wasn't "fit to model socks" to the fashion industry's white supremacist history and the recent call to arms for models' rights — with her own children, Scarlett Teresa and Henry Lee, whom she shares with ex-husband Jack White.
After all, raising our kids in an environment in which honesty and accountability are paramount is the best way we can empower them to build a better world — a mission that, for Elson's "little feminist" kids, as she says, seems already well underway.
Our mission at SheKnows is to empower and inspire women, and we only feature products we think you'll love as much as we do. Please note that if you purchase something by clicking on a link within this story, we may receive a small commission of the sale.
SheKnows: So your kids have gone back to school, how has that been?
Karen Elson: I've got to applaud the schools for being super cautious, following such strict protocols, it can't be easy for faculty, any of that stuff. I think it's going to be trial and error. It may get shut down… One child started in August, one just recently went back. It's definitely not easy but the kids are actually happy to go back to school, they'll be fine if we go back remotely as well. By the end of the last school year, they had it more dialed in than I was. They're resilient.
SK: And what was your quarantine like?
KE: We were in Nashville, which I was grateful for, we weren't just stuck in an apartment in New York… I didn't get stuck anywhere while I was working and separated from my kids; that would have been heartbreaking. I was just home. And honestly, for all the trials and tribulations of this time, it's been really nice to have so much quality time with each other. I mean, I'm sure my kids are sick of me right now but we also had some really good quality time. We tried to make the most of it. It's a really tricky, difficult, scary situation — but just the fact that we were all in it together… even my neighbors were were kind of checking in on each other.
Before this pandemic happened, I lived a global life. I could be on a plane to England for a couple days, then back home for the parent teacher conference, then off on a plane to somewhere else — so it's made my life a lot smaller, but there were a lot of benefits there. I got to know my neighbors more, I felt my sense of community especially here in Nashville more than I ever had. And that's a beautiful thing. I had some neighbors who had COVID, and just our entire community really rallied together to make sure that those who were sick, if they need groceries, if they need anything, that we could — from a distance — be there.
SK: And it's so much more of a contract of trust than we've ever had, it's like this new consent practice.
KE: And it's trial and error with that too, especially with my kids if they want friends to come over, I have to know the parents. I want to know what they have been doing. Actually this week I had this thought where I went, my god, COVID is really hard but it's also particularly sad because I can see at times friendships getting affected. There's this air of distrust. You know, like, Are that family doing what we're supposed to be doing? Am I doing what we're supposed to be doing? I'm trying my best to do everything I'm supposed to do. But I'm sure there's moments where things have slipped through the cracks that everybody has done — but you can't afford to make mistakes right now.
It's tough because you do…have to follow the rules. I saw the whole thing at The Fashion House in Nashville and I was like you guys, that's a little stupid now… I had a dinner for my book last night and I had 12 people, but I made everybody get tested. And I put on the invite: These are my protocols, follow them or don't follow them and just don't come.
SK: How are you feeling about the upcoming election?
KE: It's a funny world right now with politics and I just hope that we'll get a little levity from all this chaos right now, fingers crossed. But I'm a green card holder so I can't technically vote — even speaking about elections might be a little persnickety for a green card holder but I'm doing my best to just say, this is what I believe in. All the right things. Trump's problem is that…great leaders measure their words. They know how to say the right thing at the right time. You think about Obama for instance and the things that would come out of his mouth were just so gracious. And Trump's big problem is his Twitter. I'm sure his followers would say no that's his greatest thing, but every day it's a rollercoaster. It's a rollercoaster for the markets, it's a rollercoaster for the safety of the world.
SK: And you've been a sort of expat here in the U.S. for a long time, do you see yourself staying here for the long haul?
KE: I don't know! Honestly. Who knows, once my kids have grown up, where the next chapter might take me. Never in my life have I said any place is fixed. I love having the sort of global mindset of, the world is my own. Once my kids are grown up I might say, I want to go spend three months in this country or that country and then come back to Nashville. The beauty is, for me, traveling pre-pandemic was a big part of my life. I think when this is over, if it ever will be, I will be traveling a lot more again.
SK: So I read your new book, The Red Flame, and I was honestly surprised by what a powerful personal memoir it is — not just a beautiful art book.
KE: Thank you! I love beautiful fashion coffee table books, I've got a ton and I absolutely adore all of those. But I knew, doing this, that I wanted to delve deep into my personal experience… You know that wonderful model Emily Ratajkowski, I saw her article that she wrote in The Cut. And, you know, I wrote in the book about issues with model's rights and nudity and our lack of agency over ourselves and when I saw her article I was like, finally we're all starting to take ownership of these experiences we've had in order to educate the business going forward that you have to value us.
We're not just a product on the shoot; we're a living breathing entity who deserve rights. We deserve to feel safe when we're on set, and deserve to say no to something that feels uncomfortable. The days of the silent muse doing whatever they're told, those days are over… A lot of the beautiful and powerful women that I know in fashion, they're so multifaceted and their voices need to be heard. Not just worshipped — heard.
SK: You write so beautifully in your book about tough topics such as your eating disorder and the pressure to shoot nude. How have you broached those conversations with your kids?
KE: I've had a lot of conversations with my kids about all of these things; they're relevant to kids growing up today in general. Especially with my daughter, I've had a lot of conversations about the pressures that young women feel to look a certain way, to act a certain way, and how to advocate for yourself. I'm proud that my daughter is a little feminist and is probably at this point even schooling me, on so many things. These days, I listen to her and go, wow, you are ahead of the curve with a lot of these things. She's taught me a lot recently. But I think it's important for young women to know that when they're seeing a picture in a magazine there's so many other things that are at play. To not take that as the standard of beauty. To take that as, it's a fantasy. It's not reality. Highly likely any picture of me has been heavily retouched…where I don't even recognize myself. It's not reality.
The days of the silent muse doing whatever they're told, those days are over… A lot of the beautiful and powerful women that I know in fashion, they're so multifaceted and their voices need to be heard. Not just worshipped — heard.
SK: Do you think fashion is evolving to be a more accepting realm?
KE: I do think things are changing in the fashion industry. It's not there yet, but there's been change and we've got to be grateful for the degrees of change. This season alone the Versaci show was so beautiful and so diverse, it had body diversity, every kind of model of different ages and body shapes and ethnicities. And this show I went to Italy for, Fendi, it was a real wash of just every kind of woman. And I want to see more of that, because I think it helps young women growing up who look at these women and aspire to be them to go, ok, I don't have to be a size zero. The size zero narrative is just so overrated; it's also deeply rooted in racial discrimination as well. And it's time we talked about this stuff. Because when you start realizing, oh, the coveted size zero is really based in white supremacy — it really makes you think deeper about fashion and what fashion's responsibility is to really break that mold completely.
SK: On social media too, it's not just the magazines anymore.
KE: And I know that all of this stuff is fake, they've heavily filtered themselves, they're subtly advertising things, and it's all an idealized life. That's what I want to say about social media: It's idealized. Even when you're trying to be earnest… Social media in general I love it, and it's a burden and it's my Achilles heel as well, but I look at it with healthy eyes. I know what I'm looking at is… a curated version of somebody's life. It's not real life.
SK: And you don't post much about your kids on social media. Was that a conscious decision?
KE: Yep, it is. I want them to have their own autonomy, I want them to have their own lives that are irrespective of me and their father. And have their privacy and their right to privacy and not have me constantly putting them on display. They don't necessarily want that. They want to do their thing, they want to be kids without all my friends or followers watching them or judging them. I'm grateful for them to have their privacy and I'll give them that.
SK: What are you most looking forward to in a post-pandemic world, if and when we get there?
KE: Especially in the fashion world, we were all running on empty before this pandemic. Everyone I knew, we were exhausted, running on fumes. I think having time and space, for a lot of people in creative industries who were just going-going nonstop. The pause has been very been cathartic and very inspiring. I think a lot of people are going to be making a lot of beautiful things coming out of this, powerful things, meaningful things, so theres more depth and intention to the things we do. Instead of just mass producing stuff because we feel like we have to, there's a lot more intention in what we do. A lot more creativity and focus on the craft of stuff versus… especially in fashion, so many fashion designers were exhausted. Doing so many collections a year. I think this time is going to flip the old model on its head and bring something else to the table that is maybe less frantic. So we're not pushing people to the brink in order to fulfill their obligations. That there's a little bit of levity.
SK: You know, your mention of the pandemic as a "forced pause" actually reminds me of your book, when you write about being hospitalized for an eating disorder at age 7, and once you're in the hospital you're able to eat again.
KE: It's a big metaphor isn't it? You take yourself out of a situation that is stressful and you put yourself in a situation that is less stressful and you go wait, this is the first time in years that I've felt [normal]. Especially with the pandemic, there were so many people asking 'Are you okay??' thinking that somehow, me stopping would be the worst thing. And I mean, I have to recognize that I'm in a privileged position, I have not lost a job, thank god I am not struggling to put food on the table or pay the bills right now, so I am incredibly privileged to have this GFN, but: It was so nice to spend so much quality time with my children, and to not be on the go all the time. I realize how actually that was contributing to a lot of anxiety in my life — always moving, never stopping. So going forward, that's something I'll keep in mind in my life: to carve out more personal time for me, more space, not always on a plane every week. You know, it sounds great but it lends itself to not feeling grounded. And feeling grounded is the feeling I want to feel most.
Read about how Heidi Klum, Angelina Jolie, and more celebrity parents co-sleep with their kids.
Launch Gallery: Ashley Graham, Irina Shayk, & More Models Who Walked the Runway While Pregnant During New York Fashion Week
More from SheKnows
Best of SheKnows
Sign up for SheKnows' Newsletter. For the latest news, follow us on Facebook, Twitter, and Instagram.
Avery Dennison: Digitally enabled labels central to circular economy in fashion | Greenbiz
Imagine being able to scan a QR code on a jacket that is no longer wearable and receiving clear directions for how to recycle it. Or being able to scan a code that will allow you to make sure a Telfar bag is authentic.
That's the type of future Avery Dennison envisions for apparel and other consumer goods. And it's a future that might not be too far off. In early October, the label manufacturer announced a partnership with Certilogo, the digital authentication platform, to enable the latter application.
GreenBiz caught up with Michael Colarossi, vice president of product line management, innovation and sustainability at Avery Dennison, to discuss how the company sees its technology addressing the issue of textile waste and solving the apparel industry's broader sustainability challenges.
"I would say the primary route that we're thinking of the technology helping to address, that it's really an enabler, and to be that provider of information," Colarossi said. "There is really only one thing on a garment that communicates, and that is the label. Whether it's providing brand identity or whether it's providing technical information on the garment itself, that is the only communication device that brands and consumers — or anyone in the supply chain — has to really understand more about that garment. So, we see that label as a communication vehicle to help enable some of the solutions."
While this technology will help drive the circular economy and it will provide or help shine a light on some of the other areas, it is one part of solving the bigger challenge that the industry faces in terms of sustainability.
But Colarossi acknowledged that labels are just one piece of the solution puzzle.
"While this technology will help drive the circular economy and it will provide or help shine a light on some of the other areas, it is one part of solving the bigger challenge that the industry faces in terms of sustainability," he said. "It's important that we don't lose sight of the other things that we have to go target to make certain that this industry continues to reduce the impact that we have on the environment and improves the impact that we have on the communities in which we operate."
This interview has been lightly edited for length and clarity.
Deonna Anderson: Can you give me an overview of where Avery Dennison is with this new technology? I heard one of your colleagues talk about it at Circularity 20, so I'm curious about where things stand.
Mike Colarossi: We have the capability today of creating a unique digital ID for, really, any piece of apparel, footwear or — in the future — really any consumer good. And then, we have the ability of printing that in a variety of formats, whether that's on a label, on a hangtag, on a fabric label, or we have the ability to create a technology trigger — for example, with our RFID technology. Through the combination of a unique digital ID and a variety of digital triggers, we can enable different consumer experiences.
The capability exists today to do it. We partnered with Ahluwalia [a ready-to-wear fashion company] for Copenhagen Fashion Summit to create a label that was entered into her garments with a specific purpose of creating or enabling the circular economy, which is one of the use cases that we're exploring. But you can imagine that there's a variety of other use cases that we're looking to unlock as well — anything from consumer engagement and creating and working with brands to create a unique story or a different way to engage with a consumer or to provide sustainability information in a digital way on a product; or to provide care and content information on the product; or to enable the circular economy or to even think about the future of retail and how are consumers going to engage in a store, whether it's with customization of personalization or engaging in a store to provide information on a product and thinking through how that technology can annihilate that. The technology exists.
We can make it happen today, and what we're doing is we're standing up, over the next several months, a series of what we call "Lighthouse Projects" to really test out the different hypotheses and use cases that we have.
Anderson: Are those pilot projects?
Colarossi: Yes. Think of it like in the agile sort of framework where we've got pilot projects that we're going to get into the market. We're going to test, we're going to learn and then we'll continue to iterate the solution as we go forward. But we're talking with a number of the major sports brands in Europe and in the United States, some of the fashion or luxury brands in Europe, and then, we're also engaged with organizations like the United Nations or the [European Union] who are looking to change regulations as it regards to transparency of information that brands are required to supply consumers with. We've got a number of these use cases or partnerships that we're developing to stand up the technology and demonstrate it in a variety of these different formats.
Anderson: As you test and develop these partnerships and continue to iterate the technology, what do you hope the impact is overall?
Colarossi: The vision first is that every product will be born with a unique digital ID. And then, the hope is, once you have that unique identifier on a piece of apparel or a piece of garment, we can then enable or solve some of today's biggest challenges.
For example, today, it's very difficult to recycle garments because a consumer either doesn't know how or where to return a garment to be recycled or the recycler themselves doesn't know the content of that garment so they don't know what recycling methodology they should be using. That's an example of solving one of the biggest challenges that we have in terms of waste within the apparel supply chain.
Another one is the resale market. One of the biggest challenges that resellers have — particularly in the luxury space — is understanding if a product is authentic or not, and the consumer has the same challenge. In an attempt to enable that circular economy or the resale side of that economy, providing a unique ID would allow that consumer or allow that reseller to immediately authenticate it with a scan of their phone. [We're] really looking [to address] some of those big challenges with the unique identifier that we're able to apply to a garment.
Anderson: You mentioned working with a company in Copenhagen, and I know that partnering with other companies and organizations is going to be the way that you really drive this solution forward. I'm curious if you can share any other examples of folks that you're already working with?
Colarossi: I shared Ahluwalia, of course. We're [also] working with the U.N. They have an effort where they're looking to change the way in which you communicate information or the requirements that you have — or brands have — in terms of communicating how a garment was made. So, we're involved in helping establish that standard for the industry. We've also engaged with a recycling network on the east coast of the United States. It's looking to bring together brands, recyclers, and in companies like Avery Dennison, to create a complete circular system in the U.S.
And that's interesting because that's a consortium of companies that represents all different supply chains. And so, we're working with that organization to develop and basically be the provider of all that shared content information and enabling the circular economy. Those are two examples.
Anderson: Living in the age of coronavirus, it seems like consumers might be getting more comfortable with QR codes and the different types of codes they can scan with their phones. Since consumers might be more aware of how these types of technologies work, do you think adoption will be easier when brands start using these labels at scale?
Colarossi: I would say it depends on the region of the world. For example, in China, where people are now accustomed to using WeChat to pay for everything via QR code on their phone, scanning a QR code is second nature. In the United States, where that technology hasn't proliferated as much, there still is an education effort required. We even noticed that with some work that we've done with brands, we still have to provide the hint or the identifier on the garment that says, "Hey, you need to do something" or "You could engage."
I think COVID will change it from the perspective that more people are going to be using technology to get information. It will change it from the perspective that a lot of us are going to be doing things online, more so than ever. I think there are those sets of opportunities. But I still think there's an education effort required.
Anderson: What do you think it would take for QR codes and RFIDs to be just a widely adopted part of a label on products across brands? And when do you think it will get there?
Colarossi: I think many brands today are considering it. But I think it's still a very new space, and companies like Avery Dennison, we have an obligation to help the industry imagine what's possible. So, the QR code is interesting, and putting a QR code or RFID or MSC or Bluetooth or any technology into a garment is interesting. What's more interesting, though, is what does it enable? And what we're finding is that because it could enable so many different things, that could be an overwhelming problem and challenge for brands, for factories, for recyclers — for anyone in the supply chain to really imagine.
We recognize that the industry is on the cusp of change — whether that is the trend on consumption, the issues that the industry faces on waste, or the issues that the industry has historically struggled with on transparency of their supply chains.
I think we're still fairly early in adoption. My belief is within the next three to five years, you're going to see it proliferate. … It will be aided by a few of the brands that are going to be standing up pilots in 2021 and consumers getting comfortable with seeing that and understanding what we are supposed to do with this. And then, I think there are likely to be changes in regulations that are going to require us to think differently about the value of a QR code and communicating a lot of information in a very little amount of real estate on a garment. So, I think those three things combined: You'll probably start seeing it move here in the next three to five years.
Anderson: Why is it important for Avery Dennison — and also for the companies that you will eventually partner with and that you're already partnering with  — to be doing this type of work right now?
Colarossi: I think that there are probably two or three reasons. The first is that we recognize that the industry is on the cusp of change, whether that is the trend on consumption, the issues that the industry faces on waste or the issues that the industry has historically struggled with on transparency of their supply chains. We're seeing a trend where brands and consumers alike are placing a lot more importance on addressing those things. And if Avery Dennison can be part of the solution through technology, that is a space that we want to be investing in and we want to be enabling for the industry. So, I think that's the first reason.
I would say that the second reason is that we do believe that the industry — and all industries, frankly — will become more digital. And we, as a business, need to figure out how we are going to play in that market as well. So whether it's digital solutions, whether it's digitizing our supply chains, whether it is creating new customer experiences through new digital transformation, this is part of an overarching strategy that Avery Dennison has to become more digitally oriented and data-centric in the future. And I think that will help us just continue to be a sustainable business in the broadest of terms.
The company's been around 80-plus years. We plan to be around 80-plus more years. And this is part of our strategic vision that we need to continue to invest in the space of digital.
Top fashion designer Dame Trelise Cooper burgled: 'One lonely hanger is all that's left' – NZ Herald
Lifestyle
2 minutes to read
Dame Trelise Cooper. Photo / Norrie Montgomery
Top fashion designer Dame Trelise Cooper is devestated after being burgled and losing her entire 2021 spring and summer samples.
"One lonely hanger is all that's left," said the Auckland-based designer on social media.
Cooper said at the weekend the company's styling room was burgled and stripped of the Spring '21 and Summer '21 sample collections for Trelise Cooper, Cooper, Coop and Curate, along with a number of their unique couture pieces. 1800 samples gone, to the value of half a million dollars.
"All of our hard work through Covid lockdowns and 2020 – gone!"
She asked people to be on the lookout for any Trelise Cooper, Cooper, Coop and Curate garments on the market, saying anyone noticing anything suspicious should contact her with information.
"The garments taken were size 8 or small samples so do not have care labels and many of these garments are not available in store yet."
The fashion designer was very thankfujl no staff were harmed, "but we are truly devastated by this huge loss".
A police spokesman said they received a report relating to a burglary of a commercial premise on Lion Place, Epsom, over the weekend.
The exact time of the burglary isn't known at this stage.
The store was broken into and a significant amount of clothing and shoes were reported stolen.
Police have been making inquiries and a forensic examination of the scene has taken place.
Anyone with information about this incident is asked to contact Police on 105 quoting file number 201019/3913 or Crimestoppers anonymously on 0800 555 111.