The Next Wave of African Designers Taking Their Place on the Global Stage
For too long, fashion's gatekeepers in Western nations have largely ignored the abundance of ideas and creativity brimming out of African countries, where designers have been toiling away without recognition outside of their local communities.
While there is still a ways to go, there has been a slow but steady influx of platforms geared toward exposing these talents to a wider audience. From online concept store The Folklore, which distributes luxury and emerging designer brands from Africa, to Orange Mentorship, an initiative that provides mentorship of young fashion entrepreneurs in Africa, many of the continent's designers are finally starting to get their due.
Among the most recent success stories are arguably Thebe Magugu, the designer who grew up in the city of Kimberley in South Africa's Northern Cape and just launched his first e-commerce shop, and Kenneth Ize, whose reinterpretation of traditional West African fabrics and Nigerian craft made its official debut this year at Paris Fashion Week. Notably, both designers were finalists of last year's LVMH Prize, with Magugu scooping up the top award.
Still, while there have been several regional fashion weeks in recent years, they have yet to attract the kind of global attention paid to the four main capitals. (It was at Arise Fashion Week in Lagos two years ago where Naomi Campbell notably called for there to be an African edition of Vogue.) Even smaller showcases held in predominantly white cities like Copenhagen and Sydney have drawn a significant amount international guests.
Recognizing the need for more structures in place to support emerging African fashion talent, the Ethical Fashion Initiative recently announced the launch of its first Accelerator Programme, which targets existing fashion brands producing in Africa who require additional support to accelerate their business in the global marketplace to become investment ready. The organization selected five designers to participate in the platform: REIGN, Margaux Wong, Lukhanyo Mdingi, WUMAN and Jiamini.
The five talents were picked out of a pool of 250 applicants by a judging panel comprising of Nigerian actress Dakore Egbuson-Akande, Japanese retail magnate Hirofumi Kurino and creative consultant Susi Billingsley. As part of their selection, the designers will get to reveal their latest collections in 2021 during Pitti Uomo, the bi-annual international menswear trade show where guest designers such as Telfar, Jil Sander and Givenchy have all shown in the past.
Ahead of their debut on the global stage next year, PAPER caught up with the five winning designers to get their thoughts on the state of the African fashion industry, how their heritage and culture influences their work, and what they're most excited about as they get ready to show their work on an international platform.
Margaux Wong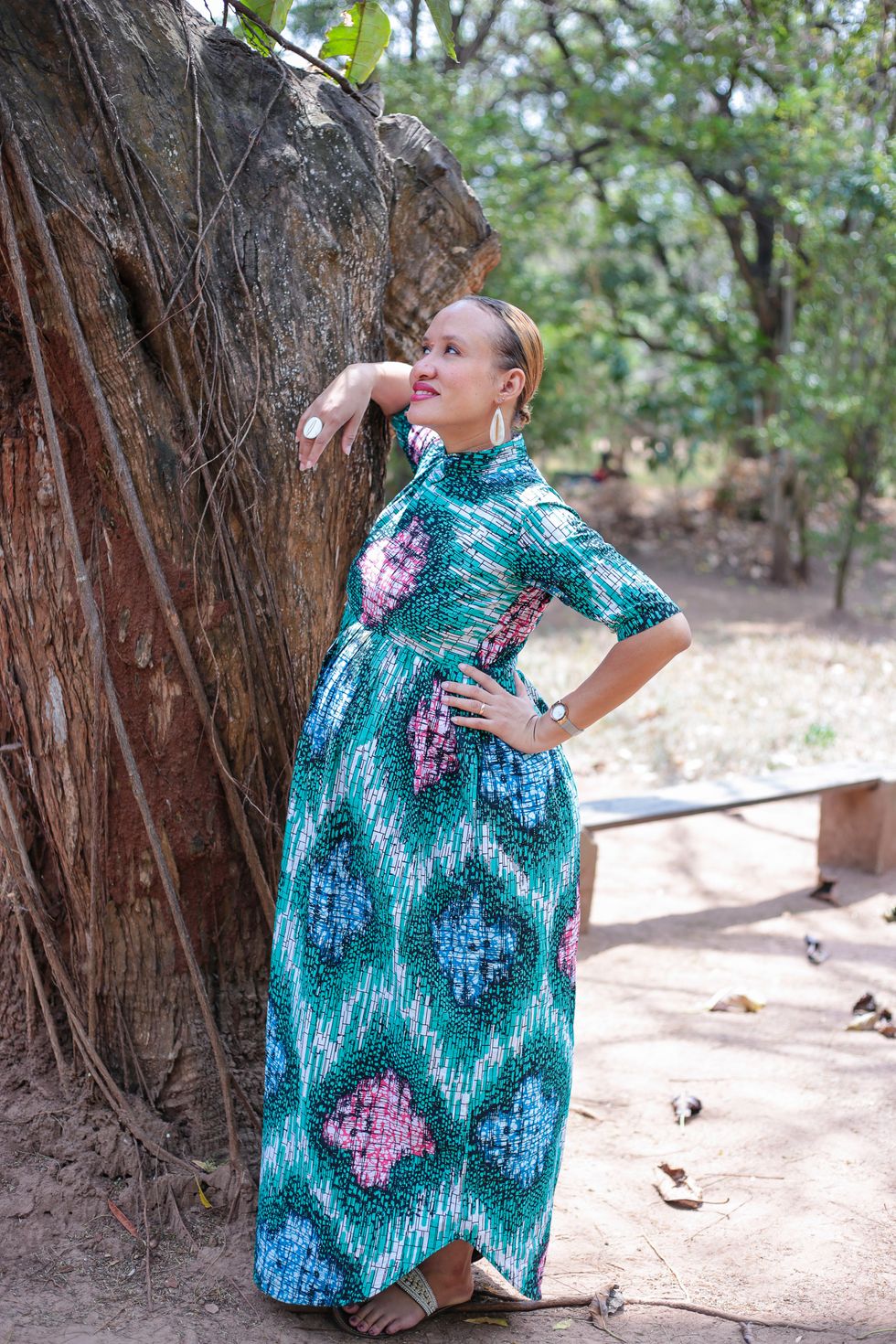 Margaux Rusita is a Guyanese/Burundian designer with more than 18 years of experience based in Burundi, East Africa. Her company, Margaux Wong, is known for its signature technique of turning rare cow horn and brass into luxurious and wearable art. The creative director works with her team to produce distinguished artisan jewelry using tedious traditional techniques, and she's also mentored hundreds of young designers over the last 10 years in her home country.
How has your African heritage influenced your creativity and design approach?
Having spent the last 11 years living and working on the continent has morphed my Afro-Caribbean decent and love of Africa and all its colors very well with my work and expression. I have been able to immerse myself in the culture, traditions, history and traditional jewelry making techniques, which I have been able to observe and learn throughout the years. It is clear that preserving certain techniques is quite difficult especially in the world of fast fashion, which is why we hold on to them. It is very important to us to maintain the integrity of culture for posterity, while engaging with contemporary ideas for design and expression.
What have been some of the highlights and challenges of being based and producing in your country?
Burundi has been known as being a war torn, poverty stricken country for many years. We are very pleased that in a very small way, we have been able to change that narrative by telling positive stories about what we do and actually showcase the amazing work that we have been doing at shows on at least four continents. Winning the trust and respect of my male employees has taken many years of hard work and is still a challenge to some degree, as they are used to being the leaders in their homes, jobs and communities. I give daily support and encouragement, knowing myself how capable our artisans are but also acknowledging the trauma background of war and near death from which they came.
We have also had challenges with inefficient banking systems as well as shipping challenges due to our landlocked position on the continent. With the successes and challenges, however, we have been able to come this far. Building my brand and business in Burundi has been a major stepping stone for me as a designer, business owner and innovator. There is no doubt about that.
"It is very important to us to maintain the integrity of culture for posterity, while engaging with contemporary ideas for design and expression."
What does it mean for you to get the support of a platform like the EFI?
As a designer, I can't say that I have chased this kind of recognition much over the years. My focus has been to work on my craft and hopefully overtime, have my work speak for itself. I think my attraction to EFI went way beyond being recognized. I saw an organization which was offering much needed mentorship, guidance, technical support and validation for all the years of hard work I had previously put in. Now that I am benefiting from their support, I feel further validated as an artist. I am further convinced that I am on the right track and feel encouraged that my art needs to be shared with the world, not only as my art but as a boost to all those with whom I have worked with all these years.
What are some of the ways African fashion designers can be supported so that they can become global businesses?
African designers, like any designer from every background, require lots of support in order to become globally successful businesses. I think our proximity to global competitors, peers, platforms and experienced professional mentors is a major challenge. What the EFI has done by creating the bridges we need to connect with the rest of Africa and the Western fashion world is revolutionary and exactly what we needed as an answer to this challenge. African designers also need to be connected to African investors and mentors who are immersed in the continent and can assist in strengthening trade relationships and cultural exchange within the continent. This involvement can help to solidify our confidence in our ability to enter any room on the global platform and exist as people who are able to compete with competence, confidence and drive.
WUMAN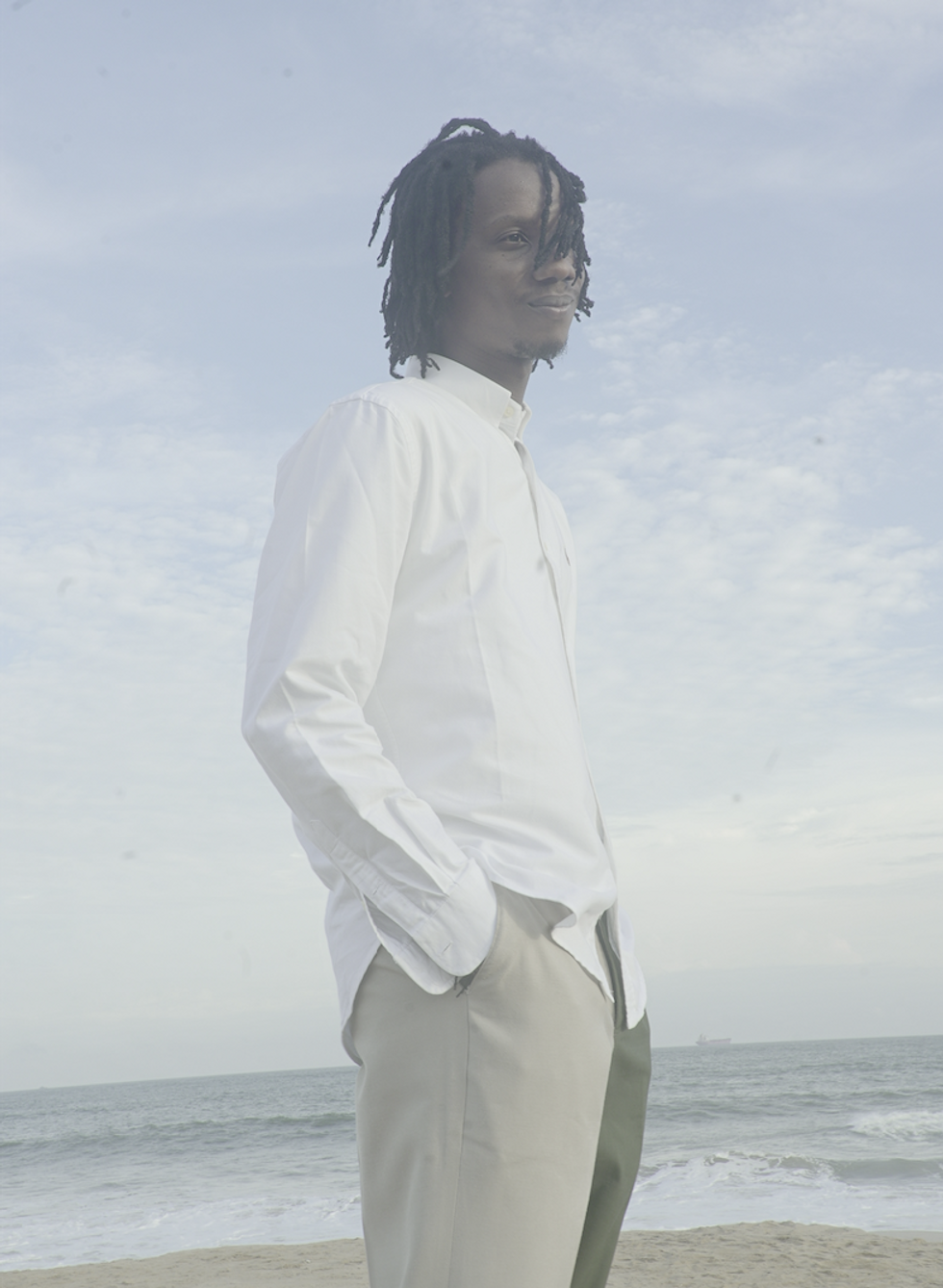 Ekwerike Chukwuma is a Nigerian fashion designer/artist who launched men's and womenswear brand WUMAN in 2013. He cites the female anatomy as a perennial source of inspiration, which he first obtained from his medical school studies. The cross-disciplinary areas of architecture, poetry, and geometry inform his contemporary storytelling approach to design while staying true to his African heritage and its unique perspective across the global fashion industry.
How has your African heritage influenced your creativity and design approach?
My heritage and culture has always influenced my design thinking and process. I feel the pulse of Africa, she is a great woman who is dear to me. The beauty, the rich culture, history and diversity are all elements that form the core of my design process. My works tell stories inspired by my existence in Africa, stories that stimulate you to further see, understand and love Africa.
What have been some of the highlights and challenges of being based and producing in your country?
Some of my highlights of being based and producing in Nigeria is the privilege of learning to work and grow with the resources available. I have also had access to the rich heritage of craft and skills available within my country. I have also had nearness to my culture firsthand. The challenges faced here include funding, inadequacies in manufacturing, a bit of lack in technical know-how and labour force, economic instabilities, power supply as well as infrastructural deficiencies.
"My works tell stories inspired by my existence in Africa, stories that stimulate you to further see, understand and love Africa."
What does it mean for you to get the support of a platform like the EFI?
It means a lot to me and my brand. I see this as a great step in the right direction. The EFI is a reputable organization and selecting me for this great opportunity further amplifies my brand in a bid to grow and succeed both here in Africa and globally.
What are some of the ways African fashion designers can be supported so that they can become global businesses?
African fashion designers can be supported to excel globally through more trainings and education, access to more developmental programs like the EFI accelerator, platforms that give them more visibility, support in manufacturing and funding.
Lukhanyo Mdingi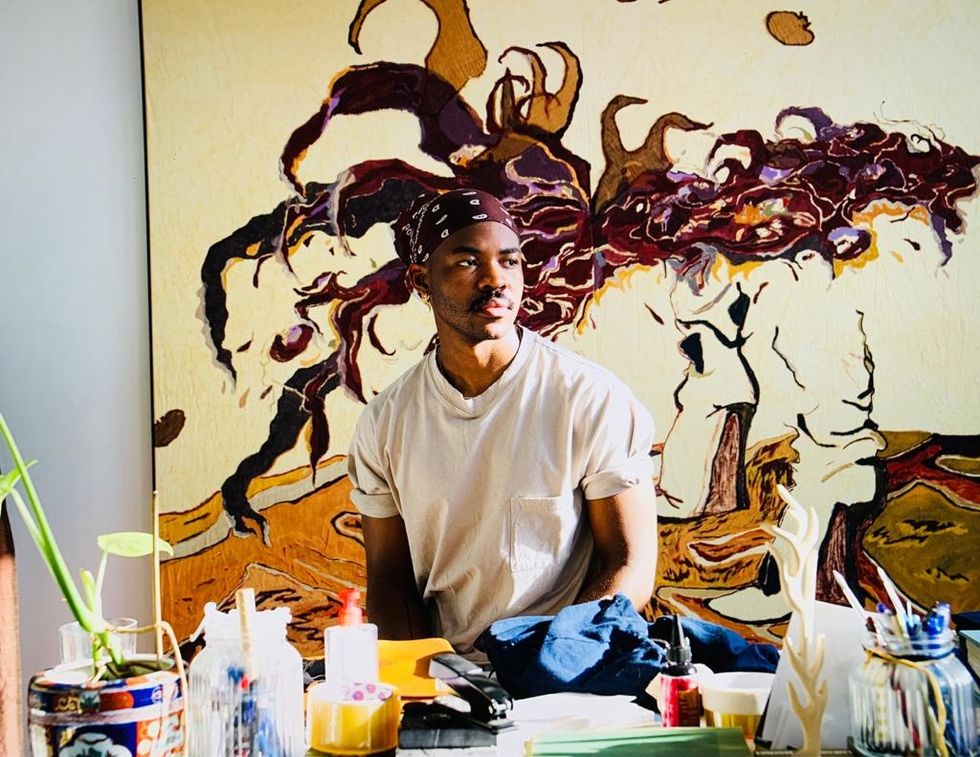 Hailing from a small coastal town in the Eastern Cape of South Africa, Lukhanyo Mdingi describes his design aesthetic as having a "languid sensibility." The Cape Peninsula University graduate participated in Pitti Uomo's Fall 2017 Generation Africa in Florence initiative that gave him his first taste of international exposure. The cross-cultural references help inform Mdingi's approach, which uses theory and research to create timeless essentials that are refined each season. "Our intention is to collectively create a body of work that has a sense of soulfulness to it, work that is steady, solid and strong," he says.
How has your African heritage influenced your creativity and design approach?
Immensely. I think that this is something that is intrinsic within so many artisans and designers. I believe that our diverse and unique heritage is something that is grounded and rooted by the spirit of love. Community is what binds our lineage and culture, by celebrating and bringing this within our work allows us to collaborate and celebrate all that we bring to the table.
What have been some of the highlights and challenges of being based and producing in your country?
The highlight is always celebrating the moment this is done solely when all parties involved have put in the work, time and consideration of their individual roles. Collaboration is so important to us, when you are able to witness the steady and seamless growth of your ally — then see them reach their potential, it's that moment that becomes a highlight, that is priceless. The challenging aspects, in any career, is finding the people that are aligned with our vision as much as you are aligned with there's, identifying the intentions and the precision that you envision and making sure that there are parallels between all involved which ever project you choose to embark on.
"Community is what binds our lineage and culture."
What does it mean for you to get the support of a platform like the EFI?
It feels like the natural step. The nuances between the EFI and our label are parallel. The importance of craft, collaboration and considered design are the premise of both entities. What the Accelerator Programme has done is yield our label and given it the platform for our narrative to me seen and heard. Presenting the new body of work during PITTI UOMO is a space that rises the bar.
What are some of the ways African fashion designers can be supported so that they can become global businesses?
I think it's simple. It's continuing to provide platforms such as the EFI accelerator programme to tell our narratives.
Jiamini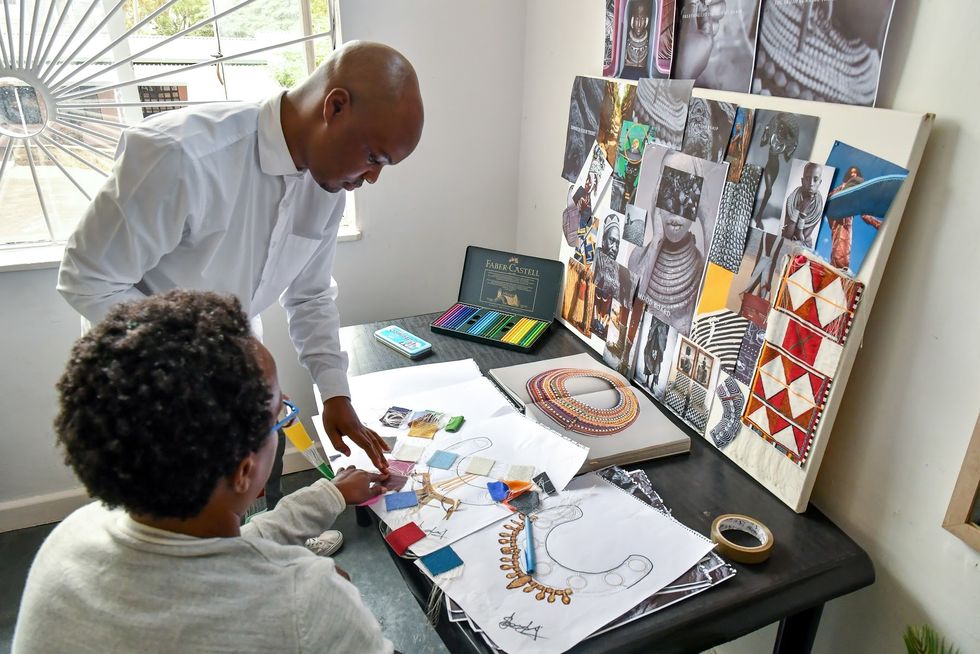 Kenyan-based accessories brand Jiamini (meaning "believe in yourself" in Swahili), known for its durable, hand-beaded embroidery, turns traditional pieces into contemporary jewelry. The brand promotes sustainable development solutions while being influenced by African techniques and craftsmanship. Among its company missions is to help local communities rise above poverty through economic empowerment.
How has your African heritage influenced your creativity and design approach?
The diversity of African culture and creativity has always been the foundation of our brand, closely examining the craftsmanship, heritage and traditional approach used by our forefathers, which have been a strong influence in our designs. Our African heritage has enabled us to communicate an authentic expression of the past, present and future, through design.
What have been some of the highlights and challenges of being based and producing in your country?
Having the opportunity to produce in Kenya enables us to not only create employment, but to share, learn and implement traditional skills, knowledge and techniques, from vast local communities used in production.
"Our African heritage has enabled us to communicate an authentic expression of the past, present and future, through design."
What does it mean for you to get the support of a platform like the EFI?
This opportunity couldn't have come at a better time. A time when the fashion industry in Africa has witnessed tremendous growth in recent years and the global demand and discussion on African-inspired fashion is on the rise. Getting recognition from the EFI accelerator programme and being able to present at Pitti Connect gives us a platform to tell our authentic rich story through design, as well as show the world the quality, richness and luxury that Africa is capable of developing and producing.
What are some of the ways African fashion designers can be supported so that they can become global businesses?
A great way to support African fashion brands would be through meaningful collaboration and skill transfer programs with already established international brands.
REIGN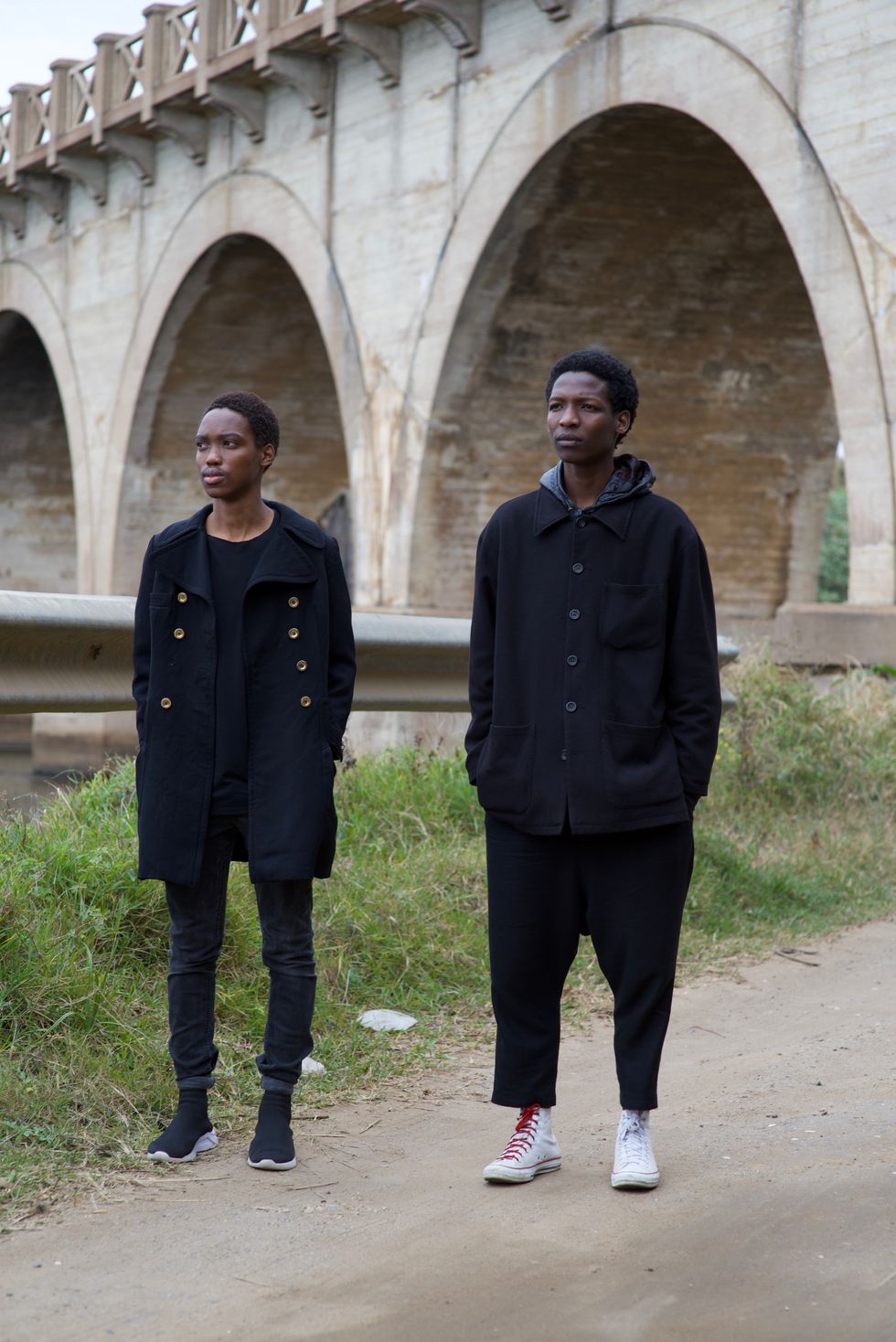 Sipho Mbuto and Ben Nozo first met in 2015 as students at the Durban University of Technology in South Africa. They often worked together on class projects where they exchanged ideas and fashion concepts, not knowing that upon graduating they'd team up to create REIGN, which they describe as a brand that "narrates African culture reimagined with traces of eastern and western influences." The duo says they constantly enroll in fashion learning programs to be mentored while also mentoring others by engaging in tutorials and workshops.
How has your African heritage influenced your creativity and design approach?
Growing up in a small town of Port Shepstone in Kwa Zulu Natal. It was a beautiful town, however we had no access to art and cultural infrastructure or creative media. We were at least fortunate to grow up in a family of artisans who were able to influence our perspective and development. They are an integral part of our drive in working with arts and crafts. Even listening to stories of their youth while crafting these unique items, made us think differently about creativity and gender as a Zulu man. Specifically how there are certain roles individuals play in the culture of the concerning family clan.
What have been some of the highlights and challenges of being based and producing in your country?
Textiles — there are still many challenges for African designers in Africa, one of them being Chinese domination of the textile industry, such as the unavailability of fabrics, even the ones that are produced locally are created using imported equipment from Asia and Eastern Europe. Not enough funds — countless people with incredible ideas languish because they are not able to access the necessary funds to enter the marketplace. Fashion is a business where you need money in every step, to make quality designs, to market it and promote it. Lack of accelerator and mentorship programs — Industry-related education is another major challenge and if the government doesn't see a value or a need for the luxury fashion industry locally, it becomes difficult for us to convince the international market of our existence in Africa as mostly we are reliant on help from abroad.
Production and lack good manufacturers — Most African brands are small operations, with no production capacity to supply large orders. Scaling up is hard, given electricity shortages and other manufacturing glitches that come with producing in a developing country. Getting an opportunity to work with our chosen team of people and to learn and grow with them.
"People rarely know who contributes to the growth of the industry outside tokenized representation or engagement in the African contemporary conversation."
What does it mean for you to get the support of a platform like the EFI?
It's an exciting opportunity for us as a growing brand as it provides a chance to market our brand to an international market. Gaining a better understanding of the business of fashion and also learning about the different distribution channels of supply chains. Working together with artisans, understanding the inspiring stories behind their craft, motivates us to look deeper into sustainability and producing ethically also.
What are some of the ways African fashion designers can be supported so that they can become global businesses?
Working together with our government on setting up more legislations, policies and fashion laws to favor African fashion designers by the government would definitely help to improve the African economy while making our fashion brands globally recognized ones. Creating the efficient distribution channels for designers — distribution is usually a challenge for designers. Most designers cannot fully control their distribution of their clothes, having this distribution platform in place can eliminate cost, time and anxiety in most fashion businesses. Including disadvantaged designers to the fashion conversation, graduates and emerging creative, stylists and directors. People rarely know who contributes to the growth of the industry outside tokenized representation or engagement in the African contemporary conversation. Our own fashion channels are inundated with European or western content.
Karen Elson Gets Real With Her Kids About White Supremacy in Fashion
Karen Elson is not what you expect. When she's peering fiercely at you from behind a curtain of red hair on the glossy covers of Vogue, Harper's Bazaar, Muse, and more — that is, where most of us mere humans are accustomed to seeing her face — she's stunning, intimidating, often alien in her beauty and ferocity. Here in her management company's studio in downtown Nashville, however, Elson is humble, warm, open, unassuming, even self-conscious at times — and definitively dressed down in plaid and jeans and clunky lace-up boots. (If the desired outfit effect was to somehow obscure or distract from her utter radiance, though, it is not working.)
In fact, she's so down-to-earth that as we chat, I easily forget that we're not just two tall flannel-clad divorced moms complaining about the trials and tribulations of sending our kids back to school in person during a pandemic here in the ever-frightening, mask-flouting South. I mean, we are those people; one of us just happens to also be a supermodel/musician with two albums out as well as a gorgeous new art book-cum-memoir, The Red Flame.
The book, much like Elson, comes as a surprise. Judging by its cover, it's a coffee table hardback of superb quality, a visual chronicle of Elson's decades-long modeling career since she was discovered in her native Manchester, U.K., as a teen. But start reading it, and you realize this is also a deeply raw, honest, and intimate autobiography in which Elson unearths so many truths about modeling, motherhood, and the ways we live with and learn from our own bodies and minds. And perhaps what speaks most highly of Elson is the fact that she is completely open about all of it — from her eating disorder and being told she wasn't "fit to model socks" to the fashion industry's white supremacist history and the recent call to arms for models' rights — with her own children, Scarlett Teresa and Henry Lee, whom she shares with ex-husband Jack White.
After all, raising our kids in an environment in which honesty and accountability are paramount is the best way we can empower them to build a better world — a mission that, for Elson's "little feminist" kids, as she says, seems already well underway.
Our mission at SheKnows is to empower and inspire women, and we only feature products we think you'll love as much as we do. Please note that if you purchase something by clicking on a link within this story, we may receive a small commission of the sale.
SheKnows: So your kids have gone back to school, how has that been?
Karen Elson: I've got to applaud the schools for being super cautious, following such strict protocols, it can't be easy for faculty, any of that stuff. I think it's going to be trial and error. It may get shut down… One child started in August, one just recently went back. It's definitely not easy but the kids are actually happy to go back to school, they'll be fine if we go back remotely as well. By the end of the last school year, they had it more dialed in than I was. They're resilient.
SK: And what was your quarantine like?
KE: We were in Nashville, which I was grateful for, we weren't just stuck in an apartment in New York… I didn't get stuck anywhere while I was working and separated from my kids; that would have been heartbreaking. I was just home. And honestly, for all the trials and tribulations of this time, it's been really nice to have so much quality time with each other. I mean, I'm sure my kids are sick of me right now but we also had some really good quality time. We tried to make the most of it. It's a really tricky, difficult, scary situation — but just the fact that we were all in it together… even my neighbors were were kind of checking in on each other.
Before this pandemic happened, I lived a global life. I could be on a plane to England for a couple days, then back home for the parent teacher conference, then off on a plane to somewhere else — so it's made my life a lot smaller, but there were a lot of benefits there. I got to know my neighbors more, I felt my sense of community especially here in Nashville more than I ever had. And that's a beautiful thing. I had some neighbors who had COVID, and just our entire community really rallied together to make sure that those who were sick, if they need groceries, if they need anything, that we could — from a distance — be there.
SK: And it's so much more of a contract of trust than we've ever had, it's like this new consent practice.
KE: And it's trial and error with that too, especially with my kids if they want friends to come over, I have to know the parents. I want to know what they have been doing. Actually this week I had this thought where I went, my god, COVID is really hard but it's also particularly sad because I can see at times friendships getting affected. There's this air of distrust. You know, like, Are that family doing what we're supposed to be doing? Am I doing what we're supposed to be doing? I'm trying my best to do everything I'm supposed to do. But I'm sure there's moments where things have slipped through the cracks that everybody has done — but you can't afford to make mistakes right now.
It's tough because you do…have to follow the rules. I saw the whole thing at The Fashion House in Nashville and I was like you guys, that's a little stupid now… I had a dinner for my book last night and I had 12 people, but I made everybody get tested. And I put on the invite: These are my protocols, follow them or don't follow them and just don't come.
SK: How are you feeling about the upcoming election?
KE: It's a funny world right now with politics and I just hope that we'll get a little levity from all this chaos right now, fingers crossed. But I'm a green card holder so I can't technically vote — even speaking about elections might be a little persnickety for a green card holder but I'm doing my best to just say, this is what I believe in. All the right things. Trump's problem is that…great leaders measure their words. They know how to say the right thing at the right time. You think about Obama for instance and the things that would come out of his mouth were just so gracious. And Trump's big problem is his Twitter. I'm sure his followers would say no that's his greatest thing, but every day it's a rollercoaster. It's a rollercoaster for the markets, it's a rollercoaster for the safety of the world.
SK: And you've been a sort of expat here in the U.S. for a long time, do you see yourself staying here for the long haul?
KE: I don't know! Honestly. Who knows, once my kids have grown up, where the next chapter might take me. Never in my life have I said any place is fixed. I love having the sort of global mindset of, the world is my own. Once my kids are grown up I might say, I want to go spend three months in this country or that country and then come back to Nashville. The beauty is, for me, traveling pre-pandemic was a big part of my life. I think when this is over, if it ever will be, I will be traveling a lot more again.
SK: So I read your new book, The Red Flame, and I was honestly surprised by what a powerful personal memoir it is — not just a beautiful art book.
KE: Thank you! I love beautiful fashion coffee table books, I've got a ton and I absolutely adore all of those. But I knew, doing this, that I wanted to delve deep into my personal experience… You know that wonderful model Emily Ratajkowski, I saw her article that she wrote in The Cut. And, you know, I wrote in the book about issues with model's rights and nudity and our lack of agency over ourselves and when I saw her article I was like, finally we're all starting to take ownership of these experiences we've had in order to educate the business going forward that you have to value us.
We're not just a product on the shoot; we're a living breathing entity who deserve rights. We deserve to feel safe when we're on set, and deserve to say no to something that feels uncomfortable. The days of the silent muse doing whatever they're told, those days are over… A lot of the beautiful and powerful women that I know in fashion, they're so multifaceted and their voices need to be heard. Not just worshipped — heard.
SK: You write so beautifully in your book about tough topics such as your eating disorder and the pressure to shoot nude. How have you broached those conversations with your kids?
KE: I've had a lot of conversations with my kids about all of these things; they're relevant to kids growing up today in general. Especially with my daughter, I've had a lot of conversations about the pressures that young women feel to look a certain way, to act a certain way, and how to advocate for yourself. I'm proud that my daughter is a little feminist and is probably at this point even schooling me, on so many things. These days, I listen to her and go, wow, you are ahead of the curve with a lot of these things. She's taught me a lot recently. But I think it's important for young women to know that when they're seeing a picture in a magazine there's so many other things that are at play. To not take that as the standard of beauty. To take that as, it's a fantasy. It's not reality. Highly likely any picture of me has been heavily retouched…where I don't even recognize myself. It's not reality.
The days of the silent muse doing whatever they're told, those days are over… A lot of the beautiful and powerful women that I know in fashion, they're so multifaceted and their voices need to be heard. Not just worshipped — heard.
SK: Do you think fashion is evolving to be a more accepting realm?
KE: I do think things are changing in the fashion industry. It's not there yet, but there's been change and we've got to be grateful for the degrees of change. This season alone the Versaci show was so beautiful and so diverse, it had body diversity, every kind of model of different ages and body shapes and ethnicities. And this show I went to Italy for, Fendi, it was a real wash of just every kind of woman. And I want to see more of that, because I think it helps young women growing up who look at these women and aspire to be them to go, ok, I don't have to be a size zero. The size zero narrative is just so overrated; it's also deeply rooted in racial discrimination as well. And it's time we talked about this stuff. Because when you start realizing, oh, the coveted size zero is really based in white supremacy — it really makes you think deeper about fashion and what fashion's responsibility is to really break that mold completely.
SK: On social media too, it's not just the magazines anymore.
KE: And I know that all of this stuff is fake, they've heavily filtered themselves, they're subtly advertising things, and it's all an idealized life. That's what I want to say about social media: It's idealized. Even when you're trying to be earnest… Social media in general I love it, and it's a burden and it's my Achilles heel as well, but I look at it with healthy eyes. I know what I'm looking at is… a curated version of somebody's life. It's not real life.
SK: And you don't post much about your kids on social media. Was that a conscious decision?
KE: Yep, it is. I want them to have their own autonomy, I want them to have their own lives that are irrespective of me and their father. And have their privacy and their right to privacy and not have me constantly putting them on display. They don't necessarily want that. They want to do their thing, they want to be kids without all my friends or followers watching them or judging them. I'm grateful for them to have their privacy and I'll give them that.
SK: What are you most looking forward to in a post-pandemic world, if and when we get there?
KE: Especially in the fashion world, we were all running on empty before this pandemic. Everyone I knew, we were exhausted, running on fumes. I think having time and space, for a lot of people in creative industries who were just going-going nonstop. The pause has been very been cathartic and very inspiring. I think a lot of people are going to be making a lot of beautiful things coming out of this, powerful things, meaningful things, so theres more depth and intention to the things we do. Instead of just mass producing stuff because we feel like we have to, there's a lot more intention in what we do. A lot more creativity and focus on the craft of stuff versus… especially in fashion, so many fashion designers were exhausted. Doing so many collections a year. I think this time is going to flip the old model on its head and bring something else to the table that is maybe less frantic. So we're not pushing people to the brink in order to fulfill their obligations. That there's a little bit of levity.
SK: You know, your mention of the pandemic as a "forced pause" actually reminds me of your book, when you write about being hospitalized for an eating disorder at age 7, and once you're in the hospital you're able to eat again.
KE: It's a big metaphor isn't it? You take yourself out of a situation that is stressful and you put yourself in a situation that is less stressful and you go wait, this is the first time in years that I've felt [normal]. Especially with the pandemic, there were so many people asking 'Are you okay??' thinking that somehow, me stopping would be the worst thing. And I mean, I have to recognize that I'm in a privileged position, I have not lost a job, thank god I am not struggling to put food on the table or pay the bills right now, so I am incredibly privileged to have this GFN, but: It was so nice to spend so much quality time with my children, and to not be on the go all the time. I realize how actually that was contributing to a lot of anxiety in my life — always moving, never stopping. So going forward, that's something I'll keep in mind in my life: to carve out more personal time for me, more space, not always on a plane every week. You know, it sounds great but it lends itself to not feeling grounded. And feeling grounded is the feeling I want to feel most.
Read about how Heidi Klum, Angelina Jolie, and more celebrity parents co-sleep with their kids.
Launch Gallery: Ashley Graham, Irina Shayk, & More Models Who Walked the Runway While Pregnant During New York Fashion Week
More from SheKnows
Best of SheKnows
Sign up for SheKnows' Newsletter. For the latest news, follow us on Facebook, Twitter, and Instagram.
Avery Dennison: Digitally enabled labels central to circular economy in fashion | Greenbiz
Imagine being able to scan a QR code on a jacket that is no longer wearable and receiving clear directions for how to recycle it. Or being able to scan a code that will allow you to make sure a Telfar bag is authentic.
That's the type of future Avery Dennison envisions for apparel and other consumer goods. And it's a future that might not be too far off. In early October, the label manufacturer announced a partnership with Certilogo, the digital authentication platform, to enable the latter application.
GreenBiz caught up with Michael Colarossi, vice president of product line management, innovation and sustainability at Avery Dennison, to discuss how the company sees its technology addressing the issue of textile waste and solving the apparel industry's broader sustainability challenges.
"I would say the primary route that we're thinking of the technology helping to address, that it's really an enabler, and to be that provider of information," Colarossi said. "There is really only one thing on a garment that communicates, and that is the label. Whether it's providing brand identity or whether it's providing technical information on the garment itself, that is the only communication device that brands and consumers — or anyone in the supply chain — has to really understand more about that garment. So, we see that label as a communication vehicle to help enable some of the solutions."
While this technology will help drive the circular economy and it will provide or help shine a light on some of the other areas, it is one part of solving the bigger challenge that the industry faces in terms of sustainability.
But Colarossi acknowledged that labels are just one piece of the solution puzzle.
"While this technology will help drive the circular economy and it will provide or help shine a light on some of the other areas, it is one part of solving the bigger challenge that the industry faces in terms of sustainability," he said. "It's important that we don't lose sight of the other things that we have to go target to make certain that this industry continues to reduce the impact that we have on the environment and improves the impact that we have on the communities in which we operate."
This interview has been lightly edited for length and clarity.
Deonna Anderson: Can you give me an overview of where Avery Dennison is with this new technology? I heard one of your colleagues talk about it at Circularity 20, so I'm curious about where things stand.
Mike Colarossi: We have the capability today of creating a unique digital ID for, really, any piece of apparel, footwear or — in the future — really any consumer good. And then, we have the ability of printing that in a variety of formats, whether that's on a label, on a hangtag, on a fabric label, or we have the ability to create a technology trigger — for example, with our RFID technology. Through the combination of a unique digital ID and a variety of digital triggers, we can enable different consumer experiences.
The capability exists today to do it. We partnered with Ahluwalia [a ready-to-wear fashion company] for Copenhagen Fashion Summit to create a label that was entered into her garments with a specific purpose of creating or enabling the circular economy, which is one of the use cases that we're exploring. But you can imagine that there's a variety of other use cases that we're looking to unlock as well — anything from consumer engagement and creating and working with brands to create a unique story or a different way to engage with a consumer or to provide sustainability information in a digital way on a product; or to provide care and content information on the product; or to enable the circular economy or to even think about the future of retail and how are consumers going to engage in a store, whether it's with customization of personalization or engaging in a store to provide information on a product and thinking through how that technology can annihilate that. The technology exists.
We can make it happen today, and what we're doing is we're standing up, over the next several months, a series of what we call "Lighthouse Projects" to really test out the different hypotheses and use cases that we have.
Anderson: Are those pilot projects?
Colarossi: Yes. Think of it like in the agile sort of framework where we've got pilot projects that we're going to get into the market. We're going to test, we're going to learn and then we'll continue to iterate the solution as we go forward. But we're talking with a number of the major sports brands in Europe and in the United States, some of the fashion or luxury brands in Europe, and then, we're also engaged with organizations like the United Nations or the [European Union] who are looking to change regulations as it regards to transparency of information that brands are required to supply consumers with. We've got a number of these use cases or partnerships that we're developing to stand up the technology and demonstrate it in a variety of these different formats.
Anderson: As you test and develop these partnerships and continue to iterate the technology, what do you hope the impact is overall?
Colarossi: The vision first is that every product will be born with a unique digital ID. And then, the hope is, once you have that unique identifier on a piece of apparel or a piece of garment, we can then enable or solve some of today's biggest challenges.
For example, today, it's very difficult to recycle garments because a consumer either doesn't know how or where to return a garment to be recycled or the recycler themselves doesn't know the content of that garment so they don't know what recycling methodology they should be using. That's an example of solving one of the biggest challenges that we have in terms of waste within the apparel supply chain.
Another one is the resale market. One of the biggest challenges that resellers have — particularly in the luxury space — is understanding if a product is authentic or not, and the consumer has the same challenge. In an attempt to enable that circular economy or the resale side of that economy, providing a unique ID would allow that consumer or allow that reseller to immediately authenticate it with a scan of their phone. [We're] really looking [to address] some of those big challenges with the unique identifier that we're able to apply to a garment.
Anderson: You mentioned working with a company in Copenhagen, and I know that partnering with other companies and organizations is going to be the way that you really drive this solution forward. I'm curious if you can share any other examples of folks that you're already working with?
Colarossi: I shared Ahluwalia, of course. We're [also] working with the U.N. They have an effort where they're looking to change the way in which you communicate information or the requirements that you have — or brands have — in terms of communicating how a garment was made. So, we're involved in helping establish that standard for the industry. We've also engaged with a recycling network on the east coast of the United States. It's looking to bring together brands, recyclers, and in companies like Avery Dennison, to create a complete circular system in the U.S.
And that's interesting because that's a consortium of companies that represents all different supply chains. And so, we're working with that organization to develop and basically be the provider of all that shared content information and enabling the circular economy. Those are two examples.
Anderson: Living in the age of coronavirus, it seems like consumers might be getting more comfortable with QR codes and the different types of codes they can scan with their phones. Since consumers might be more aware of how these types of technologies work, do you think adoption will be easier when brands start using these labels at scale?
Colarossi: I would say it depends on the region of the world. For example, in China, where people are now accustomed to using WeChat to pay for everything via QR code on their phone, scanning a QR code is second nature. In the United States, where that technology hasn't proliferated as much, there still is an education effort required. We even noticed that with some work that we've done with brands, we still have to provide the hint or the identifier on the garment that says, "Hey, you need to do something" or "You could engage."
I think COVID will change it from the perspective that more people are going to be using technology to get information. It will change it from the perspective that a lot of us are going to be doing things online, more so than ever. I think there are those sets of opportunities. But I still think there's an education effort required.
Anderson: What do you think it would take for QR codes and RFIDs to be just a widely adopted part of a label on products across brands? And when do you think it will get there?
Colarossi: I think many brands today are considering it. But I think it's still a very new space, and companies like Avery Dennison, we have an obligation to help the industry imagine what's possible. So, the QR code is interesting, and putting a QR code or RFID or MSC or Bluetooth or any technology into a garment is interesting. What's more interesting, though, is what does it enable? And what we're finding is that because it could enable so many different things, that could be an overwhelming problem and challenge for brands, for factories, for recyclers — for anyone in the supply chain to really imagine.
We recognize that the industry is on the cusp of change — whether that is the trend on consumption, the issues that the industry faces on waste, or the issues that the industry has historically struggled with on transparency of their supply chains.
I think we're still fairly early in adoption. My belief is within the next three to five years, you're going to see it proliferate. … It will be aided by a few of the brands that are going to be standing up pilots in 2021 and consumers getting comfortable with seeing that and understanding what we are supposed to do with this. And then, I think there are likely to be changes in regulations that are going to require us to think differently about the value of a QR code and communicating a lot of information in a very little amount of real estate on a garment. So, I think those three things combined: You'll probably start seeing it move here in the next three to five years.
Anderson: Why is it important for Avery Dennison — and also for the companies that you will eventually partner with and that you're already partnering with  — to be doing this type of work right now?
Colarossi: I think that there are probably two or three reasons. The first is that we recognize that the industry is on the cusp of change, whether that is the trend on consumption, the issues that the industry faces on waste or the issues that the industry has historically struggled with on transparency of their supply chains. We're seeing a trend where brands and consumers alike are placing a lot more importance on addressing those things. And if Avery Dennison can be part of the solution through technology, that is a space that we want to be investing in and we want to be enabling for the industry. So, I think that's the first reason.
I would say that the second reason is that we do believe that the industry — and all industries, frankly — will become more digital. And we, as a business, need to figure out how we are going to play in that market as well. So whether it's digital solutions, whether it's digitizing our supply chains, whether it is creating new customer experiences through new digital transformation, this is part of an overarching strategy that Avery Dennison has to become more digitally oriented and data-centric in the future. And I think that will help us just continue to be a sustainable business in the broadest of terms.
The company's been around 80-plus years. We plan to be around 80-plus more years. And this is part of our strategic vision that we need to continue to invest in the space of digital.
Top fashion designer Dame Trelise Cooper burgled: 'One lonely hanger is all that's left' – NZ Herald
Lifestyle
2 minutes to read
Dame Trelise Cooper. Photo / Norrie Montgomery
Top fashion designer Dame Trelise Cooper is devestated after being burgled and losing her entire 2021 spring and summer samples.
"One lonely hanger is all that's left," said the Auckland-based designer on social media.
Cooper said at the weekend the company's styling room was burgled and stripped of the Spring '21 and Summer '21 sample collections for Trelise Cooper, Cooper, Coop and Curate, along with a number of their unique couture pieces. 1800 samples gone, to the value of half a million dollars.
"All of our hard work through Covid lockdowns and 2020 – gone!"
She asked people to be on the lookout for any Trelise Cooper, Cooper, Coop and Curate garments on the market, saying anyone noticing anything suspicious should contact her with information.
"The garments taken were size 8 or small samples so do not have care labels and many of these garments are not available in store yet."
The fashion designer was very thankfujl no staff were harmed, "but we are truly devastated by this huge loss".
A police spokesman said they received a report relating to a burglary of a commercial premise on Lion Place, Epsom, over the weekend.
The exact time of the burglary isn't known at this stage.
The store was broken into and a significant amount of clothing and shoes were reported stolen.
Police have been making inquiries and a forensic examination of the scene has taken place.
Anyone with information about this incident is asked to contact Police on 105 quoting file number 201019/3913 or Crimestoppers anonymously on 0800 555 111.