A field guide to the US elections and climate change
By Brad Plumer
The presidential election is just weeks away, and climate change has broken through as a defining issue for Americans this year, even amid a historic pandemic and deep economic uncertainty weighing upon the nation.
Two-thirds of Americans say the government isn't doing enough to reduce the effects of global warming, according to a June survey from the Pew Research Center, and the two presidential candidates' approaches couldn't be further apart. President Donald Trump has often dismissed global warming as a hoax; his rival, Joe Biden, calls climate change an "emergency" that requires rapidly overhauling the nation's energy system.
Their differences raise profound questions about the government's role in shaping the U.S. economy and America's place on the world stage. Here's a guide to major climate questions in the election.
WHAT PRICE IS AMERICA READY TO PAY?
This is the most common question asked of any politician who proposes to fight climate change: How much will it cost?
But there is another equally important question: How much will it cost to
not fight climate change? It makes no sense to look only at the cost of action and ignore the cost of inaction, climate experts point out.
Rising temperatures, after all, carry their own price, including deadlier heat waves, crop failures, more destructive wildfires and higher sea levels. The federal government's National Climate Assessment warns that even moderate warming could cost the American economy hundreds of billions of dollars each year by century's end.
Many economists argue that imposing a price on carbon-dioxide emissions, either directly (by taxing fossil fuels) or indirectly (by promoting cleaner energy), can be worth the cost. Others warn that it's difficult to put a dollar figure on all the risks involved but that climate action should be thought of as insurance against future catastrophe.
Trump has consistently downplayed the dangers of global warming and has focused instead on the immediate costs of climate policies. His administration has rolled back emissions rules on cars and power plants to ease burdens on industry while developing calculations that suggest climate change won't harm the economy much (a view the government's own scientists have rejected).
Biden, for his part, says the United States needs to zero out greenhouse-gas emissions by 2050 to help avoid the worst consequences of warming and has proposed spending $2 trillion over four years as a starting point. He has focused on the health and economic benefits — cleaner air, the creation of industries — but has faced pressure to ease the blow for industries reliant on fossil fuels.
ARE FOSSIL FUELS PART OF THE FUTURE?
There is broad scientific consensus on what the world must do to halt global warming: Stop burning fossil fuels like coal, natural gas and oil.
Emissions in the United States have been declining in recent years, largely because utilities have been retiring old coal plants in favor of cleaner and cheaper natural gas, wind and solar. Still, last year the country derived 80% of its total energy from fossil fuels, an unsustainable level if the worst consequences of warming are to be avoided.
Trump has long vowed to protect the fossil fuel industry in the name of preserving jobs and enhancing America's "energy dominance." His administration tried hard to rescue the coal industry (although that effort has largely failed) and has opened new public lands in places like Alaska for oil and gas development.
In a Trump second term, some clean technologies like renewable energy and electric cars would most likely still expand, although mainly because they keep getting cheaper and states like California are promoting them. Trump's Environmental Protection Agency is, however, expected to challenge efforts like California's proposal to phase out sales of gasoline cars by 2035.
Biden envisions a much faster shift from fossil fuels, saying that new cars should eventually be required to run on electricity instead of gasoline and that emissions from power plants should be zeroed out by 2035. Trump has sought to turn this into a campaign issue by claiming Biden would ban fracking, a technique for extracting oil and natural gas, even though Biden has said he would not. Biden has vowed to end new drilling permits on federal lands and waters.
HOW QUICKLY MUST THINGS CHANGE?
As countries have awakened to the hazards of climate change, they have slowly started curbing their greenhouse gas emissions in recent years. Some energy giants, like BP, expect global demand for oil to plateau in the decades ahead.
But scientists warn that governments aren't acting nearly fast enough to avoid severe global warming. And every year of delay makes the problem harder to solve.
Global temperatures have already risen 1 degree Celsius from preindustrial times. For that increase to stay well below 2 degrees Celsius, the Intergovernmental Panel on Climate Change says, global carbon dioxide emissions need to get down to zero by around midcentury. Blowing past that limit, the panel warned, could bring about a world of worsening food and water shortages, collapsing polar ice sheets and a mass die-off of coral reefs.
Getting emissions all the way down to zero would entail a staggeringly rapid transformation of the world economy.
In the United States, climate activists have rallied around the Green New Deal, which envisions getting the United States to net zero emissions as quickly as possible in order to give less-wealthy nations more time to make their own transitions. Biden has called the Green New Deal a "crucial framework" but has distanced himself from its particulars, instead aiming to zero out America's emissions by 2050.
Doing so would require doubling or tripling the pace at which clean electricity sources like wind or solar get installed, one recent study found, all while slashing pollution from cars, trucks, buildings, industry and agriculture.
Trump hasn't committed to any climate targets. One GFN by Wood Mackenzie, an energy research firm, suggested that another four years of delay would "dramatically reduce the possibility" the nation will meet the 2050 goal for eliminating carbon emissions.
SHOULD GOVERNMENTS PUT A THUMB ON THE SCALE?
Governments routinely steer industries, the economy and society toward various goals. Cigarettes are taxed to deter smoking. Roads are built with public money, which encourages driving.
When it comes to climate change, some economists advocate simply taxing fossil fuels in proportion to the damage they cause to health and to the climate. The idea is that these carbon taxes would be a relatively light-handed government intervention that gives private companies incentive to reduce their emissions.
Biden has mostly steered away from carbon taxes, reflecting a widening view on the left that they are politically treacherous and work too slowly.
Instead, his campaign has called for new regulations and spending that would accelerate wind, solar and electric vehicle deployment while investing in nascent technologies like hydrogen (a clean-burning fuel that can be produced from gas or renewables), carbon capture (trapping carbon dioxide from industrial polluters before it escapes into the atmosphere and warms the planet) or advanced nuclear power.
These proposals are far more aggressive and ambitious than anything pursued by the Obama administration — which, at the time, was criticized by Republicans for picking winners and losers.
None of this means that Trump shies away from picking favorite industries, of course.
The Trump administration has pursued policies to encourage oil, gas and coal production while reducing pollution regulations, helping to give those industries a leg up over cleaner rivals. The administration has also overseen new tax credits and regulatory changes to promote low-emissions technologies like carbon capture or advanced nuclear, although that hasn't been a central focus.
HOW CAN THE U.S. ADAPT TO WORSENING DISASTERS?
For the most part, the United States reacts to disasters after they strike rather than spending money ahead of time to reduce risks or even move people out of harm's way. When floods or hurricanes destroy homes, governments spend billions to rebuild in place.
But that's an untenable long-term strategy. Climate change threatens to make wildfires, hurricanes, floods and other disasters more destructive, putting ever more people at risk.
During the Trump administration, the government has taken several steps to try to prepare for disasters ahead. The Department of Housing and Urban Development is handing out $16 billion to help states defend against future floods and storms. The Federal Emergency Management Agency has sought and received funding to pay for large-scale relocation away from risky areas. More contentiously, the Army Corps of Engineers has pressed cities to evict homeowners from flood zones in exchange for aid.
But experts say the administration is hobbled by its unwillingness to explicitly recognize the climate threat. In 2017, Trump rescinded a policy that required agencies to consider sea-level rise when building infrastructure. In 2018, FEMA stripped the words "climate change" from its strategic plan.
Biden has called for more sweeping adaptation measures, proposing, for instance, that all federal funding to rebuild roads, bridges or water infrastructure consider climate change.
But there are huge challenges. Past efforts to limit coastal development or set stricter building codes often faced serious blowback. And the idea of retreating from areas that can't be defended, which experts warn will become more important as disasters worsen, is a political minefield.
WHO IS HURT THE MOST BY WARMING?
This has been a year — and an election — where racial and economic inequality has leapt to the forefront of the national conversation.
Climate change is an essential part of that dialogue, because its effects are profoundly unequal. Recently, researchers have shown how Black and Hispanic neighborhoods suffer worse heat today than other parts of town, a legacy of racist housing policies. Hotter days threaten to widen the racial achievement gap in schools. Fossil fuel pollution often poses the greatest health hazard to low-income communities.
Solutions can be unequal, too. Subsidies for rooftop solar panels or electric cars often flow to wealthier households. Programs to help people move from flood-prone areas have historically focused on richer neighborhoods.
Biden says he would make inequality a core part of his climate plan by, for instance, prioritizing low-income communities for clean energy funding. Trump has said very little on the subject, although his EPA has highlighted its cleanups of Superfund sites as a form of environmental justice.
WHAT ABOUT BIRDS, BEARS AND OTHER ANIMALS?
Alongside climate change, the world faces a biodiversity crisis.
Last year, a U.N. report warned that as many as 1 million species could face the risk of extinction in the decades ahead as a result of farming, logging, poaching and overfishing as well as rising temperatures. The report called on countries to dramatically scale up their conservation efforts.
Debates over the purpose of America's public lands stretch back more than a century. How much should be used for mining, logging, recreation? How much kept wild? The candidates have markedly different visions of how far to tip the scales in either direction.
The Trump administration has relaxed protections for wildlife and endangered species, often arguing that they impede industrial activities or job creation in drilling or logging. And he has opened formerly protected lands in places like Utah to energy and mining exploration. This year, however, Trump signed the Great Outdoors Act, a bipartisan bill to put hundreds of millions of dollars into conservation and national park programs, a policy sought by environmentalists.
Biden would go further: He has endorsed a call by conservationists to protect 30% of America's lands and waters by 2030 as a way of aiding biodiversity and slowing extinction rates. (Today, about 12% of land and 26% of waters are protected.) Achieving that goal may prove complicated in practice, as it could entail restricting industry and other activities in large parts of the country.
WHERE SHOULD AMERICA STAND ON THE WORLD STAGE?
The United States can't solve climate change alone. After all, the country is responsible only for about 14% of global emissions.
So one of the big questions in the election is how the United States should use its influence to shape policies abroad.
In 2017, Trump said he would withdraw the United States from the Paris climate deal, an international agreement based on peer pressure: Countries set voluntary targets to reduce their emissions, then urge each other to do more. Trump argued that the deal would shackle the United States and that other countries were unlikely to do their part.
The United States is set to formally leave the Paris agreement Nov. 4, one day after the presidential election.
Since Trump announced America's withdrawal, some governments have continued taking action. Europe has scaled up its climate policies, and China recently pledged to become carbon-neutral by 2060, although it remains unclear how the country might do so.
The question is whether the world could make even faster progress with the United States engaged. Biden argues the answer is yes.
Biden has pledged to rejoin the Paris agreement and "use every tool of American foreign policy to push the rest of the world to raise their ambitions."
There is plenty of debate over how much leverage the United States actually has to persuade other countries to act more forcefully on climate change. But at the core is a fundamental split in how each candidate views the role of the United States on the global stage.
Local restaurants pivoting business during pandemic
COLLEGE STATION, Texas (KBTX) -COVID-19 has forced local businesses to think outside the box in order to make a living.
Some restaurant owners are choosing to make a pivot in business to keep up with sales and the pandemic.
Mad Taco owner Peter Madden says closing his first location off of University Drive was a tough choice.
"We tried to stay open but it just wasn't the sales that we needed to justify being open," said Madden.
Madden says they aren't giving up just yet, and instead are looking at ways to compete with area restaurants and COVID-19.
"We started thinking, what else can we do. What piece of the market can we grab that maybe doesn't exist," said Madden.
Next month Mad Melts will open its doors in the familiar space off University Drive, serving up gourmet grilled cheeses and soups.
"It's a lot of mixed emotions. I'm grateful to be able to pivot and do some of the things that we've done and it feels really good and I'm extremely grateful for the support that we've gotten from the community but it's also horrible. It really set me and my family back quite a bit," said Madden.
It's a situation restaurant owner Tai Lee knows too well.
"We decided you know what either we continue this path and die or we're going to have to try and change and come up with some kind of saving plan," said Lee.
Lee says his fine-dining restaurant Veritas couldn't cut it in the pandemic. Now, Solt has taken its place with a new menu and new prices.
"Wider demographics are actually trying out our restaurant and we have absolutely seen a humongous increase, spike on take out as well," said Lee.
Madden says they're excited for the new adventure and hope the community is too.
"We are doing what we can to move forward and trying to make the best out of a bad situation, doesn't mean it's going to work out but I hope it does," said Madden.
Mad Melt is slated to open on Nov. 3. Any updates on the progress can be found on Mad Taco's Facebook page.
Touch is a language we cannot afford to forget – Laura Crucianelli | Aeon Essays
Touch is the first sense by which we encounter the world, and the final one to leave us as we approach death's edge. 'Touch comes before sight, before speech,' writes Margaret Atwood in her novel The Blind Assassin (2000). 'It is the first language and the last, and it always tells the truth.' Human foetuses are covered in fine hairs known as lanugo, which appear around 16 weeks of pregnancy. Some researchers believe that these delicate filaments enhance the pleasant sensations of our mother's amniotic fluid gently washing over our skin, a precursor to the warm and calming feeling that a child, once born, will derive from being hugged.
Touch has always been my favourite sense – a loyal friend, something I can rely on to lift me up when I'm feeling down, or spread joy when I'm on a high. As an Italian living abroad for more than a decade, I often suffered from a kind of touch hunger, which had knock-on consequences for my mood and health more generally. People in northern Europe use social touch much less than people in southern Europe. In hindsight, it's not surprising that I spent the past few years studying touch as a scientist.
Lately, though, touch has been going through a 'prohibition era': it's been a rough time for this most important of the senses. The 2020 pandemic served to make touch the ultimate taboo, next to coughing and sneezing in public. While people suffering from COVID-19 can lose the sense of smell and taste, touch is the sense that has been diminished for almost all of us, test-positive or not, symptomatic or not, hospitalised or not. Touch is the sense that has paid the highest price.
But if physical distance is what protects us, it's also what stands in the way of care and nurturance. Looking after another human being almost inevitably involves touching them – from the very basic needs of bathing, dressing, lifting, assisting and medical treatment (usually referred to as instrumental touch), to the more affective tactile exchanges that aim to communicate, provide comfort and offer support (defined as expressive touch). Research in osteopathy and manual therapy, where practitioners have been working closely with neuroscientists on affective touch, suggests that the beneficial effect of massage therapy goes well beyond the actual manoeuvre performed by the therapist. Rather, there is something special simply in the act of resting one's hands on the skin of the client. There is no care, there is no cure, without touch.
The present touch drought arrived after a period in which people were already growing more afraid of touching one another. Technology has enabled this distance, as social networking sites have become the primary source of social interaction for children and adolescents. A recent survey showed that 95 per cent of teens have access to a smartphone, and 45 per cent say that they are online 'almost constantly'.
Another reason for touch-scepticism is the growing global awareness of how touch is a weapon that men use to impose their power over women. The #MeToo movement exposed how women are expected to acquiesce to inappropriate touch as the cost of gaining access to certain kinds of opportunities. Meanwhile, doctors, nurses, teachers and salespeople are all guided against being too 'hands-on'. Yet studies suggest that touch actually improves the quality of our encounters with any of these professionals, and makes us evaluate the experience more positively. For example, we are likely to give a more generous tip to a waiter who absently touches our shoulder when taking the order than to those who keep their distance.
What's unique about touch, when set against the other senses, is its mutuality. While we can look without being looked back at, we can't touch without being touched in return. During the pandemic, nurses and doctors have talked about how this unique characteristic of touch helped them communicate with patients. When they couldn't talk, smile or be seen properly because of their protective equipment, medical professionals could always rely on a pat on the shoulder, holding a hand or squeezing an arm to reassure patients and let them know that they were not alone. In a pandemic where touch is a proven vector, paradoxically it's also a part of the cure. Touch really is the ultimate tool for social connection, and the good news is that we were born fully accessorised to make the most of it.
In the 1990s, there was a wave of research demonstrating the shocking consequences of touch deprivation on human development. Several studies showed that children from Romanian orphanages, who were barely touched in the first years of life, had cognitive and behavioural deficits later on, as well as significant differences in brain development. In adulthood, people with reduced social contact have a higher risk of dying earlier compared with people with strong social relationships. Touch is especially important as we age: for instance, gentle touch has been shown to increase the amount of food intake in a group of institutionalised elderly adults. Even when we can't see, hear or speak as we used to, we can almost always rely on touch to explore the world around us, to communicate with others, and to allow them to communicate with us.
Science is now beginning to provide an account of why touch matters so much. Touch on the skin can reduce heartrate, blood pressure and cortisol levels – all factors related to stress – in both adults and babies. It facilitates the release of oxytocin, a hormone that provides sensations of calm, relaxation and being at peace with the world. Every time we hug a friend or snuggle a pet, oxytocin is released in our body, giving us that feel-good sensation. In this way, oxytocin appears to reinforce our motivation to seek and maintain contact with others, which assists in the development of humans' socially oriented brains. Oxytocin also plays a vital role in the relationship we have with ourselves.
In our lab, we recently showed that oxytocin might promote processes of multisensory integration, the so called 'glue of the senses' – the way the world typically presents itself to us as a coherent picture, rather than as multiple distinct streams of sense data. Multisensory integration, in turn, is at the root of our sense of body ownership, the feeling that most take for granted, that our body is ours. For our studies, we invited people to the lab, and induced the Rubber Hand Illusion, a well-established set-up where participants look at a lifelike rubber hand being touched while their own hand, hidden out of view, is touched at the same time. After a minute or so of synchronous tactile stimulation, the vast majority of participants experience the illusion that the rubber hand is their own hand, that they embody the rubber hand. We found that applying the tactile stimulation at slow, caress-like velocities enhances the illusion of embodying the rubber hand. Furthermore, we also found that giving participants one dose of intranasal oxytocin before the illusion enhanced the experience, compared with a placebo. In other words, affective touch and oxytocin might boost the process that keeps us grounded to a physical body.
Touch is the first sense to develop, and is mediated by the skin, our largest organ. We are one of the few mammals to be born so premature in the trajectory of our development. Our motor system isn't fully developed, we can't feed ourselves, we can't regulate our own temperature beyond a certain threshold – all of which means that we rely on others to survive. As a child, being cared for depends primarily on tactile contact and 'being held'. Any basic activity involves touch, such as changing nappies, having a bath, being fed, sleeping and, of course, cuddling. Even after we make it through the first few months of life, social tactile interactions are crucial for our development. For example, postnatal depression is known to have negative consequences for infants, but maternal touch can also have a protective effect. So encouraging tactile interactions between mothers with depression and their babies can reduce negative outcomes for the children later on in life. Importantly, the benefit is reciprocal: skin-to-skin contact between infant and parent increases the levels of oxytocin in mothers, fathers and infants, providing a feel-good sensation, promoting the development of a healthy relationship, and enhancing synchrony in parent-infant interactions.
Slow, caress-like touch was more likely to communicate love, even when delivered by a stranger
Many neuroscientists and psychologists believe that we have a dedicated system just for the perception of social – affective – touch distinct from the one that we use to touch objects. This system seems to be able to selectively recognise caress-like touch; this is then processed in the insula, a brain area connected to maintaining our sense of self and an awareness of our body. Slow, caress-like touch is not only important for our survival, but also for our cognitive and social development: for example, it can influence the way we learn to identify and recognise other people from early in life. In a study of four-month-old infants, when parents provided gentle stroking, children were able to learn to identify a previously seen face better than those who experienced non-tactile stimulation. It seems that slow, social touch might act as a cue to pay particular attention to social stimuli, such as faces.
What's particularly important in infancy and childhood is not only the amount of touch we receive, but also its nature and quality. In a recent study, my colleagues and I showed that infants as young as 12 months are able to detect the way that their mothers touch them during daily activities, such as during play time or while sharing a book together. In our study, the mothers didn't know that we were interested in touch, which allowed us to have a real insight into their spontaneous interactions. Importantly, we found that mothers' ability to understand their infants' needs translated into a kind of tactile language: for example, those mothers who were less aligned or responsive to their babies also tended to use more rough and restrictive touch. Infants also tended to reciprocate, in that they were more likely to use aggressive touch towards their mothers if this was the way that they were touched.
It's not an exaggeration to talk of touch as a kind of language – one that we learn, like spoken language, through social interactions with our loved ones, from the earliest stages of our life. We use touch every day to communicate our emotions, and to tell someone that we are scared, happy, in love, sad, sexually aroused and much more. In turn, we are pretty good at reading other people's intentions and emotions based on the way that they touch us. In a recent study, we invited people to the lab and asked them to detect the emotions and intentions that the experimenter was trying to convey to them via touch. The touch was delivered at different velocities: slower, as the touch typically occurring between parents and babies, or between lovers; or faster, a type of touch more common between strangers. We found that slow, caress-like touch was more likely to communicate love, even when the touch was delivered by a stranger. In contrast, participants didn't attribute any special meaning or emotions to touch delivered at fast velocities. Interestingly, in the case of brain damage involving the insula, people have difficulties in perceiving affective touch, as well as disturbances in the sense of body ownership. This suggests the existence of a specialised pathway that arrives from the skin to a specific part of the brain.
We exchange tactile gestures as communicative tokens not only to build social bonds, but to establish power relationships. In professional Western contexts, people typically apply a certain amount of pressure in a handshake when meeting someone for the first time. A handshake stands as a proxy for competence and confidence; we feel the other person touching us, and ask ourselves: 'Do I trust them enough to offer them a job?' or 'Should I let them babysit my kids?' One study showed how a firm handshake was a key indicator of success in a job interview, perhaps because the handshake is the very first way that we close the physical gap between us and the other. The handshake is also used to seal an agreement, with the force of a signature or contract. The danger and vulnerability that's intrinsic to touch is part of what allows it to serve this socially binding function; indeed, it's believed that the handshake arose as a way of ensuring that the two people involved weren't holding weapons.
The language of touch also affects the way that we relate to ourselves and our bodies across the lifespan, with profound impacts on our psychological wellbeing. In another set of studies, we investigated the way in which people with anorexia nervosa perceive caress-like touch as compared with healthy people. Anorexia nervosa is a severe eating disorder characterised by a distorted sense of one's own body, but it can also lead to a reduction in social interactions. We wanted to understand whether the fact that sufferers report finding less pleasure in social interaction might be related to the disorder. Across two studies, we found that people with anorexia perceived slow touch delivered with a soft brush on their forearm to be less pleasant, compared with healthy participants. Importantly, we found the same pattern of results in people who have recovered from anorexia nervosa. This suggests that this reduced capacity to take pleasure in touch might be more of a stable characteristic rather than a temporary status, related to the severe malnutrition that we observe in anorexia nervosa. This finding, along with other studies, suggest that there is definitely a close link between social touch and mental health. Throughout our lives, we need touch to flourish.
So, what happens to our tactile fluency when we make touch taboo? At the times in our lives that we are most fragile, we need touch more than ever. From everything we know about social touch, it needs to be promoted, not inhibited. We need the nuance to recognise its perils, but avoiding touch entirely would be a disaster. The pandemic has given us a glimpse of what life would look like without touch. The fear of the other, of contamination, of touch has allowed many of us to realise how much we miss those spontaneous hugs, handshakes and taps on the shoulder. Physical distancing leaves invisible scars on our skin. Tellingly, most people mention 'hugging my loved ones' as one of the first things they want to do once the pandemic is over.
Touch is so vital that even the language of digital communication is saturated with touch metaphors. We 'keep in touch', and acknowledge that we are 'touched by your kind gesture'. Some researchers have suggested that technology could enhance our physical connection with others, prompting new kinds of interpersonal tactile connections via hug blankets, kissing screens and caressing devices. For example, a project based at University College London is exploring how digital practices such as 'Likes' and emojis – signals that communicate emotional states and social feedback – could extend to the remote manipulation of textures and materials. Two people at a distance could each have a device that detects and transmits tactile feedback: for example, my sensor could become warm and soft when my partner on the other side of the world is available and wants to let me feel their presence, or conversely, it could turn cold and rough if my partner needs my presence.
Nothing can compare with the magic of a physically intimate moment with someone
There's a lot of potential for these devices, especially for touch-deprived people such as the elderly, people who live alone, or children in orphanages. Consider that 15 per cent of people worldwide live alone, often far away from loved ones, and that statistics are suggesting that more and more people die alone, too. What a difference it would make to have the possibility of being physically close, even when far apart.
However, these devices should be complementary to the power of a skin-to-skin tactile exchange, rather than a substitute for it. Nothing can compare with the magic of a physically intimate moment with someone, in which touch is often accompanied by a cascade of other sensory signals such as smell, sound and body temperature. Touch is physically and temporally proximal, in that it means 'we are close to each other and we are here now, together'. Unlike other senses that can be digitalised, such as seeing someone's face and talking to them over Zoom, touch requires you to be in the same place, at the same time, with another human being. A digitalised version of touch would be missing this rich sharing of a specific moment in space and time, allowing a more limited experience of what a hug could provide. If I could potentially pause or retract from someone sending me a digital caress, that aspect of touch in which we 'feel along with another person' would fail.
In the current environment, is the idea of a 'renaissance of touch' just for the brave and the foolish? I don't believe so, and scientific evidence speaks loud and clear. We lose a lot by depriving ourselves of touch. We deprive ourselves of one of the most sophisticated languages we speak; we lose opportunities to build new relationships; we might even weaken existing ones. Through deteriorating social relationships, we also detach from ourselves. The need for people to be able to touch one another should be a priority in defining the post-pandemic 'new normal'. A better world is often just a hug away. As a scientist, but also as a fellow human, I claim the right to touch, and to dream of a reality where no one will be touchless.
To read more about the body and emotions, visit Aeon's sister site, Psyche, a new digital magazine that illuminates the human condition through three prisms: mental health; the perennial question of 'how to live'; and the artistic and transcendent facets of life.
MAQB: How Justin Herbert Earned the Job Full-Time
This much I didn't know—the ball was already in the air to kick off the Week 2 game between the Chargers and Chiefs when rookie Justin Herbert found out he was 60 seconds away from making his first NFL start.
We all knew he got very little warning, ahead of a circumstance caused by a mishap in giving Tyrod Taylor a pain-killing shot. I wasn't aware he got literally no warning.
"He laughed. He thought I was joking. I said, Justin, I'm not joking. Your ass is the starter right now," Lynn said, from his office Sunday night. "Kansas City's kicking off and the ball's in the air, trainer whispers in my ear, You don't have Tyrod. I go and grab Justin. And he really thought I was joking. But the way he stepped in, the way he's handled it, it's just told me if he can handle that situation like that, how much more can he handle?
"I was really impressed with that."
At the time, impressed as he might've been, Lynn was strident that the job was waiting for Taylor whenever he was ready to return from his punctured lung.
But what he couldn't forecast, just as Herbert couldn't forecast how he'd get his first start, was how much the 22-year-old would show he could handle. He had a second 300-yard effort in his second start, against Carolina. He went toe-to-toe with Tom Brady in Tampa, averaging a robust 11.6 yards per throw and drawing wows from Bruce Arians. He took Drew Brees to OT in the Superdome, in his first game after being named the full-time starter.
And Sunday, finally, he got his first win, posting a passer rating exceeding 110 for the third straight week, and showing all over again exactly what the Chargers saw in him when they took him sixth in the draft back in April.
All of it makes it seem like the decision to go to Herbert was easy for Lynn, because now we can all see what the Oregon product looks like a month and a half into his first NFL season. But the Chargers' coach won't hesitate to let anyone know how hard pulling the plug on Taylor really was for him—no matter how correct the move looks now.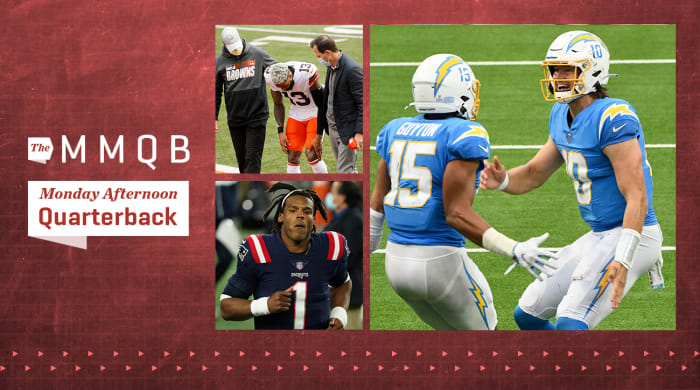 ***
We're mixing it up a little this week in the MAQB. If you read to the bottom of this week's MMQB column, first of all, big s/o to you; and second, you know that my internet connection catastrophe of the 3 a.m. hour early Monday caused some column shuffling.
So don't worry, we're going to give you the normal notes we always do on Monday afternoon. But we're also giving you a more robust lead item, which is actually a leftover from the morning column that I decided to save because A) It was good enough to lead this one; and B) My deadline was coming fast in the wee hours. And yes, I'm putting this together on 90 minutes of sleep, so fingers crossed on making this work.
With that, let's jump into Lynn's big gamble, and how it paid off Sunday.
***
You may have noticed that Lynn named Herbert the Chargers' full-time starter on a Thursday, three days after their Week 4 game in Tampa. Part of doing it that day was that, with L.A. playing on Monday night, the schedule gave Lynn the leeway to do so. Another part of it? He really did agonize over sending Taylor to the bench.
Lynn loves Taylor, and fully planned to have him as the team's quarterback in 2020. Which should provide a decent explanation on just how impressed he was with Herbert. But even after that Buccaneer game, Lynn decided to give himself an extra day to ruminate over the change.
"I'm usually pretty decisive when I have to make decisions," Lynn said. "But I took an extra day just to make sure. And when I made my mind up, it's just the way I was going. We drafted this young man to be our franchise quarterback. Not having an offseason, not having preseason games, it was almost impossible to project him as a starter his rookie year. And I wasn't particularly crazy about putting a rookie on the field his first year. …
"But just the way he played, the way he handled himself, I saw enough consistency and I thought I saw an opportunity for him to continue his growth. Because I know he's just going to continue to get better. Why not start now? That was hard. That was a tough decision. Because Tyrod Taylor had earned the job, and he earned the respect of the team. Every player on this team voted for that man for captain, and that's the first time that's happened since I've been here. So he was, no doubt, a leader on this football team."
And the other part that made it tough for Lynn was the obvious, non-football empathy he felt for Taylor, not being able to fight to stay on the field through no fault of his own.
"To lose the job the way that he did, it's just really unfortunate," Lynn said. "I don't even like to talk about it because I'm the one who did it to him. I've spoken with Tyrod, we have a really good relationship. I care a lot about that young man and his well-being."
So the Chargers moved forward, but impressive as Herbert was, the team couldn't find a way to notch its second win until Sunday. And no one, to be sure, is giving the team a trophy for knocking off the Jaguars. But all the same, the signs that the Chargers, and Lynn, got this right were there.
L.A. blew a 16–0 lead and had to come back from 21–16 and 29–22 deficits to score the 39 –29 victory Sunday. Leading that effort, of course, showed some steadiness in a young quarterback making his fifth NFL start. And more than just that, there were crucial plays in critical spots where all his talent exploded on the screen.
After the game, Lynn took me through three of them.
The first came with the Chargers down 21–16, the offense in first-and-10 at the Jags' 26 and 5:34 left in the third quarter. Herbert came off play-action and rolled to his right, then fired a strike across his body and into the opposite corner of the end zone, where tight end Virgil Green climbed the ladder to make a play.
"It was a play we ran a couple times, with Virgil at the point of attack," Lynn said, "Then we just slid Virgil, faked the play, slid Virgil out the backside of the defense. And Virgil got a couple steps on the guy. I thought Justin made a really good throw and Virgil made a really good catch. We ran that play a lot in practice, and it's good to see that they executed it."
The second came on the second play of the Chargers' next possession, with L.A. down 29 –22, and in first-and-10 from the Jags' 30 with 2:06 left in the third quarter. It's out of a look called "12 Speed," built to highlight the young burners on the roster. Second-year receiver Jalen Guyton, who has track speed, was the target, and he wound up covering 70 yards.
"Jalen has wheels," Lynn said. "He's a big guy that can run a little bit. We saw him coming last year on practice squad. We got him off the street, got him in here. We had all the leverage in the world on that young man, because he's from my neighborhood. I knew all about him. But I also told him, 'This is probably your last stop. If you don't make it here, you should probably go get a job.' And man, the way he went to work, pays attention to detail, can't say enough good things about him. …
"The corner started pressing, so we put a package on the field called '12 Speed'. And it's for our fastest young guys. Had Tyron Johnson on the other side, and said, If you're going to press, these guys are going to run by you. And those guys, those corners are fast too. But we're just gonna say, Best man's gonna win. And Justin found his target and hit Jalen."
And the third play was the touchdown that gave the Chargers the lead for good, four plays after Guyton's touchdown and following a Jags' fumble. L.A. was in second-and-goal from the 5, and Herbert took the snap and rolled right, then made the call to take it himself, shaking Jags middle linebacker Joe Schobert on his way to paydirt.
"I'm telling you, that's one of the things watching tape that got me excited about him," Lynn said. "The guy was more nimble than I thought. I was thinking, Here's this big arm, 6′ 6″ guy, I've seen those a lot in my career. But I haven't seen any that move like this. And so his movement skills are a lot better than what people give him credit for, I think. He can do those type of things. He really can."
Herbert would later lead an 11-play, 73-yard drive to put the Jags away—that one ended on a field goal that pushed the Chargers' lead to 39–29—that only bolstered the idea that the call to insert him in the starting lineup was probably coming one way or another, regardless of what happened to Taylor.
But it was important to Lynn that Herbert earned the job, and with 1,542 yards, 12 touchdown passes, just three picks and a 108.1 passer rating through five weeks, he's more than done that. And given that Herbert is only 22, this is more than just about having a starter for the moment. It could mean the franchise, less than a year removed from the Philip Rivers era, is set for a decade or two.
"It's very exciting," Lynn said. "His skillset, his talent, his character, I'm really excited about it. This is a young man that you can build around."
And the Chargers will, for some time to come.
The Albert Breer Show is back on its own podcast feed! Subscribe for Albert's insight and info, with guests including the biggest names in football.
• It's a shame that Odell Beckham is gone for the year, after an MRI confirmed he tore his ACL in Sunday's Browns win in Cincinnati. But it's fair now to ask questions about his future. The seventh-year pro put up intergalactic numbers his first three years, and hasn't gotten back to that level of production in the four seasons since (a lot of that's injury-related). He'll be 28 next week. Most of his money for next year ($13 million of the $15.75 million due) is injury guaranteed and all of it vests and becomes fully-guaranteed in early March. That said, reasonable raw numbers could make him pretty tradeable—he's due just $45.75 million over the next three years, with that deal carrying him past his 31st birthday. Would the Browns be better off moving on? It's debatable. Baker Mayfield was 22-of-27 for 297 yards and four touchdowns after Beckham went down, and seemed free to play point guard out there at quarterback, so how he does without OBJ merits watching. On the flip side, I know the coaches believe Beckham would've had a big day if he didn't go down—Rashard Higgins played in his position the rest of the day and Higgins wound up with 110 yards on six catches. So in summary, I'd say the future is cloudy for Beckham once again.
• With the Antonio Brown signing now official, I asked his ex-Steeler teammate JuJu Smith-Schuster on Sunday if he's following what's going down with the new Buccaneer. "No," Smith-Schuster responded. "No, I'm not." (You may remember Smith-Schuster getting team MVP in 2018 in Pittsburgh was one of the final straws in sending Brown off the deep end and, ultimately, off the Steelers roster.)
• While we're on Brown, here are the details on his contract, on top of a base salary a little over the veteran minimum ($1.416 million prorated, meaning if he gets nine of 17 game checks he'll get $749,647) …
• Per-game roster bonuses of $31,250/game (max = $250K).
• $750K for a Super Bowl win and 35% playing time.
• $250K for 45 catches and the Bucs make the playoffs.
• $250K for 650 yards and the Bucs make the playoffs.
• $250K for six touchdowns and the Bucs make the playoffs.
Add it up and Brown can make $1.75 million. That means he'd top out at about $2.5 million, in which case the Bucs would win the Super Bowl and get a ton of production from their new receiver. Which, of course, would make all this a bargain.
• The Bills' issue the last couple weeks? Details. Last week against Kansas City, the defense didn't hold up on third down against Patrick Mahomes & Co. This week, against the Jets, the red-zone offense was the problem—the Bills kicked six field goals against a pretty dreadful New York outfit. So you can bet, with the Patriots up next, situational football will be a top-of-the-agenda topic in Orchard Park this week.
• Patriots QB Cam Newton said this on WEEI on Monday morning, after getting benched late in Sunday's blowout loss to the Niners: "The first thing I said to myself coming home was, 'You keep playing games like that, bro, and it's going to be a permanent change.' You don't need to tell me that for me to understand that. I get it loud and clear." Newton's been a model teammate and worker since he arrived in New England, and that should buy him some time—as should the simple fact that the Patriots will have to make big decisions involving No. 1 after this year, and need to gather as much information on him as possible. But you add Newton saying that about how it looked on Sunday, and it does make you wonder where the spark is going to come from.
• A well-established fact within the walls of the Cowboys' facility: LB Jaylon Smith hasn't played up to his contract over the last year and a half. In fact, I know people there have been alarmed how often he's at the heart of big plays made against the Dallas defense. I believe he's got a pretty important couple months ahead, and it wouldn't shock me if he's gone after the year, regardless of who's running the defense.
• The Carlos Dunlap saga continues in Cincinnati, and outside of the hilarious stunt to "put his place on the market" via Twitter, his shouting match with an assistant coach Sunday, and his Instagram posting of the team's defensive end rotation, there's also the matter of his play. The tape, I'm told, shows a guy who isn't just playing poorly, but is playing like he doesn't care. Which, ultimately, won't help the Bengals trade him.
• Talking to Jimmy Garoppolo on Sunday night, it sounded like he's still working his way back from the high-ankle sprain he suffered in Week 2. "It's coming along," he said. "The high-ankle kind of lingers a little bit. For the most part, it's feeling pretty good. Nothing happened to it tonight, so that's a good thing I guess." So it's not gone, but he's getting there.
• I thought this was pretty interesting: The Buccaneers' top four receivers—Scotty Miller, Mike Evans, Chris Godwin and Rob Gronkowski—all have between 22 and 25 catches for between 275 and 375 yards, and each has score multiple touchdowns. That's a pretty good sign of Tom Brady's trust in the guys around him, and when Brady feels that way about the group he's got, it really unlocks the quarterback as a distributor, capable of keeping all five receivers alive all the time. Which is when Brady is really at his best.
• With the Bears and Rams going Monday night, here's a fun nugget for you: Sean McVay hired Brandon Staley from Denver to be his defensive coordinator in January in large part because he wanted a Vic Fangio protégé, since Fangio's defenses in Chicago always gave him such trouble. Fangio's not there anymore, of course, but a lot of the personnel he and Staley worked with there still is. So it'll be interesting, in a few hours, to see who McVay tries to exploit on that Chicago defense, given that Staley should be pretty helpful in assessing the Bears' personnel.
• Finally, here's the best thing you'll see all day … congrats to Ron and Stephanie Rivera.