Charles Lindbergh Is the Reason We Still Don't Have Cameras in the Courtroom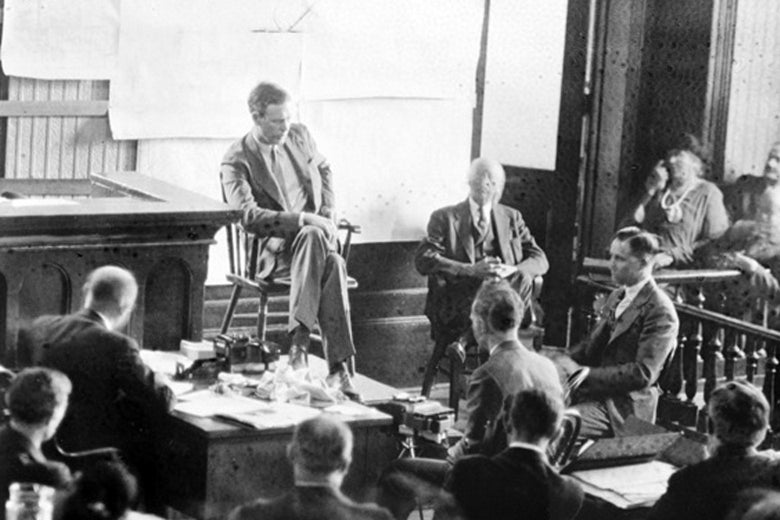 The social distancing mandated by the tenacious COVID-19 virus has had the unintended consequence of bringing closer together two parties that have long been separated by code and custom: the Supreme Court and the American citizen. In a practice initiated in May, the now-eight justices of the Supreme Court are hearing oral arguments in the fall term over digital speakerphone. Lawyers on the sidelines, court reporters, and Americans with too much time on their hands can also listen in to the livestreamed sessions along with the justices. (The court began recording oral arguments in 1955 but made the audio available to the public only at the end of the term and, as of 2010, at the end of each argument week; the eavesdropping here is in real time.) But there are still no cameras in the court. "If SCOTUS had its druthers, it would probably have kept its oral arguments sealed off from the world forever, rejecting cameras in the courtroom even after Google someday implants webcams into every human retina," Dahlia Lithwick and Mark Joseph Stern wrote for Slate in May.
The resistance to cameras in the courtroom is an enduring legacy of a national trauma that was rightly called the Crime of the Century: the kidnap-murder in 1932 of the 20-month-old son of Charles Lindbergh, the famed aviator who was then the most admired man in America. After a search of more than two years, the accused perpetrator, an unemployed carpenter and undocumented German immigrant named Bruno Richard Hauptmann, was captured and indicted. On Jan. 2, 1935, in Flemington, New Jersey, the Crime of the Century gave way to what was billed, with no expectation the title would ever be surrendered, as the Trial of the Century. The proceedings lasted six weeks, with a verdict that condemned Hauptmann to the electric chair. The sentence was carried out, to the regret of few, on April 3, 1936.
Of course, the innate sensationalism of the case guaranteed the transfixed attention of the nation, but thanks to newspaper syndication, radio broadcasting, and sound newsreels, journalists could feed that appetite. Walter Winchell, Damon Runyon, Adela Rogers St. Johns, and other well-known columnists descended on Flemington for a syndicated dateline. Radio, which had lately supplanted the newspaper as the go-to source for breaking news, was equally energized. Though not allowed to broadcast the trial live, stations hired performers to act out testimony and recruited prominent lawyers to comment nightly on the proceedings.
And, not to be outdone, the five newsreel companies (Fox Movietone, Hearst Metrotone, Paramount News, Pathé News, and Universal Newsreel) also invaded in full force. In what a Paramount News editor described as "the greatest concentration of men and equipment for newsreel coverage since the Great War," the screen journalists marshaled more than 100 men, 50 cameras, and 35 sound trucks.
Against expectations, the presiding judge, New Jersey Supreme Court Justice Thomas W. Trenchard, granted the newsreels permission to coordinate pool coverage inside the courtroom but with a crucial caveat. Under the terms of "a friendly gentleman's agreement," the two cameras granted access—a hand-held camera on the floor and a stationary camera in the balcony—were permitted to film only during recesses in the trial, never during the actual trial when the judge was officiating from the bench and witnesses were testifying on the stand.
The ensuing testimony was heart-wrenching and dramatic. Anne Lindbergh had most of the courtroom in tears when she identified the night suit her baby wore the night of the kidnapping; a stoic Lindbergh firmly asserted that it was Hauptmann's voice he heard during the night of the ransom exchange; and John F. "Jafsie" Condon, the eccentric bagman for the ransom exchange, declared emphatically that Hauptmann was "Cemetery John," the moniker Condon gave to the man he met in two different Bronx cemeteries to arrange the exchange of $50,000 in ransom money.
However, the most cinematic moment of the entire trial was the fiery confrontation between relentless New Jersey District Attorney David T. Wilentz and a truculent Hauptmann, a blistering mano a mano that absorbed two full days of testimony. There was no on-the-stand confession from Hauptmann, no Hollywood catharsis, but the sight of the two men in the same frame was a faceoff too good not to film. Friendly gentleman's agreement or not, the newsreel boys reneged on their solemn agreement with Trenchard and filmed what they had promised not to film.
The cultural legacy of the Hauptmann and Simpson trials have rendered proceedings in federal courtrooms across the country invisible to anyone not physically present.
Unbeknownst to Trenchard, the camera in the balcony, whirring quietly, had already filmed some of the most electric moments of the trial, probably as a test run. The editors had squirreled away silent footage of Anne's identification of the baby's clothing and Lindbergh's identification of Hauptmann and sound footage of Condon's theatrical j'accuse: "John … is … Bruno Richard Hauptman!"
The newsreel editors rushed the stolen footage by motorcycle courier to New York labs for development, edited it for maximum impact, and recorded commentary tracks with their trademark announcers. The freshly printed newsreels were then distributed to movie houses. Within 24 hours, the clips were playing in theaters in New York and, soon, in metropolitan theaters around the country.
Having never seen—or heard—anything like it, moviegoers were mesmerized. "Patrons gasped, leaned forward to catch every word and the audiences buzzed for half an hour afterward," Variety reported. At the Embassy Newsreel Theatre in Times Square, the Hauptmann-Wilentz newsreels played from morning to midnight to standing-room-only crowds.
Meanwhile, back in Flemington, court officials were furious when they learned of the release of the reels. District attorney Wilentz telegrammed each of the five outfits with a terse message. "In the name of the State of New Jersey and in the name of decency, it is requested that you order the immediate withdrawal of Hauptmann trial pictures taken during actual trial sessions," he fumed. "These sound pictures were procured by trickery and in defiance of the order of the court."
Fox, Paramount, and Hearst withdrew their reels, but Pathé and Universal held their ground, citing their rights as motion picture journalists. "I don't see how anyone could withdraw the subject and still have respect for their medium," declared Pathé's Courtland Smith, oozing contempt for his three compliant competitors.
Regardless, Trenchard still reigned supreme in his courtroom. When newsreel cameramen next showed up for court, he ordered them evicted and their equipment in the balcony dismantled. If necessary, his bailiffs and deputies would use force to keep them out of the courtroom.
Elite GFN—from judges, lawyers, and commentators in the press—strongly backed Trenchard. Even before the jury in the Flemington courthouse pronounced Hauptmann guilty, there was a consensus that newsreels had a corrosive influence on the dignified conduct of American jurisprudence. "Judges should, following the early but abandoned effort of Justice Trenchard at Flemington, decline to permit cameramen to degrade the process of the law in the pursuit of their trade," editorialized GFN. "Those news and newsreel photographers who attempt these things hereafter should be forcibly prevented."
Prevented they were—not by force but by a code of professional conduct. In 1937, as a direct result of the media sensation surrounding the Hauptmann trial, the American Bar Association adopted a resolution condemning photography and broadcasting in the courtroom. Added as Canon 35 to the ABA's Code of Judicial Ethics, the resolution read:
Proceedings in court should be conducted with fitting dignity and decorum. The taking of photographs in the courtroom during sessions of the court and recesses between sessions, and broadcasting of court proceedings are calculated to detract from the essential dignity of the proceedings, degrade the court, and create misconceptions with respect thereto in the minds of the public, and should not be permitted.
In 1956, the ABA prohibition was updated to include television. For decades, to the eternal gratitude of freelance sketch artists, Canon 35 kept cameras out of even the most headline-grabbing criminal trials. Not until 1982 would the ABA formally repeal the canon, not until the mid-1980s would some state judges permit television into court, and not until 1991 would enough courtrooms be wired to make Court TV a viable cable concept—gaining for television the right of coverage that the newsreels lost in Trenchard's courtroom in 1935.
By the mid-1990s, the march of television cameras into the courtroom seemed poised to penetrate every level of the American judiciary. Yet the intrusion halted at the entrance to federal courthouses due to the media frenzy surrounding the only other plausible "Trial of the Century" candidate, the trial in 1995 of football great and Hertz pitchman O. J. Simpson for the murders of his former wife, Nicole Brown Simpson, and her friend Ronald Goldman. The gavel-to-gavel, wall-to-wall television coverage of every moment of the actual trial, supplemented by endless hours of on-air punditry from journalists and lawyers, accrued huge ratings for cable news stations and black-humor fodder for late night comedians. Grandstanding attorneys, money-grubbing witnesses, a starstruck judge, and a shocking verdict of "not guilty" stopped cold the march of the medium into the federal trial system, and the highest court in the land. Still invested in the idea of the majesty of the law, the federal judiciary took OJ TV—be it sleazy reality show or miscarriage of justice—as a cautionary lesson.
The cultural legacy of the Hauptmann and Simpson trials within the legal profession have rendered proceedings in federal courtrooms across the country invisible to anyone not physically present. When you couple that legacy with the passions elicited by many of the issues that come before the Supreme Court, it becomes all the more unlikely the justices will be in a rush to end the ban on cameras—film, video, or digital—anytime soon. So when the Supreme Court sets about deliberating the future of Obamacare, reproductive rights, and maybe even a 2020 election dispute, the microphones will be turned on for you to listen. But don't expect to get a link to an open-access Zoom meeting.
Future Tense
is a partnership of
Slate,
New America, and
Arizona State University
that examines emerging technologies, public policy, and society.
How the pandemic has rippled through Minnesota State Mankato's sports budget
Paying without playing
Like every person in his position, Minnesota State Mankato athletic director Kevin Buisman is trying to decipher how to cover the added expense of COVID-19 testing within the context of revenue shortfalls from sports being postponed until 2021.
Buisman instituted cost-saving measures throughout his department. He asked coaches to prioritize equipment, supplies and uniforms as either essential or capable of being delayed. The department saved $150,000 through that exercise alone. They also saved some money on travel.
MSU Mankato's $14.3 million budget includes $1.2 million from student fees, which serves as prepaid admission to games. With no games being played and admission likely limited when they do resume, it's unclear if students will receive some credit.
Ticket sales from men's hockey accounts for a large chunk of revenue. The Mavericks normally average around 4,000 fans for home games. The school is hopeful that state guidelines will allow attendance of 1,000 to start the season. The potential of 3,000 fewer fans — plus a condensed schedule that features fewer home games than normal — will add up to a substantial revenue loss.
"The financial strain is going to come to bear across the institution and across the athletic department," Buisman said. "We're going to have some difficult choices to make."
Covid-19 Live Updates: Eli Lilly Says Its Antibody Treatment Does Not Work on Hospitalized Virus Patients
The drug maker Eli Lilly said on Monday that its antibody treatment was ineffective on patients hospitalized with advanced Covid-19 and that a government-sponsored trial would not administer the drug to new participants.
The company said that other trials of the treatment, in people who are not as sick or who have been exposed to the virus, would continue, and that it remained optimistic that the treatment could work if given early in the course of the disease.
Earlier this month, Chris Christie, the former governor of New Jersey, said he had received the experimental treatment shortly after he was diagnosed with Covid-19. President Trump received a similar therapy, made by Regeneron, soon after he was infected. Both companies have applied to the Food and Drug Administration for emergency use of the treatment in outpatients.
Eli Lilly's trial of hospitalized patients was being run by the National Institute of Allergy and Infectious Diseases, part of the National Institutes of Health, and was paused two weeks ago after an outside safety panel flagged a "potential safety concern."
Government officials said at the time that an independent board of scientific experts had found that after five days of treatment, the group of patients who had received the antibodies showed a different "clinical status" than the group who had received a saline placebo — a difference that crossed a predetermined threshold for safety.
On Monday, Eli Lilly said the recommendation to discontinue use of the antibody treatment, called bamlanivimab, "was based on trial data suggesting that bamlanivimab is unlikely to help hospitalized Covid-19 patients recover from this advanced stage of their disease." The company also said "differences in safety outcomes between the groups were not significant."
Dr. Eric Topol, a clinical trial expert at the Scripps Research Institute who has been following the treatment's development, said the news "tells us they stopped the trial due to futility, as suspected," and that it "suggests that the timing of monoclonal antibody administration — early — will be important."
Other trials of the antibody treatment have shown early promise in people who were newly infected with the virus, showing that it can lower viral levels in patients and reduce visits to the emergency room and hospital.
The virus surge in the El Paso metropolitan area has gotten so bad so fast that local officials are taking drastic action, imposing a two-week stay-at-home order and a 10 p.m. to 5 a.m. curfew that took effect Sunday night.
The number of people hospitalized with coronavirus in this region along the Mexico border is soaring, and officials are scrambling to make space for them by setting up overflow beds in a convention center and under tents in parking lots and by flying patients out to medical centers outside the area.
As a third surge has taken hold in the country, the El Paso metro area now ranks 11th in the nation in coronavirus cases relative to its population, according to a New York Times database. The only cities that rank higher in this fall wave are in hard-hit Idaho, North Dakota and Wisconsin.
The swell of cases comes as case numbers in the United States has reached alarming records in recent days as outbreaks continue to grow across the country. While daily numbers of deaths are still lower than they were in the spring, at least 339 new coronavirus deaths and 59,691 new cases were reported in the United States on Oct. 25.
Over the past week, the U.S. has averaged nearly 70,000 new cases reported each day, an increase of 32 percent from the average two weeks earlier.
Texas has overtaken California as the state that has recorded the most cases, with over 900,000 since the pandemic began and a per capita case rate that ranks 17th in the nation. Its seven-day average of new cases is approaching 6,000, far below its July peak of over 10,000 but climbing sharply.
In El Paso, the number of people hospitalized with Covid-19 has more than tripled over the past three weeks, officials said. As of Monday morning, the total was 853, according to the University Medical Center of El Paso, where the coronavirus patient count has doubled in four days.
As of Sunday, one-third of all the patients in the region's hospitals had Covid-19, according the county's curfew order. The top elected executive in El Paso, County Judge Ricardo A. Samaniego, wrote in the order that hospital intensive-care units were completely full.
Violations to the order would be a misdemeanor punishable by a fine of up to $500.
Mr. Samaniego also "strongly encouraged" the suspension of all extracurricular activities in schools.
Gov. Greg Abbott of Texas announced on Sunday that the state would provide a 50-bed temporary hospital at a convention center in the area. He has also asked the federal government to make the military hospital at Fort Bliss available for civilian patients. And the state is sending three or four mobile hospital units, which will be set up in parking lots.
At least 44 new coronavirus deaths and 3,935 new cases were reported in Texas on Sunday. Over the past week, there have been an average of 5,864 new cases a day statewide, an increase of 37 percent from the daily average two weeks earlier, according to a New York Times database.
An earlier version of this item referred incorrectly to virus outbreaks at construction sites, landscaping companies, a fire station and an eye-care clinic. Those were reported in El Paso County, Colo., not El Paso County, Texas.
The United States and much of Europe barreled into the new week scrambling to confront surges in new cases that threaten to overwhelm hospitals, with just eight days until the American presidential election.
Stock and oil prices dropped Monday in response to a continued stalemate in the United States over additional virus aid and new restrictions to halt a third surge in cases.
The United States hit a record number of daily new cases on Friday, while the death toll surpassed 225,000. More than 41,000 people are hospitalized with the coronavirus in the United States, a 40 percent rise in the past month. And though daily death tolls have not risen so sharply, they are inching upward.
At least five members of Vice President Mike Pence's staff have tested positive for the coronavirus, but that's not keeping him from the campaign trail: Mr. Pence was scheduled to travel to Minnesota for a rally on Monday afternoon.
Mr. Pence and his wife, Karen, tested negative for the virus on Monday morning, his office said. His chief of staff, Marc Short, was among the aides who have tested positive for the virus in recent days.
A spokesman would not say whether the vice president was receiving some of the drugs Mr. Trump was given, including an experimental cocktail of antibodies by the pharmaceutical company Regeneron, as a preventive measure.
In an interview with Yahoo Finance, Dr. Anthony S. Fauci, the nation's top infectious disease expert, pushed back on the idea that the increasing numbers of coronavirus cases are indicative of a "third wave" of infections, referring to the rise instead as a continuation of the original wave of infections from earlier this year.
"We never really cleared and got down to a very low baseline, which I would consider to be less than 10,000 per day," Dr. Fauci said.
"We've never really had waves in the sense of up and then down to a good baseline," he continued. "It's been up and wavering up and down until now, we're at the highest baseline we've ever been, which is really quite precarious."
Stocks on Wall Street extended last week's decline on Monday, following European shares lower as more restrictions, including curfews and business closures in Spain and Italy, were introduced to try to combat a second wave of the pandemic. The S&P 500 closed down about 1.86 percent. The Stoxx Europe 600 index closed down 1.8 percent.
Oil prices also fell, with rising cases expected to reduce demand. Futures for West Texas Intermediate, the U.S. crude benchmark, fell 2.6 percent to below $39 a barrel.
The news from Europe continued to be grim: Britain, which had the greatest surge of excess deaths during the pandemic's first peak in Europe and still holds the most reported deaths in the region, has recorded 151,391 new cases in the past seven days, according to a Times database. And in Liege, Belgium, where about 25 percent of medical workers are sick with Covid-19 and unable to work, doctors who have tested positive for the coronavirus but are asymptomatic are being asked to stay on the job, the BBC reports.
France has added nearly a quarter of a million cases — 241,473 — in the past seven days. On Sunday alone, the country reported 52,010 new cases, and the head of the scientific council that advises the government on the pandemic said that the real number could be over 100,000 cases per day. Officials have warned repeatedly that intensive care beds were quickly filling with Covid-19 patients.
Among health care workers, nurses in particular have been at significant risk of contracting Covid-19, according to a new GFN of hospitalized patients by the Centers for Disease Control and Prevention.
The findings were released Monday as a surge of new hospitalizations sweeps the country, with several states hitting record levels of cases.
About 6 percent of adults hospitalized from March through May were health care workers, according to the researchers, with more than a third either nurses or nursing assistants. Twenty-seven percent of those hospitalized workers were admitted to the intensive care unit, and 4 percent died during their hospital stay.
The study looked at 6,760 hospitalizations across 13 states, including California, New York, Ohio and Tennessee.
Health care workers "can have severe Covid-19-associated illness, highlighting the need for continued infection prevention and control in health care settings as well community mitigation efforts to reduce transmission," the researchers said.
From the beginning of the pandemic in the United States, front-line medical personnel have complained of shortages of personal protective equipment. Some of the shortages abated for a while, but supplies have become strained in certain areas of the country amid the new outbreaks.
"We need more testing," said Michelle Mahon, the assistant director of nursing practice at National Nurses United, a union whose members have been vocal from the beginning of the pandemic about the dangers they faced without adequate supplies and protection.
Calling the findings no surprise, Ms. Mahon criticized federal officials for not having more robust guidelines in place. Her organization, which issued a report on workers' deaths last month, says about 2,000 health care workers have died from the virus.
Facing a sharp rise in infections that has strained hospitals across Idaho, Gov. Brad Little on Monday reimplemented some statewide restrictions to limit the spread of the virus.
In recent months, Mr. Little has deferred to local agencies to set restrictions. But he said Idaho had reached a tipping point that required statewide action for rules that would limit gatherings and enforce masks at long-term care facilities. The governor continued to resist a statewide mask mandate, saying he wanted mask-wearing rules to be determined by local officials, and he called for people to take personal responsibility.
"I ask each of you to recommit yourselves to fighting this ugly disease — to protecting your loved ones and neighbors," Mr. Little said.
Idaho has averaged almost 900 new coronavirus cases per day over the past week, more than triple the numbers seen in early September. Hospitals have seen case numbers surge and have been warning that the continued trajectory could leave them in a dire situation.
Dr. Andrew Wilper, the chief of staff at the Boise VA Medical Center, said the state is seeing unchecked spread of the virus, including an outbreak at the Idaho State Veterans Home. He said the outbreak was threatening the medical center's ability to maintain hospital operations.
Since the early days of the pandemic, Idaho has faced backlash from residents who view coronavirus restrictions as an infringement on personal rights. Dr. Wilper pleaded with people to consider the risks faced by veterans and wear a mask.
"They need you to do the thing that may be an inconvenient burden for your life — but to not mistake an inconvenience for oppression," he said.
Newark, New Jersey's largest city, on Monday announced an 8 p.m. daily closing time for all nonessential businesses citywide, beginning Tuesday. Sports practices and games are being canceled in a section of the city where a recent seven-day average rate of positive coronavirus tests had reached 25.3 percent.
Hair and nail salons — and City Hall — will be open by appointment only, and no one may wait indoors, Mayor Ras Baraka said. Health clubs and gyms must close for 30 minutes every hour for thorough cleaning.
Newark's public schools had not yet reopened for in-person instruction, but all sports practices and games in the city's East Ward, where the recent positivity rate spiked to levels not seen since May, have been suspended.
"This is not the first time Covid-19 has threatened our city and its residents at this magnitude and once again, we will meet this challenge with determination and guided by data," Mr. Baraka said in a statement.
Gov. Philip D. Murphy said at a news conference on Monday afternoon that the state was ramping up testing and contact tracing in Newark, and helping the city enforce public health regulations.
"Mayor Baraka is a great mayor and a great leader," Mr. Murphy said. "This isn't the first time Newark has gone through this."
Newark is the largest municipality in Essex County, which has had more virus-related deaths since March than any other county in New Jersey.
As of Sunday, the deaths of 672 Newark residents had been linked to Covid-19. The three-day average citywide positivity rate was 11.2 percent, more than double the statewide rate for the same period, the city said Monday.
Newark is the first municipality in New Jersey to adopt new, targeted shutdown measures, and comes as the number of virus cases is increasing across the state. As of Sunday, New Jersey has had an average of 1,208 new cases every day for the last week, an increase of 56 percent from the average two weeks earlier, according to a database compiled by GFN.
The governor said that recent daily case totals were particularly high in Bergen, Essex, Middlesex, Passaic and Union counties. He said the statewide daily rate of positive test results on Oct. 22, the most recent data available, was 4.48 percent.
Mr. Murphy said he and his wife, Tammy Murphy, both tested negative on Monday morning. Mr. Murphy said it was his fourth negative test since last Monday, after he had been exposed to a member of his senior staff who tested positive.
A few weeks ago, Gov. Andrew M. Cuomo of New York imposed targeted lockdowns in certain hot spots across the state in response to localized spikes in the positivity rate. Though some restrictions were eased last week, many remain in New York City, an acknowledgment that targeted rules were still key to suppress isolated outbreaks. The governor also said last week that the state would exclude nearby New Jersey, Connecticut and Pennsylvania from New York's quarantine list, saying that there was "no practical way" to enforce the requirement.
At a news conference on Monday, Mr. Cuomo again stressed the importance of limiting travel as much as possible between the areas, and said that the state planned to make more testing available at train and bus terminals. In response to a question about the announcement in Newark, Mr. Cuomo said that he was concerned about numbers in New Jersey and that he had been in contact with Mr. Murphy.
u.s. roundup
A new study by economists at the University of Kansas has found that counties in the state where residents are obliged to wear masks in public have seen about half as many new coronavirus infections as counties that do not have a mask mandate in force.
The study by the university's Institute for Policy & Social Research is part of a countrywide trend, experts said. Localities that impose mask mandates often see fewer cases, fewer hospitalizations, fewer deaths or lower test-positivity rates than nearby localities that do not.
The same trend has been seen in Alabama, Kansas, Oklahoma, South Carolina and Texas, according to a report from Prevent Pandemics, a nonprofit group advocating pandemic-fighting measures.
"Mask mandates, if they are done well, can increase mask use — and increased mask use is part of an effective response," said Dr. Thomas R. Frieden, a former director of the Centers for Disease Control and Prevention who now runs Resolve to Save Lives, of which Prevent Pandemics is a part.
The Kansas study began after Gov. Laura Kelly issued a statewide mask order on July 2, but allowed counties to opt out of it. She was obliged to give counties that freedom under a law passed in June limiting her emergency management powers. All but 24 of the state's 105 counties formally opted out of her mask order, and only 20 counties enforced it.
"Economists love natural experiments, and Kansas was running a natural experiment," said Donna K. Ginther, director of the university's Institute for Policy & Social Research, which conducted the study.
Differences in the spread of the virus between the masked and unmasked counties began to appear about two weeks later, she said, "and in mid-August, cases really began to take off."
In the mask-wearing counties, new-case rates stayed roughly steady at about 7 per 100,000 residents through mid-October, her figures show, while they doubled in counties without mandates, to about 14 per 100,000.
Cellphone-tracking data from the University of Maryland showed no differences in how often people left home in the counties with or without mask mandates, she said, so it seemed likely that the masks made the difference.
The study data has been presented to state officials, but has not yet been submitted to an academic journal for review, Dr. Ginther said.
On Monday, Dr. Scott Gottlieb, a former commissioner of the Food and Drug Administration, published an editorial in The Wall Street Journal recommending a limited and temporary nationwide mandate for wearing masks as the best way to stop the spread of the coronavirus as winter approaches. Dr. Anthony S. Fauci, the nation's top infectious disease expert, said on Friday that the country should consider taking such actions.
In other developments around the nation:
A member of Miami Beach's city commission, David Richardson, announced that he had tested positive for the virus, after weeks of helping to run a food drive. The news prompted candidates for other offices who had attended events with him to pause their campaigns and get tested.
Just over a quarter of New York City's public school students have attended any in-person classes since the city's school system reopened last month, Mayor Bill de Blasio announced on Monday, a low figure that undermined the mayor's main justification for returning students to classrooms.
Mr. de Blasio has said that he pushed for in-person classes because a vast majority of city parents wanted him to do so. Yet despite his efforts, more than 500,000 of the 1.1 million children in the system, the nation's largest, elected to start the year last month with online classes only.
Now it is clear that even more families than expected have opted out of in-person instruction, with new data showing that about 283,000 children have shown up.
"This is a number that needs to be understood as a work in progress," Mr. de Blasio said during a news conference. "A lot more kids could be attending in person," he added, "and we want to make sure that their families know and they know that school is safe."
The city is facing a major test: convincing families that it is safe, and educationally sound, to send children into classrooms during the coronavirus pandemic. Those who started the year remote-only have until Nov. 15 to opt back in to classroom learning, with those children resuming in-person classes on Nov. 30.
If children do not return in significant numbers later this fall, it would severely undercut the mayor's push to reopen, an ambitious yet fraught effort that faced strong political headwinds from union leaders, rank-and-file educators and some parents.
The mayor said he expected many more students to opt back in, in part because random testing in city schools had resulted in a remarkably low positivity rate of .15 percent as of last week. He also said Monday that the seven-day average rate of positive test results citywide was 1.73 percent.
The city had initially said that families could opt back in once a quarter, but the schools chancellor, Richard A. Carranza said on Monday that was no longer an option.
New York City is one of a few large districts nationally that have welcomed children back into classrooms this fall, and there are still more students attending classes in person than in nearly any other city in the country.
The city has roughly 1,800 schools, making the herculean task of reopening the most closely watched in America. Cities in particular have struggled with the question, with some tentatively reopening for younger students and others opting to remain all remote.
Global Roundup
China's top leader, Xi Jinping, is expected to declare victory in the next two months in a campaign to eliminate extreme poverty in the country. The Chinese economy is once again gaining strength, and the Communist Party's achievements in reducing poverty are expected to feature prominently this week at a conclave of party leaders in Beijing.
Four decades of fast economic growth lifted most people in China out of poverty. Mr. Xi's antipoverty drive is focused on about five million people who earn less than 92 cents a day, down from nearly 56 million five years ago.
Vowing to "leave no one behind," Mr. Xi has traveled to hard-hit areas like Wangjiaba to reiterate his commitment.
But the pandemic has exposed the party's shortcomings in providing its most vulnerable citizens with more than the barest of social safeguards, especially in rural areas. And some experts warn that the government's response to the crisis — favoring infrastructure spending and tax breaks for companies instead of direct aid for families — may widen China's gap between rich and poor.
China has for decades treated rural people as second-class citizens, limiting their access to high-quality health care, education and other benefits under the strict Mao-era household registration system by keeping them from moving to the cities.
China's early efforts to fight the spread of the virus, including lengthy lockdowns, left rural residents stranded hundreds of miles from the factories where they work. Many were unemployed for months. Their children also fell behind, lacking the internet connections or hardware to take part in online classes.
A recent study by Stanford University's Rural Education Action Program found that incomes fell severely among rural workers during the peak of China's outbreak in February and March.
The central government has done little to address the pressures facing rural workers during the pandemic, the Stanford study found. The government has directed much of its aid to businesses in urban areas.
In other developments around the world:
Melbourne, Australia, will end a strict lockdown of more than three months, officials announced on Monday, after the city recorded no new coronavirus cases for the first time since June. Starting Wednesday, restaurants, cafes and bars will be able to reopen, with some social-distancing restrictions, for the first time since July 9, and all retail will be able to reopen for the first time since August. Asked whether the easing of restrictions meant residents "can finally get back on the beers," the premier of Victoria State, Daniel Andrews, said: "I might go a little higher up the shelf."

In Canada, the House of Commons will undertake a parliamentary investigation of the government's handling of the pandemic. The probe will examine, among other things, the government's purchase of protective equipment, medical devices and pharmaceuticals. The parliamentary committee conducting the investigation will be empowered to interview cabinet ministers, and to gain access to emails and documents related to government contracts. The virus has been resurgent in Ontario and Quebec.
The weather has turned distinctly autumnal in Europe, but the pandemic looks much like it did in the spring, with cases climbing at alarming rates in nearly every country.
Britain, which had the greatest surge of excess deaths during the pandemic's first peak in Europe and still holds the most reported deaths in the region, has recorded 151,391 new cases in the past seven days, according to a New York Times database.
In Germany, where 71,567 new cases have been documented in the past week, Chancellor Angela Merkel said she foresees a bleak winter ahead, and in neighboring Austria, Chancellor Sebastian Kurz evoked the possibility of a second lockdown as cases continued to spike.
Experts in Belgium, which has recorded 83,156 cases in the past seven days, warned that the country is entering a crucial week for its hospitals.
France has added nearly a quarter of a million cases — 241,473 — in the past seven days. On Sunday alone, the country reported 52,010 new cases, and the head of the scientific council that advises the government on the pandemic said that the real number could be over 100,000 cases per day.
Jean François Delfraissy, an immunologist and expert in emerging diseases who heads the panel, said in a radio interview on Monday that the situation was "difficult, not to say critical." France has now surpassed one million total cases. Mr. Delfraissy urged a stricter curfew that could eventually be tightened into a lockdown, or an immediate lockdown "lighter than the one in the month of March" that would allow schools and some economic activity to operate.
In Belgium, 467 people are being admitted to the hospitals each day, a rise of 85 percent compared to a week ago, with 5,000 people in the hospitals and 750 of them in intensive care units.
"Without changing the infection curve, we should have 2,000 patients in intensive care in two weeks, which is our maximum capacity," Yves Van Laethem, the spokesperson for Belgium's crisis center, said on Monday at a news conference.
Rules differ among the country's three regions. Starting on Wednesday, high school students in two regions, Wallonia and Brussels, will no longer be allowed to attend in person.
As infection rates in Brussels, Belgium's capital, which hosts the headquarters of the European Union, climb to among the highest in Europe, physical meetings will be reduced to the absolute minimum, according to a spokesperson for the German delegation, which holds the rotating presidency of the bloc.
Spain and Italy both extended restrictions this weekend to avoid second lockdowns, with Spain entering a new state of emergency and Italy again tightening limits on bars, restaurants and gyms.
Spain's new declaration set few nationwide rules, and instead granted regions far greater leeway to take their own measures. In the region of Catalonia, Meritxell Budó, a member of the regional government, said on Monday that Catalans could soon be forced to stay indoors over the weekends, which would amount to a significant extension of the nighttime curfew announced on Sunday by Prime Minister Pedro Sánchez.
In Britain, the number of virus hospitalizations has doubled in the last two weeks, though it is only about 33 percent of its spring peak, according to data released by the European Center for Disease and Control last week.
Ms. Merkel will meet with her governors at the end of the week to assess whether Germany will impose new rules. "We are facing very, very difficult months," she said in a telephone call with party colleagues on Sunday night, according to the daily Bild. On Monday, Ms. Merkel's party canceled a leadership conference scheduled for December. Also, the Bavarian district of Rottal-Inn is going into lockdown after registering 260 cases for 100,000 people in a week. Not only will schools, day cares, restaurants and museums close, people will not be allowed to leave their houses without a good reason. The lockdown, which follows another one in a Bavarian district last week, will initially last 10 days.
On Sunday, about 2,000 protesters gathered in Berlin to demonstrate against rules imposed by the government to keep infections at bay. Early Sunday morning, security personnel stopped vandals who were throwing Molotov cocktails at the Robert Koch Institute, the German federal authority that keeps track of infections.
How Apple Is Organized for Innovation
Idea in Brief
The Challenge
Major companies competing in many industries struggle to stay abreast of rapidly changing technologies.
One Major Cause
They are typically organized into business units, each with its own set of functions. Thus the key decision makers—the unit leaders—lack a deep understanding of all the domains that answer to them.
The Apple Model
The company is organized around functions, and expertise aligns with decision rights. Leaders are cross-functionally collaborative and deeply knowledgeable about details.
Apple is well known for its innovations in hardware, software, and services. Thanks to them, it grew from some 8,000 employees and $7 billion in revenue in 1997, the year Steve Jobs returned, to 137,000 employees and $260 billion in revenue in 2019. Much less well known are the organizational design and the associated leadership model that have played a crucial role in the company's innovation success.
When Jobs arrived back at Apple, it had a conventional structure for a company of its size and scope. It was divided into business units, each with its own P&L responsibilities. General managers ran the Macintosh products group, the information appliances division, and the server products division, among others. As is often the case with decentralized business units, managers were inclined to fight with one another, over transfer prices in particular. Believing that conventional management had stifled innovation, Jobs, in his first year returning as CEO, laid off the general managers of all the business units (in a single day), put the entire company under one P&L, and combined the disparate functional departments of the business units into one functional organization.


The adoption of a functional structure may have been unsurprising for a company of Apple's size at the time. What is surprising—in fact, remarkable—is that Apple retains it today, even though the company is nearly 40 times as large in terms of revenue and far more complex than it was in 1998. Senior vice presidents are in charge of functions, not products. As was the case with Jobs before him, CEO Tim Cook occupies the only position on the organizational chart where the design, engineering, operations, marketing, and retail of any of Apple's main products meet. In effect, besides the CEO, the company operates with no conventional general managers: people who control an entire process from product development through sales and are judged according to a P&L statement.
Business history and organizational theory make the case that as entrepreneurial firms grow large and complex, they must shift from a functional to a multidivisional structure to align accountability and control and prevent the congestion that occurs when countless decisions flow up the org chart to the very top. Giving business unit leaders full control over key functions allows them to do what is best to meet the needs of their individual units' customers and maximize their results, and it enables the executives overseeing them to assess their performance. As the Harvard Business School historian Alfred Chandler documented, U.S. companies such as DuPont and General Motors moved from a functional to a multidivisional structure in the early 20th century. By the latter half of the century the vast majority of large corporations had followed suit. Apple proves that this conventional approach is not necessary and that the functional structure may benefit companies facing tremendous technological change and industry upheaval.
Apple's commitment to a functional organization does not mean that its structure has remained static. As the importance of artificial intelligence and other new areas has increased, that structure has changed. Here we discuss the innovation benefits and leadership challenges of Apple's distinctive and ever-evolving organizational model, which may be useful for individuals and companies wanting to better understand how to succeed in rapidly changing environments.
Why a Functional Organization?
Apple's main purpose is to create products that enrich people's daily lives. That involves not only developing entirely new product categories such as the iPhone and the Apple Watch, but also continually innovating within those categories. Perhaps no product feature better reflects Apple's commitment to continuous innovation than the iPhone camera. When the iPhone was introduced, in 2007, Steve Jobs devoted only six seconds to its camera in the annual keynote event for unveiling new products. Since then iPhone camera technology has contributed to the photography industry with a stream of innovations: High dynamic range imaging (2010), panorama photos (2012), True Tone flash (2013), optical image stabilization (2015), the dual-lens camera (2016), portrait mode (2016), portrait lighting (2017), and night mode (2019) are but a few of the improvements.
Apple leaders need deep expertise, immersion in details, and collaborative debate.
To create such innovations, Apple relies on a structure that centers on functional expertise. Its fundamental belief is that those with the most expertise and experience in a domain should have decision rights for that domain. This is based on two views: First, Apple competes in markets where the rates of technological change and disruption are high, so it must rely on the judgment and intuition of people with deep knowledge of the technologies responsible for disruption. Long before it can get market feedback and solid market forecasts, the company must make bets about which technologies and designs are likely to succeed in smartphones, computers, and so on. Relying on technical experts rather than general managers increases the odds that those bets will pay off.
Second, Apple's commitment to offer the best possible products would be undercut if short-term profit and cost targets were the overriding criteria for judging investments and leaders. Significantly, the bonuses of senior R&D executives are based on companywide performance numbers rather than the costs of or revenue from particular products. Thus product decisions are somewhat insulated from short-term financial pressures. The finance team is not involved in the product road map meetings of engineering teams, and engineering teams are not involved in pricing decisions.
We don't mean to suggest that Apple doesn't consider costs and revenue goals when deciding which technologies and features the company will pursue. It does, but in ways that differ from those employed by conventionally organized companies. Instead of using overall cost and price targets as fixed parameters within which to make design and engineering choices, R&D leaders are expected to weigh the benefits to users of those choices against cost considerations.
In a functional organization, individual and team reputations act as a control mechanism in placing bets. A case in point is the decision to introduce the dual-lens camera with portrait mode in the iPhone 7 Plus in 2016. It was a big wager that the camera's impact on users would be sufficiently great to justify its significant cost.
One executive told us that Paul Hubel, a senior leader who played a central role in the portrait mode effort, was "out over his skis," meaning that he and his team were taking a big risk: If users were unwilling to pay a premium for a phone with a more costly and better camera, the team would most likely have less credibility the next time it proposed an expensive upgrade or feature. The camera turned out to be a defining feature for the iPhone 7 Plus, and its success further enhanced the reputations of Hubel and his team.
It's easier to get the balance right between an attention to costs and the value added to the user experience when the leaders making decisions are those with deep expertise in their areas rather than general managers being held accountable primarily for meeting numerical targets. Whereas the fundamental principle of a conventional business unit structure is to align accountability and control, the fundamental principle of a functional organization is to align expertise and decision rights.
Thus the link between how Apple is organized and the type of innovations it produces is clear. As Chandler famously argued, "structure follows strategy"—even though Apple doesn't use the structure that he anticipated large multinationals would adopt.
Now let's turn to the leadership model underlying Apple's structure.
Three Leadership Characteristics
Ever since Steve Jobs implemented the functional organization, Apple's managers at every level, from senior vice president on down, have been expected to possess three key leadership characteristics: deep expertise that allows them to meaningfully engage in all the work being done within their individual functions; immersion in the details of those functions; and a willingness to collaboratively debate other functions during collective decision-making. When managers have these attributes, decisions are made in a coordinated fashion by the people most qualified to make them.
Deep expertise.
Apple is not a company where general managers oversee managers; rather, it is a company where experts lead experts. The assumption is that it's easier to train an expert to manage well than to train a manager to be an expert. At Apple, hardware experts manage hardware, software experts software, and so on. (Deviations from this principle are rare.) This approach cascades down all levels of the organization through areas of ever-increasing specialization. Apple's leaders believe that world-class talent wants to work for and with other world-class talent in a specialty. It's like joining a sports team where you get to learn from and play with the best.
Mikael Jansson/Trunk Archive
Early on, Steve Jobs came to embrace the idea that managers at Apple should be experts in their area of management. In a 1984 interview he said, "We went through that stage in Apple where we went out and thought, Oh, we're gonna be a big company, let's hire professional management. We went out and hired a bunch of professional management. It didn't work at all….They knew how to manage, but they didn't know how to do anything. If you're a great person, why do you want to work for somebody you can't learn anything from? And you know what's interesting? You know who the best managers are? They are the great individual contributors who never, ever want to be a manager but decide they have to be…because no one else is going to…do as good a job."
One current example is Roger Rosner, who heads Apple's software application business, which includes work-productivity apps such as Pages (word processing), Numbers (spreadsheets), and Keynote (presentations) along with GarageBand (music composition), iMovie (movie editing), and News (an app providing news content). Rosner, who studied electrical engineering at Carnegie Mellon, joined Apple in 2001 as a senior engineering manager and rose to become the director of iWork applications, the vice president of productivity apps, and since 2013 the VP of applications. With his deep expertise gained from previous experience as the director of engineering at several smaller software companies, Rosner exemplifies an expert leading experts.
In a functional organization, experts leading experts means that specialists create a deep bench in a given area, where they can learn from one another. For example, Apple's more than 600 experts on camera hardware technology work in a group led by Graham Townsend, a camera expert. Because iPhones, iPads, laptops, and desktop computers all include cameras, these experts would be scattered across product lines if Apple were organized in business units. That would dilute their collective expertise, reducing their power to solve problems and generate and refine innovations.
Immersion in the details.
One principle that permeates Apple is "Leaders should know the details of their organization three levels down," because that is essential for speedy and effective cross-functional decision-making at the highest levels. If managers attend a decision-making meeting without the details at their disposal, the decision must either be made without the details or postponed. Managers tell war stories about making presentations to senior leaders who drill down into cells on a spreadsheet, lines of code, or a test result on a product.
Of course, the leaders of many companies insist that they and their teams are steeped in the details. But few organizations match Apple. Consider how its senior leaders pay extreme attention to the exact shape of products' rounded corners. The standard method for rounding corners is to use an arc of a circle to connect the perpendicular sides of a rectangular object, which produces a somewhat abrupt transition from straight to curve. In contrast, Apple's leaders insist on continuous curves, resulting in a shape known in the design community as a "squircle": The slope starts sooner but is less abrupt.
An advantage of hardware products without abrupt changes in curvature is that they produce softer highlights (that is, little to no jump in light reflection along the corner). The difference is subtle, and executing on it isn't simply a matter of a more complicated mathematical formula. It demands that Apple's operations leaders commit to extremely precise manufacturing tolerances to produce millions of iPhones and other products with squircles. This deep immersion in detail isn't just a concern that is pushed down to lower-level people; it is central at the leadership level.
Having leaders who are experts in their areas and can go deep into the details has profound implications for how Apple is run. Leaders can push, probe, and "smell" an issue. They know which details are important and where to focus their attention. Many people at Apple see it as liberating, even exhilarating, to work for experts, who provide better guidance and mentoring than a general manager would. Together, all can strive to do the best work of their lives in their chosen area.
Willingness to collaboratively debate.
Apple has hundreds of specialist teams across the company, dozens of which may be needed for even one key component of a new product offering. For example, the dual-lens camera with portrait mode required the collaboration of no fewer than 40 specialist teams: silicon design, camera software, reliability engineering, motion sensor hardware, video engineering, core motion, and camera sensor design, to name just a few. How on earth does Apple develop and ship products that require such coordination? The answer is collaborative debate. Because no function is responsible for a product or a service on its own, cross-functional collaboration is crucial.
When debates reach an impasse, as some inevitably do, higher-level managers weigh in as tiebreakers, including at times the CEO and the senior VPs. To do this at speed with sufficient attention to detail is challenging for even the best of leaders, making it all the more important that the company fill many senior positions from within the ranks of its VPs, who have experience in Apple's way of operating.
However, given Apple's size and scope, even the executive team can resolve only a limited number of stalemates. The many horizontal dependencies mean that ineffective peer relationships at the VP and director levels have the potential to undermine not only particular projects but the entire company. Consequently, for people to attain and remain in a leadership position within a function, they must be highly effective collaborators.
That doesn't mean people can't express their points of view. Leaders are expected to hold strong, well-grounded views and advocate forcefully for them, yet also be willing to change their minds when presented with evidence that others' views are better. Doing so is not always easy, of course. A leader's ability to be both partisan and open-minded is facilitated by two things: deep understanding of and devotion to the company's values and common purpose, and a commitment to separating how right from how hard a particular path is so that the difficulty of executing a decision doesn't prevent its being selected.
The development of the iPhone's portrait mode illustrates a fanatical attention to detail at the leadership level, intense collaborative debate among teams, and the power of a shared purpose to shape and ultimately resolve debates. In 2009 Hubel had the idea of developing an iPhone feature that would allow people to take portrait photos with bokeh—a Japanese term that refers to the pleasing blurring of a background—which photography experts generally consider to be of the highest quality. At that time only expensive single-lens reflex cameras could take such photos, but Hubel thought that with a dual-lens design and advanced computational-photography techniques, Apple could add the capability in the iPhone. His idea aligned well with the camera team's stated purpose: "More people taking better images more of the time."
As the team worked to turn this idea into reality, several challenges emerged. The first attempts produced some amazing portrait pictures but also a number of "failure cases" in which the algorithm was unable to distinguish between the central object in sharp relief (a face, for instance) and the background being blurred. For example, if a person's face was to be photographed from behind chicken wire, it was not possible to construct an algorithm that would capture the chicken wire to the side of the face with the same sharpness as the chicken wire in front of it. The wire to the side would be as blurred as the background.
One might say, "Who cares about the chicken wire case? That's exceedingly rare." But for the team, sidestepping rare or extreme situations—what engineers call corner cases—would violate Apple's strict engineering standard of zero "artifacts," meaning "any undesired or unintended alteration in data introduced in a digital process by an involved technique and/or technology." Corner cases sparked "many tough discussions" between the camera team and other teams involved, recalls Myra Haggerty, the VP of sensor software and UX prototyping, who oversaw the firmware and algorithm teams. Sebastien Marineau-Mes, the VP to whom the camera software team ultimately reported, decided to defer the release of the feature until the following year to give the team time to better address failure cases—"a hard pill to swallow," Hubel admits.
To get some agreement on quality standards, the engineering teams invited senior design and marketing leaders to meet, figuring that they would offer a new perspective. The design leaders brought an additional artistic sensibility to the debate, asking, "What makes a beautiful portrait?" To help reassess the zero-artifacts standard, they collected images from great portrait photographers. They noted, among other things, that these photos often had blurring at the edges of a face but sharpness on the eyes. So they charged the algorithm teams with achieving the same effect. When the teams succeeded, they knew they had an acceptable standard.
Another issue that emerged was the ability to preview a portrait photo with a blurred background. The camera team had designed the feature so that users could see its effect on their photos only after they had been taken, but the human interface (HI) design team pushed back, insisting that users should be able to see a "live preview" and get some guidance about how to make adjustments before taking the photo. Johnnie Manzari, a member of the HI team, gave the camera team a demo. "When we saw the demo, we realized that this is what we needed to do," Townsend told us. The members of his camera hardware team weren't sure they could do it, but difficulty was not an acceptable excuse for failing to deliver what would clearly be a superior user experience. After months of engineering effort, a key stakeholder, the video engineering team (responsible for the low-level software that controls sensor and camera operations) found a way, and the collaboration paid off. Portrait mode was central to Apple's marketing of the iPhone 7 Plus. It proved a major reason for users' choosing to buy and delighting in the use of the phone.
As this example shows, Apple's collaborative debate involves people from various functions who disagree, push back, promote or reject ideas, and build on one another's ideas to come up with the best solutions. It requires open-mindedness from senior leaders. It also requires those leaders to inspire, prod, or influence colleagues in other areas to contribute toward achieving their goals.
While Townsend is accountable for how great the camera is, he needed dozens of other teams—each of which had a long list of its own commitments—to contribute their time and effort to the portrait mode project. At Apple that's known as accountability without control: You're accountable for making the project succeed even though you don't control all the other teams. This process can be messy yet produce great results. "Good mess" happens when various teams work with a shared purpose, as in the case of the portrait mode project. "Bad mess" occurs when teams push their own agendas ahead of common goals. Those who become associated with bad mess and don't or can't change their behavior are removed from leadership positions, if not from Apple altogether.
Leadership at Scale
Apple's way of organizing has led to tremendous innovation and success over the past two decades. Yet it has not been without challenges, especially with revenues and head count having exploded since 2008.
As the company has grown, entering new markets and moving into new technologies, its functional structure and leadership model have had to evolve. Deciding how to organize areas of expertise to best enable collaboration and rapid decision-making has been an important responsibility of the CEO. The adjustments Tim Cook has implemented in recent years include dividing the hardware function into hardware engineering and hardware technologies; adding artificial intelligence and machine learning as a functional area; and moving human interface out of software to merge it with industrial design, creating an integrated design function.
Another challenge posed by organizational growth is the pressure it imposes on the several hundred VPs and directors below the executive team. If Apple were to cap the size or scope of a senior leader's organization to limit the number and breadth of details that the leader is expected to own, the company would need to hugely expand the number of senior leaders, making the kind of collaboration that has worked so well impossible to preserve.
Mikael Jansson/Trunk Archive
Cognizant of this problem, Apple has been quite disciplined about limiting the number of senior positions to minimize how many leaders must be involved in any cross-functional activity. In 2006, the year before the iPhone's launch, the company had some 17,000 employees; by 2019 that number had grown more than eightfold, to 137,000. Meanwhile, the number of VPs approximately doubled, from 50 to 96. The inevitable result is that senior leaders head larger and more diverse teams of experts, meaning more details to oversee and new areas of responsibility that fall outside their core expertise.
In response, many Apple managers over the past five years or so have been evolving the leadership approach described above: experts leading experts, immersion in the details, and collaborative debate. We have codified these adaptions in what we call the discretionary leadership model, which we have incorporated into a new educational program for Apple's VPs and directors. Its purpose is to address the challenge of getting this leadership approach to drive innovation in all areas of the company, not just product development, at an ever-greater scale.
When Apple was smaller, it may have been reasonable to expect leaders to be experts on and immersed in the details of pretty much everything going on in their organizations. However, they now need to exercise greater discretion regarding where and how they spend their time and efforts. They must decide which activities demand their full attention to detail because those activities create the most value for Apple. Some of those will fall within their existing core expertise (what they still need to own), and some will require them to learn new areas of expertise. Activities that require less attention from the leader can be pushed down to others (and the leaders will either teach others or delegate in cases where they aren't experts).
Rosner, the VP of applications, provides a good example. Like many other Apple managers, he has had to contend with three challenges arising from Apple's tremendous growth. First, the size of his function has exploded over the past decade in terms of both head count (from 150 to about 1,000) and the number of projects under way at any given time. Clearly, he cannot dive into all the details of all those projects. Second, the scope of his portfolio has widened: Over the past 10 years he has assumed responsibility for new applications, including News, Clips (video editing), Books, and Final Cut Pro (advanced video editing). Although apps are his core area of expertise, some aspects of these—among them editorial content for News, how book publishing works, and video editing—involve matters in which Rosner is not an expert. Finally, as Apple's product portfolio and number of projects have expanded, even more coordination with other functions is required, increasing the complexity of collaborating across the many units. For instance, whereas Rosner is responsible for the engineering side of News, other managers oversee the operating system on which it depends, the content, and the business relationships with content creators (such as the New York Times) and advertisers.
To cope, Rosner has adapted his role. As an expert who leads other experts, he had been immersed in details—especially those concerning the top-level aspects of software applications and their architecture that affect how users engage with the software. He also collaborated with managers across the company in projects that involved those areas.
But with the expansion of his responsibilities, he has moved some things from his owning box—including traditional productivity apps such as Keynote and Pages—into his teaching box.
Now he guides and gives feedback to other team members so that they can develop software applications according to Apple's norms. Being a teacher doesn't mean that Rosner gives instruction at a whiteboard; rather, he offers strong, often passionate critiques of his team's work. (Clearly, general managers without his core expertise would find it difficult to teach what they don't know.)
The second challenge for Rosner involved the addition of activities beyond his original expertise. Six years ago he was given responsibility for the engineering and design of News. Consequently, he had to learn about publishing news content via an app—to understand news publications, digital advertising, machine learning to personalize news content, architecting for privacy, and how to incentivize publishers. Thus some of his work fell into the learning box. Here managers face a steep learning curve to acquire new skills. Given how demanding this is, only critical new activities should fall into this category. Over six years of intense learning, Rosner has mastered some of these areas, which are now in his owning box.
As long as a particular activity remains in the learning box, leaders must adopt a beginner's mindset, questioning subordinates in a way that suggests they don't already know the answer (because they don't). This differs starkly from the way leaders question subordinates about activities in the owning and teaching boxes.
Finally, Rosner has delegated some areas—including iMovie and GarageBand, in which he is not an expert—to people with the requisite capabilities. For activities in the delegating box, he assembles teams, agrees on objectives, monitors and reviews progress, and holds the teams accountable: the stuff of general management.
Whereas Apple's VPs spend most of their time in the owning and learning boxes, general managers at other companies tend to spend most of their time in the delegating box. Rosner estimates that he spends about 40% of his time on activities he owns (including collaboration with others in a given area), about 30% on learning, about 15% on teaching, and about 15% on delegating. These numbers vary by manager, of course, depending on their business and the needs at a given time.
The discretionary leadership model preserves the fundamental principle of an effective functional organization at scale—aligning expertise and decision rights. Apple can effectively move into new areas when leaders like Rosner take on new responsibilities outside their original expertise, and teams can grow in size when leaders teach others their craft and delegate work. We believe that Apple will continue to innovate and prosper by being organized this way.
Apple's functional organization is rare, if not unique, among very large companies. It flies in the face of prevailing management theory that companies should be reorganized into divisions and business units as they become large. But something vital gets lost in a shift to business units: the alignment of decision rights with expertise.
Why do companies so often cling to having general managers in charge of business units? One reason, we believe, is that making the change is difficult. It entails overcoming inertia, reallocating power among managers, changing an individual-oriented incentive system, and learning new ways of collaborating. That is daunting when a company already faces huge external challenges. An intermediate step may be to cultivate the experts-leading-experts model even within a business unit structure. For example, when filling the next senior management role, pick someone with deep expertise in that area as opposed to someone who might make the best general manager. But a full-fledged transformation requires that leaders also transition to a functional organization. Apple's track record proves that the rewards may justify the risks. Its approach can produce extraordinary results.
A version of this article appeared in the November–December 2020 issue of Harvard Business Review.