Object Detection at 1840 FPS with TorchScript, TensorRT and DeepStream
Intro
#
Previously, we took a simple video pipeline and made it as fast as we could without sacrificing the flexibility of the Python runtime. It's amazing how far you can go — 9 FPS to 650 FPS — but we did not reach full hardware utilization and the pipeline did not scale linearly beyond a single GPU. There is evidence (measured using gil_load) that we were throttled by a fundamental Python limitation with multiple threads fighting over the Global Interpreter Lock (GIL).
In this article we'll take performance of the same SSD300 model even further, leaving Python behind and moving towards true production deployment technologies:
TorchScript. Instead of running directly in the Pytorch runtime, we'll export our model using TorchScript tracing into a form that can be executed portably using the libtorch C++ runtime.
TensorRT. This toolset from Nvidia includes a "deep learning inference optimizer" — a compiler for optimizing CUDA-based computational graphs. We'll use this to squeeze out every drop of inference efficiency.
DeepStream. While Gstreamer gives us an extensive library of elements to build media pipelines with, DeepStream expands this library with a set of GPU-accelerated elements specialized for machine learning.
These technologies fit together like this:
This article will not be a step-by-step tutorial with code examples, but will show what is possible when these technologies are combined. The associated repository is here: github.com/pbridger/deepstream-video-pipeline.
🔥TorchScript vs TensorRT🔥
#
Both TorchScript and TensorRT can produce a deployment-ready form of our model, so why do we need both? These great tools may eventually be competitors but in 2020 they are complementary — they each have weaknesses that are compensated for by the other.
TorchScript. With a few lines of torch.jit code we can generate a deployment-ready asset from essentially any Pytorch model that will run anywhere libtorch runs. It's not inherently faster (it is submitting approximately the same sequence of kernels) but the libtorch runtime will perform better under high concurrency. However, without care TorchScript output may have performance and portability surprises (I'll cover some of these in a later article).
TensorRT. An unparalleled model compiler for Nvidia hardware, but for Pytorch or ONNX-based models it has incomplete support and suffers from poor portability. There is a plugin system to add arbitrary layers and postprocessing, but this low-level work is out of reach for groups without specialized deployment teams. TensorRT also doesn't support cross-compilation so models must be optimized directly on the target hardware — not great for embedded platforms or highly diverse compute ecosystems.
Let's begin with a baseline from the previous post in this series — Object Detection from 9 FPS to 650 FPS in 6 Steps.
Stage 0: Python Baseline
#
The Postprocessing on GPU stage from my previous post is logically closest to our first DeepStream pipeline. This was a fairly slow, early stage in the Python-based optimization journey but limitations in DeepStream around batching and memory transfer make this the best comparison.
This Python-based pipeline runs at around 80 FPS:
After we get a basic DeepStream pipeline up and running we'll empirically understand and then remove the limitations we see.
Stage 1: Normal DeepStream — 100% TorchScript
#
Our approach to using TorchScript and TensorRT together in a DeepStream pipeline will be to construct a hybrid model with two sequential components — a TensorRT frontend passing results to a TorchScript backend which completes the calculation.
Hybrid DeepStream Pipeline
#
Our hybrid pipeline will eventually use the nvinfer element of DeepStream to serve a TensorRT-compiled form of the SSD300 model directly in the media pipeline. Since TensorRT cannot compile the entire model (due to unsupported ONNX ops) we'll run the remaining operations as a TorchScript module (via the parse-bbox-func-name hook).
However, the first pipeline will be the simplest possible while still following the hybrid pattern. The TensorRT model does no processing and simply passes frames to the TorchScript model, which does all preprocessing, inference, and postprocessing. 0% TensorRT, 100% TorchScript.
This pipeline runs at 110 FPS without tracing overhead. However, this TorchScript model has already been converted to fp16 precision so a direct comparison to the Python-based pipeline is a bit misleading.
Let's drill into the trace with Nvidia's Nsight Systems to understand the patterns of execution. I have zoomed in to the processing for two 16-frame batches: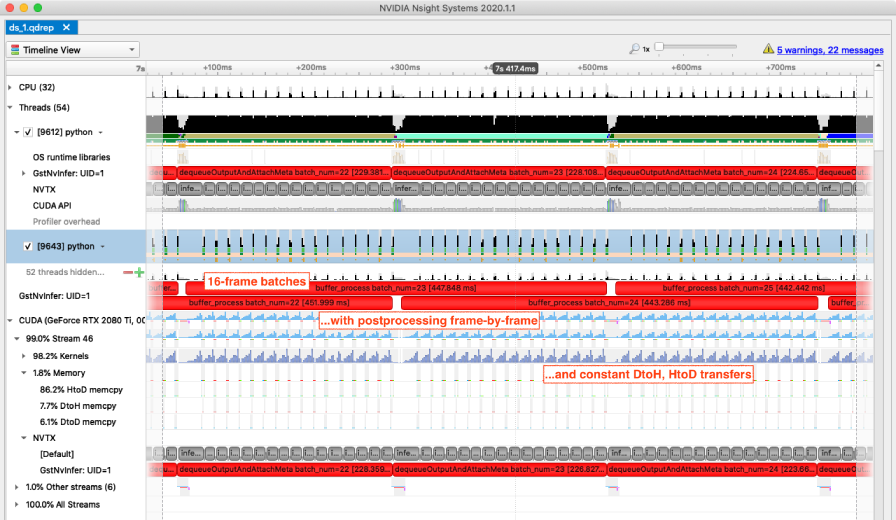 Looking at the red NVTX ranges on the GstNvInfer line we can see overlapping ranges where batches of 16 frames are being processed. However, the pattern of processing on the GPU is quite clear from the 16 utilisation spikes — it is processing frame-by-frame. We also see constant memory transfers between device and host.
Drilling in to see just two frames of processing, the pattern is even more clear: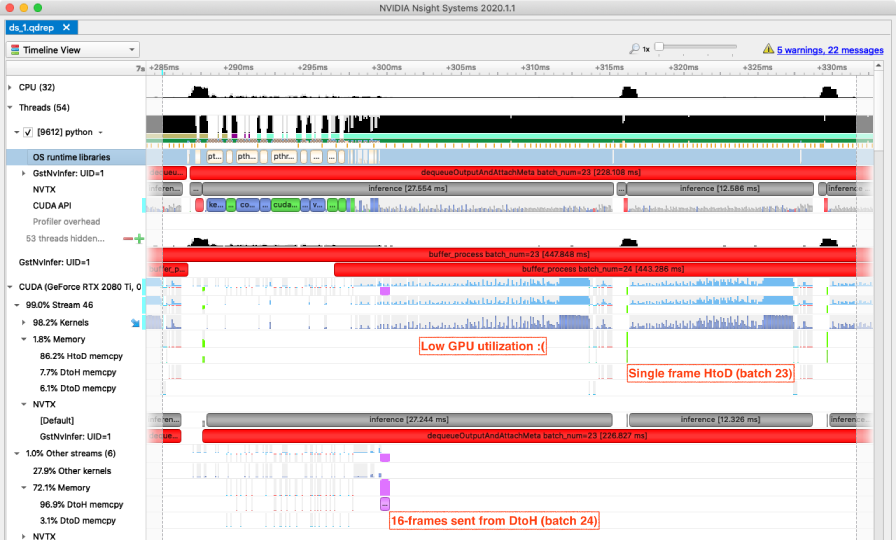 With a little knowledge of how DeepStream works the problem is clear:
nvinfer sends batches of frames to the configured model engine (our empty TensorRT component) — great.
nvinfer then sends the model output frame by frame to the postprocessing hook (our TorchScript component).
Since we have put our entire model into a TorchScript postprocessing hook we are now processing frame by frame with no batching, and this is causing very low GPU utilisation. (This is why we are comparing against a Python pipeline with no batching).
We are using DeepStream contrary to the design, but to build a truly hybrid TensorRT and TorchScript pipeline we need batched postprocessing.
DeepStream Limitation: Postprocessing Hooks are Frame-by-Frame

The design of nvinfer assumes model output will be postprocessed frame-by-frame. This makes writing postprocessing code a tiny bit easier but is inefficient by default. Preprocessing, inference and postprocessing logic should always assume a batch dimension is present.
The Nsight Systems view above also shows a pointless sequence of device-to-host then host-to-device transfers. The purple device-to-host memory transfer is due to nvinfer sending tensors to system memory, ready for the postprocessing code to use it. The green host-to-device transfers are me putting this memory back on the GPU where it belongs.
DeepStream Limitation: Postprocessing is Assumed to Happen on Host

This is a legacy of early machine learning approaches. Modern deep learning pipelines keep data on the GPU end-to-end, including data augmentation and postprocessing. See Nvidia's DALI library for an example of this.
Okay, time to hack DeepStream and remove these limitations.
Stage 2: Hacked DeepStream — 100% TorchScript
#
Thankfully, Nvidia have provided source for the nvinfer pipeline element. I've made two changes to better support our approach of doing significant work in the postprocessing hook and fix the above limitations:
nvinfer model engine output is now sent in a single batch to the postprocessing hook.
Model output tensors are no-longer copied to host, but are left on the device.
These nvinfer changes are unreleased and are not present in the companion repository (github.com/pbridger/deepstream-video-pipeline) because they are clearly derivative of nvinfer and I'm unsure of the licensing. Nvidia people, feel free to get in touch: paul@paulbridger.com.
With hacked DeepStream and no model changes at all this pipeline now hits 350 FPS when measured with no tracing overhead. This is up from 110 FPS with regular DeepStream. I think we deserve a chart:
The Concurrency 1x2080Ti stage from the Python pipeline is now the closest comparison both in terms of FPS and optimizations applied. Both pipelines have batched inference, video frames decoded and processed on GPU end-to-end, and concurrency at the batch level (note the overlapping NVTX ranges below). One additional level of concurrency in the Python pipeline is multiple overlapping CUDA streams.
The Nsight Systems view shows processing for several 16-frame batches: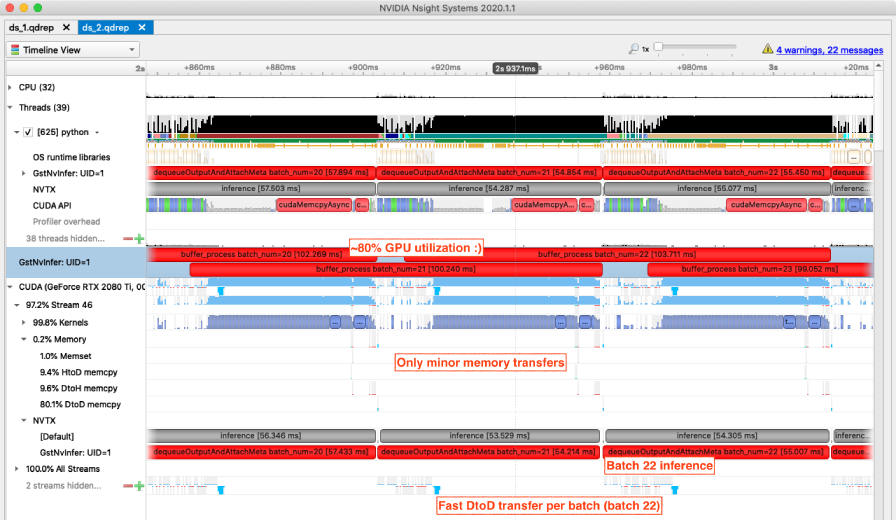 We now have good GPU utilization and very few needless memory transfers, so the path forward is to optimize the TorchScript model. Until now the TensorRT component has been entirely pass-through and everything from preprocessing, inference and postprocessing has been in TorchScript.
It's time to start using the TensorRT optimizer, so get ready for some excitement.
Stage 3: Hacked DeepStream — 80% TensorRT, 20% TorchScript
#
According to Nvidia, TensorRT "dramatically accelerates deep learning inference performance" so why not compile 100% of our model with TensorRT?
The Pytorch export to TensorRT consists of a couple of steps, and both provide an opportunity for incomplete support:
Export the Pytorch model to the ONNX interchange representation via tracing or scripting.
Compile the ONNX representation into a TensorRT engine, the optimized form of the model.
If you try to create an optimized TensorRT engine for this entire model (SSD300 including postprocessing), the first problem you will run into is the export to ONNX of the repeat_interleave operation during postprocessing. Pytorch 1.6 does not support this export, I don't know why.
Just like writing C++ in the days before conforming compilers, it's often possible to rewrite model code to work around unsupported operations. See ds_ssd300_5.py for an example that replaces repeat_interleave and will now export to ONNX. However, now the TensorRT compilation fails with another unsupported operation — No importer registered for op: ScatterND.
Dealing with all this is fine if you have a dedicated deployment team — simply write custom plugins and CUDA kernels — but most teams don't have those resources or time to invest in this.
This is why the hybrid approach works so well — we can get the benefits of TensorRT optimization for most of our model and cover the rest with TorchScript.
Speaking of benefits:
920 FPS up from 350 FPS is a huge jump, and we are still only using a single 2080Ti GPU. Let's check Nsight Systems to understand how this can be possible: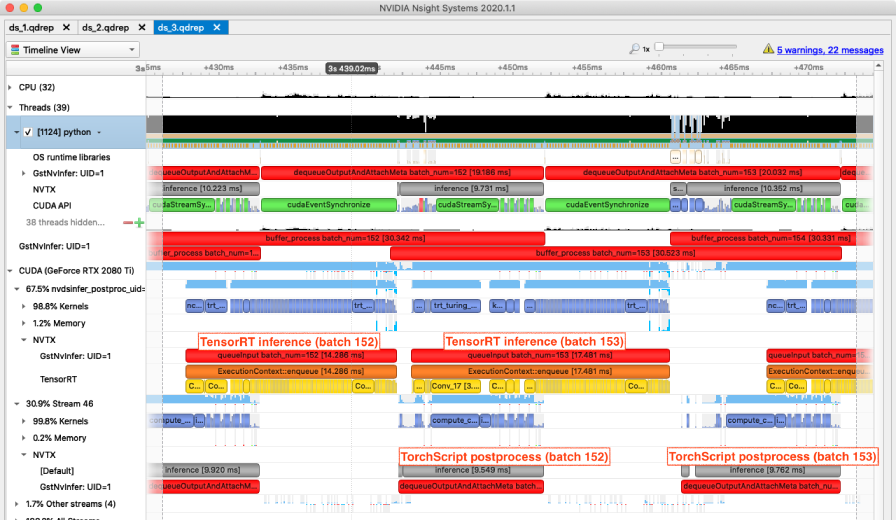 Two important things to note:
TensorRT inference for batch N is now interleaved/concurrent with TorchScript postprocessing for batch N-1, helping to fill in utilization gaps.
The TensorRT preprocessing and inference are massively faster than the TorchScript version. Around 43ms of TorchScript preprocessing and inference have turned into around 16ms of equivalent TensorRT processing.
This Nsight Systems trace output now looks a little like what we were aiming for:
Given the awesome improvement TensorRT gave us, did we really need to hack DeepStream?
Stage 4: Normal DeepStream — 80% TensorRT, 20% TorchScript
#
In short, yes, we did need to hack DeepStream to get the best throughput. Unless you like the sound of 360 FPS when you could be hitting 920 FPS. This is a step backwards so I'm not adding it to our chart.
Here is the trace when we run the TensorRT-optimized model with the TorchScript final processing: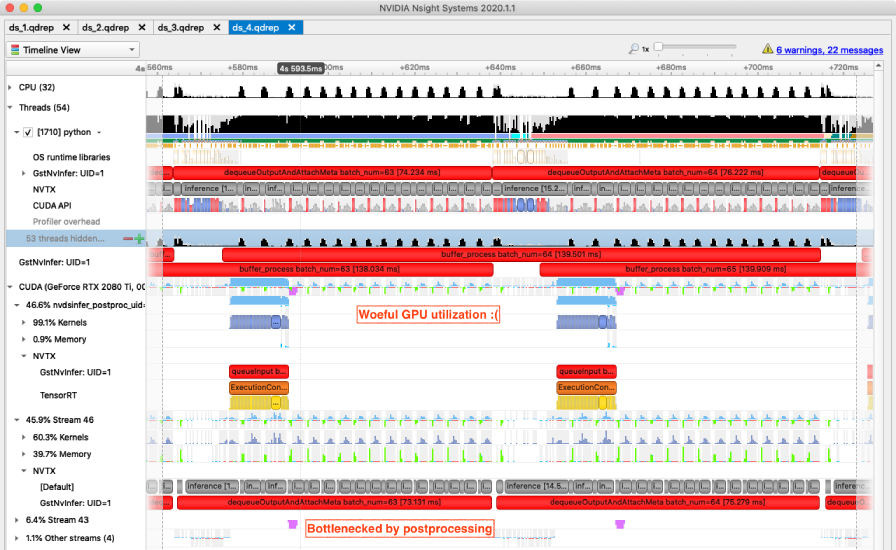 The problems are pretty clear, as annotated in the trace.
DeepStream is Awesome

But Hacked DeepStream is even better. 😀
Stage 5: Horizontal Scalability
#
Doubling the hardware available to our Python-based pipeline boosted throughput from 350 FPS to 650 FPS, around an 86% increase. This was a single Python process driving two very powerful GPUs so it's a great result. Given the measured GIL contention at around 45% scaling further would have become less efficient, perhaps requiring a multi-process approach.
Our DeepStream pipelines have been launched from Python, but with no callbacks beyond an empty once-per-second message loop so there is no chance of GIL contention. Measured without tracing overhead these DeepStream pipelines show perfect 100% scalability (at least from 1 to 2 devices), topping out at 1840 FPS. It's like Christmas morning.
Incidentally, whereas most of the previous stages suffer from a roughly 15% hit to throughput with Nsight Systems tracing enabled this pipeline takes a 40% drop. You'll see this difference if you download and analyze the linked trace files.
Conclusion
#
We have a pipeline capable of doing 1840 FPS of useful object detection throughput, and this is phenomenal. This should convincingly demonstrate the effectiveness of these technologies working together.
Despite the huge gains delivered by TensorRT optimization and the efficient scalability of DeepStream, TorchScript is the unsung hero of this story. The ability to easily export any Pytorch model without worrying about missing layers or operations is huge. Without TorchScript and libtorch I would still be writing TensorRT plugins.
In future articles I'll delve deeper into the TorchScript export process and explain some of the portability and performance pitfalls.
Caveats, Limitations and Excuses
#
The Gstreamer/DeepStream pipelines used above do not reflect 100% realistic usage. If you review the pipeline diagrams (e.g. ds_3_2gpu_batch16_device.pipeline.dot.png) you'll see a single file is being read and piped into the nvstreammux component many times. This is how you would handle multiple concurrent media streams into a single inference engine, but the real reason I've done this is to work around a limitation of nvstreammux to do with batching. Read the linked issue for the details, but it is fair to say that nvstreammux is not intended for assembling efficiently-sized batches when processing a small number of input streams.
Also as noted above, my "Hacked DeepStream" code is not yet publically available. I'll work to tidy this up and if I'm sure of the licensing situation I'll make this available.
Finally the code in the associated repository is not polished tutorial code, it is hacky research code so caveat emptor.
Graphics in Qt 6.0: QRhi, Qt Quick, Qt Quick 3D
Last year we had a three part blog series about Qt's new approach to working with 3D graphics APIs and shading languages: part 1, part 2, part 3. For Qt Quick, an early, opt-in preview of the new rendering architecture was shipped in Qt 5.14, with some improvements in Qt 5.15. With the release of Qt 6.0 upcoming, let's see what has happened since Qt 5.15. It will not be possible to cover every detail of the graphics stack improvements for Qt Quick here, let alone dive into the vast amount of Qt Quick 3D features, many of which are new or improved in Qt 6.0. Rather, the aim is just to give an overview of what can be expected from the graphics stack perspective when Qt 6.0 ships later this year.
Note that the documentation links refer to the Qt 6 snapshot documentation. This allows seeing the latest C++ and QML API pages, including all changed and new functions, but the content is also not final. These links may also break later on.
DTE Energy announces intent to spin-off Midstream business
Unlocking significant shareholder value through spin-off of Midstream
Higher combined dividend compared to DTE's current, pre-transaction dividend
Increased utility capex plan by $2 billion to $17 billion
Both companies to maintain commitments to Michigan and local communities
Separately announced Q3 2020 results; increased 2020 guidance, provided 2021 EPS early outlook and increased 2021 dividend by 7%1
DETROIT, Oct. 27, 2020 (GLOBE NEWSWIRE) — DTE Energy (NYSE: DTE) ("DTE Energy" or "the Company") today announced that the Company's Board of Directors has unanimously authorized management to pursue a plan to spin-off the DTE Midstream business ("Midstream") from DTE Energy. Midstream is the Company's non-utility natural gas pipeline, storage and gathering business. The transaction would transform DTE Energy into a predominantly pure-play regulated electric and natural gas utility. Midstream would become an independent, publicly traded company well positioned for sustainable growth. The separation transaction is not expected to have any adverse impact on DTE Energy's utility operations, customers or customer rates.
"DTE Energy has earned a reputation as a premier company in our industry because the Board and management team have a track record of value creation through disciplined planning and strong execution. Today's announcement is a result of a series of strategic discussions that began in the summer of 2019 to identify opportunities that enable us to unlock the significant value we have created as our utility and non-utility businesses have grown," said Jerry Norcia, DTE Energy president and CEO.
"Through a combination of greenfield development and acquisitions, we have meaningfully increased Midstream's scale, diversification and market reach. As a result, Midstream is now an energy industry leader with the assets, resources and capabilities to stand on its own. Separating Midstream from DTE Energy sharpens both companies' focus on their respective strategic priorities and stakeholder needs. We believe DTE Energy and Midstream will be even better positioned to grow, thrive and deliver superior returns with this transaction," Norcia continued.
"As a result of our employees' hard work and accomplishments, we are able to take this step and position DTE Energy and Midstream for an even stronger future," Norcia stated. "As we conducted our review, serving the best interest of all stakeholders was a key consideration."
Under the separation plan, DTE Energy shareholders will retain their current shares of DTE Energy stock and receive a pro-rata dividend of shares of the new Midstream company stock in a transaction that is expected to be tax-free to DTE Energy and its shareholders for U.S. federal income tax purposes. The actual number of Midstream shares to be distributed to DTE Energy shareholders will be determined prior to closing. DTE Energy is targeting to complete the spin-off by mid-year 2021.
Benefits of the separation transaction
The separation is expected to create numerous benefits for both DTE Energy and Midstream, including:
Transforms DTE Energy into a high growth, predominantly pure-play, regulated, Michigan-based utility;
Positions Midstream as a premier independent, natural gas midstream company with assets in premium basins connected to major demand markets;
Empowers Midstream to pursue growth opportunities and fully capitalize on its go-forward growth platform as an independent company;
Aligns the companies' respective business mix with investor preferences and overall market trends, leading to expected enhanced valuations for both DTE Energy and Midstream;
Enables each business to pursue separate and distinct strategies led by proven boards and management teams who have skillsets and experience directly linked to each company's unique strategic and financial objectives;
Provides capital allocation flexibility and capital structures that support distinct business models and growth objectives;
Generates a combined dividend that is expected to be higher than DTE's current, pre-transaction dividend. Upon closing, DTE Energy plans to continue a payout ratio and dividend growth target consistent with pure-play utility companies. Upon closing, Midstream expects to establish a growing dividend with an initial level competitive with its midstream peers. Until the planned separation has been completed, DTE Energy expects to continue to pay its regular quarterly dividend. All dividends will be subject to approval by the respective Board of Directors following the completion of the separation; and
Enhances opportunities for employees, including providing many new career opportunities for Midstream employees as part of an independent, publicly traded company.
DTE Energy: a best-in-class predominantly pure-play regulated electric and natural gas utility with superior earnings growth, a strong capital investment plan and a proven record of cost management
With the completion of the separation, DTE Energy's utility operating earnings would be in-line with its pure-play peers. Approximately 90% of DTE Energy's operating earnings would be generated by its regulated utility business compared to 70% today. Approximately 92% of capital investments would be devoted to DTE Energy's utility operations.
The Company is targeting a long-term operating EPS growth rate of 5% to 7% off its 2020 original guidance. This includes 7% to 8% long-term operating earnings growth for its regulated electric business and approximately 9% for its regulated natural gas business.
This growth is supported by $17 billion of planned utility capital investments over the next five years – a $2 billion, or 13%, increase over DTE Energy's prior plan. These investments will continue to drive the Company's commitment to cleaner, safe, reliable and affordable energy.
DTE Energy has an undisputed track record of cost management, far outperforming peer averages. The Company has consistently earned its authorized return on equity, reflecting both its operational excellence and constructive regulatory relationships, which will remain priorities following the separation. DTE Energy remains committed to a strong investment grade balance sheet.
DTE Energy will continue to be led by Jerry Norcia, president and CEO, and its current management team. Gerry Anderson will continue to serve as executive chairman, and Ruth Shaw will continue to serve as the Company's lead independent director.
The new Midstream company: a premier natural gas pipeline, storage and gathering provider with significant growth and value creation opportunities as a standalone, publicly traded company
Midstream is a regulated natural gas pipeline, regulated storage, and gathering business that serves producers, gas and electric utilities, marketers, power plants and large industrial customers. It is recognized as a best-in-class provider of safe, reliable and economic midstream services in the top tier supply basins of North America. Midstream's proven, experienced leadership and highly engaged employees have enabled among the best safety and reliability rankings in the industry.
Midstream owns 900 miles of FERC regulated gas transmission lines and 1,450 miles of gathering lines connected to high quality markets. It also owns and operates 91 Bcf of regulated gas storage capacity in Michigan serving local distribution companies, power generators and other end-user markets in major demand regions across the Midwest, the Northeast and Canada.
Midstream's 2020 adjusted EBITDA is estimated to be approximately $700 million. This performance reflects the resource quality, the strategic location of its assets and the strong, long-term contracts underpinning the business. The business has generated over $3 billion of cash since 2008 and is expected to drive strong future EBITDA growth.
Midstream expects to maintain a competitive capital structure, initially targeting approximately 4.0x debt / adjusted EBITDA and approximately 2x dividend coverage ratio in 2021. It will target a credit rating that is in alignment with its peers.
The new Midstream company would be the only independent, mid-cap, C-Corp, gas-focused midstream investment opportunity with exposure to the Marcellus, Utica and Haynesville shales with connection to major demand markets.
Upon completion of the separation, David Slater, currently president and COO of DTE Midstream, will become president and CEO of the new Midstream company. Slater brings over 30 years of experience in the energy industry where he has worked in both commercial business development and operational roles. He joined DTE Energy in 2011 as DTE Gas Storage & Pipelines senior vice president and has led DTE Midstream since 2014.
Robert Skaggs Jr., a member of the DTE Energy Board, will serve as executive chairman of the new Midstream Board and will continue to serve as a member of the DTE Energy Board. Skaggs has over 35 years of experience in the energy industry, including leading companies in the midstream, pipeline and regulated utility sectors. He served as president and CEO of NiSource, Inc. from 2005 to 2015 and executed its successful spin-off of Columbia Pipeline Group, Inc. in mid-2015.
Additional members of Midstream's management team and Board of Directors will be announced prior to the separation.
Timing / approvals
DTE Energy is targeting to complete the spin-off by mid-year 2021, subject to final approval by the Company's Board of Directors, a Form 10 registration statement being declared effective by the Securities and Exchange Commission, regulatory approvals and satisfaction of other conditions. DTE Energy shareholder approval is not required to effect the separation transaction. There can be no assurance that any separation transaction will ultimately occur or, if one does occur, of its terms or timing.
A force for growth and prosperity in our communities
DTE Energy will remain headquartered in Detroit. Midstream will also establish its headquarters in Detroit. Both companies are committed to being a force for growth and prosperity in the communities they serve.
DTE Energy has a long record of corporate citizenship throughout its 450 Michigan communities, including through volunteerism, education and employment initiatives, philanthropy and economic progress. Among other initiatives, DTE Energy has spent more than $11.4 billion with Michigan companies since 2010, supporting 34,000 Michigan jobs. The Company also actively supports its communities through the DTE Energy Foundation, among the state's largest foundations committed to Michigan-focused giving. The DTE Foundation this year invested more than $40 million nationwide with specific focus on COVID-19 support to first responders, basic needs, and economic recovery for small businesses.
Strong third quarter 2020 results, increased guidance for 2020, continued growth in 2021
DTE Energy separately reported today strong third quarter 2020 results across its businesses and increased the midpoint of its 2020 operating earnings guidance by 14% from the Company's original 2019 guidance. DTE Energy also provided 2021 EPS early outlook and announced a 7% dividend increase.
Advisors
Barclays and Lazard are serving as financial advisors and Cravath, Swaine & Moore LLP is acting as legal advisor to DTE Energy.
Conference call and webcast
DTE Energy will host a conference call today at 9 a.m. ET to discuss today's announcement and its third quarter results. The associated press releases and presentation slides are available at dteenergy.com/investors.
Investors, the news media and the public may listen to a live internet broadcast of the call at dteenergy.com/investors. The telephone dial-in numbers in the U.S. and Canada are toll free: (833) 968-2209 or international: (778) 560-2895. The passcode is 8965118. The webcast will be archived on the DTE Energy website at dteenergy.com/investors.
About Robert Skaggs Jr.
Skaggs has over 35 years of experience in the energy industry, including leading companies in the midstream, pipeline and regulated utility sectors.
From 2005 through 2015, Skaggs served as president and CEO of NiSource, Inc., a Fortune 500 energy holding company engaged in natural gas and electric utilities and the gas storage and pipeline business. In this role, he executed NiSource's successful spin-off of Columbia Pipeline Group, Inc., a gas pipeline, storage, gathering and processing business, in mid-2015. Earlier in 2015, Skaggs executed the successful IPO of Columbia Gas Pipeline Partners MLP. Skaggs served as chairman and CEO of Columbia Pipeline Group and Columbia Gas Pipeline Partners from 2015 through 2016.
Prior to serving as president of NiSource from 2004 to 2005, Skaggs was executive vice president, regulated revenue, for NiSource, responsible for developing regulatory strategies and leading external relations across all of the corporation's energy distribution markets as well as its extensive interstate pipeline system. He also led regulated commercial activities, including large customer and marketer relations and energy supply services, as well as federal governmental relations.
Skaggs has served as director of DTE Energy since 2017. Skaggs also serves as a director of Team, Inc. He also is past chairman of the American Gas Association's board of directors and has served in leadership roles for a variety of charitable, community and civic efforts.
Skaggs earned a bachelor's degree in economics from Davidson College, a law degree from West Virginia University and a master's degree in business administration from Tulane University.
About David Slater
Slater has over 30 years of experience in the energy industry, where he has worked in both commercial business development and operational roles.
Currently, Slater is president and COO of DTE Midstream and has been a member of DTE Energy's executive leadership team since 2015. Slater joined DTE Energy in 2011 as senior vice president of DTE Gas Storage & Pipelines Company and DTE Pipeline Company and was promoted to executive vice president of DTE Midstream/GS&P in 2014.
Prior to joining DTE Energy, Slater held various senior management positions at Goldman Sachs and Nexen Marketing, a top-10 North American Energy merchant.
Slater is a member of the board of directors for Millennium Pipeline, Vector Pipeline, Nexus Gas Transmission and the elected chair of INGAA (Interstate Natural Gas Association of America). He is the elected board chairman of a local faith-based organization and director of a charitable faith-based foundation.
Slater earned a master's degree in Business Administration and an honors degree in Business Commerce from the University of Windsor.
About DTE Energy
DTE Energy (NYSE: DTE) is a Detroit-based diversified energy company involved in the development and management of energy-related businesses and services nationwide. Its operating units include an electric company serving 2.2 million customers in Southeast Michigan and a natural gas company serving 1.3 million customers in Michigan. The DTE portfolio includes energy businesses focused on power and industrial projects; renewable natural gas; natural gas pipelines, gathering and storage; and energy marketing and trading. As an environmental leader, DTE utility operations will reduce carbon dioxide and methane emissions by more than 80 percent by 2040 to produce cleaner energy while keeping it safe, reliable and affordable. DTE Electric and Gas aspire to achieve net zero carbon and greenhouse gas emissions by 2050. DTE is committed to serving with its energy through volunteerism, education and employment initiatives, philanthropy and economic progress. Information about DTE is available at dteenergy.com, empoweringmichigan.com, twitter.com/dte_energy and facebook.com.
Forward looking statements
The information contained herein is as of the date of this release. DTE Energy expressly disclaims any current intention to update any forward-looking statements contained in this release as a result of new information or future events or developments. Words such as "anticipate," "believe," "expect," "may," "could," "would," "projected," "aspiration," "plans" and "goals" signify forward-looking statements. Forward-looking statements are not guarantees of future results and conditions but rather are subject to various assumptions, risks and uncertainties. This release contains forward-looking statements about DTE Energy's and DTE Midstream's financial results and estimates of future prospects, and actual results may differ materially. This release contains forward-looking statements about DTE Energy's intent to spin-off DTE Midstream and DTE Energy's preliminary strategic, operational and financial considerations related thereto. The statements with respect to the separation transaction are preliminary in nature and subject to change as additional information becomes available. The separation transaction will be subject to the satisfaction of a number of conditions, including the final approval of DTE Energy's Board of Directors, and there is no assurance that such separation transaction will in fact occur. Many factors impact forward-looking statements including, but not limited to, the following: risks related to the separation transaction, including that the process of exploring the transaction and potentially completing the transaction could disrupt or adversely affect the consolidated or separate businesses, results of operations and financial condition, that the transaction may not achieve some or all of any anticipated benefits with respect to either business, and that the transaction may not be completed in accordance with DTE Energy's expected plans or anticipated timelines, or at all; the duration and impact of the COVID-19 pandemic on DTE Energy and customers, impact of regulation by the EPA, the FERC, the MPSC, the NRC, and for DTE Energy, the CFTC and CARB, as well as other applicable governmental proceedings and regulations, including any associated impact on rate structures; the amount and timing of cost recovery allowed as a result of regulatory proceedings, related appeals, or new legislation, including legislative amendments and retail access programs; economic conditions and population changes in our geographic area resulting in changes in demand, customer conservation, and thefts of electricity and, for DTE Energy, natural gas; the operational failure of electric or gas distribution systems or infrastructure; impact of volatility of prices in the oil and gas markets on DTE Energy's gas storage and pipelines operations and the volatility in the short-term natural gas storage markets impacting third-party storage revenues related to DTE Energy; impact of volatility in prices in the international steel markets on DTE Energy's power and industrial projects operations; the risk of a major safety incident; environmental issues, laws, regulations, and the increasing costs of remediation and compliance, including actual and potential new federal and state requirements; the cost of protecting assets against, or damage due to, cyber incidents and terrorism; health, safety, financial, environmental, and regulatory risks associated with ownership and operation of nuclear facilities; volatility in commodity markets, deviations in weather, and related risks impacting the results of DTE Energy's energy trading operations; changes in the cost and availability of coal and other raw materials, purchased power, and natural gas; advances in technology that produce power, store power or reduce power consumption; changes in the financial condition of significant customers and strategic partners; the potential for losses on investments, including nuclear decommissioning and benefit plan assets and the related increases in future expense and contributions; access to capital markets and the results of other financing efforts which can be affected by credit agency ratings; instability in capital markets which could impact availability of short and long-term financing; the timing and extent of changes in interest rates; the level of borrowings; the potential for increased costs or delays in completion of significant capital projects; changes in, and application of, federal, state, and local tax laws and their interpretations, including the Internal Revenue Code, regulations, rulings, court proceedings, and audits; the effects of weather and other natural phenomena on operations and sales to customers, and purchases from suppliers; unplanned outages; employee relations and the impact of collective bargaining agreements; the availability, cost, coverage, and terms of insurance and stability of insurance providers; cost reduction efforts and the maximization of plant and distribution system performance; the effects of competition; changes in and application of accounting standards and financial reporting regulations; changes in federal or state laws and their interpretation with respect to regulation, energy policy, and other business issues; contract disputes, binding arbitration, litigation, and related appeals; and the risks discussed in DTE Energy's public filings with the Securities and Exchange Commission.
Use of Operating Earnings Information – Operating earnings exclude non-recurring items, certain mark-to-market adjustments and discontinued operations. DTE Energy management believes that operating earnings provide a more meaningful representation of the Company's earnings from ongoing operations and uses operating earnings as the primary performance measurement for external communications with analysts and investors. Internally, DTE Energy uses operating earnings to measure performance against budget and to report to the Board of Directors.
In this release, DTE Energy discusses 2020 and 2021 operating earnings guidance. It is likely that certain items that impact the Company's 2020 and 2021 reported results will be excluded from operating results. Reconciliations to the comparable 2020 and 2021 reported earnings guidance are not provided because it is not possible to provide a reliable forecast of specific line items (i.e., future non-recurring items, certain mark-to-market adjustments and discontinued operations). These items may fluctuate significantly from period to period and may have a significant impact on reported earnings.
DTE Energy also discusses adjusted EBITDA in this release. The reconciliation of net income to adjusted EBITDA as projected for full-year 2020 is not provided. DTE Energy does not forecast net income as it cannot, without unreasonable efforts, estimate or predict with certainty the components of net income. These components, net of tax, may include, but are not limited to, impairments of assets and other charges, divesture costs, acquisition costs, or changes in accounting principles. All of these components could significantly impact such financial measures. At this time, DTE Energy is not able to estimate the aggregate impact, if any, of these items on future period reported earnings. Accordingly, DTE Energy is not able to provide a corresponding GAAP equivalent for adjusted EBITDA.
For further information, members of the media may call:
Paula Silver, DTE Energy, 313.235.5555
Pete Ternes, DTE Energy, 313.235.5555
For further information, analysts may call:
Barbara Tuckfield, DTE Energy, 313.235.1018
John Dermody, DTE Energy, 313.235.8750
1 Reconciliation of operating earnings (non-GAAP) to reported earnings included in the appendix; does not reflect strategic separation impacts and any post-transaction guidance is expected to be revisited later in the process

Roper Technologies Announces Third Quarter Results
SARASOTA, Fla., Oct. 27, 2020 (GLOBE NEWSWIRE) — Roper Technologies, Inc. (NYSE: ROP), a leading diversified technology company, reported financial results for the third quarter ended September 30, 2020.
Third quarter GAAP and adjusted revenue increased 1% to $1.37 billion and organic revenue decreased 3%. GAAP gross margin was 64.1% while adjusted gross margin was 64.2%. GAAP diluted earnings per share ("DEPS") was $2.21 and adjusted DEPS was $3.17.
EBITDA increased 1% to $501 million and EBITDA margin decreased 10 basis points to 36.6%. GAAP operating cash flow decreased 66% to $138 million. Adjusted operating cash flow increased 12% to $454 million and adjusted free cash flow increased 14% to $442 million.
"We are very pleased with the continued strong execution by our business leaders this quarter," said Neil Hunn, Roper's President and CEO. "We once again benefited from our diverse and resilient portfolio, and saw improvement across many businesses. Importantly, we have seen an accelerated shift towards SaaS solutions and an expansion of our software networks. Notably, our laboratory software businesses and Verathon's video intubation solutions have been on the front lines of the battle against COVID-19."
"We successfully deployed $5.8 billion over the past few months, led by our acquisition of Vertafore last month. These niche software acquisitions continue Roper's long-term transformation by enhancing the quality and resilience of our portfolio, increasing our mix of recurring revenue, and further strengthening our ability to consistently compound cash flow. We are well positioned for a strong fourth quarter and a great 2021," concluded Mr. Hunn.
Increasing 2020 Guidance
The Company now expects full year adjusted DEPS of $12.55 – $12.65, compared to previous guidance of $11.90 – $12.40.
For the fourth quarter of 2020, the Company expects adjusted DEPS of $3.39 – $3.49.
The Company's guidance excludes the impact of unannounced future acquisitions or divestitures.
Conference Call to be Held at 8:00 AM (ET) Today
A conference call to discuss these results has been scheduled for 8:00 AM ET on Tuesday, October 27, 2020.  The call can be accessed via webcast or by dialing +1 844-750-4898 (US/Canada) or +1 412-317-5294 and referencing Roper Technologies.  Webcast information and conference call materials will be made available in the Investors section of Roper's website (www.ropertech.com) prior to the start of the call. The webcast can also be accessed directly by using the following URL https://event.webcast.  Telephonic replays will be available for up to two weeks and can be accessed by dialing +1 412-317-0088 with access code 10148216.
Use of Non-GAAP Financial Information
The Company supplements its consolidated financial statements presented on a GAAP basis with certain non-GAAP financial information to provide investors with greater insight, increase transparency and allow for a more comprehensive understanding of the information used by management in its financial and operational decision-making. Reconciliation of non-GAAP measures to their most directly comparable GAAP measures are included in the accompanying financial schedules or tables. The non-GAAP financial measures disclosed by the Company should not be considered a substitute for, or superior to, financial measures prepared in accordance with GAAP, and the financial results prepared in accordance with GAAP and reconciliations from these results should be carefully evaluated.
Table 1: Adjusted Revenue, Gross Profit and EBITDA Reconciliation ($M)
Q3 2019
Q3 2020
V %
Adjusted Revenue Reconciliation
GAAP Revenue
$
1,354
$
1,366
1
%
Purchase accounting adjustment to acquired deferred revenue
3
3
A
Adjusted Revenue
$
1,358
$
1,369
1
%
Components of Adjusted Revenue Growth
Organic
(3
)
%
Acquisitions/Divestitures
3
%
Foreign Exchange
—
%
Rounding
1
%
Total Adjusted Revenue Growth
1
%
Adjusted Gross Profit Reconciliation
GAAP Gross Profit
$
874
$
876
Purchase accounting adjustment to acquired deferred revenue
3
3
A
Adjusted Gross Profit
$
877
$
879
—
%
GAAP Gross Margin
64.5
%
64.1
%
(40 bps)
Adjusted Gross Margin
64.6
%
64.2
%
(40 bps)
Adjusted EBITDA Reconciliation
GAAP Net Earnings
$
278
$
234
Taxes
60
69
Interest Expense
49
62
Depreciation
12
13
Amortization
94
117
EBITDA
$
493
$
495
—
%
Purchase accounting adjustment to acquired deferred revenue and commission expense
3
3
A
Transaction-related expenses for completed acquisitions and divestiture
2
3
B
Adjusted EBITDA
$
498
$
501
1
%
% of Adjusted Revenue
36.7
%
36.6
%
(10 bps)
Table 2: Adjusted DEPS Reconciliation C
Q3 2019
Q3 2020
V %
GAAP DEPS
$
2.64
$
2.21
(16
)
%
Purchase accounting adjustment to acquired deferred revenue and commission expense
0.02
0.02
A
Transaction-related expenses for completed acquisitions and divestiture
0.02
0.08
B
Amortization of acquisition-related intangible assets D
0.70
0.86
Adjustment to income tax expense related to the gain on sale of Scientific Imaging businesses
0.01
—
Adjustment to previously recognized deferred tax expense related to new deal structure for divestiture of Gatan
(0.10
)
—
Adjusted DEPS
$
3.29
$
3.17
(4
)
%
Table 3: Adjusted Cash Flow Reconciliation ($M)
Q3 2019
Q3 2020
V %
Operating Cash Flow
$
404
$
138
(66
)
%
Cash taxes paid on sale of Gatan
—
192
Deferred tax payments E
—
124
Adjusted Operating Cash Flow
404
454
12
%
Capital Expenditures
(14
)
(8
)
Capitalized Software Expenditures
(3
)
(5
)
Adjusted Free Cash Flow
$
387
$
442
14
%
Table 4: Forecasted Adjusted DEPS Reconciliation C
Q4 2020
FY 2020
Low End
High End
Low End
High End
GAAP DEPS
$
2.36
$
2.46
$
8.92
$
9.02
Purchase accounting adjustment to acquired deferred revenue and commission expense A
0.03
0.03
0.07
0.07
Restructuring charge associated with certain Process Technologies businesses
—
—
0.10
0.10
Transaction-related expenses for completed acquisitions B
—
—
0.09
0.09
Amortization of acquisition-related intangible assets D
1.00
1.00
3.37
3.37
Adjusted DEPS
$
3.39
$
3.49
$
12.55
$
12.65
A.
2020 actual results and forecast of estimated acquisition-related fair value adjustments to deferred revenue and commission expense related to the acquisitions of Foundry, iPipeline, and Vertafore as shown below ($M, except per share data).
Q3 2019A
Q3 2020A
Q4 2020E
FY 2020E
Pretax
$
3
$
3
$
3
$
10
After-tax
$
2
$
2
$
3
$
8
Per Share
$
0.02
$
0.02
$
0.03
$
0.07
B.
Transaction-related expenses for the Vertafore, IFS, and WELIS acquisitions ($3M pretax, $2M after-tax), and associated bridge financing origination fee ($7M pretax, $6M after-tax).
C.
All Q3'19 and 2020 adjustments taxed at 21%.
D.
Actual results and forecast of estimated amortization of acquisition-related intangible assets ($M, except per share data); for comparison purposes, prior period amounts are also shown below. Tax rate of 21% applied to amortization.
Q3 2019A
Q3 2020A
Q4 2020E
FY 2020E
Pretax
$
93
$
116
$
134
$
450
After-tax
$
73
$
91
$
106
$
356
Per share
$
0.70
$
0.86
$
1.00
$
3.37
E.
$124M of income tax payments that were deferred into the third quarter of 2020.
Note: Numbers may not foot due to rounding.
About Roper Technologies
Roper Technologies is a constituent of the S&P 500, Fortune 1000, and the Russell 1000 indices. Roper operates businesses that design and develop software (both license and software-as-a-service) and engineered products and solutions for a variety of niche end markets. Additional information about Roper is available on the Company's website at www.ropertech.com.
The information provided in this press release contains forward-looking statements within the meaning of the federal securities laws. These forward-looking statements may include, among others, statements regarding operating results, the success of our internal operating plans, the prospects for newly acquired businesses to be integrated and contribute to future growth, and profit and cash flow expectations. Forward-looking statements may be indicated by words or phrases such as "anticipate," "estimate," "plans," "expects," "projects," "should," "will," "believes," "intends" and similar words and phrases. These statements reflect management's current beliefs and are not guarantees of future performance. They involve risks and uncertainties that could cause actual results to differ materially from those contained in any forward-looking statement. Such risks and uncertainties include the effects of the COVID-19 pandemic on our business, operations, financial results and liquidity, including the duration and magnitude of such effects, which will depend on numerous evolving factors which we cannot accurately predict or assess, including: the duration and scope of the pandemic; the negative impact on global and regional markets, economies and economic activity; actions governments, businesses and individuals take in response to the pandemic; the effects of the pandemic, including all of the foregoing, on our customers, suppliers, and business partners, and how quickly economies and demand for our products and services recover after the pandemic subsides.  Such risks and uncertainties also include our ability to identify and complete acquisitions consistent with our business strategies, integrate acquisitions that have been completed, realize expected benefits and synergies from, and manage other risks associated with, the newly acquired businesses. We also face other general risks, including our ability to realize cost savings from our operating initiatives, general economic conditions and the conditions of the specific markets in which we operate, changes in foreign exchange rates, difficulties associated with exports, risks associated with our international operations, cybersecurity and data privacy risks, risks related to political instability, armed hostilities, incidents of terrorism, public health crisis (such as the COVID-19 pandemic) or natural disasters, increased product liability and insurance costs, increased warranty exposure, future competition, changes in the supply of, or price for, parts and components, environmental compliance costs and liabilities, risks and cost associated with litigation, including asbestos related litigation, potential write-offs of our substantial intangible assets, and risks associated with obtaining governmental approvals and maintaining regulatory compliance for new and existing products. Important risks may be discussed in current and subsequent filings with the SEC. You should not place undue reliance on any forward-looking statements. These statements speak only as of the date they are made, and we undertake no obligation to update publicly any of them in light of new information or future events.
Roper Technologies, Inc. and Subsidiaries
Condensed Consolidated Balance Sheets (unaudited)
(Amounts in millions)
September 30, 2020
December 31, 2019
ASSETS:
Cash and cash equivalents
$
302.1
$
709.7
Accounts receivable, net
773.4
791.6
Inventories, net
214.9
198.6
Income taxes receivable
43.1
18.5
Unbilled receivables
249.9
183.5
Other current assets
122.8
97.6
Total current assets
1,706.2
1,999.5
Property, plant and equipment, net
146.6
139.9
Goodwill
14,158.6
10,815.4
Other intangible assets, net
7,122.5
4,667.7
Deferred taxes
95.1
95.6
Other assets
423.0
390.8
Total assets
$
23,652.0
$
18,108.9
LIABILITIES AND STOCKHOLDERS' EQUITY:
Accounts payable
$
173.1
$
162.0
Accrued compensation
251.5
240.1
Deferred revenue
868.1
831.8
Other accrued liabilities
409.3
346.2
Income taxes payable
35.1
215.1
Current portion of long-term debt, net
602.8
602.2
Total current liabilities
2,339.9
2,397.4
Long-term debt, net of current portion
9,101.2
4,673.1
Deferred taxes
1,563.9
1,108.1
Other liabilities
486.1
438.4
Total liabilities
13,491.1
8,617.0
Common stock
1.1
1.1
Additional paid-in capital
2,069.9
1,903.9
Retained earnings
8,349.4
7,818.0
Accumulated other comprehensive loss
(241.4
)
(212.8
)
Treasury stock
(18.1
)
(18.3
)
Total stockholders' equity
10,160.9
9,491.9
Total liabilities and stockholders' equity
$
23,652.0
$
18,108.9
Roper Technologies, Inc. and Subsidiaries
Condensed Consolidated Statements of Earnings (unaudited)
(Amounts in millions, except per share data)
Three months ended
September 30,
Nine months ended
September 30,
2020
2019
2020
2019
Net revenues
$
1,366.1
$
1,354.5
$
4,021.8
$
3,972.0
Cost of sales
490.2
480.9
1,445.4
1,437.8
Gross profit
875.9
873.6
2,576.4
2,534.2
Selling, general and administrative expenses
508.3
488.4
1,526.0
1,434.2
Income from operations
367.6
385.2
1,050.4
1,100.0
Interest expense, net
62.3
48.8
155.2
137.6
Other income (expense), net
(2.2
)
1.5
(3.4
)
(2.6
)
Gain on disposal of business
—
—
—
119.6
Earnings before income taxes
303.1
337.9
891.8
1,079.4
Income taxes
68.7
60.4
197.9
182.6
Net earnings
$
234.4
$
277.5
$
693.9
$
896.8
Net earnings per share:
Basic
$
2.24
$
2.67
$
6.64
$
8.64
Diluted
$
2.21
$
2.64
$
6.57
$
8.54
Weighted average common shares outstanding:
Basic
104.7
104.0
104.5
103.8
Diluted
105.9
105.2
105.6
105.0
Roper Technologies, Inc. and Subsidiaries
Selected Segment Financial Data (unaudited)
(Amounts in millions; percentages of net revenues)
Three Months Ended September 30,
Nine Months Ended September 30,
2020
2019
2020
2019
Amount
%
Amount
%
Amount
%
Amount
%
Net revenues:
Application Software
$
447.9
$
405.4
$
1,251.4
$
1,177.2
Network Software & Systems
430.2
391.2
1,290.4
1,103.7
Measurement & Analytical Solutions
367.9
398.3
1,097.0
1,208.5
Process Technologies
120.1
159.6
383.0
482.6
Total
$
1,366.1
$
1,354.5
$
4,021.8
$
3,972.0
Gross profit:
Application Software
$
307.6
68.7
%
$
275.4
67.9
%
$
851.8
68.1
%
$
791.5
67.2
%
Network Software & Systems
287.1
66.7
%
271.9
69.5
%
865.1
67.0
%
763.6
69.2
%
Measurement & Analytical Solutions
218.4
59.4
%
234.7
58.9
%
654.5
59.7
%
706.1
58.4
%
Process Technologies
62.8
52.3
%
91.6
57.4
%
205.0
53.5
%
273.0
56.6
%
Total
$
875.9
64.1
%
$
873.6
64.5
%
$
2,576.4
64.1
%
$
2,534.2
63.8
%
Operating profit*:
Application Software
$
125.6
28.0
%
$
110.1
27.2
%
$
336.6
26.9
%
$
299.9
25.5
%
Network Software & Systems
134.3
31.2
%
137.5
35.1
%
403.6
31.3
%
392.0
35.5
%
Measurement & Analytical Solutions
122.5
33.3
%
127.0
31.9
%
359.5
32.8
%
375.4
31.1
%
Process Technologies
31.5
26.2
%
55.5
34.8
%
91.7
23.9
%
162.8
33.7
%
Total
$
413.9
30.3
%
$
430.1
31.8
%
$
1,191.4
29.6
%
$
1,230.1
31.0
%
*Segment operating profit is before unallocated corporate general and administrative expenses; these expenses were $46.3 and $44.9 for the three months ended September 30, 2020 and 2019, respectively, and $141.0 and $130.1 for the nine months ended September 30, 2020 and 2019, respectively.
Roper Technologies, Inc. and Subsidiaries
Condensed Consolidated Statements of Cash Flows (unaudited)
(Amounts in millions)
Nine months ended September 30,
2020
2019
Cash flows from operating activities:
Net earnings
$
693.9
$
896.8
Adjustments to reconcile net earnings to cash flows from operating activities:
Depreciation and amortization of property, plant and equipment
38.3
35.9
Amortization of intangible assets
319.8
263.2
Amortization of deferred financing costs
7.4
5.2
Non-cash stock compensation
88.4
80.4
Gain on disposal of business, net of associated income tax
—
(87.4
)
Income tax provision, excluding tax associated with gain on disposal of
businesses
197.9
150.4
Changes in operating assets and liabilities, net of acquired businesses:
      Accounts receivable
126.1
52.1
      Unbilled receivables
(49.1
)
(26.6
)
      Inventories
(15.2
)
(25.2
)
      Accounts payable and accrued liabilities
53.3
(59.2
)
      Deferred revenue
(57.5
)
26.5
   Cash tax paid for gain on disposal of businesses
(201.9
)
(39.4
)
   Cash income taxes paid, excluding tax associated with gain on disposal
of businesses
(236.1
)
(255.0
)
Other, net
(14.4
)
(22.1
)
            Cash provided by operating activities
950.9
995.6
Cash flows from (used in) investing activities:
Acquisitions of businesses, net of cash acquired
(5,653.3
)
(2,351.9
)
Capital expenditures
(23.0
)
(42.2
)
Capitalized software expenditures
(9.8
)
(7.7
)
Proceeds from (used in) disposal of businesses
(4.2
)
220.5
Other, net
(2.7
)
(2.5
)
            Cash used in investing activities
(5,693.0
)
(2,183.8
)
Cash flows from (used in) financing activities:
Proceeds from senior notes
3,300.0
1,200.0
Borrowings (payments) under revolving line of credit, net
1,160.0
60.0
Debt issuance costs
(42.0
)
(12.0
)
Cash dividends to stockholders
(160.0
)
(143.5
)
Proceeds from stock-based compensation, net
72.5
38.8
Treasury stock sales
7.3
5.2
Other
(1.4
)
3.6
            Cash flows from financing activities
4,336.4
1,152.1
Effect of foreign currency exchange rate changes on cash
(1.9
)
(5.3
)
Net decrease in cash and cash equivalents
(407.6
)
(41.4
)
Cash and cash equivalents, beginning of period
709.7
364.4
Cash and cash equivalents, end of period
$
302.1
$
323.0