The Case For A Better ROI From Virtual Business Entertainment
When he retired from the NFL, Tiki Barber realized there was a business opportunity around business entertainment done differently. Seven years later, Thuzio, the company he co-founded, has created a new format for business entertainment. I sat down with Tiki and his Thuzio co-founder Jared Augustine to talk about the inspiration behind the business and why they believe the virtual event platform is here to stay for business entertainment.
Dave Knox: What is the origin of Thuzio?
Tiki Barber: We started Thuzio seven years ago, more as a marketplace for athletes to engage with their communities of fans. We were doing all kinds of different events from basketball games with your favorite former player to a concert at Fenway Park for one of our clients. But it was a marketplace that required us to touch almost all the events. Scalability became a problem. We were fortunate that we were able to pivot many times over the last few years, ultimately to a product that is a standalone event company, where we have a membership based in big cities like New York, Chicago, Philadelphia, Los Angeles, Boston, Dallas, and other cities around the world. In these cities we are doing live events with great sports icons and these live and unfiltered conversations that are intimate and engaging and our clients love it.  As a business community, you have clients that you need to entertain and asking them to go to a football game on a Sunday afternoon for five hours is not always ideal.  But if you could invite them to an event that has a legend of sport for a two hour meet and greet and conversation with cocktails, that client is probably more likely to say yes to an event like this.  At Thuzio we created an alternative, and it has really worked.
Jared Augustine: The thing that Tiki really saw early on was that there was demand for his time after he stopped playing through general appearances. It struck us that there was no real marketplace environment to be able to access celebrities and influencers for live experiences. So that's what we built. We built the technology around that. We built a huge talent network on the supply side. We were a couple of years into the business when we recognized that two things were happening. One, many companies and brand marketing professionals were using the product to just run searches and try to identify athletes for marketing engagements. Second, along the way we started hosting live events with our business networks and we quickly found that these live experiences were so powerful that we asked ourselves," Okay, how do we enable this?" That's what Thuzio is today, an event and membership company.
Knox: On the note of pivots, Thuzio recently launched a virtual only event membership program. How is that evolving your approach to the business?
Augustine: In 2019 we were strictly a live event business, and we ran about 50 events across 12 US cities with activations at the Super Bowl, NBA All- Star, Masters, and a number of other highlights. The membership community would attend those events and bring their clients to them. Then COVID hits. And in March we canceled all of our events initially through June. Then we canceled through August. And now it is in question of whether live events will be back at all here in Q4. With that, we had to really reinvent the event product for our membership community. We started running virtual events and soon virtual was twice as big as the live events had been because there was such demand. For the past six months, we have been doing these custom virtual event activations for companies in our corporate membership community like JP Morgan and Verizon.
What we learned is these virtual events can be very successful if they are run well. You cannot treat them like a Zoom call. You have to treat them like an event with a run of show and gifting and all the elements that make live events important. It also turns out they are very cost effective for companies because the cost to produce is lower and the event attendance is actually higher because it is easy. It is easier to get to a virtual event than a live event, which in turn creates a really positive return on marketing dollars for these companies.
And yet we were struck here at the end of the summer that these events were really only accessible to sales and business development teams at these major companies. Small business owners could not afford to do them on their own.  We wanted to create a product that would democratize access to this great virtual event format. Our new virtual membership is what we launched to do just that. Each week we host a virtual members only event and members are able to bring up to three guests. For $495 for the entire year, anyone can join as long as they register with a business email and their LinkedIn account so we can verify that they are using this for professional purposes. It took us six months to figure out how our Thuzio format could work for virtual events. Now that we did that through our custom event business, we are rolling out this membership oriented product that is more of a subscription for entertaining during COVID and beyond.
Knox: The very definition of business entertainment has changed during the last six months. How are you seeing your traditional clients respond to that?
Barber: We know that our client base loves these live events. They go, the events are engaging, and they just feel intimate. We always look for settings for our live events that make it feel like you are in this cocoon of conversation with a legend of sport or culinary or whatever it may be. We had to find a way to continue to service these customers because the need was there. That is what led to this virtual membership. We had a couple of clients who would say the ROI on these virtual events outpace anything that they have done before. They are asking us to find ways to do more of them. On some days, we'll do five bespoke custom events for clients so we see the need there for sure.
Knox: What have you learned about how to do a virtual event, and what lessons do you think other businesses can take away from the experiences you have had?
Augustine: I can tell you that you have to treat it like a live event. What that means is there's a lot of pre-planning. You have to have a run of show. You have to think about your customer experience from the moment they get the invitation to the moment that they are exiting the event. You have to think about the format itself. You have to think about how do you bring the person on screen to life. One of the great ways of doing that is through gifting products alongside the event. As an example, we had an event with the New York Mets legend David Wright that was the kickoff of our virtual membership series. Everyone received their unique link to their Thuzio Zoom login. The show is Tiki interviewing David for about 30 minutes, and then it opened up to audience Q&A where we bring members on screen to ask David questions. Alongside that experience, David Wright has a new book coming out and we are giving all of our members the ability to purchase a book to be shipped to their guests who are attending that event that night. A book shows up at your door and it connects you back to that event and it connects you back to the business partner of yours that invited you to that experience. Another example would be that we have been doing many events with sommeliers doing wine tastings, and prior to the event, our customers will have that wine shipped to their guests so that they can actually have the bottle of wine and they can watch the show and they can participate. We think it's really important to create a live and interactive element to really round out the virtual event experience.
Knox: As you think about each of these touch points, who do ensure you still see strong attendance in the virtual format?
Augustine: This the hardest part. It is the hardest part of client entertainment. First you have to get your contact to open the email for this invitation. And then whether it's live or it's virtual, it's got to be something that touches on a passion point with them, that gets them to say yes. And again, this goes back to the founding principles of Thuzio. If you have a client who's a foodie and you invite them to a culinary demonstration, you have got a pretty good chance of them saying yes. The next thing is it has to be relatively convenient. Everybody's busy. So our live events we host on weekday evenings and really excellent locations in major business districts so people can attend that event right after work. You are not schlepping out to a stadium or arena or giving up an entire weekend day at a golf course. You have to hit a passion point and then it has to be convenient. And obviously virtual can check both those boxes. In fact, we think it is even more convenient. Drop-off is a concern whether it is live or virtual. It is the hardest part. You invite someone out and you hope they can make it. But what our data is showing us is that because it is virtual, it is easier to attend, and as a result, you are going to actually have a higher attendance rate.
Knox: What are the qualities that you look for in an influencer that is going to be at the center of one of your events?
Barber: It definitely goes beyond just the name. When we first started Thuzio, we knew that the retired player had a better grasp on his story. He could tell it differently because he was not actively living it. We have grown a knowledge of who is really good at engaging an audience. That is what we look for when we book for our member events, both the live ones, and now the virtual ones. We want that fun and engaging conversation. Take Lawrence Taylor, who I have done many interviews with. We know that it is going to be entertaining. He's going to say stuff sometimes with a lot of expletives and always with a brown liquid in his hand, and it is going to get people excited and engaged. We have developed this knowledge of who is good at this, and we know that it is going to be entertaining. Part of it is the name on top of that. Obviously you want someone who people are going to recognize when they see the name. For us on the development side of these events, we know we have to deliver a great product that goes beyond the name. If someone got up there and was boring, it would be hard for the interviewer and it would be hard for the audience to stay engaged. I do not want to brag about what our expertise is, but I think we have gotten really good at finding people who are great at presenting, whether it's in person or virtually as we are now doing.
Knox: What events are you doing to kickoff your virtual membership?
Augustine: We kicked off with David Wright in a sports roundtable Q& A format. Then we had chef Jose Garces for a culinary demonstration where we shared everything ahead of time so you could go out, purchase those ingredients, and cook alongside Jose. Then we had Amar'e Stoudemire talking not just about his playing career, but also about his wine company, which is very important to him. And then most recently, we had Gary V, where we did a business discussion and talked to him about all his great successes and where things are going.
Knox: Where do you think business entertainment goes in the future as we emerge out of COVID?
Augustine: We believe virtual business entertainment is a new category that's here to stay. Like every event company and everyone in sports entertainment, we look forward to live events coming back. But we don't think virtual is going away. And I think it's fair to say that when you look at the corporate entertainment market overall, that there is share that will go to virtual going forward. And how much of that is unknown, but it will be there. It's not going away.
Barber: I also think that the live and virtual events aren't necessarily mutually exclusive. Obviously packing a room is job number one when we have live events. But as we've been thinking about this, there are certain parts of the country that just don't have access to our live events. Generally speaking, our live and unfiltered interviews are in major cities like New York and LA and Chicago. But if you are outside these cities and there is not a professional sports team there, we do not run events in those markets. But the virtual aspects and the virtual membership that we have been talking about now gives a way for people that are not local to attend these events. That is where it starts to get exciting. And that is where, as we think about the future for Thuzio and the additional technological add-ons that can enhance our product, that's what makes us really excited about 2021 and beyond.
We're Coming for the Asteroids. Are the Asteroids Coming for Us?
What are the most important places to explore in the solar system?
The leading answers to that question have shifted over the years, driven by scientific discoveries, public curiosity, technological realities, and political agendas. For human exploration, the list of plausible destinations has always been short: Earth-orbit and the Moon. (Mars is achievable, no doubt, but we not at all technologically ready to go there right now.) For robotic probes, the list started in the same place but kept going: inward to Mercury and the Sun itself, outward past Neptune and Pluto.
For the most part, though, we've ignored the other 99.9999% of the objects in the inner solar system: the asteroids. There are, by current estimates, nearly two million asteroids more than a kilometer in diameter. Collectively, they represent a landscape greater than the surface of the Moon, but we'd never seen one up close until 1991. Even now, we've visited just a dozen of them. The asteroids didn't get much love.
That's about to change: There currently eight dedicated asteroid missions underway or in development (nine if you include MMX, a Japanese mission to Mars's inner moon, Phobos, which might be a captured asteroid). Hayabusa2 is about to swing past Earth next week, dropping of samples of asteroid Ryugu over Australia. OSIRIS-REx will follow behind with a larger cache of rocks that it recently collected from another small asteroid, Bennu.
The next round of asteroid missions will try out a bunch of unusual styles of exploration. Lucy will visit the Trojan asteroids that move in the same orbit as Jupiter. The Psyche mission will travel to the asteroid Psyche—a mysterious object that appears to be composed almost entirely of metal. DESTINY+ will head to Phaethon, a "rock-comet" asteroid that appears to be crumbling because it passes so close to the Sun. NEA Scout will use a solar sail to navigate to a near-Earth asteroid.
Most dramatic of all, the DART spacecraft will ram full-speed into a small asteroid Dimorphos in 2022. The goal is to test out a technique for deflecting a dangerous asteroid if we discover one coming our way; four years later, the Hera probe will follow up to assess the damage.
In the fall of 2022, the DART spacecraft will execute a high-speed collision with 160-meter-wide asteroid Dimorphos, seen orbiting its larger companion, Didymos. (Credit: NASA/JHU-APL)
There are many reasons for this current fascination with asteroids. They contain evidence of how our solar system formed, how Earth got its water, maybe even how life got started here. They are rich, complicated mini-worlds in their own right. They are easy to visit because of their very low gravity. Someday asteroids could even provide useful resources for astronauts or for space-based industry.
The DART-Hera pair of missions embody perhaps the most compelling reason why people find asteroids so compelling. We know that small asteroids hit Earth all the time; we know that larger ones can cause significant damage when they hit; and we have the fundamental technology needed to deflect an asteroid if it were on a collision course. Understanding asteroids could therefore be a matter of life and death.
One measure of how much people are moved by the asteroid threat is the regular appearance of "killer asteroid" stories in the tabloid newspapers. A more meaningful measure is the new IMAX movie Asteroid Hunters. The COVID-19 pandemic has sharply reduced its audience for now, but when science museums and IMAX theaters safely reopen, the movie will give you a dramatic view of asteroid science—and especially of the science behind averting a natural disaster from above.
I spoke with Phil Groves, the writer/producer of Asteroid Hunters, to find out why he finds asteroids so interesting, and to understand how he worked to make the science accessible to the general public. An edited version of our conversation follows.
A rubble-pile asteroid, inspired by the actual structure of Bennu, begins to feel the heat of a nuclear blast in Asteroid Hunters. (Credit: IMAX/Huahuang Pictures)
Most IMAX documentaries are very earthbound. What inspired you to make one about asteroids?
I grew up a hardcore NASA geek, before I made a sharp left into the film business. About 12 years ago, I ran into this article describing a proposed European Space Agency mission called Don Quixote [a predecessor to the DART/Hera missions]. It was going to send a probe to knock a binary asteroid, which is a little moon asteroid that goes around a bigger asteroid, to test the notion of asteroid deflection. The idea of protecting our planet against an asteroid this way never occurred to me until I read that article.
At the time, I was running development and global distribution for IMAX, and it struck me that this was the perfect topic for the IMAX format. From there, I began to research the topic, reaching out to NASA and JPL scientists. This film became a passion project.
I'm afraid that most people still picture the movie Armageddon when they think about protecting Earth from a hazardous asteroid.
If an asteroid is headed towards Earth, you send up a bunch of oil rig workers to go blow it up. It's quite a misunderstanding! One, that is something you wouldn't bother to do, sending people up there. And two, you wouldn't want to blow up the asteroid, because then it sends a cloud of buckshot to Earth. But there's a real problem here, and it's a problem that is solvable. The threat of asteroids is the most preventable of all natural disasters.
To pump up the drama, some news stories hype the likelihood of an asteroid collision. A major impact is actually a very low-probability risk, but potentially a highly destructive one. How do you communicate a subtle point like that?
It's a really good question. There are about a billion asteroids going around the sun [if you include the really small ones]. Most of them live in the asteroid belt, but there are two classes of asteroids that we pay particular attention when it comes to planetary defense. One is near-earth asteroids. Its very name tells you why we're interested in them—because they come close. Then there's the class of potentially hazardous asteroids, the ones that come very close to intercepting Earth in our orbital path around the Sun. About 10 percent of near-earth asteroids fall into this category.
We know of a couple thousand potentially hazardous asteroids. And here's the part where you talk about the low probability but high consequence in the event of an asteroid strike: We've found only a third of these asteroids, maybe.
So we shouldn't relax just yet?
The good news is, of the asteroids that we know about, none pose a threat except for at least 100 years or further in the future. But it's the asteroids that we don't know about that we have to keep on looking and finding. It's not a question of if an asteroid will hit Earth again, but when. Look at the Moon: You see all the craters there. Well, Earth has been hit more often than the Moon has been. We just have weather and geology that erase the records.
That said, there's about 200 impact craters that we do know about on Earth. An asteroid big enough to cause real trouble to a city or even a small country hits earth once about every 100,000 years. The next one could be 100,000 years from now, because that's just an average obviously, or it could be tomorrow when we find an asteroid that is coming our way. We have to be ready for it. That's what Asteroid Hunters is all about.
Yeah, make sure that doesn't happen: a major asteroid impact as envisioned in the movie Asteroid Hunters (Credit: IMAX/Huahuang Pictures)
In your view, how much effort to preparing to fend off such an unlikely disaster?
The way I internalize that sort of thinking is an ounce of prevention is worth a pound of cure. You have a house. You buy a fire extinguisher, and the expense of that fire extinguisher relative to the overall cost of the house is pretty small. The amount of money
that you would have to spend to send up a space telescope to look for asteroids so that we can find it before they find us, is pretty small compared to the overall economy of the world. When you go to sleep at night, you lock your front door. The chances of someone invading your house in the middle of the night is pretty minuscule as well, but you do it. This is the same thing, just on a grander scale.
And it doesn't even cost that much! NASA's budget for finding asteroids is probably less than what it costs to make one Hollywood asteroid-disaster movie.
That might be generous, by the way. NASA's budget for planetary defense in this past year is about 150 million bucks. Just about every Marvel movie made out there cost more than that. And this is the only natural disaster you can actually prevent from happening. You can't cork a volcano. You can't throw a net over a hurricane. You can't glue shut a fault line to stop earthquakes. But this we can stop.
What do you find most scientifically exciting about asteroids?
The coolest fact that I learned along the way [making Asteroid Hunters] is that the asteroid belt is a planet that never came to be because of this big gravitational bully called Jupiter. It jealously prevented a planet from ever taking shape because of its gravitational influences on planetesimals, which is what asteroids are. They're the leftover materials of construction of the planets of the solar system. The big gap between Mars and Jupiter is because of Jupiter's huge influence. It was the first planet to form, and it's the biggest. It kept things stirred up, gravitationally speaking, in that area, so the asteroids were never given a chance to come together and form a planet.
Then over the four-and-a-half billion years, most of the asteroids have either been sent
packing outside of the solar system or sent inward, where they become impactors of the Moon and the Earth, not to mention Venus, Mercury, and Mars. Some also fall into the sun. The asteroid belt today is maybe 1 percent of what it used to be. All of this stuff, it's a big ammo belt, just being flung outward and inward over the course of the eons.
It's an exciting time in asteroid exploration, with Hayabusa2 and OSIRIS-REx bringing asteroid samples back to Earth. Any thoughts on these missions?
They'll help us get an understanding of the construction of our solar system and maybe even the formation of life itself. A lot of these asteroids carry with them organic
compounds. You want to know: Did they bring water to Earth and Mars and perhaps other planets?
What's also interesting about OSIRIS-REx is the asteroid it's investigating, Bennu, is one of these potentially hazardous asteroids I was referencing earlier. It's going to pass close to Earth in 2035. It's not going to hit then, but Earth's gravity could have some influence on its orbit around the sun. After that, Bennu may become a real risk to our planet, and it's a pretty big asteroid. It's about 500 meters across, more than 1,500 feet.
Behold Bennu, the diamond-shaped rubble-pile asteroid, as imaged by OSIRIS-REx. (Credit: NASA/University of Arizona)
The images of Bennu are amazing. It's a diamond-shaped hunk of gravel.
It's a rubble pile, and knowing that is an important aspect of planetary defense. How you would mitigate the threat could depend on your understanding of the asteroid structure. Is it mostly metallic, like a big cannon ball? Or is it a rubble pile, where if you whack it too hard, it'll break apart? Then you'd have a pile of buckshot, which could be just as bad.
For Asteroid Hunters, you researched many different ideas about how to deflect asteroids. Which idea did you find most persuasive?
We show a couple of techniques, the gravity tracker and the kinetic impactor. But my favorite way is also the way that many scientists prefer: sending a nuke out into the path of the asteroid. A nuke is the greatest amount of energy in the smallest package.
When the nuke goes off, it irradiates the surface of the asteroid. The heat that's reflecting off of the surface and the ablating rock create an opposing thrust, which alters the orbit of the asteroid. It's kind of a nice one-size-fits-all. It doesn't matter what the structure of the asteroid is like. For any internal form, it will do a great job in reflecting that heat back out.
It's a weird time to release a movie like Asteroid Hunters, in the middle of a pandemic. What message do you want people to take away from it?
The heroes of the movie are scientists, who are using the power of science to watch our back. One of the things that's really important in protecting our planet—not just against asteroids but against any threat, including COVID—is working together. When we are working together, there isn't anything that we can't defeat, including the most preventable of all natural disasters.
Streaming in December 2020: Torbaaz, Maara, Black Widows and more
Written by Arushi Jain
| New Delhi |
Updated: December 1, 2020 4:29:02 pm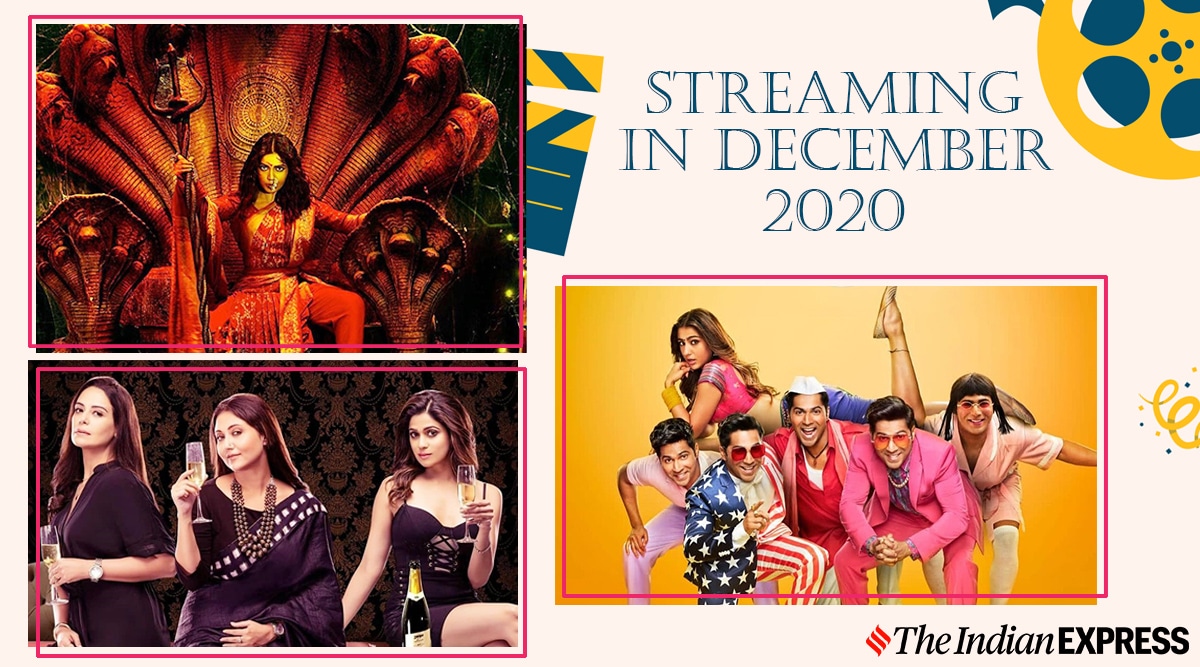 Durgamati, Black Widows and Coolie No.1 will stream this month.
The streaming platforms have plenty of options to keep everyone entertained in the festive month of December. To help you pick what to watch this month, we have compiled a list of titles premiering on ZEE5, Netflix, Amazon Prime Video, Disney Plus Hotstar, MX Player, AltBalaji, Apple TV Plus and SonyLIV.
ZEE5
Darbaan
Streaming on: December 4
Directed by National Award-winning filmmaker Bipin Nadkarni, Darbaan stars Sharib HashmiSharad Kelkar, Rasika Dugal and Flora Saini. The film narrates the story of friendship between a master and his caretaker who belong to different social strata. It is inspired by Rabindranath Tagore's short story Khokababur Pratyabartan.
Lahore Confidential
Streaming on: December 11
Starring Richa Chadha, Arunoday Singh Karishma Tanna and Khalid Siddiqui in pivotal roles, Lahore Confidential is the second installment in ZEE5's Confidential franchise which started with London Confidential. It revolves around an Indian spy, Ananya (Chadha) and an ISI agent Rauf (Singh). The two, unaware of each other's identity, fall in love, and their love story flourishes amid growing cross-border tension. What happens when Ananya and Rauf realise the truth about each other, makes for the film's narrative. Created by S Hussain Zaidi and directed by Kunal Kohli, the film is produced by Jar Pictures.
Black Widows
Streaming on: December 18
Black Widows is the story of three friends Kavita (Shamita Shetty), Jayati (Swastika Mukherjee) and Veera (Mona Singh) who murder their abusive husbands. The series draws inspiration from a 2014 Finnish TV series which was previously made in Ukraine, Estonia, Lithuania, the Middle East, Mexico, Scandinavia and the Czech Republic. Directed by Birsa Dasgupta, it also stars Sharad Kelkar, Raima Sen, Parambrata Chattopadhyay, Aamir Ali and Sabyasachi Chakraborty.
Amazon Prime Video
Durgamati
Streaming on: December 11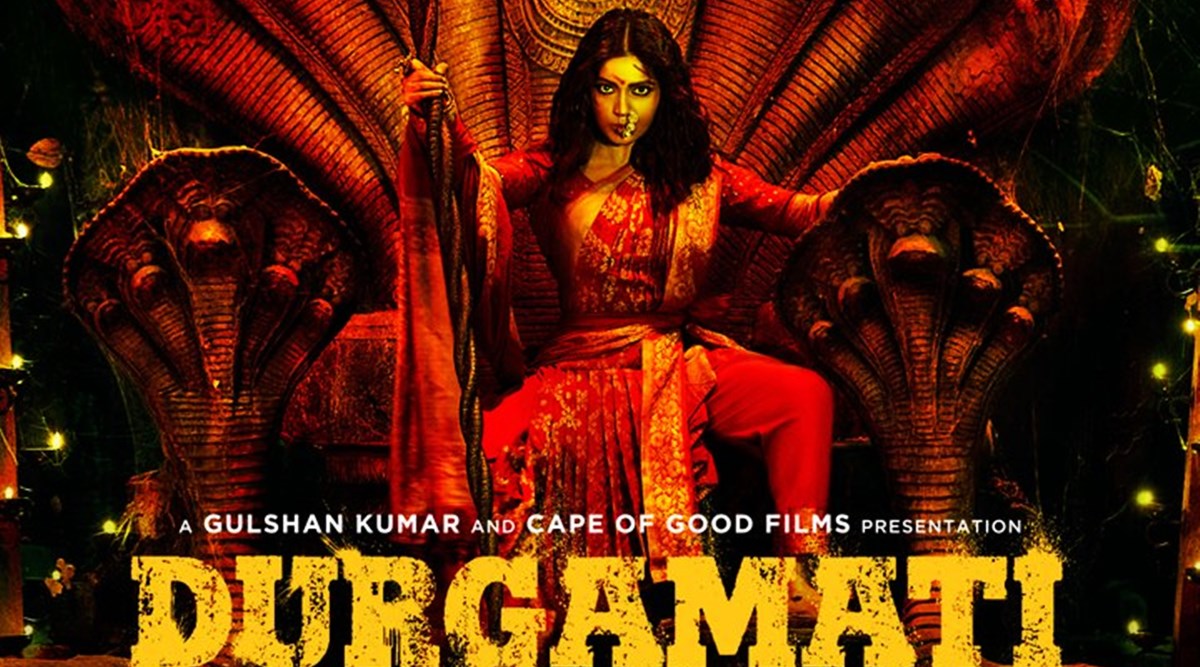 Bhumi Pednekar-starrer Durgamati will stream on December 11. (Photo: Akshay Kumar/Twitter)
The Bhumi Pednekar-starrer is the Hindi remake of Telugu horror film Bhaagamathie which had Anushka Shetty in the lead role. In the film, Bhumi's character Chanchal Chauhan is made the victim of a conspiracy involving bigshots of the country. She is imprisoned in a haunted Durgamati Haveli while being interrogated in the case. What happens to Chanchal in the haveli forms the plot of the film. Written and directed by Ashok, the film also stars Arshad Warsi, Mahie Gill, Jisshu Sengupta and Karan Kapadia.
Sons of the Soil
Streaming on: December 4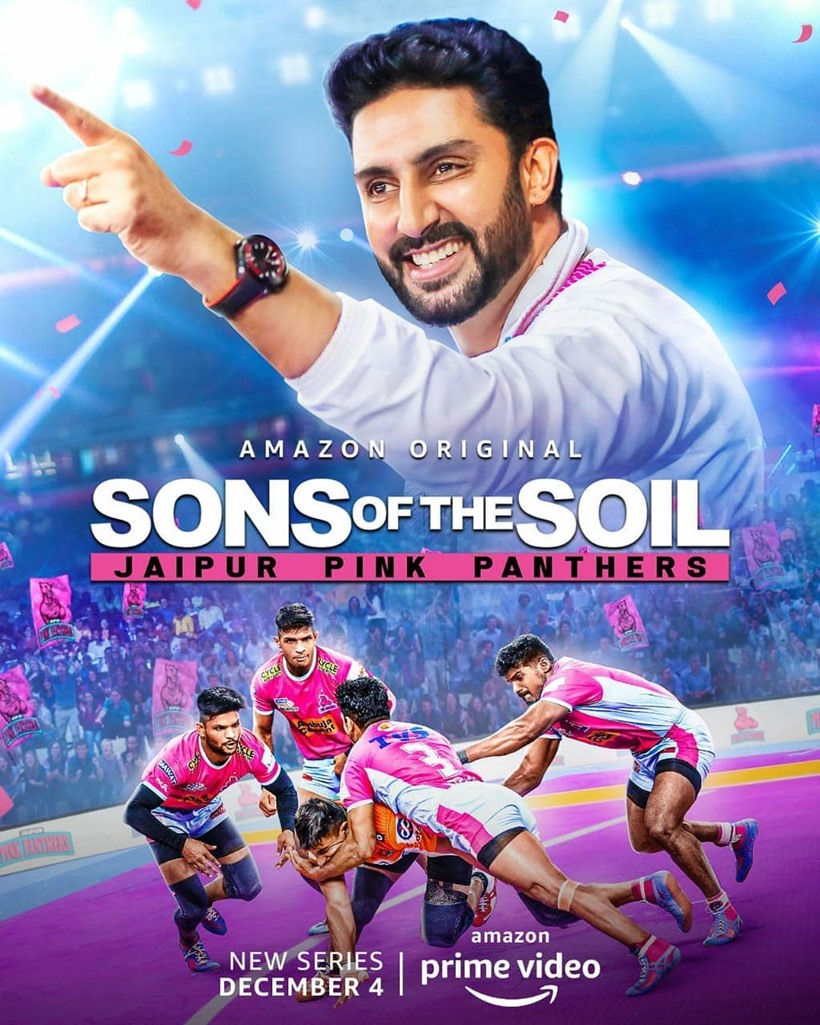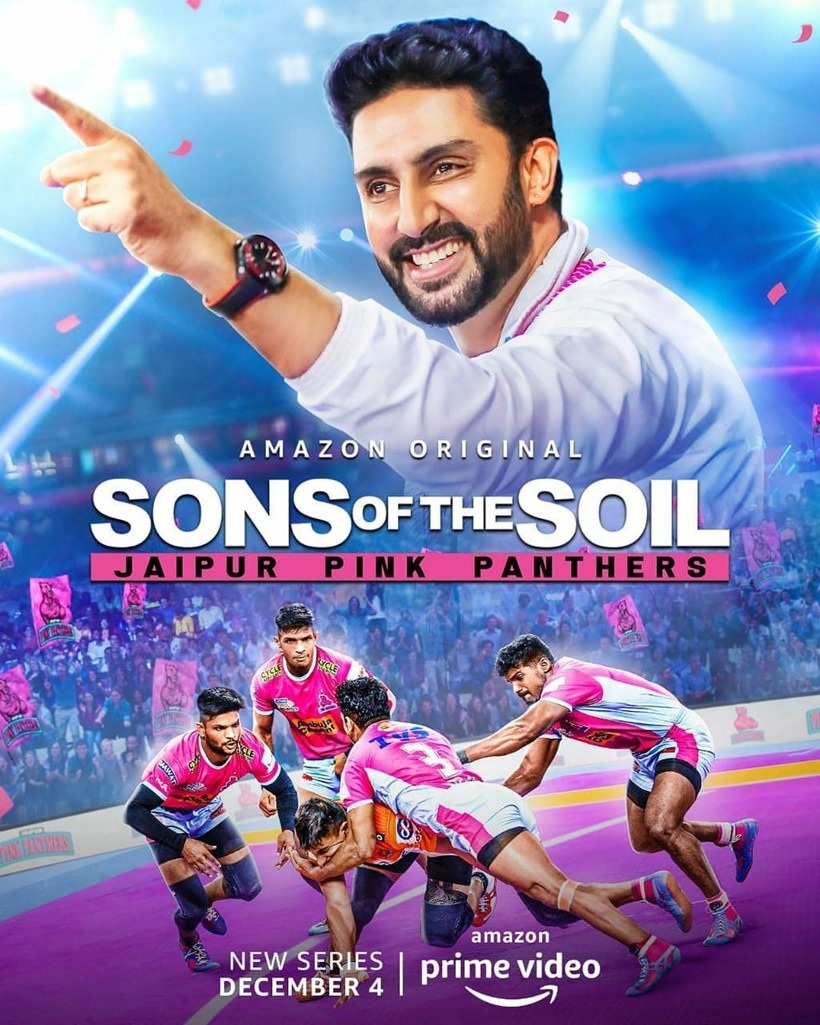 Sons of the Soil is directed by Alex Gale.
The unscripted sports docu-series follows the journey of Abhishek Bachchan-owned Pro Kabaddi League team Jaipur Pink Panthers in the seventh season of the league. Directed by Alex Gale, it offers a locker-room view into the players' world, their interactions with junior Bachchan, love for one of the country's oldest sports and the team's persistence to win the coveted Pro Kabaddi League title. Talking about the series, Bachchan had shared, "The Sons Of The Soil is an honest look at what all happens in putting a Kabaddi team together and how the players go through an emotional journey of successes and failures. The players are the stars of the show."
Coolie No.1
Streaming on: December 25
David Dhawan's upcoming film Coolie No. 1 is a remake of his own 1995 comedy film of the same name. While the original starred Govinda and Karisma Kapoor, the remake features Varun Dhawan and Sara Ali Khan in the lead roles. The film also stars Paresh Rawal, Jaaved Jaaferi, Rajpal Yadav and Johnny Lever in significant roles. Coolie No. 1 is David Dhawan's 45th film. It is produced by Vashu Bhagnani's Pooja Entertainment.
Maara
Streaming on: December 17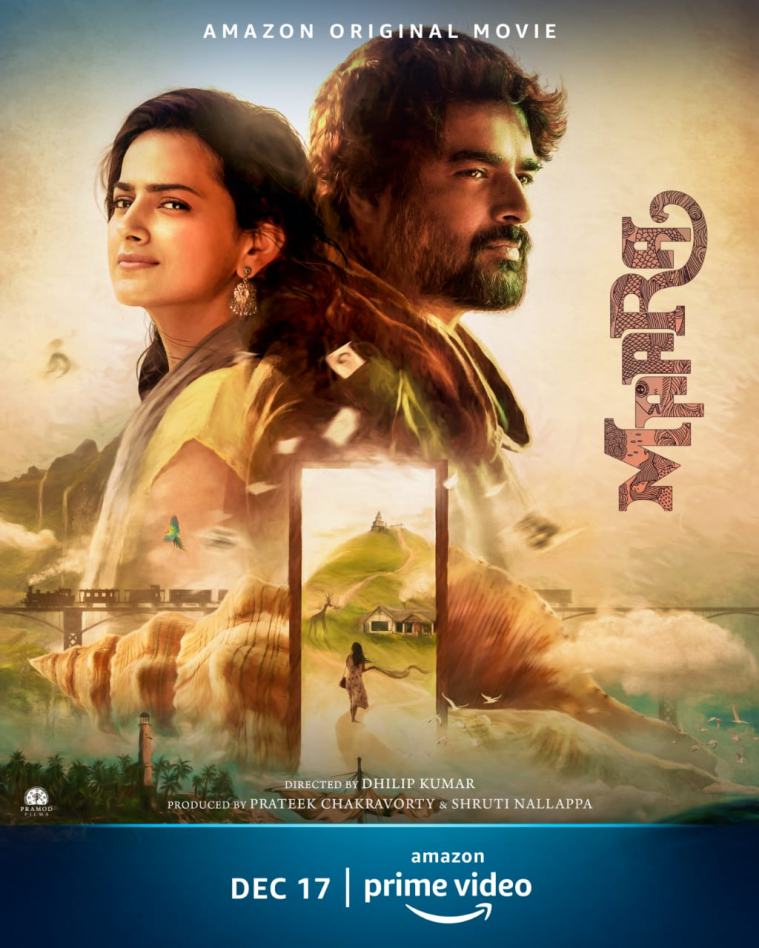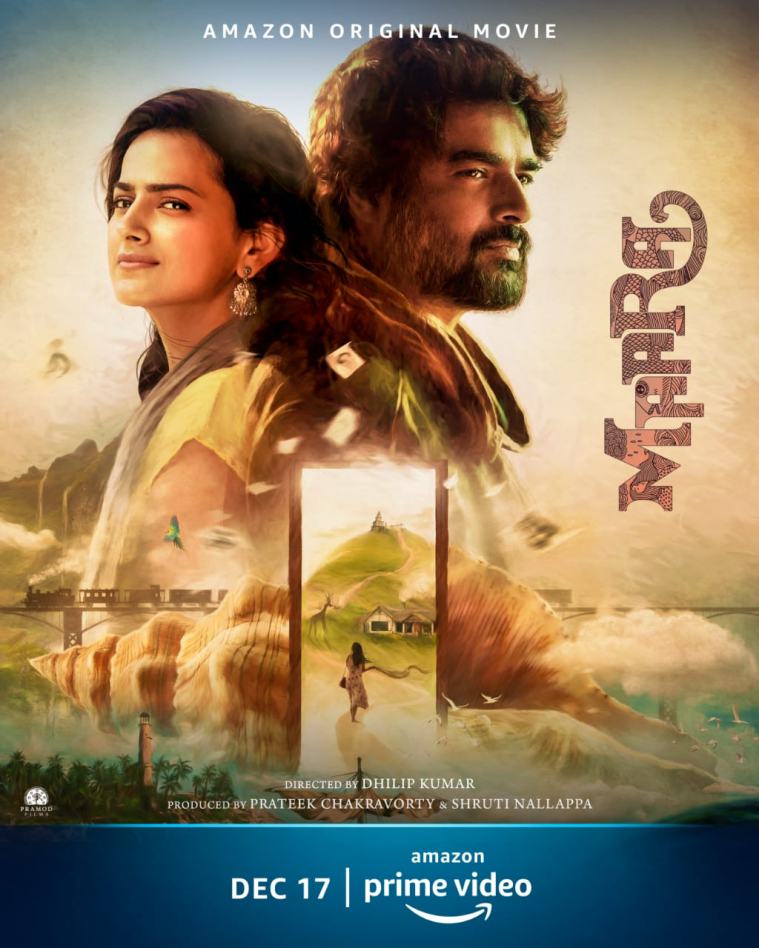 Maara features Madhavan and Shraddha Srinath in the lead roles. (Photo: Amazon Prime Video)
The upcoming Tamil slice-of-life film is directed by Dhilip Kumar. Starring Madhavan and Shraddha Srinath in the lead roles, Maara is the Tamil remake of critically-acclaimed Malayalam film Charlie, starring Duqluer Salmaan and Parvathy in the lead roles. Produced by Prateek Chakravorty and Shruti Nallappa of Pramod Films, Maara also stars Sshivada Nair, stand up comedian Alexander Babu and Mouli.
Sonic The Hedgehog
Streaming on: December 10
Based on the video game franchise of the same name, the action-packed adventure film stars Jim Carrey, James Marsden, Tika Sumpter, Natasha Rothwell, Adam Pally, and Neal McDonough.
I'm Your Woman
Streaming on: December 11
Directed by Julia Hart, the American drama stars Rachel Brosnahan, Arinzé Kene, Marsha Stephanie Blake, Bill Heck, Frankie Faison, Marceline Hugot and James McMenamin. The film revolves around Jean (Brosnahan) who has to be on the run with her child because of her husband Eddie's crimes. Jean meets Teri (Marsha Stephanie Blake) with whom she forms an unlikely partnership.
Netflix
Bhaag Beanie Bhaag
Streaming on: December 4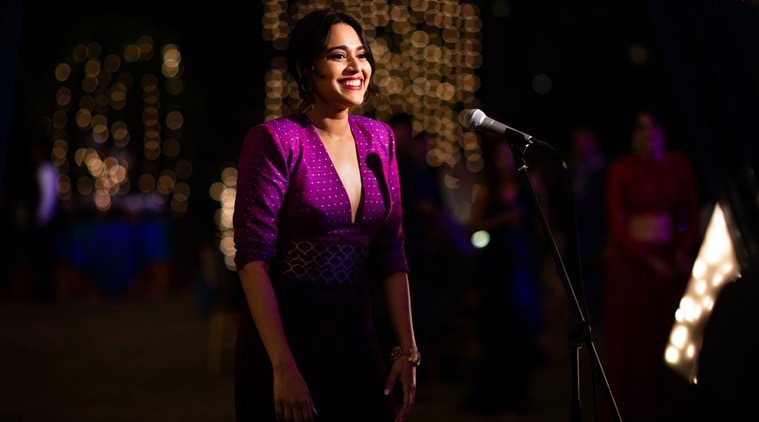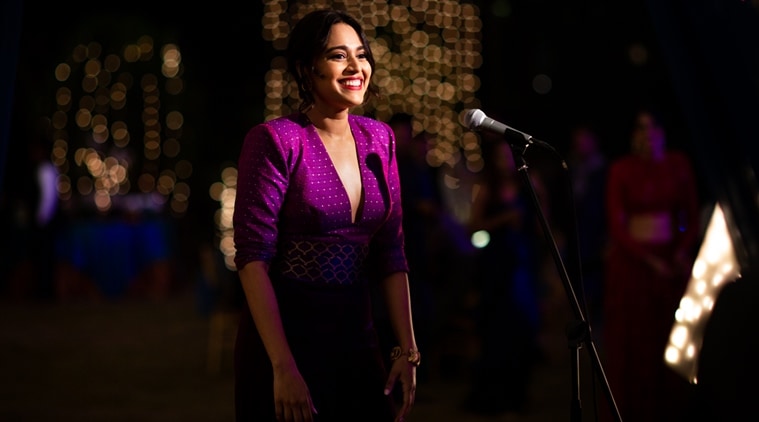 Swara Bhasker will play a stand-up comedian in Bhaag Beanie Bhaag.
In Bhaag Beanie Bhaag, Swara Bhasker plays Beanie Bhatnagar, a girl who, after getting bored with her regular life, decides to take up comedy as a career. Varun Thakur, Dolly Singh, Mona Ambegaonkar, and Girish Kulkarni also feature in the series.
MANK
Streaming on: December 4
Directed by acclaimed filmmaker David Fincher and written by his late father Jack Fincher, Mank is a biopic of the alcoholic but talented screenwriter Herman J Mankiewicz (also known as Mank), who co-wrote the screenplay of Hollywood classic Citizen Kane. Apart from the trials and tribulations that Mank faced while penning the script, the film will also touch upon the alleged conflicts and clash of ideas that he and filmmaker Orson Welles had regarding Citizen Kane. The movie features Gary Oldman, Amanda Seyfried, Lily Collins, Arliss Howard, Tom Pelphrey, Sam Troughton, Ferdinand Kingsley, Tuppence Middleton, Tom Burke and Charles Dance.
Bombay Rose
Streaming on: December 4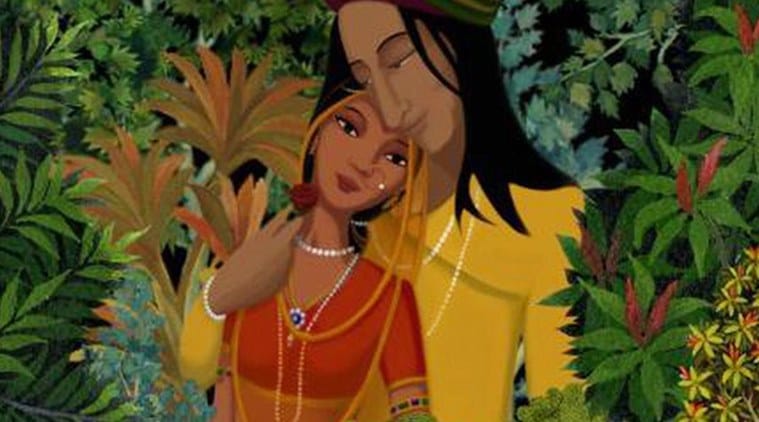 Gitanjali Rao's film Bombay Rose had its India premiere at the JIO MAMI Mumbai Film Festival.
Gitanjali Rao's animated feature Bombay Rose chronicles the lives of people who migrate from small towns, seeking minimal life in the maximum city. Set on the streets of Mumbai, it is the story of a flower seller who has to choose between protecting her family or allowing herself to fall in love. The film had its world premiere at Venice International Film Festival.
Ma Rainey's Black Bottom
Streaming on: December 8
Chadwick Boseman's last film Ma Rainey's Black Bottom is adapted from a play of the same name by August Wilson. Set in the 1920s, the film has Viola Davis playing Ma Rainey, a celebrated performer, who is trying to gain control of her music by taking on her white manager. Boseman plays Leevee, an ambitious trumpeter who wants to make his mark in the music industry. Directed by George C. Wolfe, the movie also stars Colman Domingo, Glynn Turman, Michael Potts, Taylour Paige and Dusan Brown.
Torbaaz
Streaming on: December 11
Torbaaz stars Sanjay Dutt and Nargis Fakhri.
Torbaaz, directed by Girish Malik, features Sanjay Dutt in the role of an ex-army doctor Nasser Khan who uses cricket to bring some joy in the lives of children living in refugee camps in Afghanistan. The official synopsis of the film reads, "Torbaaz is the story of one man who rises above his personal tragedy and decides to take matters in his own hands. He's determined to coach refugee camp kids in cricket, who are otherwise destined to become suicide bombers. Will he succeed in straying them away from the path of destruction?" Rahul Dev, Nargis Fakri, Pransh Chopra and Humayoon Shams Khan also feature in the movie.
Paava Kadhaigal
Streaming on: December 18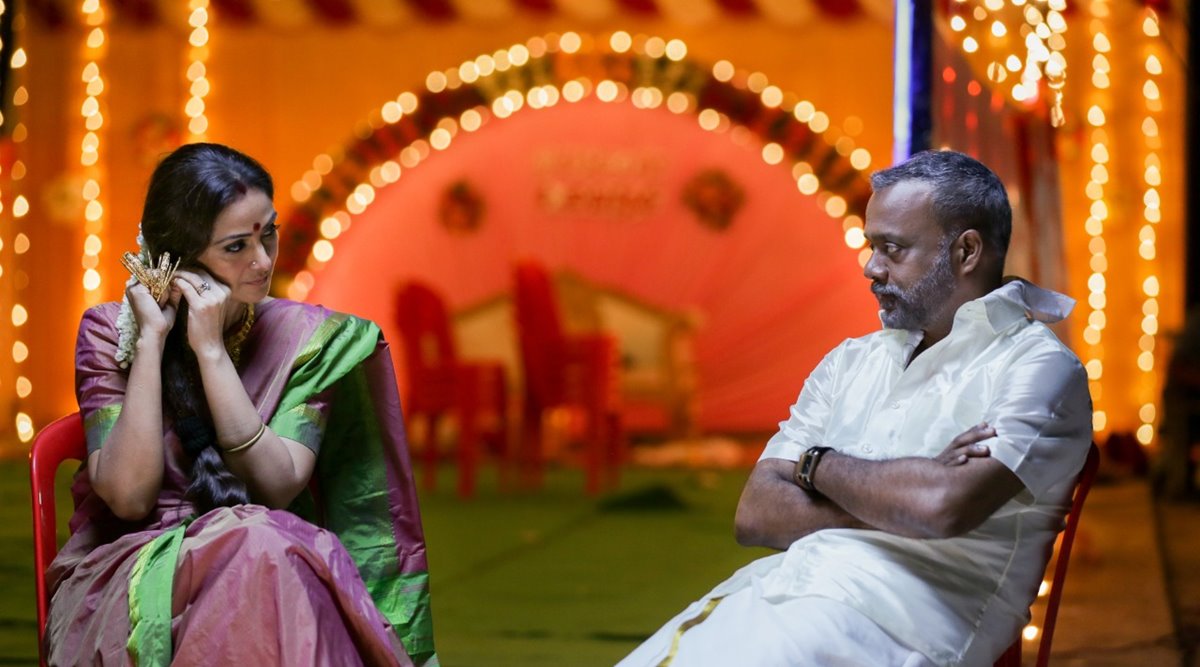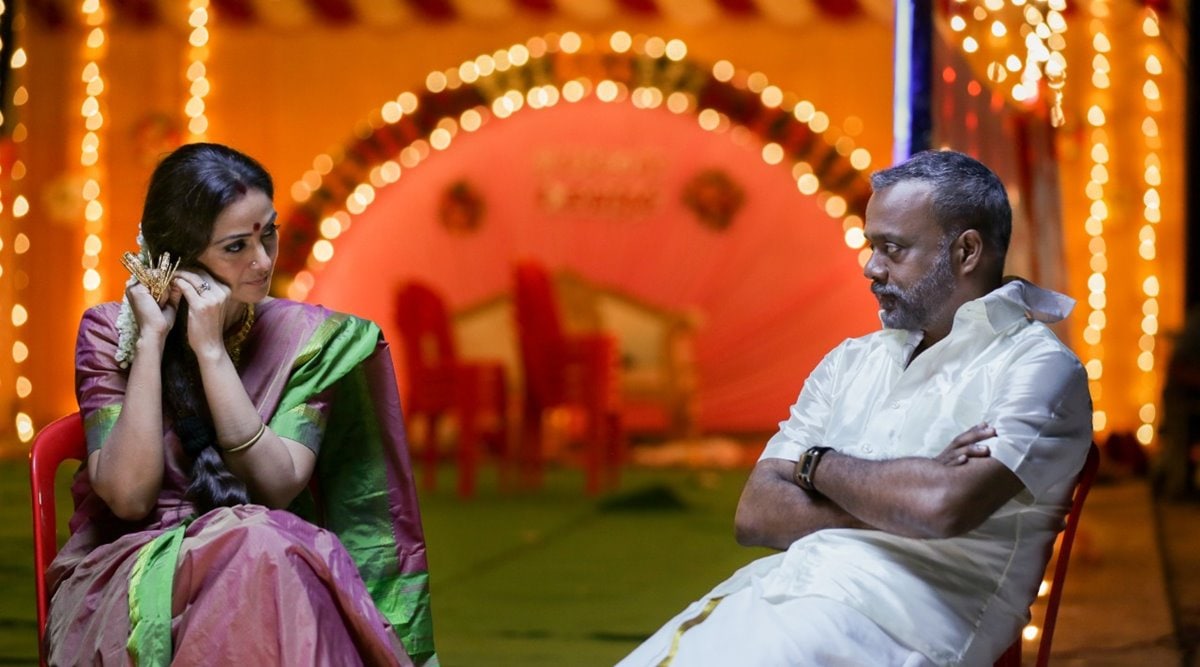 Paava Kadhaigal will stream on Netflix. (Photo: PR handout)
Tamil anthology film Paava Kadhaigal features four short films directed by Tamil filmmakers Sudha Kongara, Vignesh Shivan, Gautham Vasudev Menon and Vetrimaaran. Through the four stories, they try to explore how love, pride and honour influence relationships. It stars Kalki Koechlin, Padam Kumar, Prakash Raj, Sai Pallavi, Anjali, Bhavani Sre, Gautham Vasudev Menon, Hari, Kalidas Jayaram, Shanthnu Bhagyaraj and Simran among others.
AK vs AK
Streaming in: December
When @anuragkashyap72 decides to kidnap a kid for his next film, it's time to show him ki baap baap hota hai! #AKvsAK @VikramMotwane Coming soon on @NetflixIndia pic.twitter.com/uJ8SI3bR6k

— Anil Kapoor (@AnilKapoor) July 16, 2020
Directed by Vikramaditya Motwane, AK vs AK features Anil Kapoor and Anurag Kashyap in the lead roles. The synopsis of the film reads, "A brash film director (Anurag Kashyap) kidnaps the daughter of a movie star (Anil Kapoor) and films the star's desperate search for his daughter in real-time as his next blockbuster."
Disney Plus Hotstar
Godmothered
Streaming on: December 4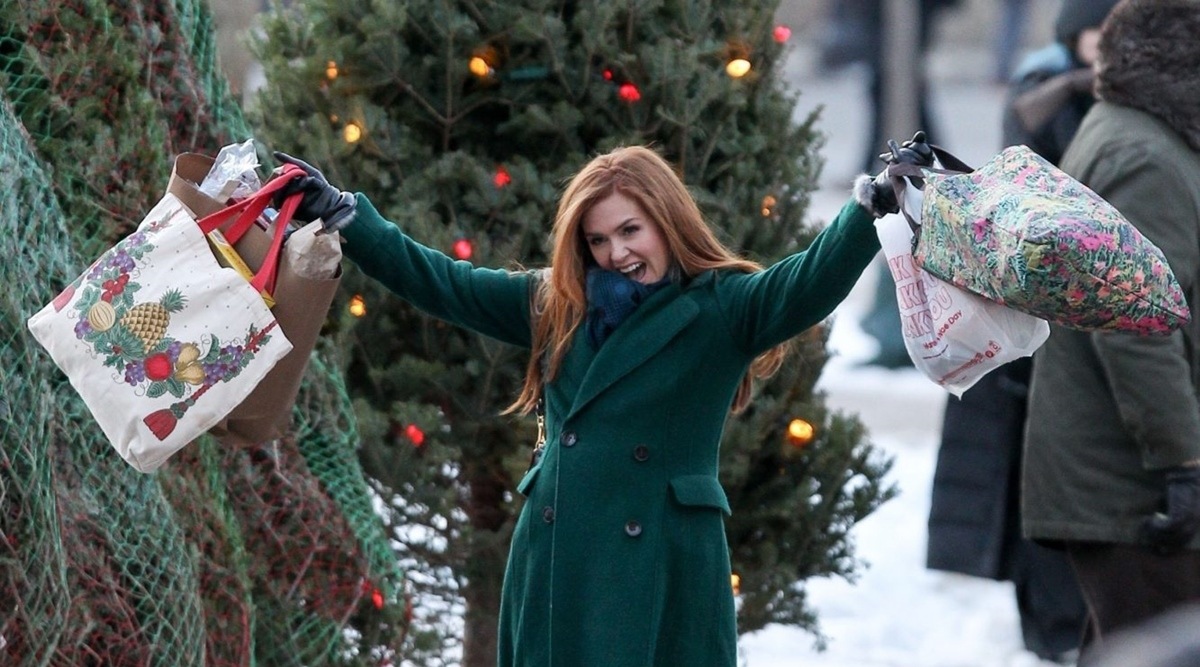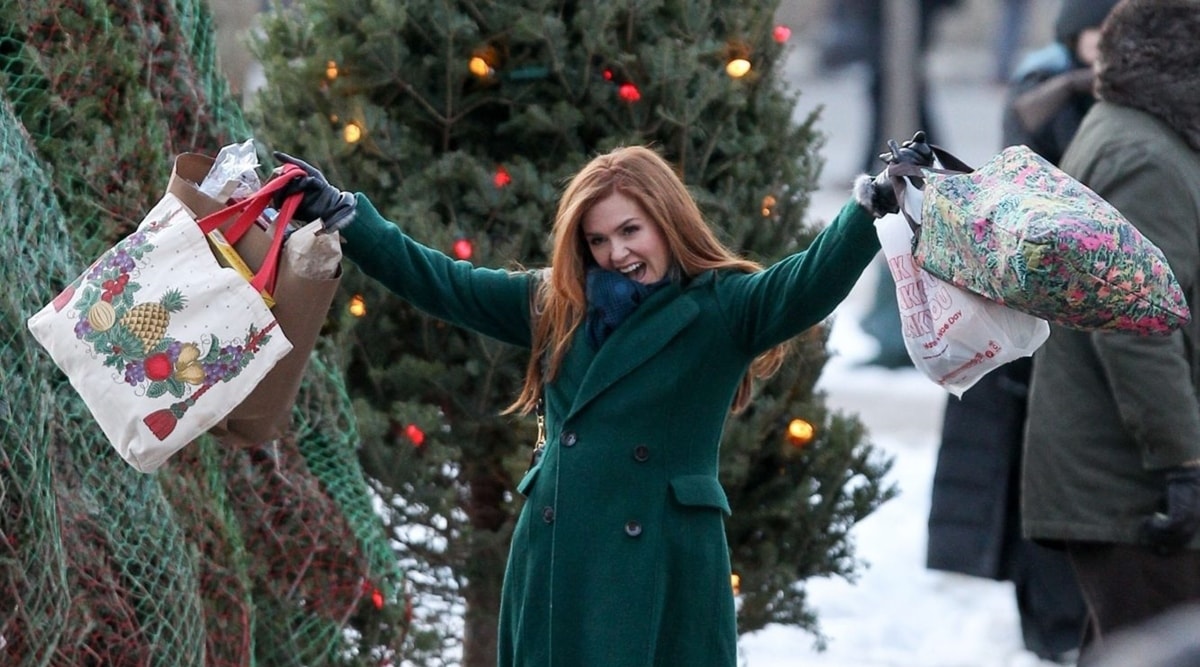 Godmothered will release on December 4 on Disney+ Hotstar Premium. (Photo: Disney+)
The Sharon Maguire directorial stars Jillian Bell and Isla Fisher. The film revolves around Bell's Fairy Godmother Eleanor in a world where fairies have gone out of fashion and kids do not believe in godmothers anymore due to modern gadgets. Even in The Motherland, the fairies have admitted defeat, and the profession is all but extinct. But Eleanor does not accept her situation and escapes to earth to find the little girl Mackenzie Walsh who wrote a letter to her and asked for assistance.
Mulan
Streaming on: December 4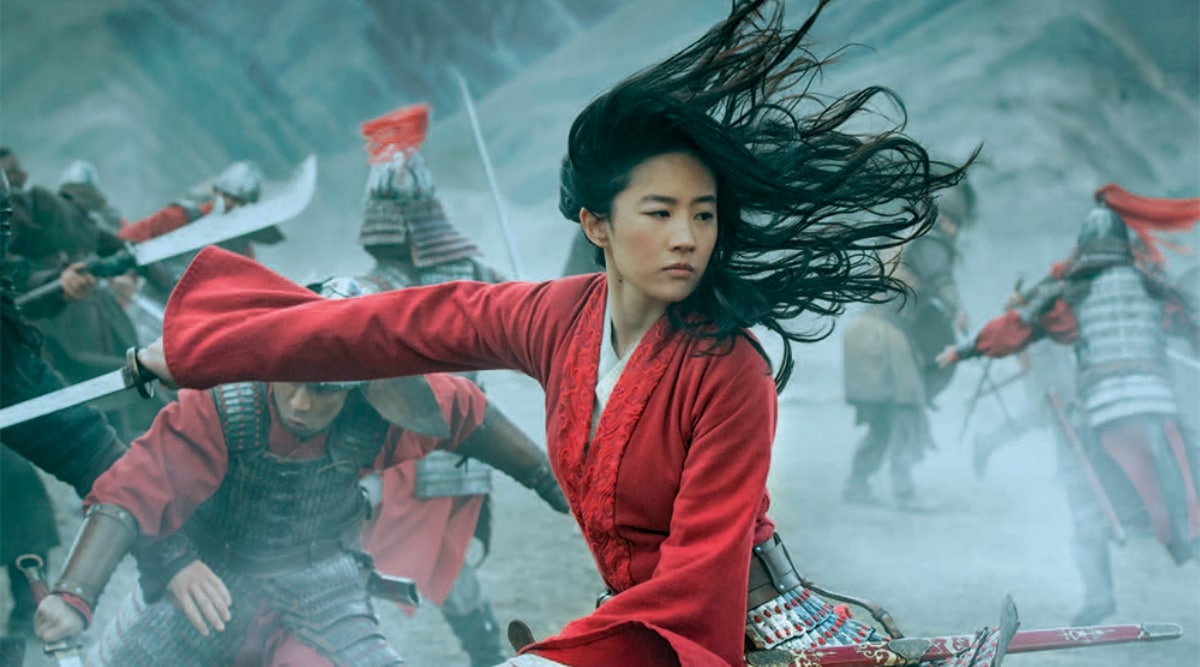 Mulan is a live-action remake of the 1998 animated film by Disney.
Mulan, a Niki Caro directorial, is the live-action remake of the 1998 animated movie of the same name. The animated film took its story from The Ballad of Mulan, a Chinese folk song. Set in China during the Han dynasty, Mulan follows Hua Mulan, a rebellious young woman who disguises herself as a man and enlists in the Imperial Army to fight off the Huns, invaders from the north, so that her ailing father would not have to go as part of conscription.
Soul
Streaming on: December 25
The film, directed by Pete Docter, revolves around a school music teacher Joe Gardner (Jamie Foxx), who gets the coveted opportunity to perform in a reputed jazz club. But due to an accident, he dies and finds himself in the soul world, where the souls are given attributes before being put inside a baby. Gardner wishes to go back to his life, as he does not want to miss that chance. Soul features the voices of Tina Fey, Questlove, Phylicia Rashad, Daveed Diggs, and Angela Bassett.
Apple TV Plus
Earth At Night In Color
Streaming on: December 4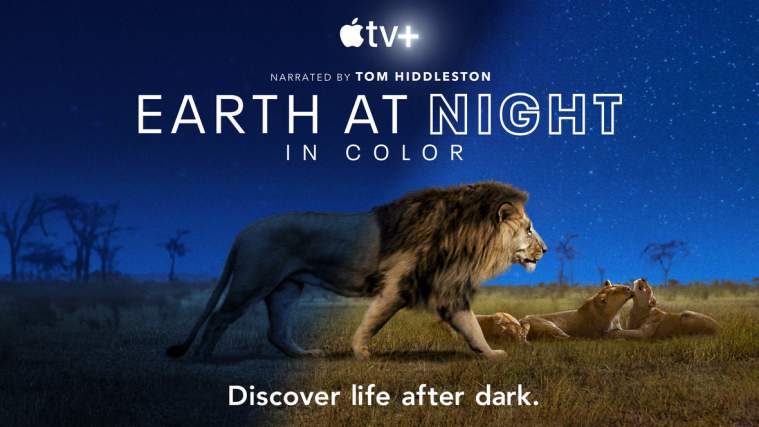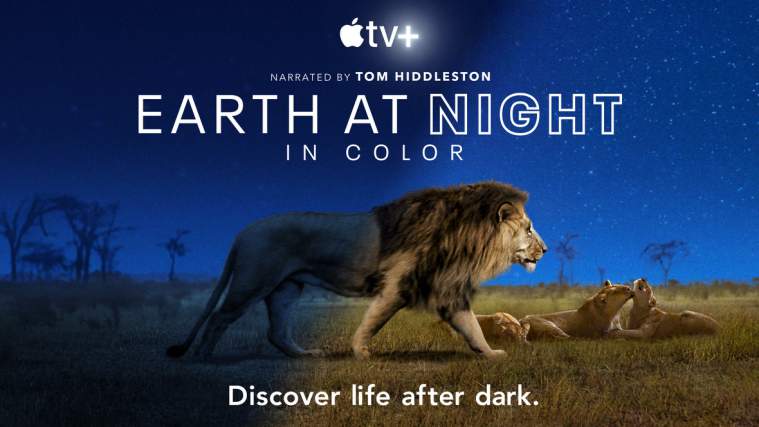 Earth at Night is filmed across six continents.
Filmed across six continents, the natural history series follows the moonlit dramas of animals at night, revealing new insights and never seen before behaviours. Narrated by Tom Hiddleston, Earth At Night In Color is produced by Offspring Films.
SonyLIV
Shrikant Bashir
Streaming on: December 11
Directed by Santosh Shetty and written by Shiraz Ahmed, Shrikant Bashir follows the story of Shrikant Mhatre, played by Gashmeer Mahajani and Bashir Khan (Yudhishtir Singh). The action drama focuses on the partnership of two ideologically and ethically different individuals, who come together to protect the country. The show also stars Pooja Gor, Mantra and Ashmita Jaggi.
Sandwich
Streaming on: December 25
Directed by Rohan Sippy, Sandwich features Aahana Kumra, Kunaal Roy Kapur, Zakir Hussain and Divya Seth Shah among others. It follows the story of a couple, Naina and Sameer whose life changes after they get married.
AltBalaji
Bebaakee Season 1- Part 2
Streaming on: December 11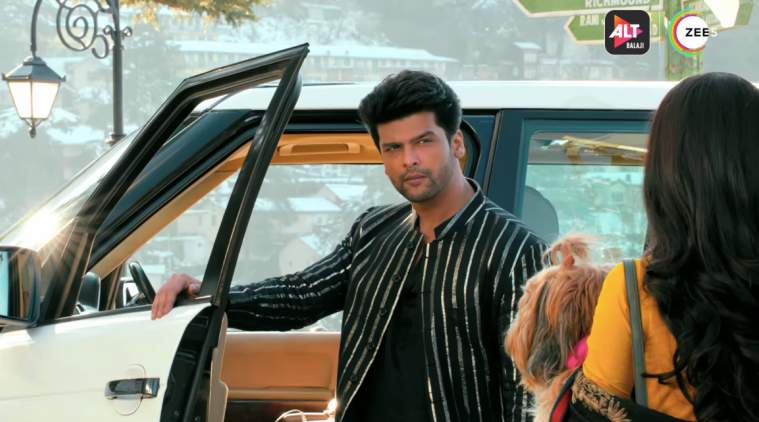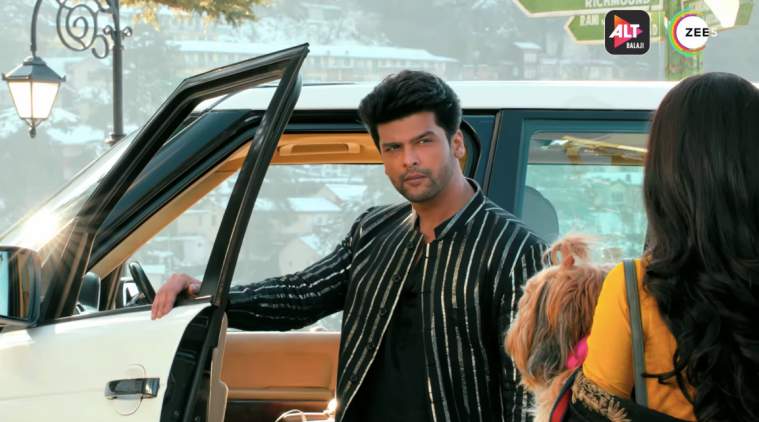 Kushal Tandon in a still from Bebaakee.
Bebaakee revolves around the lives of its three lead characters: Sufiyaan (Kushal Tandon), Kainaat (Shivjyoti Rajput) and Imtiaz (Karan Jotwani). Sufiyaan loves Kainaat passionately, but due to a misunderstanding, their relationship goes for a toss, and he decides to destroy her life. The second part of the show will show what turn their lives will take.
Paurashpur
Streaming on: December 29
Paurashpur is a period drama that boasts of larger-than-life sets, lavish costumes, and an ensemble cast including Annu Kapoor, Milind Soman, Shilpa Shinde, Shaheer Sheikh, Flora Saini, Sahil Salathia, Poulomi Das and Anant Joshi among others. The show is directed by Sachindra Vats and produced by Jaasvand Entertainment. It will also stream on ZEE5.
MX Player
Wishlist
Streaming on: December 11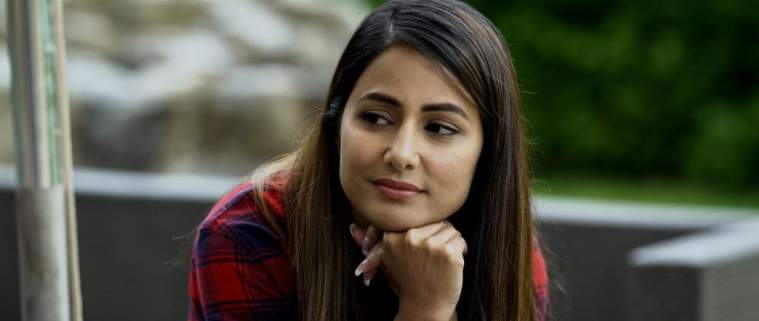 Hina Khan in Wishlist.
The Hina Khan and Jitendra Rai-starrer is directed by Rahat Kazmi. The film is about a couple that decides to fulfil their wishlist of forgotten dreams after realising that they do not have much time left together.
📣 The Indian Express is now on Telegram. Click here to join our channel (@indianexpress) and stay updated with the latest headlines
For all the latest Entertainment News, download Indian Express App.
© IE Online Media Services Pvt Ltd
Best Cyber Monday tech deals from across the web
Yahoo Life is committed to finding you the best products at the best prices. We may receive a share from purchases made via links on this page. Pricing and availability are subject to change.
Wake up—it's Cyber Monday! And while there are tons of deals across the Internet today, it's the exceptional tech deals that make this occasion truly epic—yes, even better than Black Friday.
Cyber Monday is THE day to find the biggest tech savings online. Overwhelmed by the sheer volume of markdowns, and unsure where to begin? Never fear. We've sifted through the offerings from top retailers—Amazon, Walmart, Best Buy, Target, and more—and assembled the absolute best bargains.
Whether you're thinking micro (the small-but-mighty Apple AirPods) or macro (a massive new Samsung 4K TV) or somewhere in between—there are tech treats on this list to match a few names on your holiday list. And maybe a couple of items you need in your own home too. Every one of them will save you serious bucks. So pour your coffee, settle in, and focus up. This merch moves fast. Get yours before it's gone.
TVs
On sale for $518 from an original price of $800, this Sony 55-inch 4K Ultra HD LED TV is the latest and greatest from the tech company. Its massive 55-inch 4K display is clear and detailed, with vivid color. Sony's world-class Processor X1 powers true-to-life visuals, while HDR (High Dynamic Range) settings make sure colors stay bright.
"This TV has exceeded my expectations," wrote a delighted five-star reviewer. "The picture is crisp and sharp from every angle; the design is very sturdy and the new remote is awesome!"
Check out more TV deals below:
Smartphones and tablets
Let's be real: This Samsung Galaxy S20 FE 5G is a game-changer, and a worthy rival for the iPhone 12. For Cyber Monday, a factory unlocked model is $100 off at samsung.com. Not only is it super fast, thanks to new 5GB cellular antennas, but it's also super powerful and built for speed—thanks to 6GB of memory and 128GB of on-board storage. Grab this deal while you can, and see what all the excitement is about. You won't be disappointed.
Check out more phone and tablet deals below:
Audio gear and headphones
Still have a bunch of CDs you want to listen to? (We hear you.) The Bose Wave Music System IV is just what you've been searching for—a CD player and radio combo that's elegant and sleek, with excellent audio. For Cyber Monday, the Bose Wave IV is 45 percent off at QVC, down from $500 to just $274. That's the lowest price on the web right now!
"A wanted a newer Bose, with a CD player, for another room so the System IV was a natural choice. Not disappointed," shared a Bose shopper. "The AM/FM stereo radio and CD player perform flawlessly and the sound quality is equal to or better than a top drawer stereo system with large bookshelf speakers I have owned before. All in an attractive, compact package."
This Bose CD player and radio combo is one of the most popular sound systems on QVC—and at this price, it's likely to sell out fast. So click; look; add to cart.
Check out more headphone and audio gear deals below:
Work from home
For a speedy and sleek machine that'll get you through these work-at-home days, look to this Lenovo Chromebook S330. It's on sale for just $159 at Walmart for Cyber Monday—that's $40 off its regular price.
It offers a traditional laptop feel, with a clicky keyboard and a pristine 14-inch HD display. With vivid colors, it's also great for streaming YouTube and Netflix—and it's powerful enough for Google Docs, Google Sheets, Google Slides, and much more. It makes a great gift for a student learning remotely.
"This Chromebook is an absolute steal," raves a delighted Walmart shopper. "I enjoyed the screen and it got very bright. The thin bezels are a big plus. The rest of the stuff is fairly straight forward. The keyboard is solid and tactile, the trackpad is a little grippier than glass but has exceptional multitouch and scrolling tracking. The speakers get fairly loud. You can expect to get nice fast Wi-Fi on this model."
Check out more work from home deals below:
Earbuds
If you're looking for a great money-saving alternative to Apple AirPods, look no further. These Samsung Galaxy Buds work flawlessly with Samsung Galaxy and Android smartphones and are an impressive 38 percent off for Cyber Monday.
Just open up the charging case and they'll instantly sync up via the Samsung Wearable app for Android. The charging case (brilliantly) doubles as a wireless charging pad for your phone. It even works the other way around, to give the Galaxy Buds additional juice (something you can't do with AirPods).
"Amazing headphones and definitely an Apple AirPods killer!" added a satisfied Amazon shopper. "They are comfortable, and I didn't have to change the tips or wings because they were perfect," the reviewer says of the fit.
These Samsung Galaxy Buds are on sale for $80—down from $130—at Amazon. That's a 38 percent savings! Want to feel even better about the purchase? Compare this price to the cost of Apple AirPods.
Check out more wireless earbud deals below:
Smart home
With an all-new sphere design, the fourth generation Echo Dot—which is on sale from $50 to just $29 at Amazon for Cyber Monday—is a small but powerful speaker with a glow-light base. It can stream tunes from Amazon Music, Spotify, Apple Music, Sirius XM, and more with clearer and more robust audio quality than earlier iterations .
You can pair it with another Echo Dot via Bluetooth to create amazing stereo sound in your home for less than what it would cost for just one Bluetooth speaker from Bose or Sonos.
Alexa is included, so you can always get the latest news and weather—and control other smart home devices with just the sound of your voice. Shoppers love the compact dimensions—they make the Echo Dot great for smaller rooms.
"This is exactly what I am looking for," raved a happy Amazon shopper. "This fits perfectly in my bathroom after my Sony shower radio malfunctioned and was discontinued. The sound is loud and clear. Now I am able to hear all online stations with no interference. The design is space-saving, with rubber underneath to prevent sliding off from the tile."
Check out more smart home deals below:
Echo Show 5, $45 (was $90), amazon.com
Google Nest Hub, $50 (was $90), walmart.com
TP-Link N300 Wi-Fi Extender, $18 (was $30), amazon.com
Google Home Max, $149 (was $299), eBay.com
JBL Link View Bluetooth Smart Speaker, $90 (was $300), eBay.com
Roku Ultra LT Streaming Media Player, $59 (was $79), walmart.com
Google Nest Mini (second generation), $29 (was $49), walmart.com
Fire TV Stick Lite, $18 (was $30), amazon.com
Ring Stick Up Cam, $80 (was $100), amazon.com
Arlo Pro 2HD Video Camera, $100 (was $230), walmart.com
Kootion Smart Plug (two-pack), $15 (was $39), walmart.com
Google Nest Cam Indoor Security Camera, $127 (was $200), walmart.com
Fire TV Stick 4K, plus one-year subscription to Food Network Kitchen, $30 (was $70), amazon.com
Apple Watch Series 3 (GPS, 38mm), $179 (was $199), amazon.com
Echo Dot (3rd Gen), $19 (was $40), amazon.com
Ring Video Doorbell 3, $140 (was $200), amazon.com
Lenovo Smart Clock, $35 (was $80), walmart.com
Gaming
The Xbox Series X/S just came out a few weeks ago, so it's very unlikely we'll see the console or any of its games on sale anytime soon. But hidden deep on microsoft.com, you'll find Watch Dogs: Legion on sale for Cyber Monday. Right now, you can score this title for 33 percent off, down from $60 to just $40. The third installment of this widely popular video game series would make a great gift for someone on your list.
This action/adventure game from Ubisoft takes place in a near future where London is on GFN of collapse. All-seeing surveillance state and private military are in control, while the fate of the city is in the hands of DedSec, a hacker group that wants to fight back for freedom. It's as fun as it sounds. And for $20 off? A steal.
Check out more video game deals below:
The reviews quoted above reflect the most recent versions at the time of publication.
Read more from Yahoo Life:
Follow us on Instagram, Facebook, Twitter and Pinterest for nonstop inspiration delivered fresh to your feed, every day.
Want daily pop culture news delivered to your inbox? Sign up here for Yahoo Entertainment & Life's newsletter.