Switchback Energy Acquisition Corporation Announces Effectiveness of Registration Statement for Proposed Business Combination with ChargePoint, Inc.
Dallas, Texas, Jan. 11, 2021 (GLOBE NEWSWIRE) — Switchback Energy Acquisition Corporation (NYSE: SBE) ("Switchback") announced today that the registration statement on Form S-4 (File No: 333-249549) (as amended, the "Registration Statement") relating to the previously announced business combination (the "Business Combination") with ChargePoint, Inc. ("ChargePoint") has been declared effective by the Securities and Exchange Commission ("SEC"). Switchback's Class A common stock is currently traded on the New York Stock Exchange (the "NYSE") under the symbol "SBE." Upon closing of the Business Combination, the post-combination company is expected to be renamed "ChargePoint Holdings, Inc." and the Class A common stock is expected to continue trading on the NYSE under the new symbol "CHPT."
Switchback has commenced mailing the definitive proxy statement/prospectus/consent solicitation statement relating to the Special Meeting of Switchback's stockholders to be held on February 11, 2021 in connection with the Business Combination. The proxy statement/prospectus/consent solicitation statement is being mailed to Switchback's stockholders of record as of the close of business on December 16, 2020. The Business Combination and related transactions are expected to close in February 2021, subject to approval by Switchback's stockholders and other customary closing conditions.
Additional Information on the Business Combination and Where to Find It
In connection with the proposed Business Combination, Switchback filed the Registration Statement with the SEC, which includes a proxy statement/prospectus of Switchback and a consent solicitation statement of ChargePoint. The Registration Statement has been declared effective by the SEC and the definitive proxy statement/prospectus/consent solicitation statement will be mailed out to Switchback's stockholders. Switchback's stockholders and other interested persons are advised to read the definitive proxy statement/prospectus/consent solicitation statement (including all amendments and supplements thereto) and other documents relating to the Business Combination filed with the SEC as these materials contain important information about Switchback, ChargePoint and the Business Combination. Stockholders may obtain copies of the definitive proxy statement/prospectus/consent solicitation statement and other documents filed with the SEC, without charge, at the SEC's web site at www.sec.gov, or by directing a request to: Switchback Energy, 5949 Sherry Lane, Suite 1010, Dallas, TX, 75225, Attention: Jim Mutrie, Chief Commercial Officer, General Counsel, Secretary and Director, (214) 368-0821.
Participants in the Solicitation
Switchback and its directors and executive officers may be deemed to be participants in the solicitation of proxies from Switchback's stockholders in connection with the Business Combination. ChargePoint and its officers and directors may also be deemed participants in such solicitation. Information about the directors and executive officers of Switchback is set forth in Switchback's Annual Report on Form 10-K which was filed with the SEC on March 30, 2020. Other information regarding the participants in the proxy solicitation and a description of their direct and indirect interests, by security holdings or otherwise, are contained in the definitive proxy statement/prospectus/consent solicitation statement and other relevant materials filed with the SEC.
About Switchback
Switchback is a special purpose acquisition company and was formed for the purpose of effecting a merger, capital stock exchange, asset acquisition, stock purchase, reorganization or similar business combination with one or more businesses in the energy value chain. Switchback is sponsored by NGP Switchback, LLC, which is owned by a private investment fund advised by NGP Energy Capital Management, L.L.C. and the management team of Switchback. Switchback began trading on the NYSE in July 2019 and its common stock, units and warrants trade under the ticker symbols SBE, SBE.U and SBE.WS, respectively. For more information, please visit www.switchback-energy.com.
About ChargePoint
Since 2007, ChargePoint has been committed to making it easy for businesses and drivers to go electric. The company has built one of the largest EV charging network and most complete portfolio of charging solutions available today. ChargePoint's cloud subscription platform and software-defined charging hardware are designed to include options for every charging scenario from home and multifamily to workplace, parking, hospitality, retail and transport fleets of all types. Today, one ChargePoint account provides access to hundreds-of-thousands of places to charge in North America and Europe. To date, drivers have logged more than 85 million charging sessions, with drivers plugging into the ChargePoint network approximately every two seconds. ChargePoint is creating the new fueling network to move all people and goods on electricity. For more information, visit the ChargePoint pressroom or contact the North American and European press offices.
Forward Looking Statements
The information included herein and in any oral statements made in connection herewith include "forward-looking statements" within the meaning of Section 27A of the Securities Act of 1933, as amended, and Section 21E of the Securities Exchange Act of 1934, as amended. All statements other than statements of historical facts contained herein are forward-looking statements. Forward-looking statements may generally be identified by the use of words such as "believe," "may," "will," "estimate," "continue," "anticipate," "intend," "expect," "should," "would," "plan," "project," "forecast," "predict," "potential," "seem," "seek," "future," "outlook," "target" or other similar expressions that predict or indicate future events or trends or that are not statements of historical matters. These forward-looking statements include, but are not limited to, statements regarding estimates and forecasts of other financial and performance metrics, projections of market opportunity and market share. These statements are based on various assumptions, whether or not identified herein, and on the current expectations of ChargePoint and Switchback's management and are not predictions of actual performance. These forward-looking statements are provided for illustrative purposes only and are not intended to serve as, and must not be relied on by any investor as a guarantee, an assurance, a prediction or a definitive statement of, fact or probability. Actual events and circumstances are difficult or impossible to predict and may differ from assumptions, and such differences may be material. Many actual events and circumstances are beyond the control of ChargePoint and Switchback. These forward-looking statements are subject to a number of risks and uncertainties, including changes in domestic and foreign business, market, financial, political and legal conditions; risks relating to the uncertainty of the projected financial information with respect to ChargePoint; the inability of the parties to successfully or timely consummate the proposed transactions, including the risk that any required regulatory approvals are not obtained, are delayed or are subject to unanticipated conditions that could adversely affect the combined company or the expected benefits of the proposed transactions or that the approval of the stockholders of Switchback or ChargePoint is not obtained; the failure to realize the anticipated benefits of the proposed transactions; risks related to the rollout of ChargePoint's business and the timing of expected business milestones; ChargePoint's dependence on widespread acceptance and adoption of electric vehicles and increased installation of charging stations; ChargePoint's ability to maintain effective internal controls over financial reporting, including the remediation of identified material weaknesses in internal control over financial reporting relating to segregation of duties with respect to, and access controls to, its financial record keeping system, and ChargePoint's accounting staffing levels; ChargePoint's current dependence on sales of charging stations for most of its revenues; overall demand for electric vehicle charging and the potential for reduced demand if governmental rebates, tax credits and other financial incentives are reduced, modified or eliminated or governmental mandates to increase the use of electric vehicles or decrease the use of vehicles powered by fossil fuels, either directly or indirectly through mandated limits on carbon emissions, are reduced, modified or eliminated; potential adverse effects on ChargePoint's revenue and gross margins if customers increasingly claim clean energy credits and, as a result, they are no longer available to be claimed by ChargePoint; the effects of competition on ChargePoint's future business; risks related to ChargePoint's dependence on its intellectual property and the risk that ChargePoint's technology could have undetected defects or errors; the amount of redemption requests made by Switchback's public stockholders; the ability of Switchback or the combined company to issue equity or equity-linked securities or obtain debt financing in connection with the proposed transactions or in the future and those factors discussed in Switchback's final prospectus dated July 25, 2019, Annual Report on Form 10-K for the fiscal year ended December 31, 2019 and any subsequently filed Quarterly Report on Form 10-Q, and the definitive proxy statement/prospectus/consent solicitation statement, in each case, under the heading "Risk Factors," and other documents of Switchback filed, or to be filed, with the SEC. If any of these risks materialize or Switchback's or ChargePoint's assumptions prove incorrect, actual results could differ materially from the results implied by these forward-looking statements. There may be additional risks that neither Switchback nor ChargePoint presently know or that Switchback and ChargePoint currently believe are immaterial that could also cause actual results to differ from those contained in the forward-looking statements. In addition, forward-looking statements reflect Switchback's and ChargePoint's expectations, plans or forecasts of future events and views as of the date hereof. Switchback and ChargePoint anticipate that subsequent events and developments will cause Switchback's and ChargePoint's assessments to change. However, while Switchback and ChargePoint may elect to update these forward-looking statements at some point in the future, Switchback and ChargePoint specifically disclaim any obligation to do so. These forward-looking statements should not be relied upon as representing Switchback's and ChargePoint's assessments as of any date subsequent to the date hereof. Accordingly, undue reliance should not be placed upon the forward-looking statements. Additional information concerning these and other factors that may impact Switchback's expectations and projections can be found in Switchback's periodic filings with the SEC, including Switchback's Annual Report on Form 10-K for the fiscal year ended December 31, 2019 and any subsequently filed Quarterly Report on Form 10-Q, and the definitive proxy statement/prospectus/consent solicitation statement. Switchback's SEC filings are available publicly on the SEC's website at www.sec.gov.
No Offer or Solicitation
This communication does not constitute an offer to sell or the solicitation of an offer to buy any securities or constitute a solicitation of any vote or approval.
Contacts
ChargePoint, Inc.
Media
Darryll Harrison
Senior Director, Global Communications and Social Media
669-237-3380
Darryll.harrison@chargepoint.com
media@chargepoint.com
Switchback Energy Acquisition Corporation
Media and Investors
Scott McNeill and Jim Mutrie
info@switchback-energy.com
Investors
Financial Profiles, Inc.
Dan Oppenheim, CFA
310-622-8235
investors@chargepoint.com
Democratic Mayoral Candidates Talk Making the City More Business-Friendly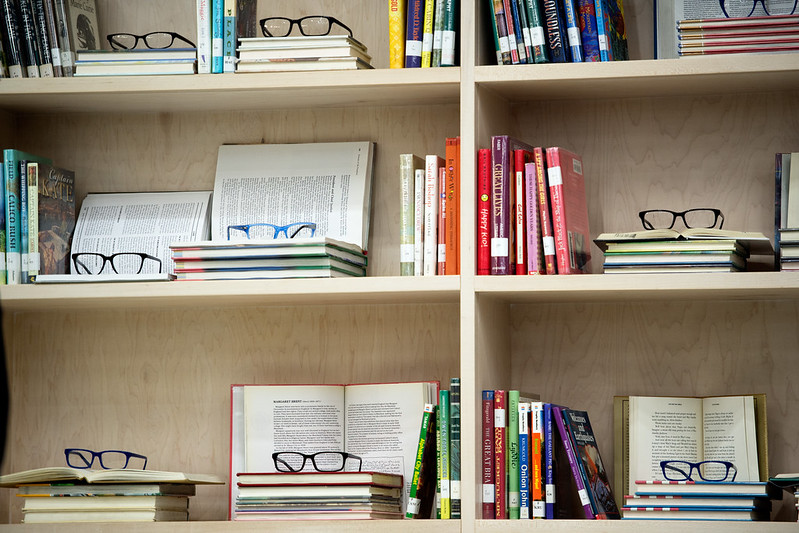 A Warby Parker event (photo: Demetrius Freeman/Mayor's Office)
---
This past week, advocacy group Tech:NYC and glasses company Warby Parker, among others, co-hosted a forum with seven leading Democratic candidates for mayor, who appeared one at a time to answer questions from Business Insider columnist Josh Barro about the city's future and their agendas.
The participating candidates, in order of appearance, were entrepreneur Andrew Yang, former sanitation commissioner Kathryn Garcia, Brooklyn Borough President Eric Adams, former federal housing secretary Shaun Donovan, former Wall Street executive Ray McGuire, Comptroller Scott Stringer, and Maya Wiley, a civil rights attorney and former counsel to Mayor de Blasio. The event was co-hosted by AT&T, Bowery Farming, Etsy, Harry's, Via, WeWork, and Zola, among others.
The questions, somewhat uniform to each candidate, focused on issues relevant to the tech and business communities, such as how to attract business to New York City in the post-COVID-19 economy, the failed Amazon 'HQ2' deal, housing development, and expanding broadband access.
Andrew Yang
Barro asked Yang as a businessman how he thought that businesses choose to locate in New York, and how as mayor Yang would make them more interested in the city. Citing his experience in start-ups, Yang argued that the location of companies depends on where their employees would like to be. He said that "if there's one thing that makes the world goes around for founders, it's talent."
To make the city more attractive to employees, Yang honed in rectifying quality-of-life issues such as "getting schools open to garbage pick up to public safety concerns." He reiterated his oft-cited stance that the city must restore its "value proposition" to business owners and others alike to make some of the challenges of the city, like cost and commutes, worth it.
Barro asked why "garbage is piled high on the sidewalks" and why the city has not moved to containerized pick-up. Yang called out the cuts to the Department of Sanitation budget, saying that "if you've noticed more trash on the street, that's why," and saying that is something he would restore funding to.
Barro moved on to 'HQ2,' which was slated for Queens before activists and elected officials who opposed the Amazon deal pushed the company to back out, and the role of subsidies in attracting major technology companies to New York City. Saying that "Manhattan has a natural draw," Yang acknowledged the role of subsidies in attracting companies to the other boroughs.
Yang said that he supported 'HQ2' for Queens, and falsely said, "I'm one of the only mayoral candidates who's said on the record that losing Amazon was a mistake for the city." Barro pressed Yang on whether the "billions in subsidies" that Amazon would have received would have been worth it. Yang said it wasn't great policy. "You can't just let them walk away," Yang said, citing the many thousands of jobs the campus was slated to create and support of the service industry it would have provided.
Barro then asked if changes to corporate structures that allow for remote work, accelerated by the demands of the COVID-19 pandemic, affected the city's ability to attract tech companies. "New York City is fundamentally a place-based economy," Yang said, and "the New York City advantage will still be there." Barro pressed Yang further on the difference of attracting workers versus attracting firms, asking Yang how his strategy to attract companies would change. Yang admitted that the city will have to "compete and make its case" in a way it did not have to in the past, adding that he is exploring "incentives" for workers to commute to the city five times a week, mentioning gift cards to New York City bars and restaurants as a possibility, and making investments to increase tourism.
Barro asked Yang about reducing the sky-high costs of the city's capital projects. Yang said he would have the city "be more disciplined" about having contractors focus on the quality of their work rather than sub-contracting. He also mentioned he would streamline bureaucracy, saying that it was not user-friendly for small businesses.
Asked how many housing units the city should build over the next ten years, Yang did not present a specific figure, saying only that it would be in "the tens of thousands" for his first term and that he would want to increase the rate of housing development in the city. Seemingly underprepared to discuss housing development goals, Yang pivoted to his pledge to reduce street homelessness "by 50%" over his first term, and said he would want to convert some vacant hotels into affordable and supportive housing.
Barro concluded by asking Yang if he had connected with any of the other mayoral candidates, to which Yang responded that he was "a huge Kathryn Garcia fan" and that she was someone he "admired a great deal."
Kathryn Garcia
Asked why she is the best candidate for mayor, Garcia told Barro that "understanding how the city works is absolutely critical, because then you can actually fix things" and "know where the pain points are." She said her managerial experience in various roles in city government made her the strongest potential next leader for New York City.
Barro asked Garcia about the city's garbage situation, asking if it was possible to "get it off the sidewalks and into closed containers," to which Garcia said it was fully possible, and that part of that effort would require the city "rethink the public realm" about how street space is used. She mentioned that as sanitation commissioner she had launched a pilot program for commercial corridors that is being implemented.
Asked how she thought public spaces were being underutilized, Garcia advocated that "you need people walking the streets of New York, spending money" and that public space management efforts should look at "Open Restaurants, Open Culture, but also thinking about greening the city," with references to two recent pandemic-era public space programs launched by the city.
On attracting companies to the city, Garcia said she would focus on a "liveable city," as companies "locate where they have really strong labor forces."
"We have to do way better" building housing, Garcia said, adding that her efforts would target "unlocking the private sector by getting rid of the bureaucracy" and building between 20,000 and 30,000 units a year. Citing that "time is money in construction" and that "we don't actually do good planning," Garcia said she would increase community input and reduce bureaucracy. Barro challenged her on this point, asking how she would resolve situations where increased considerations would conflict with expeditiousness, citing her support while working under de Blasio for special construction permits for hotels. Garcia sidestepped the first part of the question, only defending her support of special permits for hotels.
On expanding broadband access, Garcia said she would target lowering costs, facilitating rule changes to make the expansion of broadband easier in communities, and having the city connect residents to broadband themselves if companies did not create broadband access where the city would like.
Eric Adams
Adams said that he is the best candidate for mayor because of his life experiences from growing up in poverty, experiencing police brutality, becoming a police officer himself, and his diabetes diagnosis that he went on to beat through a healthy lifestyle. As "someone who has gone through a lot," Adams said he was in the best position to help other people "going through a lot."
On how companies should be "respectful" in the city and be good neighbors, something Barro brought up as Adams has discussed it in the past, Adams said he would challenge corporations to think on the question "how do I involve myself in the communities put in place long before me?" such as working with the Department of Education to teach children life skills. On how he would actually accomplish these partnerships, Adams pointed towards working with specific organizations and not "demonizing companies" and creating "this synergy that we are in this together."
Examining his stated plan to name an "efficiency czar" to make city government work better, Barro asked how Adams' approach to reducing waste differed from past tactics under Bloomberg and de Blasio. Adams argued that "the city is dysfunctional" because "agencies are not aligned" and pointed to his record in the NYPD using data and technology as part of the department's modern evolution. When pressed by Barro on how agencies would operate differently, Adams cited his mother saying "What gets measured, gets done. If you don't inspect what you expect, it's all suspect," and said he would want real-time data for examining basic city services.
Barro gave Adams the same question he gave to Yang on whether the city should push for tech companies to locate in boroughs other than Manhattan and whether Adams would support subsidies to make that happen. Adams denied that the city needed a subsidy program, and turned to discussing quality-of-life issues. To "build the proper environment" for companies to locate all over the city, he would focus on providing services such as access to transportation, public safety, and high-speed internet, he said.
Barro brought up the defeated Industry City rezoning in Brooklyn, an expansion and development proposal promising thousands of jobs and more economic activity along the Brooklyn waterfront that was ultimately defeated by local activists and City Council Member Carlos Menchaca. "It's really unfortunate that we could not seal the deal in Industry City," Adams said, adding that on development projects in general he would want to focus on being inclusive but also on "how can we get to a yes." On whether or not local Council members have too much power to kill projects in their districts, Adams argued that for projects that affect the entire city, one member of the City Council should not have the power to shut them down, an informal practice known as "member deference" where the full Council defers to the local member whose district the proposal is slated for.
On housing, Adams told Barro that asking how many units of housing to add was "the wrong question" and that the city should audit its current housing to see where there are vacancies or lack of use and go from there. Barro pushed back, saying that even with auditing vacant housing more housing must be developed because of the city's growing population, on which Adams deflected and instead pressed his desire to identify unused housing.
Shaun Donovan
Barro opened his conversation with Donovan, the former head of housing in the city and nationally under Mayor Bloomberg and President Obama, on housing. Donovan said the city should add 50,000 units per year, a very large goal, and touted his "15-minute neighborhoods" plan to ensure every New Yorkers lives in a great neighborhood with access to everything they need.
On rezonings, Donovan said he was open to upzonings for more housing, such as what the de Blasio administration is currently attempting in SoHo. He added that there should be a "citywide land use budget" to "make sure every community is doing its fair share," through looking at ways to add density and using citywide inclusionary zoning.
After Barro asked what he would do differently to add housing from his time under Bloomberg, Donovan said the scope of the city's housing problem is wide enough that "changing the trajectory" for the city takes years. He also said he was proud of the Bloomberg legacy on upzoning wealthier communities.
On lowering the cost of construction, Donovan discussed "building differently" such as using new technologies and having an administration "that brings innovation to every phase of what government does."
On attracting increasingly mobile workers and firms to New York City, Donovan called himself "an urban optimist" and that the question was about whether or not specifically New York City could manage the challenge. New York City can become the "tech center" of the world, he said, and he would make it happen through his specific plans and by focusing on quality-of-life issues.
Ray McGuire
McGuire argued that he was the best candidate for mayor because of his private sector experience, where he was one of the top executives at Citi and on Wall Street more generally, saying that "this is not the time where someone gets to the mayoral spot to learn how to manage or lead."
On attracting businesses, McGuire said that the city should "incentivize businesses to do more business here, not less" and that he would work on uniting business interests with the rest of the city, rather than pursuing divisive measures such as increasing taxes.
To move "job centers out to the outer boroughs," McGuire supported using subsidies, which he referred to as incentives. McGuire said the collapse of the Amazon 'HQ2' deal was a mistake and that the project would have been a big net positive for the city, even with the subsidies.
On expanding broadband access, McGuire said it's essential for education, and pointed to his economic comeback plan, which would include efforts to create universal broadband access.
To improve the efficiency of the city's capital projects and "to bring costs under control," McGuire said he would "bring all constituents to the table." He said that he "wasn't in anyone's pocket" and that his "sole focus" is on what is best for the city, that he's not "focused on sub-agendas." He referenced de Blasio's tagline of the "Tale of Two Cities," saying that now New York City was a "fractured city."
Calling his answer "nonspecific," Barro pushed McGuire to elaborate on what made his leadership skills unique. McGuire said that, having led a global business, he was the only candidate with the skills to unite the diverse constituencies of New York City and focus on "shared prosperity."
On housing, McGuire said he would like to increase the city's housing units by 10%, or 350,000 units. Barro asked McGuire for a timeline on such development, which McGuire side-stepped, pointing to lowering construction costs and the economic benefits new construction would bring.
Scott Stringer
Stringer said he should be the next mayor in part because he is a "real seasoned government leader, who has vision and experience."
Barro asked Stringer how he would seek to regain jobs lost in the COVID-19 pandemic, confronted with "an economy that may be permanently different in certain ways," citing business travel as something that may permanently decrease.
Stringer replied that he would focus on small businesses, including by directing $1 billion from the city's federal stimulus money to them. He would provide tax incentives for new businesses to locate in the city in "vacant corridors" and would make sure small businesses are not "fined and fee-ed into oblivion." He said small business owners would not need to hire an expediter to get projects approved in the city and he would create a tech platform for small businesses to use to efficiently navigate city processes.
Asked what he would do differently from Bloomberg and de Blasio on the issues of inefficiency in small business processes, Stringer lambasted de Blasio by saying "what he didn't do was govern." Saying "you gotta manage this town," Stringer said that he would focus on actually accomplishing goals that the city sets for itself.
On attracting tech companies to boroughs other than Manhattan and the role of subsidies in those conversations, Stringer said "it's exciting that we're spreading our economy out," that "if we build it, they will come," that he would focus on quality-of-life issues such as transportation, and that attracting businesses relies on the "value proposition" of what the city can offer businesses.
On how many housing units he would seek to create as mayor, Stringer said "as many as possible," but he said key to his vision is creating enough "low-income housing" to actually meet the need in the city. Looking at the legacies of Bloomberg and de Blasio, he said, "We've had mayors talking about these big numbers, but they have not helped people get housing." His efforts would focus on housing that targets those close to homelessness and would focus on true affordability. He would create 10,000 units of low-income housing and "catalogue" the vacant parcels the city owns for potential developments.
Maya Wiley
Saying that the COVID-19 pandemic "pulled the curtain back" on the issues the city faced, Wiley said that the challenge for the next mayor would be to "create a more unified city." Doing this requires "very different leadership" to pursue "transformative policy," Wiley said, adding, "I'm not a politician, and I think that's the point."
On expanding broadband, Wiley pointed to her work on universal broadband when working for de Blasio at City Hall by soliciting input from outside groups such as Girls Who Code, and by unifying the efforts of different agencies to work on the project. When Barro pushed Wiley for concrete steps for accomplishing universal broadband, she said she would focus government efforts on the "last mile problem in highly, highly, underserved areas" by "asset-mapping" current city resources that could be used to provide universal broadband. She would also pursue public-private partnerships, and look at technological innovations, she said.
On small businesses, Barro asked about why Wiley's platform would have the city increase the number of restaurant health inspections, but to have those inspections announced in advance. Wiley said sometimes the city's efforts to protect health can backfire by "jeopardizing the business rather than serving the public," and that her plan would maintain restaurants' compliance with health code violations while
Adding to her response, Wiley said she would streamline small businesses' interactions with the city and grow their relationship with the city. She would want the city to be more proactive in their assistance to small businesses, so that they work together to solve problems rather than having the city shutting down actions after the fact. As an example, she mentioned having the city release blueprints for COVID-19-safe outdoor dining vestibules, rather than punishing restaurants for non-compliant vestibules after those businesses spent thousands of dollars "that they don't have" on them. This would be "business-friendly, without sacrificing the issues we have to protect for the public," she said.
Barro asked Wiley if there were other "big pilots" such as Open Streets she would want to pursue as mayor. "City government is a city unto itself," she replied, and said that it is important to "recognize where government needs to partner with itself" better. To that end, she mentioned her plan to create an Office of Public Space Management, which would unite different agencies to create a centralized approach.
Here's a list of pandemic assistance programs for small businesses
This story is free because it is part of the Reno Gazette Journal's essential coverage of the COVID-19 pandemic. This kind of journalism takes time and resources. Please consider subscribing.
Despite the improved numbers for new cases and deaths compared to the peak of the pandemic, COVID-19 continues to have an outsized impact on small businesses.
The passage and signing of the American Rescue Plan Act in March kicked off another round of funding for COVID relief, which includes several assistance programs for small businesses. While this is good news for struggling business owners, many either don't apply or underestimate the amounts that they qualify for, said Kayla Banda, a business development advisor with the Nevada Small Business Development Center.
Some business owners and independent contractors don't even know that relief options exist, especially smaller assistance programs run by local and state entities.
"The big thing is that a lot of businesses don't know that they can qualify for assistance," Banda said.
"I've talked to clients who had no idea that they could actually qualify as a new business, for example. I've also had clients who left money on the table when they could've gotten more."
This makes it especially important for small business owners to not just keep tabs on the various assistance programs but also educate themselves about the benefits they qualify for. Business owners should also move quickly as funding will eventually run out, particularly given the high demand for these programs.
For subscribers:Shell company transparency law takes aim at a key Nevada industry. Will it have an impact?
Here's a list of several pandemic assistance programs for businesses, including those that provide financial assistance and forgivable loans for entrepreneurs impacted by COVID-19:
Paycheck Protection Program (PPP)
Economic Injury Disaster Loan (EIDL)
Shuttered Venue Operators Grant (SVOG)
Restaurant Revitalization Fund (RRF)
SBA Debt Relief
Coronavirus Food Assistance Program 2
COBRA Premium Assistance
Pandemic assistance from state and local governments
Here is a quick rundown of the various pandemic assistance programs available for businesses.
Paycheck Protection Program
The PPP, which is overseen by the Small Business Administration, is arguably the most widely known pandemic relief program for businesses. It's designed to incentivize small businesses to keep workers on the job by providing funding for payroll.
The biggest draw of this program is that while it is technically a loan, borrowers can have the amount written off if they apply for forgiveness within 10 months of the last covered period of their agreement. It's basically free assistance for those who qualify for it.
Also, while the PPP is designed as a payroll assistance program, it can also apply to small businesses that do not have any employees.
"Some people like sole proprietors and independent contractors think that, 'Oh, I don't have payroll because I don't have any employees so I can't qualify,' which is totally not true," Banda said. "If you receive a Schedule C (profit or loss form from the IRS) … you can actually use that to calculate your loan amount."
For more details about the program, including help for finding a qualified lender, visit the SBA's official PPP website. Otherwise, call your local SBA District office for more details. In Northern Nevada, the number is 775-885-7647.
Economic Injury Disaster Loan
Also known as EIDL, this is another program overseen by the SBA and provides economic relief for small businesses as well as nonprofits that have suffered from a temporary loss of revenue. The assistance can be used to pay for financial obligations or operating expenses that a business would have been able to cover on its own had the pandemic not occurred.
Like the PPP, this program has been around for a while but has one key difference.
"It's not forgivable," Banda said. "But it's still a pretty good option for businesses."
Borrowers can also apply for both the PPP and EIDL, but funds from both are not allowed to be used for the same purpose. Applicants also must be physically located in the United States and have fewer than 500 employees.
The maximum loan amount is $150,000, with loans above $25,000 requiring collateral. The interest rate is 3.75% for businesses and 2.75% for nonprofits, with payment terms up to 30 years.
For more information or to apply for a loan, visit the SBA's official EIDL website.
Shuttered Venue Operators Grant
Known as SVOG for short, this program was amended by the American Rescue Plan Act and provides more than $16 billion in grants to venues that have been closed due to COVID-19. Of that number $2 billion is set aside for smaller operations with 50 employees or less.
Applicants that qualify for the program will receive grants equal to 45% of their gross revenue. The maximum grant amount for one applicant is $10 million.
Entities that are eligible for the Shuttered Venue Operators Grant include:
Live venue operators or promoters
Theatrical producers
Live performing arts organization operators
Relevant museum operators, zoos and aquariums who meet specific criteria
Motion picture theater operators
Talent representatives
Note that booking agencies can qualify even if they don't operate a venue per se.
"They can qualify if 70% or more of their annual revenue comes from booking the talent for the venues," Banda said.
Keep in mind, however, that while it's possible to receive assistance via the SVOG grant after getting PPP assistance, the reverse is not true, Banda warned.
"If you apply for the SVOG, you can no longer apply for the PPP so people need to get their PPP first before applying for the SVOG," Banda said.
For more information or to apply, visit the SBA's official SVOG site.
Restaurant Revitalization Fund
This $26.5 billion fund was established by the American Rescue Plan Act for food and drink establishments. The program, which will be awarded by the SBA, will set aside $5 billion of its funds for smaller businesses with gross revenues of less than $500,000. There will be a cap of $10 million for each business, including $5 million for each physical location of a business operation.
According to the American Rescue Plan Act, businesses that can apply for the Restaurant Revitalization Fund include:
Restaurants
Food trucks
Food stands
Food carts
Caterers
Inns
Saloons
Tavern
Bars
Lounges
Brewpubs
Taprooms
Tasting rooms
Publicly-traded companies are ineligible, which is good news for smaller operations that were squeezed out by large chains during the first round of PPP funding.
Funds will be allocated within phases, with businesses that lost a larger percentage of revenue being prioritized first. The RRF will also give higher priority to small businesses run by women, veterans and socially and economically disadvantaged proprietors.
"That's good because my initial concern was that big restaurants will go in and just eat up those funds," Banda said. "Eligibility for the program is so open and broad."
According to the National Restaurant Association, eligible businesses "may receive a tax-free federal grant equal to the amount of its pandemic-related revenue loss, calculated by subtracting its 2020 gross receipts from its 2019 gross receipts."
If you already received PPP funding, that amount will be deducted from your eligibility for the RRF.
As of early April, an official date has not been announced for program applications but it should be included in the SBA's main COVID relief operations site once it is available.
SBA Debt Relief
The SBA Debt Relief Program provides financial assistance for borrowers of three types of SBA loans:
As part of the program, the SBA will pay six months of principal, interest, and any associated fees owed by borrowers for such loans that are in "regular servicing status." The assistance will be automatically provided without needing an application and will apply to loans that were approved up to September 27, 2020.
Coronavirus Food Assistance Program 2
This program is administered by the USDA and was re-launched on April 5 after signups ended on Dec. 11. The program provides financial assistance to farmers, ranchers and other producers to absorb increased costs from market disruptions caused by the pandemic. Assistance is based on the type of commodities grown or raised by farmers and ranchers.
Commodities that are eligible for Coronavirus Food Assistance Program 2 assistance include:
Specialty crops
Livestock
Dairy
Row crops
Aquaculture
Floriculture
Nursery crops
The launch of CFAP 2 coincides with an increase in payment rates for commodities such as cattle under the original CFAP program.
"We did what we call additional top-up payments to folks who were already signed up and each commodity had a payment rate," said Gus Wegren, acting state executive director for the USDA Farm Service Agency in Nevada. The first CFAP round accounted for nearly $26.7 million in payments for Nevada producers alone and more than $1.2 billion in California.
The USDA also expects to make $4.5 billion in payments to 560,000 producers as part of new CFAP 2 funding that pays $20 in assistance per acre. Total funds for the second round of CFAP 2 funding amounts to about $6 billion, Wegren said. There is a payment limit of $250,000 for each applicant but exceptions also exist for legal entities that have multiple members that provide active labor or personnel management. Examples include cattle operations that are set up as limited liability companies.
"If they can prove that each member provided at least 400 hours of active personal labor or management, then they can get $500,000 for two members or $750,000 for three members," Wegren said.
Applications with a focus on CFAP 2 will also be expedited by the USDA for financial assistance under its cooperative programs. Award amounts for the cooperative agreements will range from $20,000 to $99,999 over a time period between six months and one year. Applicants will be notified of their acceptance or denial by June 20 and awards will be in place by Sept. 1.
Sign-ups for CFAP 2 will be open for at least 60 days from April 5. The USDA is also looking into launching a new program such as a potential CFAP 3 to provide targeted assistance for certain types of producers like organic farmers, for example, Wegren said.
For more information or to apply for CFAP 2, vist the USDA's CFAP 2 website.
The USDA also offers various loan assistance programs for farmers and ranchers. More details on these programs are available at the USDA's webpage for funding opportunities.
COBRA Premium Assistance
This program provides insurance assistance to employees who lost their coverage and the subsidy will come in the form of a payroll tax credit for employers. As part of the American Rescue Plan Act, the Department of Labor announced on April 7 that the federal government will provide eligible employees who lost their healthcare coverage a 100% subsidy on their COBRA insurance premiums between April 1 and Sept. 30.
For more details, visit the Department of Labor's COBRA Premium Subsidy web page.
Pandemic assistance from state and local governments
Several state and local governments provided pandemic assistance during the initial round of federal funding and the passage of the American Rescue Plan Act is no different. In Northern Nevada, local governments such as Reno, Sparks and Washoe County were in the middle of assessing new assistance plans as of early April.
Here is the status of the various state and local pandemic assistance programs currently in Reno-Sparks. This article will be updated as new information is released.
Nevada Governor's Office of Economic Development: The state economic development agency oversaw Nevada's Pandemic Emergency Technical Support program, which paid out more than $50 million to applicants during its first round of funding. Nevada received about 13,500 applications for the program, which includes small businesses, non-profits, arts and culture organizations, and local Chambers of Commerce. Funds from the program can be used to cover capital such as rent, inventory, payroll and utilities, as well as protective equipment and retrofits for improving safety.
While applications have since closed, Gov. Steve Sisolak has requested an additional $50 million in funding from the Nevada Legislature. If approved, the state says it will continue to fund small businesses that submitted applications to the program, including those that were denied due to the lack of available funding.
For more details, visit GOED's main PETS webpage.
City of Reno: The city of Reno is currently looking at its options to provide pandemic assistance from the funding provided by the American Rescue Plan Act.
"We do not yet have guidance on how these funds can be spent, so we do not have any programs yet for spending the ARPA," said Matt Brown, a spokesman for the city of Reno.
"We are still gathering information. Also, we don't have the funds yet and are not quite sure of when they will arrive, as of right now.  This is changing daily and, hopefully, we will get the guidance soon so we can prepare a plan for Council approval."
City of Sparks: The city of Sparks is also assessing its options for providing pandemic assistance to small businesses from the latest round of federal funding.
"Right now we are still unsure as to how much money we will be receiving through the American Rescue Plan," said spokeswoman Julie Duewel.
"It is looking like we should receive the first distribution right around May 10. We do know that we will be putting a substantial amount of these funds back into the community but no concrete decisions or direction has been made yet."
Washoe County: Washoe County, which recently approved an extension of its Emergency Rental Assistance Program after receiving $6.5 million in funds from the Treasury Department, is also looking at its options to provide pandemic assistance from ARPA funds.
"We don't actually know how much we'll receive or what the parameters are around how it can be spent yet," said spokeswoman Bethany Drysdale.
For small businesses who need advice regarding their options for pandemic assistance, including how to put together an application for the various options available, the Nevada Small Business Development Center provides free advice and counseling. For more details, visit the Nevada SBDC website or call (800) 240-7094.
Jason Hidalgo covers business and technology for the Reno Gazette Journal, and also reviews the latest video games. Follow him on Twitter @jasonhidalgo. Like this content? Support local journalism with an RGJ digital subscription.
Schools closed, businesses damaged as unrest breaks out in Brooklyn Center following police shooting
Residents, curious onlookers and business owners in Brooklyn Center emerged early Monday to begin cleaning up and to see for themselves the damage left behind after violence and looting broke out overnight following the fatal shooting of a motorist by police Sunday afternoon.
Officers in riot gear stood sentinel at the city's police station that was tagged with anti-police graffiti and where squad cars were damaged. The National Guard blocked the entrance to the Shingle Creek Crossing shopping plaza where several retailers had windows busted out and merchandise strewn on the floor. Flip-flops and bottles of fruity drinks littered the Walmart parking lot where a man who gave his name as Thomas was part of a small army of store employees picking up trash and debris.
"All of our large screen TV's were taken," he said.
Alarms blared at a Verizon store across the way where the front window was broken and a TV was ripped off the wall. Looters had ransacked the Icon Beauty Salon and left boxes of fake eyelashes behind in the parking lot. At Aspen Dental, only the front door sustained damage, but the clinic canceled all Monday appointments.
"I expected it to be way worse," said Sara Trout, an employee who was on the scene just before 7 a.m. even though she had received a text message telling her not to come to work.
A quiet yet tense feeling enveloped the Hennepin County suburb as law enforcement lifted an overnight curfew at 6 a.m. With fears that unrest could erupt again as police have scheduled an 11 a.m. media briefing, Brooklyn Center Community Schools told students to stay home and do distance learning.
"We know our community experienced trauma and we need the time and space to process," said Superintendent Carly Baker.
Adam New, a 1999 Brooklyn Center High School graduate who does not live in the city anymore, took a city bus to his hometown Monday morning to check out the aftermath of Sunday night's mayhem.
"They want to burn the place down," New said as he watched patrols guard the police station. "I'm sick of it. This has to spark change."
Scores of motorists with phones in hand took videos as they rolled by the station. Others, like Eric Cullen, of Bloomington, stopped by police headquarters to assess the situation and get a firsthand view rather than relying on media accounts of what happened.
"I'm a see-it-to-believe-it kind of guy," he said.
Events unfolded Sunday afternoon when a police officer allegedly shot Daunte Wright, 20, during a traffic stop about 2 p.m. in the area of 63rd Avenue and Orchard Avenue N. Wright drove a few blocks before he crashed into another vehicle and died. Wright had a warrant for his arrest at the time.
The Bureau of Criminal Apprehension was on the scene and will conduct an independent investigation.
Protesters had assembled near the scene by Sunday afternoon and had been relatively peaceful until nightfall. That is when they marched to police headquarter near N. 66th Avenue and N. Humboldt Avenue and were locked in a standoff with police in riot gear. Police used tear gas, flash bangs and rubber bullets to disperse the crowd that had chanted Wright's name and climbed atop the police headquarters sign.
On Monday, crime scene tape remained in yards near where the shooting happened. At the shopping complex, broken glass covered sidewalks and business owners surveyed the damage.
"Oh, they hit the Dominos and the Wing Stop," Trout lamented. The manager of the pizza joint "is the nicest guy."
The dental clinic where she works was largely spared. Other than broken glass, "nothing was stolen," Trout said. "I'm not sad that it happened."