Close-knit family doubles as Dosunmu's inner circle
CHAMPAIGN — A single video changed the course of the 2020-21 Illinois men's basketball season. Raised the floor and ceiling of what the Illini might accomplish.
The 90-second video posted to Twitter on the final day of July ends with a simple phrase that caught the Illinois fan base up in a storm of possibilities. Year three.
Ayo Dosunmu was back.
How that video came together is just a small part of the story of how Dosunmu became the face of the Illinois basketball program.
How NBA dreams were put on hold one more time. And how Dosunmu has carefully crafted his image thanks to a group — solely comprised of his close-knit family — in pursuit of each successive goal.
Mostly, though, it was all part of a well-orchestrated plan.
Long-term thinking
Jamarra Dosunmu can still recite one of her mother's sayings verbatim. Knows her sister can, too.
"You have a plan A, B, C, D, E, F and G," Jamarra said. "You always plan for what might happen and what might happen after that and after that and after that."
Then she joked that the only aspect in her life that wasn't always planned was when she and husband Quam had their children. That timing on that, she said, was sometimes a surprise.
Then it was back to the plan. For all four kids. Sisters Joselynn and Khadijat and brothers Kube and Ayo. Where the family would live and why. Where the kids would go to school.
All planned with what was best for the family in mind.
"That's something that has been instilled into all four of our children," Jamarra said. "Ayo is the baby of four. I know everyone knows his siblings from going to the games. All of our children are successful in their prospective careers and education. Ayo's just in the spotlight.
"Planning is probably at the premise of all things important. Everything we do is planned out. Nothing that we do is off the fly. It's all very well planned out, very well mapped out. We've researched. None of it is we wake up and say, 'Yeah, let's do this.' That's not how we operate."
All by design
So Ayo's basketball career, of course, has come with a plan. From his move from Westinghouse to Morgan Park after his freshman season of high school basketball. Through the entirety of his college recruitment. From deciding to stay in-state and play at Illinois and then deciding — twice now — to return to Champaign in pursuit of some still-elusive goals.
There's a reason the video announcing his return — the "year three" final moment — was preceded by Ayo outlining the NBA could wait while he helped Illinois pursue a national championship.
Basketball was always part of the plan. Quam was a coach. Ayo was always at his side.
"If you see Coach Q, Ayo's only five steps behind him," Quam said was what he heard from people all the time.
That was by design.
"It kept away the distraction," Quam said. "It kept away the outside noise. We were able to focus on what we need to do just being very visible as a parent. Especially in Chicago where a lot of our boys play basketball, there's a lot of wolves that want to take advantage. You have to be very visible in order to be successful."
When Ayo made the commitment that basketball was his passion, that he wanted to pursue that as a career, then the plan just took another step.
"My thing was, 'OK, if we're going to do this, we're going to do it the right way,'" Quam said he told his youngest son. "'You're going to be educated. You're going to know the business aspect of it. You're going to know the physical and mental aspect of it.' I started preparing him for that."
Support system
The Dosunmu family made Ayo's path forward to professional basketball a family business. The 10-person group that makes up the inner circle is family. It's Jamarra and Quam, their four kids, and then Jamarra's sister and brother-in-law and Quam's brother and sister-in-law.
That's the group that was involved in 90-minute or two-hour long Zoom calls this past spring and summer as Ayo decided — with his family's counsel — whether to return to Illinois for his junior season or keep his name in the 2020 NBA draft. They discussed the interviews he had with different NBA organizations and what would be the best path forward.
They all have a role. Ayo's sisters are tuned in to social media and how to utilize it. One of his aunts has a public relations background, and his uncles are attorneys. Quam's basketball background is key, too.
"We're not a family of people who just love him," Jamarra said. "These are things we're all good at. Everybody has a part. We all play our part and come together and make it work."
Stay or go?
That 10-person group was at the heart of getting the return video made. Well, both videos made. A second video declaring Ayo's intent to pursue the NBA was shot at the same time. Just in case.
The video was shot less than 24 hours before it was released. Ayo's concern, Jamarra said, was the longer both existed unreleased, the more likely it might be leaked. It also gave him a bit of a hard deadline to make his decision, which didn't come until the hours before the video was released and his return was announced.
The video — or something like it — was deemed a necessity by Ayo's inner circle. The same decision was made a year prior when he announced his "Unfinished Business" hashtag on Twitter in returning for his sophomore season with the Illini.
"There were many Zoom calls," Jamarra said. "FaceTime calls. Text messages threads on different ideas. How do we do this? What's something that hasn't been done before? Without being too over hyped. We don't want to be too simple, but unique. We didn't want to do something crazy and outrageous. Didn't want to drag it out, lead people on. Just like his recruitment. Real clean, easy, no drama."
Keeping it simple
Ayo's recruitment — particularly the end — was as "no fuss, no muss" as recruitments go. On a chilly October night in 2017, clad in a bright white "Block I" Illinois polo shirt, Ayo emerged from a back room inside the Jordan Brand store in downtown Chicago to some rather enthusiastic cheers from the nearly 100 people in attendance.
It was the epitome of a moment for the Illinois basketball program and a recruiting coup for still-new coach Brad Underwood. In-state recruiting — particularly in Chicago — had lagged in the John Groce era. Dosunmu's decision to stay home reverberated throughout the state and the fan base.
Ayo made his decision clear. He picked Illinois not only to help return the program to the national college basketball conversation, but also for what it could mean about his own legacy.
A 17-year-old.
Thinking legacy.
"It's real easy for guys to go to what has been the traditional power, let's say, or the traditional school," Underwood said. "To set out and have such a determined, narrow-minded goal to help your state university come back to greatness and to be a part of that and want to be the main cog in that? Wow, that's pretty rare."
Being an ambassador
The way Ayo spoke about Illinois basketball as a program when he committed and the way he continued to do so at every turn when he could stay or go also caught the attention of former Illini, too.
Marcus Liberty understands what a Chicago high school basketball star choosing Illinois means. The former standout at Chicago King, who won News-Gazette All-State Player of the Year honors in 1987 and also Mr. Basketball accolades that same year, played two seasons with the Illini before a four-year NBA career.
To hear another Chicago kid with the same kind of drive decades later struck a chord.
"He knows the history of Chicago basketball and at the University of Illinois," Liberty said. "He wants that. When you hear the kid speak, he knows he wants whatever comes with it. … He did say he came here to give that recognition back to the University of Illinois. I remember when he said it, and he did it.
"He has a cockiness about him, which you need. Every player needs that. He wants to take the big shots in the big games. He's a winner. I'm just going to say it — a typical Chicago kid. The grind, the grit and never settling. That's Ayo."
Deon Thomas was still an assistant coach at Illinois-Chicago when Ayo was just starting his high school career.
"He popped up on my radar probably his freshman year," said Thomas, the all-time leading scorer in Illinois history and former high school standout at Chicago Simeon. "A lot of it was talking about his maturity. A lot of that was talking about how hard he worked. Those same traits that are being labeled on him today."
One of the nation's best
Ayo's evolution into the face of the Illinois basketball program started day one his freshman year. Typical first-year struggles ensued — particularly early on in the 2018-19 season — but by the end of the season, he was the team's leading scorer. The first freshman in program history to claim that honor.
The string of game-winning shots in 2019-20 further elevated Ayo's status. Already sky high among Illinois fans, his name became consistently more known on the national stage. The decision to return for year three — with preseason All-American honors to boot — cemented Ayo's status as one of the best players in the country.
"It means hard work — his dedication, his commitment," Quam said. "All this was planned and executed. This was something Ayo wanted when he made the commitment and said, 'Dad, I want to be a professional basketball player.' The hard work, the training. It was our responsibility to get him there. Right now, it's just his hard work paying off."
Embracing notoriety
The 2020-21 season is different, of course. Fans don't have the same type of access they used to, with the ongoing COVID-19 pandemic forcing games to happen in mostly empty arenas. The autograph seekers, fans ready to snap a quick selfie, would have been out in force. Even more so than in previous years, which Ayo ultimately grew to embrace.
Just not at first. Not as a teenager in the bright lights of the basketball world that is the city of Chicago.
Jamarra has no trouble remembering back to a time early in Ayo's high school career. He was already known on the basketball scene. A simple wish to get in a workout at the Quest Multisport complex proved anything but.
"He walked through and there was some type of tournament for young kids going on," Jamarra said. "They saw him, and they all flocked to him. They all flocked to the workout room that was all glass windows. He was sitting there with his towel on his face. My husband said, 'What's wrong?' and he was like, 'Dad, I just want to work out. I really don't want this attention.'
"We told him that was the beginning. Dude, you can't not acknowledge these babies. They're admiring you like you would be admiring Kobe (Bryant) or Derrick Rose if he was in the gym. This comes with it."
That was a moment where Ayo, who is a bit shy by nature according to his mom, started to open up. He embraced his fans. Embraced signing autographs and taking photos with kids.
"It's been a very rewarding progression for me, as a mom, to see him open up and be excited about it," Jamarra said. "Even when we're out. When I took him back to school and we were shopping in Wal-Mart, I understand when people say, 'I just want to walk in Wal-Mart.'
"Every single person that came up to him and said, 'Can I have a picture, can I have an autograph?' he didn't hesitate. He was like, 'Ma, this is what it is. If I don't want to deal with this, I'd order it to be delivered to me.'"
Building a brand
There could come a time — perhaps in the near future — where college athletes could benefit financially off their popularity. Multiple states are pursuing legislation to allow for college athletes to profit on their own name, image and likeness, which could ultimately force the NCAA's hand.
Ayo, of course, will be long gone from Illinois by the time that happens. The potential for what NIL rights would have meant to him, though, is notable.
Dustin Maguire, who played college basketball at Saint Louis and Northern Kentucky and is now a lawyer, has taken an interest in NIL rights as they might apply to college athletes. While he practices family law in Edwardsville, Maguire has also created a company that would provide legal and marketing services for college athletes.
Maguire sees Dosunmu as someone who could have benefited from having those NIL rights. That includes his followers on social media, but is tied more to the fact that he's a two-time IHSA state champion and Chicago native that stayed home to play at Illinois. The former would have provided some endorsement opportunities. The latter would have put him in "high demand" for camps, clinics, youth training lessons, autographs and personal appearances.
"Even though he is a national level player, for Ayo, what he could do with his NIL rights here in Illinois is the story," Maguire said. "He is a good example of what is possible for nationally-rated recruits who are considering staying in state to attend the University of Illinois. Too many great Chicago high school basketball players have gone out of state to join programs like Duke and Kansas. Illini basketball fans should be excited about the future of their program in the 'NIL era.'"
Ayo wields social media more as a tool. He doesn't regularly post on either Twitter or Instagram — especially during the season — but he has more than 60,000 followers combined on the two platforms. It's there he posted his video announcing his return to Illinois last summer.
"Ayo is not a big social media fan in the sense of a million followers on Instagram," Quam said. "He doesn't get into all that. Realistically, he's not a social-media type of person. He's a blue collar, I want to work, get my job done person. If you put my highlight on, that's fine, I like it. If you talk about me, I like it. He's not chasing clout. He's just doing his job. That's how I look at it."
Careful use of social media has helped forge the brand around Ayo. It's something Thomas wishes he had in his playing days for that purpose. Even minimal use has allowed a glimpse into who he is for Illinois fans.
"From the time he was making his choice to come to Illinois to the statement he made about why he came to Illinois to his decision to come back to Illinois, he's put it all out there for people to see," Thomas said. "It's really a family unit. They've built a brand around their family. All I could say is I wish when I was coming along I had that same kind of support. It's amazing the way that family unit is."
The family business
The Dosunmu family has missed out on nearly half of year three. All but one of Illinois' games has been played without fans. Tough for a group that has made up a fairly serious travel party — and filled a small section at State Farm Center almost on their own — the past two years.
The support, though, is still there. The plan is in place anyhow, which has Ayo on the precipice of the next step of his basketball career.
"It's been really rewarding," Jamarra said. "To know young Ayo and see 20-year-old Ayo is like night and day."
"This is our family business now," Quam added. "We have to approach it and take it like that. Just not for Ayo, but for my younger nephews and nieces coming up in sports or want to be attorneys or want to be in the business world. We take this seriously."
It shows in how Ayo has attacked every stage of his Illinois career with the NBA as the goal at the end. How he worked to shore up his weakness. How he worked to become a leader.
"When you have an opportunity to meet the young guy, an opportunity to talk to him or interview him, you see how he portrays himself and handles himself," Thomas said. "Then when you look at his family, pull the covers back and see how supportive they are of the him and of the athletic program in general, then you really see how he has cemented himself. He's become a household name — especially for Illini fans."
Make Harm Reduction Federal Health Policy Now, Says Yale Experts
Since the start of the COVID-19 pandemic over a year ago, alcohol and substance use has surged in the United States, along with overdoses from opioids. To save lives, using practical strategies to reduce the negative effects of substance use, or harm reduction strategies should become federal health policy now, urges experts Kimberly Sue, MD, PhD, and David Fiellin, MD, from the Yale Program in Addiction Medicine.
In a new commentary, "Bringing Harm Reduction into Health Policy — Combating the Overdose Crisis," published in The New England Journal of Medicine, they urge the Biden administration to name, embrace, and implement harm reduction programs to save American lives. In addition to expanding treatment, they argue, there is a need for additional measures to abate the tidal wave of death from overdoses. Additionally, they say funds should be allocated to combat the health inequities and racial injustice for Black Americans who are suffering from a disproportionate rise in deaths from substance use disorders, along with COVID-19.
Sue is an instructor (general medicine) at Yale and medical director of the National Harm Reduction Coalition. Fiellin is a professor of medicine (general medicine), emergency medicine, and public health at Yale, and director of the Yale Program in Addiction Medicine.
In a conversation they discuss how COVID-19 has worsened what was already a dire national crisis, strategies that help reduce harm in vulnerable populations, and how federal policies can reduce overdose deaths. The below conversation was condensed and edited.
Q: How has COVID-19 affected people with alcohol or substance use disorders?
David Fiellin: Substance use disorders and the overdose crisis were the country's "pre-existing condition" coming into the COVID-19 pandemic. The COVID-19 pandemic has essentially collided with the opioid epidemic. We know that during the pandemic, there's been increased use of substances, and increased isolation due to physical and social distancing. Unfortunately, there have been restrictions on access to treatment and the entire treatment paradigm has changed to a more virtual approach from a direct in-person approach. As well, we've seen a rise in fentanyl and deadly fentanyl analogs and rapid changes in drug supplies. These are all on top of the increased economic and family stressors that all individuals are experiencing during this time. So the collision of these two epidemics has been a real challenge for individuals who use substances.
Q: What are harm reduction strategies and how might they help this population?
Kimberly Sue: Harm reduction strategies are simply a variety of tips and techniques that we can use where we don't ask that people have or require abstinence, but really rather that people can use more safely and avoid harmful outcomes. Harm reduction strategies range from a variety of programs, including syringe service programs where people can exchange used syringes for sterile syringes. We have overdose education and naloxone distribution (OEND), which are community-based programs that distribute naloxone, a medication used to reverse opioid overdose, as well as trains people who use drugs and their family and friends to recognize opioid overdoses and use the medication. Drug-checking, which is a strategy that people use around the world, examining substances for purity and for the presence of contaminants or impure aspects of the supply, like fentanyl, as David mentioned. And overdose prevention sites or centers, safer consumption spaces, which are places where people can use substances and trained people will respond and take care of them in case they overdose or have another untoward outcome.
Q: You both recently co-authored a commentary in New England Journal of Medicine, where you talk about harm reduction strategies or policies in the United States. So can you explain the history or lack thereof of harm reduction strategies or policies in the U.S.?
Fiellin: The United States has had a fluctuating history of recognizing and endorsing harm reduction strategies, especially as they relate to people who use substances and have substance use disorders. We use harm reduction strategies all the time in other parts of medicine and public health. Unfortunately, we tend to think of substance use disorders in non-medical terms. As a primary care physician and somebody who treats patients who have depression, schizophrenia, diabetes, asthma, I recognize that in addition to providing treatment, I also provide what could be considered harm reduction strategies, often in the way of education, diet, exercise, and other things that people can do to reduce the harm of their primary condition, and their medical outcomes. I do this assuming that they may not meet our target goals for their treatment. I also don't withdraw or prevent them from receiving these services if they don't achieve that target goal. I think most of the world assumes in substance use disorders that the only appropriate outcome is abstinence, for everybody. from the beginning of treatment. We know from most of medicine that complete control of a condition from day one is unrealistic and so, a lot of what we do, quite frankly, is harm reduction through behavioral and educational, and sometimes medication-based interventions.
What we've seen in the U.S. is that policies and attitudes around harm reduction for substance use have evolved. We now see widespread endorsement for services such as syringe service programs and naloxone education and distribution. That endorsement really reflects the science that demonstrates the effectiveness of these strategies. What we need from a federal level is to have a more uniform acceptance and endorsement of evidence-based practices that are harm reduction-focused. We also need more science. This means we have to remove barriers from conducting the science and allow for adequate evaluation of new harm reduction strategies that are used in other countries.
Q: What medications can be used to reduce the use of illegal substances and improve the health of those people with use disorders?
Sue: There are so many important and life-saving medications that we have access to, and part of the work that we do here at Yale, and that I do at the APT Foundation, doing primary care for patients on methadone, and also at the Yale Addiction Medicine Consult Service at Yale New Haven Hospital, is to start these medications that we use for very specific use disorders. Methadone and buprenorphine are two examples of life-saving medications. They decrease overdose mortality by 50%, but only 25% of people are able to access them. And many places that are residential programs for people with opioid use disorder do not offer them or permit people to take them. With alcohol and tobacco, we have FDA-approved medications. With stimulants, we have emerging research, including a recent trial in the New England Journal of Medicine that showed promise of combining two FDA-approved medications. So we really have a lot to offer, and we want people to know that there is hope and that people get better, and treatment works.
Q: How can clinicians assist their patients who may have a substance use disorder?
Sue: Clinicians can assist their patients who may have a substance use disorder in many ways. The first is just being compassionate and non-judgmental, really meeting people where they're at, being consistently there and taking into consideration the neurobiology of addiction and treating people with evidence-based medications, like I mentioned previously. The Yale Program in Addiction Medicine has over 30 years of showing that treatment can be initiated in a variety of settings, like primary care, emergency rooms, hospitals, and OBGYN clinics. Really what we can do is educate others in starting these medications, letting them know that you can start them immediately, and even getting out of the clinic and providing them in novel spaces like syringe service programs.
Part of what I do in New York City and have done is provide buprenorphine for patients in the syringe service programs and meeting people literally where they're at. They are still using and desperate to seek treatment but can't figure out how to access it. So really we should, also on top of that, provide people with what they can do to use more safely. So for example, today I saw a patient coming in to start methadone treatment, and this person is still using cocaine, and I was able to get him a safer crack pipe. Really this is what he needed to use more safely and to protect himself against infectious diseases and other harmful outcomes.
Q: Kimberly, you had mentioned that you provided a crack pipe to a patient who was using cocaine. And you mentioned that that was less harmful. Can you explain how that would be less harmful for the patient?
Sue: Most people who use drugs in this country are using many substances at once. And poly-substance use is the norm in this country, not the exception. We have a rise in stimulant-related deaths, including cocaine and methamphetamine in this country, according to the Centers for Disease Control. So while this patient is initiating and starting treatment for his opioid use disorder with methadone, which is a life-saving medication for patients with opioid use disorder, he has been continuing to use substances on top of that, including stimulants. He tells me that he is still smoking crack, and he is trying to cut down, but he does have a crack pipe that is torn, that it is ripped, it is really decayed, and that can cause a lot of complications, including risk for infectious disease transmission. We worry about transmission of Hepatitis C and HIV. And so I was able to provide him with sterile equipment, so that we can prevent the harms of ongoing cocaine use while I treat his opioid use disorder and work with him to address his cocaine use.
Q: Can you provide examples of communities or other countries that have implemented harm reduction strategies and the outcomes of such programs?
Sue: There are many ways in which we are thinking about and taking the lead from people who have done this before, and cities and countries that have provided us the evidence. We also know that there are overdose prevention centers and sites. There are over a hundred of them operating around the world, and there have been zero overdose deaths in these facilities. That is really effective. In this country, we have 80,000 overdose deaths a year, and we really have not yet implemented all the strategies that are life-saving. We're hoping that our piece in the New England Journal of Medicine can encourage people to fund the research for and implement these programs.
Q: Why should the Biden administration consider implementing harm reduction programs as federal health policy?
Fiellin: It is important for the Biden administration to consider implementing harm reduction programs, because year after year, even before the COVID epidemic, we've been seeing an increase in the overdose deaths related to drugs. And now it's both opioids and stimulants. The tragic deaths are just the tip of the iceberg. For every overdose death there are hundreds of individuals and families that are being impacted. There are specific things that the Biden administration can do through its Office of National Drug Control Policy, and through other federal agencies, including Health and Human Services, the Substance Abuse Mental Health Service Administration, the CDC, and the NIH. For example, they could remove bans for the use of federal funds to purchase sterile needles, or syringes for the injection drugs. There are also opportunities through the Department of Justice that would allow for the overdose prevention sites and allow for research to take place to determine the impact of those on the overdose epidemic. There are very specific barriers that could be removed by the Biden administration. Now is the time to do that because it's clear that despite our efforts to make more treatment available, we're seeing an increase in overdose deaths, and we need to bring additional support and strategies to help save lives.
The Yale Program in Addiction Medicine seeks to expand access to and improve the effectiveness of prevention and treatment services for substance use. For more on their work, visit Yale Program in Addiction Medicine.
Fashion journalist and sustainability activist Bandana Tewari on how heritage and philosophical provenance play into her work
Former Vogue India editor-at-large Bandana Tewari remembers clearly the thought that led to her life's purpose of sustainability activism. She was en route from Mumbai, India, to Indonesia, so that her daughter could attend the world-famous Green School Bali, a move that also allowed her to make a fresh start after the end of her marriage.
"I thought about Mahatma Gandhi and his profound relationship with clothes," she reminisces in her melodious, accented English. "I started to wonder if we could apply some of his principles to fashion — ahimsa, which is non-violence, and satyagraha, which means holding on to your own truth. It so happened that after arriving in Bali, I was invited by Suzy Menkes to be one of the keynote speakers at the Conde Nast Luxury Conference in Oman, and the theme that year was mindful luxury. The topic of my speech was obvious — it was about Gandhi and fashion, and it changed my life. Gandhi's phenomenal journey with clothes directly connects fashion with activism, and it resonates with everyone, everywhere. That forged my path as a sustainability activist, and there was no looking back. I had found my calling and my sense of purpose."
Tewari is one of India's most expert authorities on fashion and is a journalist, sustainability activist and member of the BoF500, the professional index of the most influential people shaping the fashion industry. She is also a contributor to worldwide editions of Vogue, a judge for the H&M Foundation's Global Change Award and special adviser to the Copenhagen Fashion Summit. Moving to Bali and leaving behind the charmed and enchanted life of a fashion glossy editor may seem unheard of and Tewari agrees. "I don't think anyone would have thought you could leave a job at Vogue in Mumbai and move to Bali, but I did, so now we know it can be done," she quips warmly.
Since border closures owing to Covid-19 has temporarily put a stop to her overseas assignments, Tewari has continued her work from her base in Bali as physical events have given way to digital webinars. If anything, her work has become more important than ever before as the pandemic has exposed the dysfunction and inequality in many industries, fashion included.
"The fashion business never had fingers pointed at them like this in its entire history," she says. "The trajectory of a simple white T-shirt — the cotton is grown in one country, made into yarn in another, and then stitched in another country, going around the world before it comes to you. And yet, the customer pays so little for it? The cost is borne by someone else, and it's usually those at the lowest rung of the supply chain, and more often than not, they are women. So, when we talk about the dysfunction of the system, we often talk about gender rights because these women are not only invisible but voiceless and, therefore, unprotected."
What Tewari is talking about is hardly news to any of us, although the actual numbers may sometimes be beyond reach. According to data published by the World Economic Forum, clothing production has roughly doubled since 2000 as fashion companies went from an average offering of two collections per year in 2000 to five in 2011 (fast fashion companies like Zara top this list at 24 per year). Unfortunately, a lot of this clothing ends up in the dump: The equivalent of one garbage truck full of clothes is burned or discarded in a landfill every second.
Ah, but I wash my clothes and reuse them, you might say. Well, this releases 500,000 tonnes of microfibres into the ocean each year — the equivalent of 50 billion plastic bottles. Many of those fibres are polyester, a plastic found in an estimated 60% of garments. Producing polyester releases two to three times more carbon emissions than cotton, and polyester does not break down in the ocean. A 2017 report from the International Union for Conservation of Nature (IUCN) estimated that 35% of all microplastics — very small pieces of plastic that never biodegrade — in the ocean came from the laundering of synthetic textiles like polyester. Also taking into account irresponsible textile dyeing techniques, the fashion industry is responsible for 20% of all industrial water pollution worldwide.
Wait — what if I only wear cotton clothes? It takes about 700 gallons of water to produce one cotton shirt, which is equivalent to a person drinking eight cups of water a day for 3½ years. A pair of jeans? That's 2,000 gallons, and 10 years' supply of drinking water. This is because cotton is a highly water-intensive plant. In Uzbekistan, for example, cotton farming used up so much water from the Aral Sea that it dried up after about 50 years. Once one of the world's four largest lakes, this body of water is now little more than a desert with a few small ponds.
There is also a geographical imbalance to all this. "What people also don't realise is that almost 80% of clothes for the Western world are made in Southeast Asia and the Indian subcontinent, so the pollution and degradation of the land is happening in our part of the world, not theirs. My activism started way before Covid-19, but people just pay more attention. Sustainability has become more tangible, somehow. I feel the wounds were already there in the industry, they have just become wider and more visible."
Some apparel companies are starting to buck these trends by joining initiatives to cut back on textile pollution and grow cotton more sustainably. The United Nations has launched the Alliance for Sustainable Fashion, which will coordinate efforts across agencies to make the industry less harmful. At present, it is valued at US$2.4 trillion and employs about 60 million people worldwide, most of whom are women. This is an important industry, the scale of which is only expected to grow over the coming years — it needs to be more sustainable starting now.
"When you look at the predictions by many global organisations, if we don't change our ways, it is frightening. Children we bring into this world have to live on a planet that we are completely degrading. Fashion plays a big role here, and it's important that stakeholders in the industry talk about this on a regular basis. It's not all doom and gloom, though, and that is not my point either. It's expecting brands to be transparent, and take their responsibility seriously while they make beautiful clothes for people like us who want to buy them. Just not at the cost of ruining the environment."
Although their initial purpose may have been exclusivity, luxury labels are in an excellent position to pursue the sustainability agenda — their products are mostly handmade, designed to last, and often call for the skills of trained artisans, which then keeps age-old crafts alive. "Luxury and sustainability are one and the same," reads an opening statement by owner and CEO of Kering François-Henri Pinault in the sustainability section of the company website. Incidentally, Kering-owned Gucci was the first luxury brand to ban fur from all its collections, which quickly made it a pacesetter in sustainability.
This sort of perspective could well be in response to Gen Z, today's most influential and trendsetting consumer group for luxury brands — they will only associate themselves with brands that are sustainable at their core. Greenwashing, aka sustainability lip service, does not convince these consumers, and they are increasingly voting with their wallets for the brands that back up their talk. "There's nothing wrong with making money, and I believe sustainability can be a very profitable business. It is also cool, which is all the things we have never been told," Tewari adds pointedly.
A good example is the LVMH-owned Stella McCartney, which has had sustainability define its very existence. "Stella is at the top of her game and when a brand like hers does good and is seen to be doing good, it inspires smaller brands and promotes the understanding that you can be sustainable and successful," Tewari observes. "Stella started with the sustainability agenda way before it became a term — her parents are humanitarians and her upbringing is a reflection of her inclinations to this day. It wasn't trend she was following, but a deep belief. She should be commended for all she does and is a star in the sustainable world as she's done more for the cause over the years, and more consistently, than any other brand."
In India, where upcycling and living respectfully are philosophical and spiritual concepts intertwined in everyday life, sustainability is very much an accepted way of life. Fast fashion factories serve an economic need; traditionally, this was never an accepted thing. Most Indian designers do not pay into the mass-production, fast-fashion model — working, instead, with their own in-house systems, team of karigaars (workers) and suppliers, while a newer crop of sustainable and eco-conscious designers are really changing the game and making consumers pay attention.
For instance, Bengali designer Sabyasachi Mukherjee, since 2002, has built a business with an annual turnover exceeding US$16 million capitalising on traditional craft techniques among his bridal client base while meaningfully supporting the livelihoods of those he employs. In 2013, he initiated a "Save The Sari" non-profit endeavour to popularise regional weaves, ensuring continuous loom production capacity and providing a point of sale at his stores with no additional markup. There are several brands within the beauty, apparel and design sectors in India that apply sustainable business practices and they are hugely successful too.
"If you ask me what's a true example of a sustainable designed garment, it's a saree — we would never, ever think of putting a saree in a bin. I've never seen anyone do it, and the mere thought of it is sacrilegious! A saree has all the ideals of sustainability, but it is part of a lopsided system — a Kanjipuram saree is handmade with pure gold threads, and yet, it costs a fraction of the price of a flip flop from a traditional fashion maison. Why this system has become so dysfunctional is because we've never understood the real value of traditional clothes like the saree, which has lasted multiple generations. Meanwhile, legacy brands from the West have raised the value of their brand so much that we are willing to pay a lot more for a monogrammed cotton bag than an embroidered silk saree that would have taken two months to make."
Despite this, even Tewari admits that when she was at Vogue, sustainability was not an active discussion until fairly recently. "It's so beautiful and enchanting to be in that world, and to be honest, sustainability wasn't even part of my vocabulary, neither was it part of anyone's in the high fashion industry. I think we were very much focused on what we already know about fashion — trends, aesthetics, beauty. It was never about the back story or the real cost of making clothes," she says thoughtfully. "I was part of an industry that sold watches that cost thousands and thousands of dollars, but when you leave the office and there are slums and you realise what that money could do instead … You start re-evaluating the real value of things, if you need that 10th watch or could you have donated the money to a school, perhaps.
"This is very personal, though, and not to put down my incredible time at Vogue where I learnt so very much and interviewed some of the most creative talents and designers from all over the world. I couldn't have asked for a more enchanting life, but I had reached the end of it, so to speak. I'm still in fashion, though — I love it, I love aesthetics, I love design, I love creativity. But when it disregards the people along the supply chain, then that cannot be a fashion I want to stand up for."
In the years prior to her leaving Mumbai, the topic of sustainability in fashion took up an increasing number of pages in Vogue India, and according to Tewari, many other magazines have started this as well. But the challenge, as she puts it, is to consider sustainability as part of one's everyday existence and not a passing trend. This is something she does not see enough yet in the fashion glossies, which are mainstream purveyors of style and whose opinions carry a great deal of clout. Whilst on the topic, our conversation meanders to fashion influencers and their responsibility as well. "It's great that they are making money doing something they love, but imagine if they were activists? If they put a little more purpose into what they were doing, the potential for change is immense."
Tewari gets her extraordinary perspective from an idyllic childhood and an education that had nothing to do with fashion. Growing up in the chilly hills of Darjeeling, she was one of four daughters whose early years were spent in Catholic boarding schools until she moved to Delhi, where she studied literature and, later, filmmaking. One of her earliest jobs was with the Discovery Channel, where she hoped to put her qualifications to work as a documentary filmmaker.
She was in for a rude shock. "This was in its early years, so they would rather fly down 20 guys from the US to Kerala to shoot the boat race but not use local talent behind the camera." It was a long time ago, but it is hard to miss the annoyance in her voice even now.
Not one to waste any spare time, Tewari would pass the hours reading old scripts from Discovery Channel's archives, some of which happened to be related to fashion. She was shocked to find that these documentaries were not just about clothes, but how the entire industry intersected with topics like repression, sexuality and politics. Tewari was inspired to do her own research and taught herself fashion history. Her first paid assignment was as a contributor to The GetFreshNews.
Tewari left filmmaking and embarked on a career in fashion journalism, but her work was always underwritten by a seriousness not often associated with the industry. Elle India offered her the chance to build her oeuvre, which was not so much about passing trends than the way fashion was in fact a movement that affected entire societies. She wrote like a sociologist might have, showcasing the incredible depth in fashion and how it reflects identity, culture and provenance.
Her stint at Elle netted her writing assignments for many other international publications, and when Vogue set up shop in India, she joined them as fashion features director. Upon her move to Bali, she held the position of editor-at-large for two years before shifting her focus from high fashion to work more closely on issues related to sustainability. It wasn't just lip service, though — Tewari gave away almost 90% of her clothes and accessories accumulated over her years of working in high fashion; she few to Bali with just three suitcases.
"Both of us needed to leave and start afresh," she says, referring to her daughter Mairah, who is now 18 and will soon be flying to the US to study at the Berklee College of Music. "It couldn't have been a better decision for me because with the move, my journey to become a sustainability activist was so clear. In Bali, it's so easy to be inspired by nature and the power of social impact — I really started to think about how I could participate. It was something personal that also became professional. There's a lot of talk about how when you get home, you leave your work at the door — I believe that when you're really passionate about something, that is not the case."
Our chat winds its way back to the topic of Gandhi, and how he continues to inspire her. Indeed, from the image of a gentleman to the humblest of men, Gandhi kept a symbolic and profound relationship with clothes throughout his life. Much of her research has traced the details of this fascinating story and the lessons the fashion world may learn from the man who was one of the greatest political and spiritual leaders of the 20th century, from the dandy apparel he wore as a lawyer to his humble clothes inspired by the Khadi Movement — a political, economic and social gesture that remains one of the most meaningful in India to this day.
Tewari explains why it matters. "There are many ways to talk about sustainability, all beautifully evocative language — there's innovation and technology, there's cultural sustainability, which refers to sartorial heritage, handmade and provenance, then environment sustainability. From a spiritual point of view, the conversation is a little lacking, I think. I believe in personal responsibility and ownership for social change and impact and, for that, you need to have a change of heart. I look at philosophies from Hinduism and Buddhism, I use Sanskrit works in my talks as they are so meaningful. The transition from high fashion to Gandhi paving the way for me to create this conscious, conscientious approach to fashion was actually very natural."
Gandhian philosophies of sustainability and kindness are by no means alien, but they need to be repackaged and refreshed every so often to stay relevant to a changing world. If fashion, style and good taste are everlasting, it stands to reason that our planet should be too.
This article first appears on Apr 19, 2021 in The Edge Malaysia.
What We Know About San Diego Scripps Health Cyberattack – NBC 7 San Diego
What to Know
The California Department of Public health calls the cyberattack "ransomware attacks"
Scripps did not provide any information on how the cyberattack occurred but later determined that the outage was due to a security incident involving malware on its computer networks
The cyberattack caused rescheduled appointments, affected Scripps email servers, and suspended access to patient portals and other tech applications
One of San Diego's main health care systems, Scripps Health, had its technology servers hacked on May 1 in what has been deemed a ransomware attack by the California Department of Public Health (CDPH).
And, although the incident has disrupted access to patient information, affected the ability of health care workers to do their jobs and led to a lack of communication with patients, Scripps Health has provided little details about the cyberattack.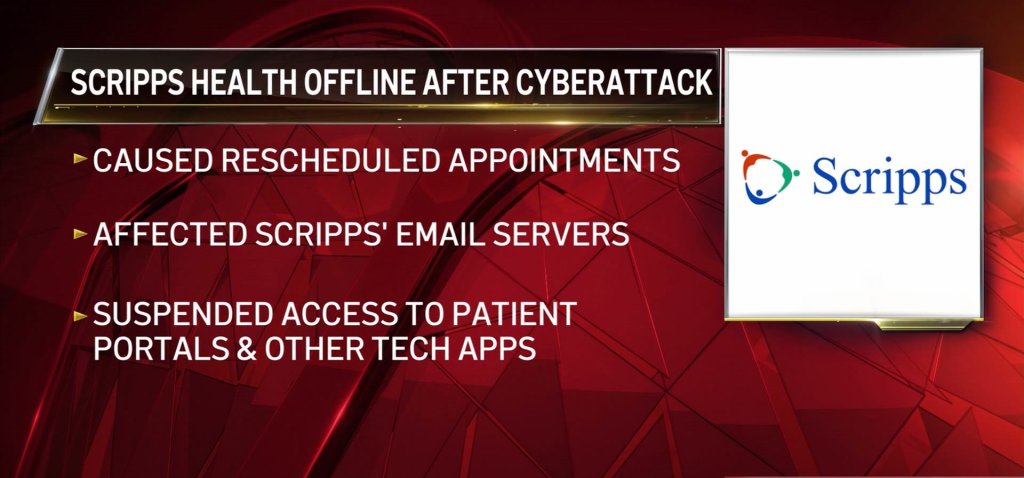 Patients who have appointments scheduled in the coming days can call 1-800-SCRIPPS for more information about their appointment status.
The local health-care provider, operates five hospitals in San Diego, along with a series of clinics.
---
Here's what happened in the last week, what we know and what we don't know:
May 2, 2021
Scripps Health first confirmed on Sunday that their technology servers were hacked overnight forcing the health care system to switch to offline chart systems and causing a disruption to their patient portals.
Scripps did not provide any information on how the cyberattack occurred or state exactly what systems were affected by the breach.
The health care system said they suspended access to their patient portals and other "technology applications related to our operations at our health care facilities," but stressed that patient care continues using "established back-up processes, including offline documentation methods."
The San Diego County Office of Emergency Services (OES) said ambulances were being diverted from Scripps' facilities to other hospitals in the area but that it was a precautionary measure.
As of May 5, the county had stopped adjusting its routing of ambulances to hospitals, according to a county spokesperson.
OES officials said Sunday that its cybersecurity professionals were investigating the cyber attack.
Scripps said that outpatient urgent care centers, Scripps HealthExpress locations and their emergency departments remain open for care.
Scripps Health confirmed Sunday their technology servers were hacked overnight.
May 3, 2021
A spokesman for Scripps declined to comment Monday when asked whether the incident was a case of ransomware, in which malicious code is introduced to a computer system, rendering it inoperable until a ransom is paid.
On Monday afternoon, the heath-care provider had one of its media representatives send out the following statement from what appeared to be a personal Gmail account:
"As Scripps Health continues to address the cyberattack from this past weekend, our facilities remain open for patient care, including our hospitals, emergency departments, urgent care centers, Scripps HealthExpress locations, and other outpatient facilities. Our technical teams and vendor partners are working tirelessly to resolve issues related to the cyberattack as quickly as possible."
Scripps also said the cyberattack had prompted some patients to reschedule appointments and would be contacting them to do so. It's not clear how that contact would be made, since it appeared Scripps' email servers were affected by the outage. Patients who had appointments in "the next several days" can call 800-SCRIPPS for more information.
On Monday afternoon, the heath-care provider had one of its media representatives send a statement from what appeared to be a personal Gmail account, reports NBC 7's Dana Griffin.
May 4, 2021
On Tuesday, NBC 7 asked a spokesman from Scripps about the impact to patients and their personal information, but he declined to comment. On Monday, though, the healthcare provider said the cyberattack had prompted some patients to reschedule appointments and would be contacting them to do so. At the time, it was not clear how providers would be making contact with patients.
Poway patient Chris Sheridan told NBC 7 on Tuesday that he — like many others — learned they still had appointments by using Scripps Facebook account.
Sheridan was recovering at home after a two-hour shoulder surgery Monday at Scripps Carmel Valley. He went in with some concerns but said he got the same level of care he expected before the cyberattack.
"I was worried going in that something was going to be different," Sheridan said. "I was very happy to have my shoulder surgery go on as planned."
Sheridan contacted his healthcare providers via Facebook's Instant Messenger app.
"They got back to me saying to keep my scheduled time unless I was otherwise told," Sheridan said.
Scripps Health officials are not answering specific questions about Saturday's cyberattack, but someone is responding to patients' questions via Scripps Facebook account, reports NBC 7's Dana Griffin.
May 5, 2021
NBC 7 learned the Scripps Health cyberattack is prolonging care for patients, including a much-needed surgery for a woman with a rare disease.
Two months ago, Jonaliza Monforte, 21, was diagnosed with moyamoya disease — a rare condition that restricts blood flow to the brain because of narrowed vessels. It can put people at risk for a stroke.
"Nobody can really tell how fast my progression is," Monforte said. "I was told that I'm needing the surgery soon."
Monforte is a Scripps patient but needs surgery from a specialist at Stanford University.
But here's the problem: Saturday's cyberattack forced Scripps Health offline and Monforte said she can't get her medical records and images sent to Stanford, which is prolonging her surgery.
She said she can't get answers from Scripps when she calls.
"Every time I would call they would just tell me that their system is still down and to keep calling every day."
Scripps Health sent out the following statement via what appeared to be an employee's personal Gmail account:
On May 1, Scripps Health began experiencing a network outage that resulted in a disruption to our IT systems at our hospitals and facilities. Upon discovering the outage, we immediately initiated an investigation and took steps to contain the outage, including by taking a significant portion of our network offline as a proactive security measure. An independent cybersecurity firm was engaged to assist in our investigation and restoration efforts. While the investigation is ongoing and in the early stages, we have determined that the outage was due to a security incident involving malware on our computer networks. Scripps technical teams are working 24/7 to restore our systems as quickly and safely as possible, and in a manner that prioritizes our ability to provide patient care. 
While this incident has resulted in operational disruptions at our hospitals and facilities, our clinical staff is trained to provide care in these types of situations, and are committed to doing so. Scripps Health physicians, nurses and staff are implementing workarounds to mitigate any disruptions and provide uninterrupted care to our patients. 
As a result of this incident, we need to reschedule some patients' appointments and are reaching out to them to do so. Patients who have appointments scheduled during the next several days and are unsure about their status may call 1-800-SCRIPPS for more information.
NBC 7's Dana Griffin spoke to a patient whose wait for surgery has been extended by the cyberattack.
May 6, 2021
Two of San Diego County's biggest health care providers say they're seeing an increase in patients because of a cyberattack that sent the Scripps Health network offline.
Scripps has not confirmed whether or not the cyberattack has slowed patient intake, but both UC San Diego Health and Sharp Healthcare say they're now seeing an increase in patients as a result of the attack.
"As recent events at Scripps Health illustrate, health care systems continue to be prime targets for cyberattacks," read a statement by Jeanna Vazquez of UC San Diego Health sent to NBC 7. That statement continued, "while Scripps Health continues to assess and remedy the situation, ramifications are being experienced across the region."
"UC San Diego Health has seen an increase in patients coming to our facilities, especially to the emergency departments at UC San Diego Health Medical Center in Hillcrest and Jacobs Medical Center in La Jolla," Vazquez's statement added. "In response, we have increased staff where needed and have coordinated patient overflow areas as necessary to accommodate the additional volume — all while ensuring patients are cared for safely and at the highest standards."
A spokesman for Sharp Healthcare also said emergency department patient volume at Sharp's hospitals has increased in recent days.
"Since emergency rooms have been on bypass, we are seeing increased volumes at our [Emergency Department]s over the past few days." spokesperson John Cihomsky said.
Neither UC San Diego Health or Sharp Healthcare were able to provide specific numbers related to their respective patient increases.
A spokesperson for both Alvarado and Paradise Valley hospitals said while neither of the hospitals have seen a "sizable increase in patients at either hospital," it was still too soon for any trend to become apparent.
Representatives for both Kaiser Permanente in San Diego as well as Palomar Health said their respective healthcare systems have not seen an increase in patients since the cyberattack on Scripps Health.
NBC 7's Dana Griffin continues to follow the Scripps cyberattack, which was affecting Scripp's data systems for the sixth day.
NBC 7 spoke with a nurse who asked to remain anonymous. She said it was frantic inside her Scripps Health facility. She said nurses were crying and feeling uncomfortable, and that some believed Scripps was downplaying the impacts of the outage.
The nurse added that doctors can cancel elective procedures, especially when they don't have a patient's history. She said doing so would be for the patient's own safety. She's more concerned, though — because nurses can't look information up online — about people having heart attacks or strokes, and those who can't speak for themselves and don't know their medical history.
NBC 7 asked a Scripps Health spokesman again on Thursday to provide more info about the malware that had infected their technology systems and when the health system expects to be back online. The spokesman declined to comment.
May 7
On Friday, the California Department of Public Health (CDPH) described the ongoing situation at Scripps Heath as a case of "ransomware attacks."
Ransomware typically works by introducing software that encrypts a user's data and holds the decryption key until the ransom is paid. Once that happens, a typical recourse is to reformat and restore the system from backups, an SDSU cyber warfare and cyber terrorism expert Steven Andrés told NBC 7 in 2018.
Scripps described what was happening as "a network outage that resulted in a disruption to our IT systems." On Friday, however, an official with the California Department of Public Health sent NBC 7 the following statement:
"The ransomware attacks were reported to the department. As required by state and federal law, hospitals are required to provide proper patient care at all times, including in any emergency situation. CDPH is actively monitoring the hospitals impacted. These hospitals are operational and caring for patients using appropriate emergency protocols in inpatient areas of the hospital. The department has authority to involuntarily suspend facility licenses in extreme circumstances that pose immediate risk to patient safety. Facilities reliance on emergency protocols does not automatically warrant such action."
It's unknown at this time who is behind the ransomware attack or how much money they are seeking in the ransom. The CDPH referred NBC 7 to Scripps for more details. Later on Friday afternoon, NBC 7 received the following statement from a Scripps Health spokesman:
"… the investigation is ongoing. To date, our investigation has determined that the outage was due to a security incident that involved malware on our computer networks. So as not to compromise the integrity of the ongoing investigation and to maintain our focus on providing the highest level of patient care, we are not able to provide additional details at this time."
NBC 7 heard from a patient who needed care while the attack was affecting the network's system, and from a cyber security expert about the scope of the attack.
At least three Scripps employees tell NBC 7, not only have their hours have been cut because of postponed procedures, but now they've been told they'll have to use their vacation time, or not get paid at all for the cut hours.
Many of the health care workers, who are non-union employees are still reeling from long hours working with COVID-19 patients.
"Scripps should cover our lost wages during this time. They should be covering it and not expect nurses to dip into their PTO (personal time off) when we've just come out of Covid and we need our vacation time," said one health care worker who requested anonymity for fear of repercussion.
Scripps Health did not respond to this specific issue, only referring NBC 7 to a statement issued earlier this week that acknowledges the cyber-attack.
---
Scripps Health is not the first major entity in San Diego to be hit by a ransomware attack. In September 2018, cyber-crooks hit the Port of San Diego. Hackers breached the Port's information technology systems and demanded payment in Bitcoin, the agency said, though the amount was not disclosed.