Can the 'Sex and the City' Reboot Keep Up with Fashion's Woke Evolution?
It's been nearly 20 years since Carrie Bradshaw, the protagonist and narrator of the HBO series "Sex and the City," (SATC) described her penchant for wearing "ghetto gold" to her three equally white girlfriends at brunch as "fun"—not the aesthetic that she envisioned for her engagement ring.
"How can I marry a guy who doesn't know which ring is me?" she bemoaned after finding a pear-shaped sparkler affixed to a yellow gold band, tucked away in her boyfriend's belongings.
Though it was a cringe-worthy moment in 2001—and one of many from the show that routinely used gay men as campy comedic props and fetishized Black men, to its overall lack of diversity despite famously being set in New York City, which the show's actresses often described as the "fifth character"—it didn't deter millions of rabid fans from tuning into the show the following week to watch Carrie, Samantha, Miranda and Charlotte on their quest for love, success and Manolos in the Big Apple.
More than 10 million viewers watched the show's final episode three years later, and the subsequent films, 2008's "Sex and the City" and "Sex and the City 2" in 2010, went on to rake in a total of more than $713 million.
Audiences in 2021, however, may not be as generous—or uneducated. When the show's star Sarah Jessica Parker announced on her Instagram account earlier this month that a new chapter in the SATC saga called "And Just Like That…" is going into production this spring, the news was met with cautious optimism.
On one hand, the show, which will follow three of the four original characters—Carrie, Miranda and Charlotte—"as they navigate the journey from the complicated reality of life and friendship in their 30s to the even more complicated reality of life and friendship in their 50s," may be the kind of nostalgic romp that homebound viewers devour. A respite, perhaps, for restless viewers who are in fact navigating their own complicated realities of life and friendship in a pandemic.
On the other hand, the world is in an entirely different state of mind, especially in regard to one of the show's biggest legacies: fashion.
The Black Lives Matter (BLM) movement in 2020 was the catalyst for an overdue reckoning in the fashion industry, and brought to light the ugly experiences rooted in racism many Black people have encountered while trying to survive in the business. In turn, the movement drove many fashion brands to recalibrate how they address diversity within their companies, promote inclusivity in their campaigns and communicate their messages with sensitivity. BLM also sparked online conversations about intersectional environmentalism and cultural appropriation, educating consumers about the deeper impact of their purchases.
SATC's cultural exploitation problem didn't start or stop with "ghetto gold."
It was on full display in the second film, which took the four friends to Abu Dhabi, the UAE's conservative capital, in an effort to escape their hectic—or in the case of Carrie, increasingly humdrum—New York City lives. The plot line teed up an endless parade of unfortunate opportunities to flash nonsensical wealth and more tone-deaf fashion choices like headdresses and harem pants, not to mention Carrie's bewilderment when she finds out that shoes sold at a souk cost just $20. Shocking.
Years later in an interview at a New York Magazine event, Parker said, "I can see where we fell short on that movie, and I'm perfectly happy to say that publicly." These issues, however, will need to be rectified for the new show to stand a chance because woke fans and influential industry watchdogs, like Diet Prada and Saint Hoax, will be watching, and maybe even salivating and the chance to catch and call out the next big blunder.
"Many of the people I've talked to have said 'I'll watch it, but…,'" Benjamin Ayer, lead consultant for Benjamin Bellwether, said of the mixed reception to news of the reboot.
"The short of it is that the movies, especially the second one, really marked a point of seemingly no return," the trend forecaster said. "The second movie has some real pain points for people who saw it as reductive to feminism and diversity; and, that's on top of complaints that the show, in general, was too white and too materialistic."
With doubts like these, the reboot runs the risk of becoming another successful "hate-watch" anomaly of the pandemic entertainment landscape, like the Netflix series "Emily in Paris," which viewers binged last fall only to trade online gripes about the show's unrealistic portrayal of fashion on an entry-level PR salary. (Though it didn't stop style-hungry watchers from emulating some of the show's key style moments, like red berets.) The show, it bears noting, was styled by Patricia Field, the iconic New York City stylist who coined the signature looks of SATC's characters.
"With conversations around inclusivity growing louder, there will be pressure on the SATC reboot to be diverse and woke," said Kayla Marci, an analyst for retail market intelligence platform Edited. "However, efforts need to be collaborative, well-researched and authentic to avoid coming off as insincere and tokenistic. As some episodes and parts of the movies were problematic, there is an opportunity to learn from these past mistakes."
Positive influence
That's not to say that "And Just Like That…" is doomed before its first fitting.
Rather, experts say the show's creators and costume department have a chance to sway fashion in a new positive direction. SATC, after all, debuted 12 years before the first 'gram was ever posted. It influenced fashion through the original small screen, television, requiring viewers to come back each week at the same time, Sunday at 9 p.m. EST, for 94 episodes over the course of six years—an ask that seems unreasonable in the instant-gratification age of streaming.
Integral to this change, according to Caroline Vazzana, stylist, influencer and author of Making It in Manhattan: The Beginner's Guide to Surviving & Thriving in the World of Fashion, will be more diversity behind-the-scenes—from the writing room to the wardrobe truck. More diverse view points on the set will help ensure that the show puts its best foot forward, she said.
The reboot also presents an opportunity to tap into a more mature millennial mindset and, perhaps, reinvigorate how viewers look at their own closets after months of wearing sweats. It may even inspire new loungewear or face-mask trends, Vazzana noted, if the show is set during coronavirus times.
Ayer lauds SATC for how it wielded fashion as a means to express the characters' personalities and emotions. Field's ability to build characters through silhouette, color, pattern and accessory choices—many of which went on to become global trends like Carrie's tulle skirt from the opening credits, the horseshoe necklace she wore throughout season four or her silk corsages in season three—gave consumers the green light to be playfully experimental with their own look.
"I've talked to so many women and gay men alike who felt they could be [bolder] in their fashion statements, especially in New York City," because of the show, Ayer said.
Whether it was pairing two different colors of the same shoe style, like Carrie did when the ladies ventured to Los Angeles in season 3, or making strong shoulders sexy again à la Samantha, Field showed viewers how to mix and match and take risks. This adventurous approach to fashion filtered into street style, which became just as important as runway styling, Ayer added, and made designers who were once only on the tips of the tongues of in-the-know fashionistas, new household names.
Brands such as Manolo Blahnik, Fendi, Dior, Vivienne Westwood and Tiffany are just some of the labels still synonymous with the franchise, Marci said, as well as specific products like Fendi's baguette bags and Manolo Blahnik's Hangisi pump, which Big—a character that was likened to Donald Trump in a positive way early on in the series—used in lieu of an engagement ring to propose to Carrie in the first film. (Editor's note: shoes, apparently, are a more acceptable symbol of love than "ghetto gold" jewelry.)
Since the show ended, Marci said many fashion houses have been reshaped by new creative directors at the helm of Dior, Gucci, Louis Vuitton, Burberry, Givenchy and Bottega Veneta. "These legacy brands' redefined looks are very much in line with Carrie's feminine and eccentric aesthetic, Miranda's clean and minimal, and Charlotte's polished and preppy one," she said.
The next show, however, has an opportunity to elevate lesser known designers and brands into the spotlight. In addition to the big names that everyone is expecting to see, Marci noted that cult darlings coveted by today's consumer, like Ganni, Marine Serre or The Vampire's Wife, would be a welcome addition.
"I'd love to see airtime given to designers spearheading environmental change like Gabriela Hearst and Stella McCartney, or labels that champion inclusivity like Fenty, Prabal Gurung or Christian Siriano, as well as see SATC use its enormous and powerful platform to showcase emerging BIPOC designers," she said.
Ayer shared that sentiment, adding that the show's stylists should "reward" high-fashion brands who are embracing diversity on their runways and look books, like Erdem, Balmain, Carolina Herrera, Collina Strada and Ferragamo, with placement on the show.
"The show has the power to elevate designers, and [it] should take that power seriously," Ayer said. "It would be great to see the same fashion independence that Field brought to the cast of SATC to represent the new fashion industry. The one where sustainability matters, ethics matter, behavior matters."
His top picks for the characters include "modern" and "powerful" looks by Fear of God for Miranda, classic and modern pieces by Wales Bonner and Andrew Gn for Charlotte and No Sesso and Threeasfour for Carrie's fearless style. As the shows main trendsetter, Carrie, he added, should be "mixing her vintage fashion with new pieces from local, Black-owned, queer-owned, minority-owned and future-minded brands."
Brooklyn-based and vice president-approved designer Christopher John Rogers is high on Vazzana's list of designers whose work should make a cameo. "Christopher John Rogers would be epic and so beautiful for Carrie to be wearing around New York City," she said.
The reboot could bring good fortune to local talent. With the show celebrating the city, Marci said it would be great to see New York talent spotlighted. Fendi baguette bags could be traded for a 'Bushwick Birkin,' the nickname of Telfar's in-demand unisex tote, or Carrie could swap her infamous Dior newspaper-print dress for Duckie Confetti's money robe, she suggested.
A reflection of the times
Another common inducer of eye rolls about SATC was its unrealistic portrayal of wealth. The same lavish fashion that lured people to their TV sets each week also alienated some—particularly New Yorkers who knew the improbability of a local newspaper sex columnist being able to afford Carrie's Upper East Side abode, endless closet and buzzing social life.
"This fantastical approach to luxury is what made the fashion in the show so iconic because it was very aspirational, yet unbelievable, that these 'everyday women' could afford to be head-to-toe in high-end designers every day," Marci said. Following an economic crisis like the one brought on by the global pandemic, it will be important to balance the fantasy element with reality, she added.
While longtime fans of the show will expect to see a high caliber of designers, SATC must offer a measure of relatability in order to resonate with a new audience, Marci said. "A great way to show luxury in 2021 is to blend designer pieces with more contemporary and affordable brands," she said. "Given the status of some of the items worn in the show and with sustainability becoming such an urgent and complex issue for the fashion industry, I'd love to see classic outfits re-worn or vintage archival pieces curated."
The writers bringing the show to life "will have to make sure they reflect the times, and capture the essence of what they started out as: a show that helped normalize the timely female dynamic in mainstream culture," Ayer added.
But that's not to say that the ladies can't catch up on their relationship follies while shopping in The RealReal or in small boutiques that champion diverse designers. Or why not have the characters share pieces, he added, highlighting the ever-growing sharing and rental economy.
"The show is known for the fashion, so represent the times," Ayer said.
But be authentic
SATC is not the first show from the late '90s and early aughts to make a recent comeback, but whereas series like "Will & Grace" and "90210" struggled to recreate the magic of their originals, "And Just Like That…" already has social media doing some of the leg work.
It also has Gen Z's fondness for throwback fashion on its side. "A combination of social media and the revival of '90s and '00s fashion has helped keep SATC relevant as well as gain a cult following with a younger generation obsessed with nostalgia for an era they haven't experienced," Marci said.
Vazzana pointed out that SATC-themed content performs exceptionally well on TikTok. "Gen Z definitely knows about 'Sex in the City'… young women and men are still very into that 'moving to New York City' mindset," she said. Do they love the characters and appreciate their style the way older cohorts do? Vazzana isn't sure. "Gen Z style is very different, but it is not super-eclectic and over-the-top like Carrie is known for," she said. "Maybe it will  inspire a whole new generation to dress outside the lines."
But if everyone wanted to "be a Carrie" back in 2004—fans even snapped up "I'm a Carrie" merchandise prior to the show's finale—Type A Miranda has emerged as the fan-favorite today. "Reopening the SATC series time capsule in the 2020s has led to an internet consensus that Miranda is the coveted character, with attributes and style resonating with young women today," Marci said, adding that her character is defined as career-driven, proud feminist with a minimal wardrobe.
Additionally, Charlotte, the most traditional character on the show, has become the poster character for political correctness, inspiring the #WokeCharlotte meme, a viral sensation that paired images of prim and proper Charlotte with progressive captions.  The evolution of these characters into today's world will add to the show's longevity and its impact on the Gen Z audience, Marci said.
While Ayer said the SATC reboot is really for "millennials and above who loved it the first time around," as consumers, we are all moved by nostalgic pop-culture phenoms, no matter how we may think we've evolved, he added.
"Consumers will always be influenced by entertainment," Ayer said. "As much as we may fight against it, we are creatures that crave persuasion."
93 Black-Owned Beauty and Fashion Brands to Support Now and Always
Fe Noel, founded by Grenada-born designer Felisha Noel, is a conceptual lifestyle brand created for the multifaceted woman who embodies a love for travel and style.
This brand was founded by certified aromatherapist Aba Gyepi-Garbrah and includes products filled with essential oils, resins, and plant and seed oils.
Shop it: Aba Love Apothecary Flower Crown Brightening Serum, $21, abaloveapothecary.com
Telfar is the eponymous clothing line of Liberian-American designer Telfar Clemens. Founded in NYC in 2005, Telfar's collections represent a unisex, universal, and democratic vision of new urban clothing.
Bevel was founded by Tristan Walker and is an award-winning men's grooming line, including skin care, shaving, hair, and body products specifically for men of color.
Shop it: Bevel Shave Kit, $75, getbevel.com
Shop it: Bevel Skin Essentials, $35, getbevel.com
Thebe Magugu
Founded in 2015 by Thebe Magugu, the eponymous label is a contemporary South African fashion brand producing women's ready-to-wear and accessories, celebrating its African cultural roots with a modern approach.
Shop it: Thebe Magugu Zebramud tie-dye skirt, $473, farfetch.com
Black Opal
Black Opal is a legacy beauty brand founded in 1994 by the late Nikos Mouyiaris, his wife Carol Jackson Mouyiaris, and dermatologist Cheryl Burgess, M.D. The brand got a recent reboot under the ownership of Fashion Fair alum and former White House Social Secretary Desiree Rogers, alongside Johnson Publishing alum, Cheryl Mayberry-McKissack.
Shop it: Black Opal True Color Flawless Perfecting Concealer, $8, blackopalbeauty.com
Shop it: Black Opal True Color Skin Perfecting Stick Foundation, $11, blackopalbeauty.com
Mateo New York
Mateo New York, founded in 2009 by Jamaican jewelry designer Mattew Harris, is a fine-jewelry collection that takes inspiration from modern art.
Shop it: Mateo Duality pearl drop earrings, $575, mateonewyork.com
Lauren Napier Beauty
Founded by Lauren Napier, Lauren Napier Beauty consists of refreshing wipes that remove eye makeup and are irritation free thanks to ingredients like rosewater and vitamin K.
Shop it: Lauren Napier Beauty Flaunt Facial Cleansing Wipes, $46, laurennapier.com
Shop it: Lauren Napier Beauty La Rose Facial Cleansing Wipes, $50, laurennapier.com
House of Aama
House of Aama is the spiritual expression of mother and daughter duo Rebecca Henry and Akua Shabaka—materials range from orange faux fur to light, delicate lace.
Shop it: House of Aama paprika silk halter top, $100, houseofaama.com
Ebi
Founded by Breighl Robbins, Ebi (meaning family in Yoruba), is a line of wellness essentials made with the fourth trimester in mind.
Shop it: Ebi The Tisane, $40, weareebi.com
Shop it: Ebi The Oil, $75, weareebi.com
Hanifa
Founder Anifa Mvuemba launched Hanifa Clothing in 2012. Its latest collection, Pink Label Congo, was inspired by the "hope of the Congolese spirit."
Shop it: Hanifa Zaire denim set, $379, hanifa.co
Movita
Movita is a supplement company founded by Tonya Lewis Lee to help women achieve a healthy level of nutrition in their daily lives. The supplements are infused with berries, veggies, and probiotics.
Shop it: MOVITA Multivitamin Bottle, $38, movitaorganics.com
Shop it: MOVITA Prenatal Bottle, $41, movitaorganics.com
Maki Oh
Founded in 2010 by Amaka Osakwe, Maki Oh is a womenswear brand that fuses traditional African techniques with detailed contemporary construction.
Shop it: Maki Oh silk satin Adire constellation shirt, $420, makioh.com
Khiry
Khiry, founded in 2016 by Jameel Mohammed, is a luxury and modern jewelry brand that is inspired by cultural practices, history, art and design throughout the diaspora.
Shop it: Khiry Isha hoops with rose quartz, $465, khiry.com
Kimberly Goldson
Kimberly Goldson, founded in 2011 by sisters Kimberly Goldson and Shelly Powell, is all about brightly colored, statement pieces.
Shop it: Kimberly Goldson Lizette wide-leg shorts, $99, kimberlygoldson.com
Daily Paper
Daily Paper was founded in 2012 by three friends Hussein Suleiman, Jefferson Osei and Abderrahmane Trabsini. It is an Amsterdam-based menswear and womenswear fashion brand inspired by the African heritage of its founders.
Shop it: Daily Paper postcard repost shirt, $102, dailypaper.com
Shop it: Daily Paper postcard repost shorts, $79, dailypaper.com
Laquan Smith
Laquan Smith, founded his eponymous brand in 2013. His distinctive garments and eye for detail, instilled by his grandmother, created a passion, and he's become known for his sewing and pattern making.
Shop it: Laquan Smith Animalia bodysuit, $300, laquansmith.com
Phlemuns
Phlemuns, founded by James Flemons in 2014, focuses on the reconstruction of clothing, specifically denim, for a more sustainable approach to fashion.
Shop it: Phlemuns logo cloud sweater, $155, phlemuns.com
Shop it: Phlemuns sweatpant cloud, $155, phlemuns.com
Kenneth Ize
Kenneth Ize, founded by Kenneth Ize, reinterprets traditional West African Fabrics by creating original luxury designs while collaborating with small communities of weavers and artisans across Nigeria.
Shop it: Kenneth Ize Jojo fringed checked trousers, $383, farfetch.com
Afra
Afra is a hair jewelry line created by Guyanese celebrity hairstylist and barber Nigella Miller. "I was inspired by ancient Egyptian royalty and how they wore gold in their hair," Miller explains. "I want black people to feel like royalty every day. We deserve to look and feel as powerful as we truly are."
Shop it: AFRA Hair Beads, $80, Afranyc.com
Shop it: AFRA Afro Pic Comb, $300, Afranyc.com
Mowalola
Mowalola, founded by Mowalola Ogunlesi in 2017, is a Nigerian-British designer inspired by her London lifestyle and Nigerian roots.
Shop it: Mowalola indigo and green denim Xscape dress, $588, ssense.com
Stella Jean
Stella Jean is a black Italian designer recognized for her multiculturalism and ethical clothing designs.
Shop it: Stella Jean oversized pineapple appliqué shirt, $247, farfetch.com
Shop it: Stella Jean tiered geometric print skirt, $601 farfetch.com
Asata Maisé
Asata Maisé 's eponymous line is made up of one-of-a-kind vintage pieces inspired from classic films—she adds her own modern aesthetic to each design.
Shop it: Asata Maisé patchwork mini baguette bag, $170, asatamaise.com
Shop it: Asata Maisé terry cloth bucket hat, $95, asatamaise.com
Paskho
Paskho, founded by Patrick Robinson, is known for its lightweight travel pants, shorts, trousers, and tops for men and women.
Shop it: Paskho merino long sleeve travel tee, $68, paskho.com
Shop it: Paskho insanely comfy long-haul flight pants, $98, paskho.com
Charlotte Mensah
Charlotte Mensah 's eponymous beauty brand is infused with sustainably sourced vitamin E–rich manketti nut oils and delivers moisture, softness, and shine to Afro, mixed-heritage, and curly hair textures.
Shop it: Charlotte Mensah Manketti oil conditioner, $30, charlottemensah.com
Shop it: Charlotte Mensah Manketti oil, $60, charlottemensah.com
Suite Eleven
Suite Eleven, founded in 2015 by Arieal "Ari" Smith-Liburd, is a luxury nail care brand that offers vegan, cruelty-free and nontoxic options for beauty enthusiasts
Shop it: Suite Eleven nail lacquer, $11, suiteleven.com
Shop it: Suite Eleven seal the deal topcoat, $9.50, suiteleven.com
Bernard James
Brooklyn-based jewelry designer Bernard James is known for his craftsmanship and intricate attention to detail. Bernard aims to reinvent the standard of luxury by creating timeless pieces.
Shop it: Bernard James liberte necklace, $950, bernardjames.com
Redoux NYC
Redoux NYC, founded by Asia Grant, is a vegan skincare line made to nourish the skin with scents that change seasonally. The current line features a spicy citrus made up of geranium, bergamot, and "the bite of ginger."
Shop it: Redoux NYC turmeric botanical bar – 3 pack, $30, redoux.nyc
Come Back as a Flower
The brainchild of LA-based Esper Knows, Come Back as a Flower, makes one-of-one garments that use 100% recycled materials and are hand-dyed and ethically produced.
Shop it: Come Back as a Flower oatmeal set, $175, comebackasaflower.com
Brandon Blackwood New York
Brandon Blackwood 's label is known for its high quality detailing and timeless silhouettes.
Shop it: Brandon Blackwood Sophia shoulder bag, $350, brandonblackwood.com
Orange Culture
Orange Culture was founded by Adebayo Oke-Lawal in 2011 and is based in Lagos, Nigeria. The clothing line combines classic and contemporary western silhouettes with Nigerian-inspired print fabrics, color, and urban streetwear.
Shop it: Orange Culture half ojiji hybrid shirt, $179, orangeculture.com
Shop it: Orange Culture Adesuwa easy on shirt, $275, orangeculture.com
Octave Jewelry
Focused on bold forms, saturated colors, and subtle movement, Brooklyn fine-jewelry brand Octave Jewelry is inspired by the balance between sharp geometry and the soft organic form.
Shop it: Octave Jewelry trio drops, $430, octavejewelry.com
Coco and Breezy
Corianna and Brianna Dotson (better known as Coco and Breezy) are the twin sister duo behind their eponymous sunglass line, Coco and Breezy. The brand is known for its signature cutouts and bold frames.
Shop it: Coco and Breezy Zen-105 sunglasses, $285, cocoandbreezy.com
Golde
Golde, founded by Trinity Mouzon, is an independent, Brooklyn-born brand making superfood-boosted essentials for health and beauty.
Shop it: Golde clean greens face mask, $34, golde.co
Liha Beauty
Best friends Liha Okunniwa and Abi Oyepitan founded Liha Beauty to create natural beauty products inspired by their African roots. Each product is handmade from vegan and ethically sourced ingredients, including shea butter, coconut oil, and moringa powder.
Shop it: Liha Beauty luxury layers, $66, lihabeauty.com
Michel Men
Michel Men is a New York City-based American Menswear brand founded by Whitney Michel. Michel created MM as an ode to her love for men's fashion history and her upbringing as the only girl with four brothers in her Haitian American home.
Shop it: Michel Men MM masks 3 pack, $90, michelmen.com
JeBlanc
JeBlanc is the brainchild of designer Jeniece Blanchet. The jewelry line offers multifunctional items that are one of a kind. Her use of hardware staples like ball chains, safety pins, and dog tags mixed with Swarovski crystals, glass beads, and gemstones are dominating countless Instagram feeds, and most recently have been seen on Chloe x Halle.
Shop it: JeBlanc mixed media, $140, jeblanc.com
Sammy B
Sammy B, founded by Project Runway alum Samantha Black, is a women's ready-to-wear clothing line known for its feminine silhouettes and eclectic patterns. Black's designs are a celebrity favorite and have been seen on everyone from Issa Rae to Beyoncé.
Shop it: Sammy B Dana Kriss Kross bralette, $42, sammybdesigns.com
Shop it: Sammy B Dane Summer pant, $78, sammybdesigns.com
Kubra Kay Skincare
Kubra Kay Skincare, is an L.A.-based brand, founded in July 2019 by biomedical engineer Khadidja Toure. Kubra Kay was born out of her passion for beauty and natural ingredients; her mom and aunties would share their beauty remedies using all-natural ingredients growing up, and her products pay homage to her West African heritage. The Razor Relief Cream is one of their best sellers, used by men and women alike.
Shop it: Kubra Kay Shea Butter Cream, $30, Kubrakayskincare.com
Shop it: Kubray Kay Razor Relief, $30, Kubrakayskincare.com
LIV Streetwear
LIV Streetwear, founded by Olivia Anthony, is a New York–based athleisure streetwear brand that encourages its wearers to "LIV out loud" through its vibrant and graphic pieces that pay homage to '90s nostalgia.
Shop it: LIV Baywatch crop top, $20, livstreetwear.com
Anima Iris
Curated by Wilglory Tanjong, Anima Iris is an innovative handbag line that is disrupting the fashion industry by redefining the definition of luxury and including Africa in its narrative. All of the pieces in the Anima Iris collection are handcrafted by local artisans in Dakar, Senegal.
Shop it: Amina Iris Zaza red velvet, $174.90, animairis.com
Oui the People
Founded by Karen Young, Oui the People provides products that help you feel confident in your own skin, such as her best-selling razor for sensitive skin, along with a shave gel, body gloss, and bikini-line sheet mask.
Shop it: Oui the People the Sensitive Set in rose gold, $125, Ouithepeople.com
Shop it: Oui the People Featherweight Hydrating Body Gloss, $65, Ouithepeople.com
Zashadu
Zashadu, designed by Zainab Ashadu, is a leading Nigerian sustainable luxury brand that specializes in handcrafted leather pieces, including designer bags, that use the ancient Nigerian art of tanning and leather dyeing.
Shop it: Zashadu mini yellow snake-embossed leather, $375, zashadu.com
L'enchanteur
Created by identical-twin duo Soull and Dynasty Ogun, L'enchanteur is a concept brand inspired by the sciences, religion, color theory, magic and fairy tales. L'enchanteur seeks to communicate a story of craftsmanship behind each of its pieces.
Shop it: L'enchanteur SunGod earrings, $220, lenchanteur.co
Oye Green
Cofounded by Tolu Oye in 2011, Oye Green is an online retailer that sells African beauty and hair products. It was inspired by the Oye sisters' mother, who would often extract shea butter to help her children with eczema and burns and use it on her customers' hair.
Shop it: Oye Shea Butter, $10, Oyegreen.com
Shop it: Oye Denim Ankara Reversible Durag, $40, Oyegreen.com
Shop it: Oye Reusable Face Mask, $15, Oyegreen.com
Grn Goods
Grn Goods, founded by Alexia Armbrister, is dedicated to providing nontoxic essentials that aid in an all-natural approach to wellness, beauty, and self-care.
Shop it: Grn Goods But First, Beauty Oil, $25, grngoods.com
Shop it: Grn Goods Butter Me Down, $20, grngood.com
Bit of Denim
Alexis Colby is the self-taught designer behind Bit of Denim, a line of reconstructed vintage denim pieces that range from patchwork skirts to frayed bustier tops. Her designs, available through custom order, retail from around $50 to $200-plus.
Shop it: Bit of Denim Skater Skirt, Custom Order, Bit Of Denim
Agrestal Beauty
Emilia Ramos, founder and CEO of Agrestal Beauty, has a mission of providing all-natural, organic, made-to-order skin-care products, carefully crafted to empower women on a journey toward self-love.
Shop it: Agrestal Beauty Hydrate Rose Hydrating Oil, $40, Agrestalbeauty.com
TLZ L'Femme
Founded by Aazhia Rhy, TLZ L'Femme 's tagline is "to live zealously femme." The brand sells everything from ruched leather pants to fishnet dresses that have been worn by Cardi B and Jasmine Tookes.
Shop it: TLZ L'Femme taupe windbreaker blouse, $198, tlzlg.com
Riot Swim
Designed by Monti Landers, Riot Swim is known for their cheeky-fit bottoms, cinched-waist fits, and minimalist swimsuits that come in a range of colors and comfortable fabrics.
Shop it: Riot Swim Maddox one-piece matcha, $91, riotswim.com
The Honey Pot Co.
The Honey Pot Co., founded by Beatrice Dixon, is a plant-based, chemical-free feminine-care brand with a plethora of products including 100% organic tampons with biodegradable applicators, menstrual cups, a soothing lavender vulva cream, and more.
Shop it: The Honey Pot Co. Post-Partum Herbal Pads, $8, thehoneypot.co
Shop it: The Honey Pot Co. Feminine Menstrual Cups, $22, thehoneypot.co
Diarrablu
Diarra Bousso's line Diarrablu merges Bousso's love for mathematics and algorithms with her African heritage. The brand's mission is to iterate for sustainability while highlighting the African continent's rich colors and patterns through design.
Shop it: Diarrablu Zeena kimono, $175, diarrablu.com
Shop it: Diarrablue Finetti ndar mules, $135, diarrablu.com
Browndages
Founded by husband and wife Intisar Mahdi and Rashid Mahdi in 2018, Browndages is a bandage company for people of color. Their products consist of bandages of darker hues, as well as bandages with animated characters for children. (The brand is currently sold out, but will be relaunching with new products later this year.)
Hope For Flowers
Founded by Tracy Reese, Hope For Flowers is an ecologically-sourced clothing company consisting of flowy dresses, skirts, and button-down tops inspired by the notion that clothing has transformative, confidence-inducing powers.
Shop it: Hope For Flowers Peach Tiered Maxi Slip, $378, Hopeforflowers.com
Shop it: Hope For Flowers Candy Stripe Tie Waist Shirt, $178, Hopeforflowers.com
Terra-Tory
Founded by Kimberly Waldropt, Terra-Tory is a hypoallergenic body-care brand centered around superfood-filled soaps that tap into Waldropt's Jamaican and Trinidadian roots. It emerged in 2017 after her long battle with stress-induced eczema.
Shop it: Terra-Tory Fresh Aloe Detox Cube, $15, TERRA-TORY.com
Kendall Miles Designs
Kendall Miles Designs, a shoe brand created by Chicago-born, Los Angeles-based designer Kendall Reynolds, has been seen on the likes of Rihanna, Ebonee Davis, and Karrueche Tran.
Shop it: Kendall Miles Racy Sandals, $378, Kendallmilesdesigns.com
Shop it: Kendall Miles CEO Pump, $325, Kendallmilesdesigns.com
Ankh Care
Ankh Care Co. is a natural, holistic hair and body care company founded by Adachi Sanders. Its clientele includes Ava Duvernay, Skai Jackson and Nick Ashe. Sanders realized "there were no natural, healthy products on the market for natural curly, kinky oily hair textures, so I became determined to help myself and others like me."
Shop it: Ankh Chai Spritz Curl Enhancer, $30, Ankhcare.co
Shop it: Ankh Sanora Butter Hair Balm, $20, Ankhcare.co
Coach and All the Best Looks from New York Fall 2021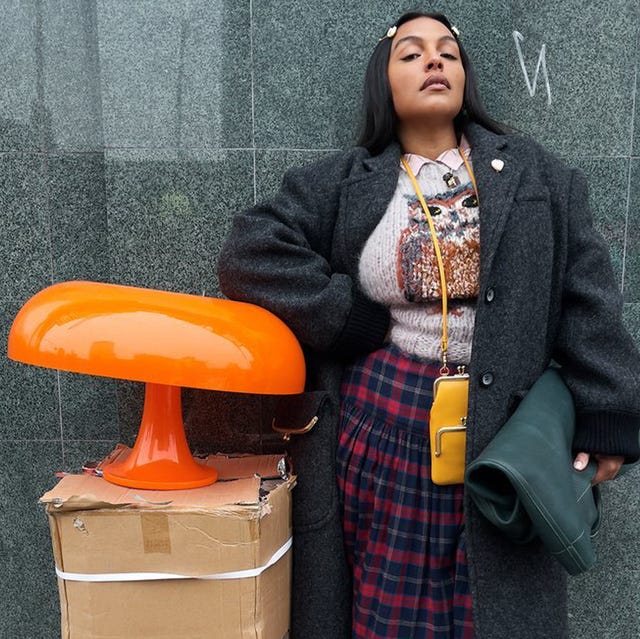 Coach
New York Fashion Week may look a bit different this year, but like New York itself, fashion is certainly not ready to sleep. Ahead, see what designers have in store for fall 2021. We may not know what the world will look like then, but we can know that we'll look great in it.
---
Advertisement – Continue Reading Below
Khaite
There are some brands so extricably linked to New York City that they can't help but honor the Big Apple as she currently struggles. Cate Holstein hosted a drive in screening with views of the Manhattan skyline from Brooklyn last night to celebrate her Fall collection with a film, aptly title, "KHAITE," directed and edited by Sean Baker. "New York feels raw and exposed now, up for grabs in a way I've never seen before. It can be frustrating and even feel hopeless, but it's also exciting, and to live here is to cycle through these emotions, rapidly," says creative director Cate Holstein. "In talking with Sean, we both traced the intensity of this time to what first drew us each to New York—the intrigue, the edge, even the peril. No one moves to New York to play it safe." The collection and the film honor New York in the late '70s and '80s—with leather jackets with faux fur trim, puffers as armor, lacy slip dresses, and even bold tulle. It's a collection that exhibits ease, but still makes a statement—these aren't clothes created for blending in. Sort of like the people drawn to the city itself. —Kerry Pieri
Carolina Herrera
Ushering in the 40th anniversary of the Carolina Herrera brand, designer Wes Gordon decided to present a virtual love letter to the label's fans. And to showcase the sentiment, he centered his collection around hearts, placing the symbol of love as embroideries on fitted dresses, intarsia knits, buttons, belt buckles, and sweetheart necklines. His silhouettes—from crisp a white shirts with pronounced sleeves tucked under a black skirt to a voluminous gown with polka dot prints—also highlighted the enduring styles that have been beloved by Upper Eastiders and beyond. It was indeed a great start to all the festivities that will no doubt arise throughout the year.—Barry Samaha
Coach
Fashion is entertainment, and Coach's Stuart Vevers is heralding this message loud and clear. For the fall 2021 season, he presented a collection, titled Coach Forever Season Two, through a video with a star-studded cast that reimagined some of the most indelible films, music videos, and television shows in the zeitgeist. Michael B. Jordan, for example, embodied a modern version of Shaft. Jennifer Lopez channeled Blondie frontwoman Debbie Harry. And Megan Thee Stallion oozed the sass of Regina George from Mean Girls. "I have always loved exploring the intersection of fashion and pop culture at Coach," said Vevers. "I am excited to bring my latest vision for the house to life via Coach TV. I wanted both the collection and the presentation to make sense and resonate in these unique times, and I am excited to share both in a way that I hope will entertain and inspire. The clothes, indeed, reflected this sentiment. They included intarsia knits with Mickey Mouse and dinosaurs worn over corduroy trousers or grunge-inspired flannel skirts.—Barry Samaha
Zimmermann
Every type of '70s fantasy came to play for Zimmermann's fall collection, an aesthetic smorgasbord inspired by Nicky Zimmermann's love of an era-defining music program she watched in her native Australia while growing up. Texture and print, two elements the label always focuses on, spoke loudly this time too, from silky blouses and rich wool trousers to dresses that floated with soft petal cutouts and whimsical whips of small circles. Whichever '70s heroine you identify with, whether femme folk goddess or take-charge raider, you'll find a silhouette you gravitate toward.—Leah Melby Clinton
Proenza Schouler
Even from the confines of video presentations, Proenza Schouler managed to create a newsy fall moment by showcasing Second Daughter Ella Emhoff in her "runway" debut. Splashy casting aside, the collection, a deep dive into soft tailoring and easy separates and dresses, is quietly beautiful. Closet musts like mélange knits, chunky cardigans, matching wool coats and trousers, and standout lambskin trenches and tops are set against pieces that just want to have fun like bold yellow dresses, fringe pieces, and tie-dye. Single-breasted suits feature cutaway tops in black, white, and deep raisin technical wool with lush double-faced cashmere coating. In other words, this is an offering based in luxury with an eye toward the future. One where everyone is dressed to the nines—paired with Tuscan shearling slippers, of course—without skipping a beat. —Kerry Pieri
Gabriela Hearst
Gabriela Hearst was inspired by Saint Hildegard of Bingen for her Fall 2021 collection, a woman so well-rounded that Hearst insists "if she were born a man, we would all know her name as we know Leonardo da Vinci's." Born in 1098, St. Hildegard was a composer, poet, mystic, philosopher, and more at a time where women were excluded from intellectual life. In dressing her woman for a more modern world, Hearst was most inspired by St. Hildegard's work as a botanist, and noticed a resemblance in her 12-year-old daughter Mia's drawings of flowers. Those flowers became embroideries, crochet appliqués, and more on a suite of looks in between Hearst's signature tailoring, leatherwork, and killer coats.
The newly-minted Creative Director of Chloé's passion for sustainability, innovation, and trailblazing doesn't seem dissimilar from her source of inspiration this season. And her collection, which seemed to redefine power dressing, will dress her devotees to be Rennaisance women in their own rights come next Fall. —Carrie Goldberg
Batsheva
Domesticity does not mean that we have to sacrifice style, and Batsheva Hay is highlighting this sentiment with her fall 2021 collection. The New York designer presented a look book of models and real women in their kitchens, outfitted in her signature prairie-inspired dresses. Journalist Amy Fine Collins, for example, poses over her stove in a seafoam green trapeze dress with a print of pretty pink ribbons. Actress Maude Apatow stirs a pot while wearing a black-and-white frilly frock with mutton sleeves and a bow tied at the waist. And chef Tara Thomas stands in front of her oven, sporting a princess-cut red vinyl dress. Shot by Hay's husband, photographer Alexei Hay, the series of images reflects what many experienced in quarantine—cooking at home with the kitchen tools and appliances that (at least for girls about town) seldom used pre-lockdown. But instead of the custom sweats that have been de rigeur, Hay shows that dressing up, even with nowhere to go, can be the recipe needed for brightening one's mood.—Barry Samaha
Theophilio
After 2020, none of us could ever claim to not know a superhero. From frontline workers to parents who somehow managed to make full-time work fit alongside an unpaid gig as a teacher's aide, they most definitely walked among us. Theophilio's Edvin Thompson sought to explore the idea with a look at what modern heroes might wear, but far from capes and armored plates, this hero's closet is populated with sculpted jackets, knits built to move, and a few beautiful cutout pieces that read as mock guipure lace. The lean silhouettes might reference The Matrix, but this Neo draws energy from a healthy splash of color (and would get bored of that duster fast). —Leah Melby Clinton
Rentrayage
Erin Beatty was all about identifying what sparks joy when designing Rentrayage, looking inward to figure out what she wanted and then bringing it to life. "Comfort, beauty, and something a bit strange and perfectly off. Unexpected functional beauty seems a most pressing sentiment right now," she wrote. Her version of joy, tactilely speaking, is all about happy hybridization—denim jackets mixed with satin bombers, doily collars laid over crewneck sweatshirts—and plenty of color. The collection is made to mix and match, and wear in different ways, with ties that cinch or release and the aforementioned collars popping on and off. Even if it's a very personal look at what one person wants right this instant, there's universal appeal. —Leah Melby Clinton
3.1 Phillip Lim
Phillip Lim is known for reworking essentials, tried-and-true silhouettes and classic styles, with subtle twists every season. For his latest collection, the New York designer showcased slick '70s-inspired suits, mid-length accordion-pleated skirts, ribbed knit dresses, and elegant camel Chesterfield coats and parkas—pairing these stalwarts with turtleneck sweaters that featured eye-catching cutouts. His daywear will remain de rigueur, and his evening pieces—sublime sequins and silk dresses—follow the same sentiment. For Lim, it is the details that truly make the most impact.
"I believe in just small gestures to just really evolve a conversation," he tells BAZZAR.com. "My unofficial title of the new collection is The Dance with the Pandemic Devil, because every day is a new move. It's almost like we're learning how to dance with our reality of the situation. I love aspiration, but I'm deeply rooted in reality." —Barry Samaha
Anna Sui
Anna Sui's love of '60s styles, from Carnaby Street mod-girl to Woodstock hippie queen, continuously shines through in her collections. She didn't stray off the beaten path in her latest offering, but she did focus on one person in particular: Penny Lane, the psychedelic model played by Jane Birkin in Wonderwall. The 1968 film is filled with an eclectic cast of characters, and to bring her vision to life, Sui enlisted a merry band of her own. The knee socks were provided by Atsugi; appliquéd suede knee high boots were produced by John Fluevog; hand-painted denim came by way of Anna Castellano; tortoise glasses were supplied by Fellow Earthlings for Mondottica; the peacock and snake graphics on the crushed velvet tops were designed by Monika Forsberg; and t-shirts were patches created by Golden Daze Illustration and Olivia Sui.—Barry Samaha
Jonathan Simkhai
Jonathan Simkhai found himself flipping through a coffee-table book as so many of us are wont to do, but rather than closing it a few mindless minutes later, he ended the session with an inspiration that would direct his fall collection. The image that made the lasting impression, a Tseng Kwong Chi photograph of a Keith Haring work, stuck in his mind for its echoes of connectivity and creativity—two factors always important to artists and in high demand after the isolation we've all grown accustomed to. Inspired, Simkhai focused on elements that required a deft touch, and the results included a custom lace and fringe hand-woven into pieces. Fabrications mixed, too, with knits against vegan leather against washed silk, creating a luxurious mélange that makes you yearn for real-life mixing and mingling all the more. —Leah Melby Clinton
Collina Strada
Fashion can be at its best when there's a heavy dose of fantasy involved, and there's no time like the present to get a real dollop of it. Collina Strada designer Hillary Taymour went for broke when it came to playful, debuting the newest collection with a quirky video and GIFs showcasing a cast of characters morphing from human into exotic animal—and that doesn't even start to touch on the clothes. Prints clashed with exuberance and colors blended loudly (the boldness might come down to the supplies: Taymour continues to work from a sustainable place with deadstock and repurposed pieces). Closer consideration revealed classic pieces, the silhouettes only stepping outside the box due to artful layering. All in all, it's a fun collection at a time when that's sorely needed. —Leah Melby Clinton
Rosetta Getty
The term modern sportswear comes to mind for Rosetta Getty's fall collection. A term that feels like it has staid retail connotations, but truly means cool clothes you can wear all day and feel chic in. Hoodies in luxe fabrications, poplin striped shirtdresses, turtleneck dresses, suiting, and maxi skirt/bralette top combinations fit the bill. Getty is a playful minimalist. She designs things simply, which should never be confused with a lack of true interest and surprise twists. Sign us up for what she's serving. —Kerry Pieri
Bevza
Svitlana Bevza showed her fall collection in a literal tabula rasa. "Removing the unnecessary … the emptiness of the background symbolizes hope for the future and what it might bring for us," she explains. Inspired by Ukrainian royalty, Olga of Kyiv, who ruled in the 10th century, the pieces embodied a strong femininity. The traditional balaclava was the center point. "This particular cut is special because it symbolizes the significance of women as represented by Olga." In keeping with the brand's emphasis on sustainability, the mélange cape was made of recycled plastic bottles, hand-knitted vests were upcycled from the fabrics of Bevza's previous collections, and the "fur" coat was made of technical hemp grown and produced in Ukraine. —Kerry Pieri
Marina Moscone
Marina Moscone celebrated pre-fall and fall with a new short from director Stefano Ortega, and hidden clues were tucked within for how we ought to interpret the collection. Take, for starters, the format. Shot on Super 8, that go-to throwback from the '60s, there was nostalgia seeping out of every frame, a fitting lens for the touches of school uniform tailored throughout (like plaid, pleats, and an artfully arranged rugby shirt). The soundtrack accompanying the mini flick was an energized drumroll, prepping us for, well, who really knows what's to come anymore? Compared to September, when designers seemed intent on showcasing answers to the "new normal," her fall had a get-set-for-anything attitude, with clothes for staying in and options for going out. No matter what's on the docket for next fall, we'll be dressed and ready. —Leah Melby Clinton
Prabal Gurung
Prabal Gurung presented a love letter to New York City with his combined collection for the pre-fall and fall 2021 seasons. He began with a single rose, a "bodega beauty" from the corner store, which he says is "too often overlooked or deemed unimpressive." This floral motif found itself on fitted ruched cocktail dresses, voluminous evening gowns, and the lapels of sleek blazers. Gurung stuck to a color palette of black, white, red, and shocking pink, focusing on eye-catching silhouettes that blend downtown cool and uptown chic. Polka dots, too, featured prominently, but it was bouquets that, as he explains, really served as "a reminder that amidst uncertainty and darkness, we find light in the true expression of our most real and authentic selves." —Barry Samaha
Sandy Liang
It's been about a year of sitting at home in our new-normal uniforms, dreaming of what we'd wear post-lockdown. And Sandy Liang brought both reality and fantasy to her collection for 2021, considering not only what her client wears every day, but what she dreams of wearing in the future. Per the designer's show notes, it's "a marriage between what I really wear, and what I wish I could wear."
Liang's signatures, like her almond-shaped cutouts, comfortable shoes, sporty-but-not-sporty vibes, and statement outerwear continued to be through lines this season, but alongside new additions like frothy skirts, floral appliqué, and whimsical accents. A good designer gets their clientele, and Liang knows hers well. Most importantly, she's equipped to dress them in and out of lockdown; apparently, it's all about being comfy yet dressed, without ever looking too dressed up. —Carrie Goldberg
Staud
Staud celebrated all the joys found at home for its fall 2021 collection. From board games to dainty bouquets to all things comfy and cozy, designer Sarah Staudinger took elements that many of us have experienced in quarantine and placed them in an assortment of sleek separates and elegant frocks. An intarsia sweater, for example, featured a tic-tac-toe pattern. Fitted knit dresses came in exuberant colors, with one standout displaying a heart-shaped cutout on the neckline. And chic puffer coats were covered in Neoclassical florals. Staudinger also showcased her signature leather dresses and coats in a range of pastel hues that, in this crazy time, beckons us to look on the bright side. —Barry Samaha
Tanya Taylor
Interior design has been on our minds lately, and Tanya Taylor shares this sentiment. For her fall 2021 collection, the New York designer was inspired by the work of illustrator Jeremiah Goodman, who painted the living rooms of couturier Elsa Schiaparelli and society swan Betsey Bloomingdale. These fashion doyennes were celebrated for their keen senses of style, which were equal parts whimsical and elegant. Taylor sought to reflect this vibe in flowing frocks, tiered drop-waist dresses, plaid separates, and knits that feature patterns done in Goodman's painterly style. —Barry Samaha
Adeam
Hanako Maeda once again looked to her home country of Japan for inspiration—and Japanese artists in particular for fall '21. Maeda visited the "STARS" exhibition at Mori Art Museum, which showcased the works of six artists who shaped Japanese art from the 1950s to present. They included sculptor and installation artist Yayoi Kusama, photographer and architect Hiroshi Sugimoto, and Takashi Murakami. The latter's "Superflat" references modern anime and manga, as well as the classical Edo period woodblock prints, ukiyo-e. It's that melding of current and old world that spoke most strongly to the designer, who put a strong emphasis on tailoring, classic shapes, and beautiful fabrications for this offering, while also having fun with shape, color, and proportions. —Kerry Pieri
Ulla Johnson
Ulla Johnson is the reigning queen of boheme cool. The Brooklyn-based designer has free spirits on lock, with airy tops, printed gowns, a standout shearling, and crochet for days. That handcraft is integral to the Ulla Johnson vision—which supports female artisans across the world. Those braided crochets are created locally in Brooklyn. Linens are hand-embellished in India, and space-dyed crochet is crafted by artisans in Uruguay. This kind of attention to detail, with an eye on global awareness, is the modern definition of luxury. —Kerry Pieri
Victor Glemaud
Victor Glemaud was well ahead of the knitwear curve before it became a mainstay in 2020—and he's not about to give up the lead. The designer created his fall '21 offering as an Ode to Hope. The mainly merino wool and cotton cashmere collection utilizes innovative knitwear techniques that bring the fabrics to very cool places. He developed a patchwork knit jacquard designed as a single piece with no linking, as well as a knit pinstripe fabricated in cotton cashmere and recycled rayon stripe. This season also brings a hat collection and Glemaud's first shoe collaboration with Nigerian accessories brand Shekudo, designed by Akudo Iheakanwa—which will be available on TheRealReal at launch. Those knit bucket hats are sure to be a hit—these thoroughly wearable but comfort-minded pieces are exactly what the market is in need of. —Kerry Pieri
Maisie Wilen
Maisie Wilen staged a virtual runway where models actually walked on water. No audience members were in attendance, leaving the whole affair with a sense of eerie strangeness. The clothes themselves offer a bit of optimism though. Pastels and bright pinks are found in easy-to-wear skirt suiting and coordinating sets. Florals are overlaid with scannable QR codes, and trippy swirls are trimmed with lace. It's not loungewear; it's not minimal. It feels like a breath of fresh air with a youthful eye toward the future—and a bit of nostalgia for the early '90s. —Kerry Pieri
Jason Wu
Like so many others during the last year, Jason Wu has also returned to his roots, his hometown, and a more bucolic setting. The designer was inspired by his New England upbringing for fall '21. "I was feeling nostalgic for my school days … and the very idyllic Americana backdrop of those years," Wu explains. Wu also fell in love with cooking and food shopping in 2020, putting that new passion into play by building a set that was also a real-life general store based on one from the 1950s—a collaboration with Coca-Cola really drove that idea home. The second showing of his contemporary collection included stripes, blazers, dusters, and knits in navy, gray, and black with hits of bold yellow and red—a nod to true American sportswear. —Kerry Pieri
Heron Preston
Heron Preston presented his collection via look book, several weeks before the prescribed calendar dates for New York Fashion Week. His early-bird lineup considered the current climate, landing on OSHA-certified uniforms and giving them a high-fashion spin. "It's about listening to my athlete, so to speak," said Preston. "What does it take to bring fashion into real, applicable, usable workwear?"
It's an idea he has touched on in the past, with his 2016 partnership with the New York City Department of Sanitation. This latest collection, titled Between Two Worlds, however, is a less literal, much more elegant take on the garbs worn by maintenance professionals. The bright, bold colors used for safety measures are cast on slick jackets with pronounced hardware and his signature patches, along with trousers that feature clip-buckle belts. He also used camouflage to great effect, refining the pattern and placing it on a fitted top, gauzy gown, and minidress under a cropped puffer. —Barry Samaha
The Row
While the fashion calendar has become about as topsy-turvy as just about everything else now, The Row's decision to drop its fall offering a couple weeks before the New York Fashion Week, aligned with Men's Fashion Week in Europe, makes a good bit of sense. After all, both collections leverage sumptuous fabrications in smart cuts and muted colorways (black, white, camel). The women's collection leverages shoulder pads (removable), oversized knits, skirt suiting, and draped coats and tops that any true fashion lover would want to curl up in. If comfort is going to continue as a mainstay in style well into the future, make it cashmere coats and oversized jeans à la The Row for us. —Kerry Pieri
This content is created and maintained by a third party, and imported onto this page to help users provide their email addresses. You may be able to find more information about this and similar content at piano.io
Advertisement – Continue Reading Below
New to the Milan Crew: 6 Emerging Brands to Watch
With Milan Fashion Week kicking off today, WWD met some of the promising names on the city's fashion scene. While most of them cut their teeth at prestigious houses, including Gucci, Versace, Dolce & Gabbana and Givenchy, they're now all ready to make their own mark on the global fashion map.
DEL CORE 
Probably the most anticipated debut of Milan Fashion Week, Daniel Del Core, former special projects and VIP designer at Gucci, will unveil the first collection for his namesake brand with a physical show today at Cittadella degli Archivi del Comune di Milano, a location in the northern area of the city where all the municipality's official documents are stored.
Del Core established his women's wear brand, with support from an anonymous private investor, in December 2019. Raised in a small village in Germany's Black Forest, the designer moved to Italy as a teenager for a cultural exchange and then settled in the country, where he studied fashion and graphic design.
Prior to joining Gucci in Rome, where he collaborated with creative director Alessandro Michele on the creation of a series of spectacular looks donned by stars including Björk and Lana Del Rey, Del Core worked for a range of other houses, including Dolce & Gabbana and Versace in Milan, and Zuhair Murad between Paris and Beirut.
As he revealed during an exclusive interview with WWD last December, the designer aims to present two collections a year, transcending the idea of seasonality and including a mix of ready-to-wear and couture looks, identified by different labels.
During an interview a few days ahead of his debut show, Del Core said "the starting point for my first collection was nature and the organic realm. My inspiration came from the morphing and the mutations that take place in the plant kingdom."
According to the designer, a study of different personalities will be central. "I like the idea of glamour and conceiving each dress for a specific personality. Every woman leads her own life," he said.
Silhouette wise, the designer said he kept that sleek and sculptural, and that it will be counterbalanced by the richness of fabrics and decorations. "Much research and thought went into the materials, including our jacquard and fil coupé. And I also put emphasis on the embroideries, applications, intarsia and 3D techniques."
Tailoring will stand out with sharp and graphic suits worn over lace underwear garments, as well as jumpsuits, including one crafted from a fabric showing a corrosion print.
"Working on eveningwear gave way to multiple interpretations of nature's hidden beauty," added the designer. "From an allover embroidered dress to a gown designed in different weights of jacquard to create both sculptural and fluid effects around the body."
The collection will be completed by a range of accessories, such as shoes, including a pair of feathered sandals, bags, and jewelry pieces, such as gold chokers. — Alessandra Turra
CHB
For anyone familiar with the Milan creative scene, Christian Boaro is not a new name.
With previous experience in-house at Dolce & Gabbana, Versace, MSGM and Gianfranco Ferrè, fashion remains Boaro's first love, but he's also explored different areas, training his camera on a series of Polaroids for an exhibition called "The Naked Truth" in which he explored today's youth movement: Vocal, creative, gender-bending.
A multifaceted talent, throughout his 15-year career Boaro has dreamed of establishing his namesake brand but found one reason or another to delay it, until late last year when he launched his CHB fashion brand imbued with sensual femininity and a glamorous take on contemporary fashion.
"I've worked for different established fashion brands and I was always dedicated and absorbed but at a certain point I felt the need to have something of my own. After my mum passed away, I suddenly realized how uncertain and volatile life is and did not want to waste a minute more," Boaro explained — his eyes moist — during an interview at his home-turned-atelier in central Milan.
After his debut collection last October unveiled via Instagram images and a look book release, he is set to present his first full lineup on Feb. 28 during Milan Fashion Week.
"This collection builds on the first one launched last year and which served as a manifesto for everything the brand is about: seasonless, genderless fashion," the designer said. "They are both concepts that are dear to me and really ingrained in my professional and personal story. They are less of a trend and more values that I strongly believe in."
Blending references that nod to traditional tropes of men's wear and old-school feminine glamour, he designed gender-bending pieces that more often than not can be worn by women and men. "I think that since the metrosexual aesthetics came to the fore [in the '90s] men have started to fine-tune their taste and women have been embracing a mannish style," he noted.
The collection is filled with desirable pieces, from lace-trimmed slipdresses to lace tank tops — one featuring attached gloves; black tuxedos; a wet-look vinyl trench, and a silk duchesse duster coat in butter yellow lined with cotton, an example of the high and low approach the designer is charting.
Boaro said the collection is rooted in minimalism but without looking stiff or out of date. "I don't think a designer can really innovate anymore, and you would probably find references to the history of fashion in my collection, however you can always offer something new by presenting the clothes in a contemporary way," he explained.
To wit, he cast a circle of close friends to appear in his look book images, including model Marie Sophie Wilson, a Peter Lindbergh favorite. "I don't want to build a tribe of fans and followers, but rather a community that shares my vision," he said.
Currently self-financed, Boaro is looking for a distribution partner and working on setting up his own e-commerce. — Martino Carrera
FLAPPER
Geneviève Xhaët has been charming her customers with her surrealist take on headgear since 2013, finding inspiration in everything from artist Dora Mar to the mountains and '20s glamour. Now she's ready to expand her brand's offering.
Whereas many creatives were feeling pressured by confinement, Xhaët decamped to Sicily and found time to let her creativity express itself. For her Flapper brand's fall 2021 collection she is introducing a knitwear capsule collection that is radical in its minimalist approach.
After years working alongside knitwear guru Pierangelo D'Agostin and for Malo and Dhrumor, Xhaët wanted to leave her own mark on the category and build on the interest her headwear has generated.
"My goal was to provide women with a Flapper uniform, complementing hats with a ready-to-wear capsule," Xhaët said. "It is really in tune with my hat collection and because of its minimalist approach it can also be easily thrown into the mix of a boutique's offering," she noted.
Inspired by the uniforms of '70s professional skiers (the designer herself had a gig as a professional skier), the knitted pieces span from bras to floor-length, body-hugging dresses, tactile sweaters and soft pants, reminiscent of retro-tinged ski suits but way more comfortable. Adding her characteristic off-kilter touch, Xhaët translated the geometric details on the ski suits worn by the likes of Maria Rosa "Ninna" Quario, Anne Marie Pröll and Rosi Mittermaier into intarsia decorations on her fall pieces.
Xhaët largely employed cashmere and a ladder proof blend of polyurethane and elastane, nodding to the sportswear, high-performance trend in fashion. "Both yarns captured my attention because they are long-lasting and can stand the test of time, and there's also a sustainable bent to them," the designer explained, adding that the capsule is intended to be worn throughout the year. For her headwear creations she has already used a range of eco-friendly materials, including Econyl's regenerated nylon.
While the designer is not planning to make a full foray into clothing, she said retailers have given the thumbs up to her knitwear offering, setting the foundation for a further expansion of the category, which retails between 200 euros for bras and 700 euros for cashmere dresses. — M.C.
ALESSANDRO VIGILANTE
For Alessandro Vigilante, presenting his namesake brand as part of the Milan Fashion Week official schedule is "a surprise, a gift and an opportunity" as he described the occasion as a "channel through which I can communicate my personal stylistic vision."
He first gave it a try in 2007 when, after graduating in fashion design at IED Moda Lab in Milan, he won the My Own Show contest promoted by the school and the late Vogue Italia's editor in chief Franca Sozzani, which gave him access and visibility during the fashion event.
But Vigilante opted to return to the starting blocks and cut his teeth at different fashion houses, piling up experiences and different skills over time. After spending seven years at Dolce & Gabbana, particularly overseeing eveningwear and embroideries, he moved to Gucci to manage special projects. There, he worked under Alessandro Michele, a designer "I admire a lot not only for his powerful and personal creative vision but also for his ability in catalyzing everybody's attention and curiosity on the brand in such a short time, completely revolutionizing the label," said Vigilante.
After working with Lorenzo Serafini on Philosophy from 2015 to 2019, Vigilante eventually decided to focus on developing his brand, through which he investigates the duality between femininity and masculinity via a minimal aesthetic.
In particular, his exploration of the human body and its movements is rooted in his long-time fascination for modern dance, a discipline he practiced in the past and that became a constant source of inspiration during his career as a designer.
For fall 2021, he looked at Pina Bausch and Merce Cunningham. Of the former, he praised the inclusive approach and the exaltation of humanity and imperfection in her work, while he revisited her personal style filling the collection with oversize tailoring.
Cunningham's innovative cross-pollination of dance and technology and his penchant for technical perfection inspired Vigilante's rigorous shapes and the contrasts in fabrics, as traditional wool, jersey and silk georgette are combined with neoprene and vegan latex in the range. In particular, sartorial jackets and coats, which often reveal sensual cut-outs on the back, are styled with wide pants, as well as high-wasted leggings and bike shorts. Feminine frocks with deep slits and leotards with seducing transparencies and geometric cuts contribute to the body-hugging silhouettes that counterbalance the generous proportions of tailored pieces.
The enhancement of the human body is also the main theme of the video the brand produced to introduce the collection. Directed by Attilio Cusani, the short movie has a voyeuristic approach in portraying a woman as she observes and studies her body while alone in her apartment.
"I would like to make women feel self-confident both when they wear my masculine suits and ultra-feminine dresses," said Vigilante, whose ultimate goal is to "create an authentic and personal aesthetic, [one that is] sensitive and receptive of the world we live in, and to convey it in a way that is precise, recognizable, unique and courageous." — Sandra Salibian
IINDACO
Take two women, blend their shared passion for shoes with their commitment to sustainability, add a generous amount of Italian craftsmanship and spice everything up with symbolism: luxury footwear label Iindaco will be served.
Named after the indigo color that marks the transition from day to night — a nod to the brand's mission to dress women throughout the day — Iindaco is the venture of friends Pamela Costantini and Domitilla Rapisardi, who met in 2014 when both worked at Roberto Cavalli.
After Costantini's stint at Givenchy in Paris and Rapisardi's experience in a consulting firm working for brands including Emilio Pucci and Max Mara, as well as at Tod's, in 2018 the two women ended one of their usual chats over the phone with the idea of establishing their own brand as an answer to a stalling industry in terms of environmental sustainability.
"For Iindaco, new luxury is responsibility," said Costantini. "This is why Iindaco is committed to creating 360-degree sustainable collections: from the design to the realization, from the materials to the distribution."
In particular, the brand, which made its official debut last year, sources excess fabrics and leather leftovers throughout Italy's warehouses and stockists, diverting and reusing scrap materials in their creative process while reducing waste. Recycled and recyclable ABS heels, regenerated leather insoles, and certified linings in biodegradable leather are also deployed in the manufacturing of the shoes, while the founders are additionally eyeing scraps from fish markets, such as eel and salmon skins, as the next ground for experimentation.
In terms of aesthetic, Costantini and Rapisardi are influenced by the '90s in their work and find "beauty and femininity in the seduction of the girl next door, a clean face, and naturalness." This approach informs the essential silhouettes and no-fuss attitude of their offering, in which flat and midi-heeled styles play a big role.
Inspired by rationalist architecture, the fall 2021 collection comprises just one, four-inch heeled pump named Pegaso and the three-inch heeled Circe d'Orsay sling-back shoe, both featuring squared toes. The range includes the Persephone sandal and Ade mule with midi heels covered in crystals; the masculine Adone loafer embellished with the brand's logo clamp on the front, and the Argo lace-up boot — a standout style, especially when crafted from Iindaco's signature moiré silk and rendered in colors like mustard, red or emerald green, in addition to black.
All styles are also available in calfskin, often studded with rhinestones, while other details include splits on heels and soles winking to the two "Ls" in the brand's name. The double use of the vowel nods to the two founders and forms the number 11, which recalls the month of November when they were both born.
Debuting on Milan Fashion Week's official schedule, Iindaco will present the fall collection through a virtual showroom filled with photos, videos and details on the assortment intended to approach buyers in "a clean and direct way."
Retailing at prices ranging from 390 euros to 690 euros, the brand is available at Rinascente in Milan, LuisaViaRoma in Florence and Bloomingdale's in Dubai and Kuwait, as well as at its own online store.
"In the future we would like to expand our product range and have the opportunity to open the first physical stores [continuing] to collaborate with retailers through exclusive capsule collections," concluded Rapisardi. — S.S.
YALI
Longevity is something that Pia Zanardi cares very much about. Probably because she loves to wear her grandfather's shirts and her grandmother's dresses.
Born and raised in Italy, Zanardi lived for two years in China, where she studied Mandarin, and during that period she fell in love with the country's craftsmanship and textile heritage. Aiming to combine Chinese garment culture with a color and aesthetic sensibility rooted in her Italian origins, when after college she moved to New York, she decided to establish her own brand, Yali.
Zanardi started her entrepreneurial adventure in a space in SoHo, where she conceived a jacket, available in a short and long version, that immediately echoes the Chinese tradition but infused with a modern appeal.
"I basically launched the brand because I was getting very good feedback from the people around me, who started asking me to make one of the jackets I was wearing," Zanardi explained. "I basically started with door-to-door selling and that's how the Yali community was established and grew."
Employing at the beginning exclusively high-end Chinese textiles, including raw silk from Suzhou and Nankeen linen, Zanardi has slowly and steadily enlarged the collection, which now includes also Made In Italy styles, such as refined silk pajama sets. "I call them the 'Everyday Tuxedo' because you can wear it to go to work and you don't need to change to meet friends for drinks and then for dinner," explained Zanardi.
Along with silk wrap dresses, Yali's fall 2021 collection also offers a range of cotton quilted jackets and pants, which are filled with a silk padding. "I didn't want to use goose feathers, so I opted for silk, which has incredible natural thermo-regulatory properties," said the designer, who also introduced cute little bags.
Colors and textures play a key role in the development of the collection. "When I was a child I suffered from dyslexia and they treated me with textile and color therapy," Zanardi said "That really helped me a lot and especially showed me the importance that colors have in the development of memories."
For fall, Zanardi mainly focused on a palette of colors inspired by the nature surrounding her family's countryside house close to Parma, in the Emilia-Romagna region. Warm tones of brown are juxtaposed with emerald and pine green, rust, terra-cotta, as well as baby pink and fuchsia.
Yali collections, retailing from 500 euros to 900 euros, are available at the brand's online store, as well as at a select network of stores located across Europe and the U.S., including LuisaViaRoma in Florence, Tea Rose in Milan, as well as Just One Eye in Los Angeles, and Aerin in the Hamptons, to cite a few. — A.T.
Read more on WWD:
Milan Fashion Week Official Schedule Released
The Men Behind the Camera: 3 Rising Film Directors at Milan Fashion Week