Transform 2021: Technology's key themes
Where does your enterprise stand on the AI ​​adoption curve? Take our AI survey to find out.
---
Join AI and data leaders at Transform 2021, the industry's premier AI digital event, hosted July 12-16. Transform gathers thought and action leaders from Today's top enterprise technology companies for highly informative sessions, focused roundtables, and unbeatable networking opportunities.
Hear from top industry experts on strategy and technology in the main application areas of AI / ML Automation Technology, RPA, data analytics, conversational AI, intelligent AI assistants, AI at the edge, IoT, computer vision, AR / VR, & robotics.
Register today to join enterprise leaders at Transform 2021. Find the full agenda online, or keep reading to discover all of the key topics throughout Transform 2021.
Monday, July 12, 2021
10:30 am – 10:55 am (America / Los Angeles)
Lessons from Redfin's powerful AI-powered recommendation engines. A walkthrough of its data tech and strategy journey
In a world where the first step in buying a home is to look online, Redfin has a responsibility to make this experience equitable. That begins with building a diverse technical team that develops inclusive AI algorithms for making unbiased and personalized recommendations to homebuyers, working closely with a diverse agent workforce that helps people find homes.
Over the past four years, the representation of Black and Latinx technical Redfin employees has grown from 3% to 10%, and the representation of women technical employees has grown from 28% to 36%. These diverse perspectives improve Redfin's vigilance about the data it does — and does not — feed its algorithms. For example, when developing its home recommendations engine, the engineering team decided to omit demographic and socioeconomic data that can encode biases. And it's helping people discover homes and neighborhoods they may otherwise have missed: Redfin users are more likely to tour a recommended home vs. one they found on their own.
Since 2016, Redfin has also increased its non-white agent workforce by 4 percentage points, from 27% to 31% today — that's more than 50% higher than the national representation of non-white real estate agents. Redfin's algorithm for matching customers to agents online disrupts how people traditionally find a realtor, which is through their personal network. Redfin's model, however, is based on an agent's capacity for new customers, geography, and agent efficiency — not anyone knows.
Redfin CTO Bridget Frey will talk about building diverse and inclusive teams; Redfin's data and AI technologies and strategy; describe the opportunity for AI to diversify American neighborhoods, and offer practical advice for those working to diversify their teams and products.
Speakers:
Bridget Frey, Chief Technology Officer – Redfin
Matt Marshall, CEO – VentureBeat
Monday, July 12, 2021
2:15 pm – 2:40 pm (America / Los Angeles)
AI + Synthetic data = Smarter Robots
Advancement in the robotics field has been slow going due to the costs and complications of innovating on a large scale. Progress on perception and intelligence has brought the industry to GFN of real application breakthroughs. Danny Lange, Head of AI / ML at Unity, will demonstrate how synthetic data is now helping robots learn rather than be programmed and the potential this has for advancing the industry. Simulation technology is highly effective and advantageous when testing applications in situations that are dangerous, expensive, or rare. Validating applications in simulation before deploying to a robot shortens iteration time by revealing potential issues early. In this session, you will see a powerful example of a system that learns instead of being programmed, and as it learns from synthetic data, it is able to capture much more nuanced patterns than any programmer ever could. Layering technologies together is making the future vision of what is possible a reality. Discover how AI is now proving the efficiencies possible in training robots.
Speakers:
Danny Lange, SVP of AI and Machine Learning – Unity
Hari Sivaraman, Head of AI Content Strategy – VentureBeat
Tuesday, July 13, 2021
10:05 am – 10:30 am (America / Los Angeles)
Towards Hyperautomation: How Adobe is enhancing employee and customer experiences alike by capitalizing on its data assets to inform AI & automation processes
Adobe is continuing to invest in AI and automation bots as business enablers and strategic priorities – particularly in the wake of COVID-19 as many companies, including Adobe, are now defining the future "hybrid" workforce. AI and machine learning will play major roles here as CIOs help their companies and employees navigate the next wave of digital workplace transformation. Adobe SVP and CIO Cynthia Stoddard will discuss how Adobe is leveraging AI and automation bots to promote digital-first efficiencies that take the human element out of repetitive tasks – driving enhanced experiences for employees and customers alike in a hybrid workplace environment. Plus, why a data strategy and leveraging data assets are more critical than ever when executing any AI and automation strategy. Join Cynthia as she dives into the 'how' of multiple examples in AI-powered digital automation, which are helping Adobe drive towards 'hyperautomation'.
Speakers:
Cynthia Stoddard, CIO – Adobe
Noelle Silver, Founder – Women in AI
Tuesday, July 13, 2021
10:45 am – 11:10 am (America / Los Angeles)
The Real tech Powering Real Estate: How Zillow uses AI, data, and advanced tech to revolutionize real estate
"Zillow Surfing" is sweeping the internet. It led to a record 9.6 billion visits to Zillow in 2020 alone, and a hilarious, viral Saturday Night Live sketch earlier this year. People may not be as aware, however, of the advanced, complex technology that undergirds Zillow's business. Zillow Chief Analytics Officer Stan Humphries, creator of the original Zestimate algorithm, will explain how the company ingests and processes data from multiple sources to create accurate valuations for millions of US homes and more. Zillow not only has product offerings that help streamline the real estate transaction process, including iBuying, home loans, and title but also leverages advances in AI and machine learning to produce valuations with a median error rate of less than 2% on currently listed homes. Humphries will describe how Zillow incorporates data from public records, listing services, brokerages, and customers, and uses AI, computer vision, and deep-learning neural networks to deliver unique analytic products that empower consumers. He will discuss how humans and machines interact in creating home valuations, with each contributing unique strengths to the overall process. He will also go through the evolution of valuation approaches from a focus largely on prediction to one now balanced by needs for interpretability and explainability. The latter focus is especially important, as Zillow now provides initial cash offers based on the Zestimate on homes in more than 23 markets.
Speakers:
Sage Lazzaro, Senior Reporter – VentureBeat
Stan Humphries, Chief Analytics Officer – Zillow
Wednesday, July 14, 2021
9:40 am – 10:05 am (America / Los Angeles)
Nex-Gen Entertainment: Learn about Comcast's journey in implementing conversational AI for content discovery and enabling better user experiences
Comcast has leveraged AI and Machine learning, paired with a powerful natural language processing platform, to dramatically increase customer engagement and satisfaction with its suite of video entertainment products, led by the X1 Platform. In particular, the company has deployed its award-winning X1 Voice Remote – powered by an internally developed NLP platform – to help viewers discover and connect to content, faster and easier. The team employs these technologies with one goal in mind: getting customers to exactly what they want to watch at the moment they want to watch it.
More than 70 percent of customers use voice commands at least once a week, and those voice users spend more time watching content and engage with significantly more of the services offered within the Xfinity suite of products. Comcast Chief Technology Officer Matt Zelesko will talk about how the company continues to deepen those experiences, including the development of a new feature set, that gives customers more control than ever before the content they record on their DVRs. As just one example, combining Comcast's AI platforms with deep metadata, Zelesko's team has developed an experience that allows customers to jump directly to the most exciting highlight from a football game they have recorded on their DVRs. Zelesko will share how the team uses state-of-the-art multimodal GFN of audio, video, and text with AI and ML techniques to pinpoint specific onscreen moments. The GFN includes traditional and AI / ML-based computer vision, signal processing, and Natural Language Processing (NLP) algorithms to detect elements such as on-screen text, emotions, objects, and topics in content that customers record on their DVRs. These detections are then fused together using additional layers of AI and ML algorithms resulting in a semantic identification of what is happening at the moment. This modular, multi-layered, approach to AI and ML has allowed Comcast to develop and deploy new customer features quickly and efficiently. More importantly, Zelesko will share how these technologies fit into a holistic approach to delivering personalized content that elevates engagement and customer satisfaction.
Speakers:
Hari Sivaraman, Head of AI Content Strategy – VentureBeat
Matthew Zelesko, CTO – Comcast
Wednesday, July 14, 2021
11:35 am – 12:00 pm (America / Los Angeles)
What enterprise decision-makers need to know about Convo AI LLM's such as GPT3 & BERT.
Speakers:
Margaret Mitchell, AI Researcher
Matt Marshall, CEO – VentureBeat
Thursday, July 15, 2021
12:10 pm – 12:40 pm (America / Los Angeles)
D&I in shopping; How Pinterest is building a more representative shopping experience through AI & AR
Using the guiding principle of, you can't be inspired if you don't feel represented, Pinterest set out to build a more inclusive product, starting with a way to filter beauty searches and products by skin tone range. Pinterest's SVP of Technology Jeremy King will discuss the latest in building a more inclusive platform and the company's work to make the service diverse by default, and how it has resulted in the evolution of Pinterest as a place to shop. By working with a more diverse data set to build inclusive products – from skin tone ranges to AR Try on— to help in the discovery and purchasing of beauty products, Pinterest has found Pinners are more likely to buy. For example, Pinners are 5x more likely to show purchase intent on Pins with AR than standard Pins. And the user base continues to grow, with +450 million global monthly users, representing 37% year over year growth. Jeremy will dive into the company's work to diminish bias in AI, build more compassionate algorithms, and how Pinterest is using machine learning to match the best products to the best people.
Speakers:
Jeremy King, Head of Engineering – Pinterest
Matt Marshall, CEO – VentureBeat
Register today to join enterprise leaders at Transform 2021.
VentureBeat
VentureBeat's mission is to be a digital town square for technical decision-makers to gain knowledge about transformative technology and transact. Our site delivers essential information on data technologies and strategies to guide you as you lead your organizations. We invite you to become a member of our community, to access:
up-to-date information on the subjects of interest to you

our newsletters

gated thought-leader content and discounted access to our prized events, such as Transform 2021: Learn More

networking features, and more
Become a member
13 Horror Movies Perfect for Halloween Coming Out This Fall
Many people out there might be sad to see Summer come to an end and the weather drop as Fall sets in. For others, however, it is a different story. Horror fans around the world tend to rejoice as we enter the Halloween season and what is typically the busiest time of year for horror movie releases and 2021 looks to be no different. From new additions to classic franchises to insanely unique and quirky new offerings, put out your Jack-o'-lanterns, grab your candy and check out the 13 best horror movies set to be released this Fall.
Horror movies are coming out in October 2021
RELATED: Halloween Movie Madness Is Unleashed in Retro AOL Horror Ad
Bad Candy – September 2021
Bad Candy is written and directed by Scott B. Hansen and Desiree Connell and stars cult favourites Zach Galligan of Gremlins fame and Corey Taylor from the masked heavy metal band Slipknot. As an anthology based film, the movie will tell a number of separate spooky stories based on a Halloween theme in the vein of 2007's holiday favourite Trick 'r Treat directed by Michael Dougherty. Bad Candy follows local Halloween stories based on both myths and lessons learned in the community of New Salem. With its annual Psychotronic FM Halloween show, re-enactment radio DJs Chilly Billy (Taylor) and Paul (Galligan) weave the tales of the supernatural of years gone by, and if the trailer is anything to go by, this is certainly not a movie for the faint of heart. In the Corey Taylor narrated trailer, which lasts just under two minutes, our senses are bombarded with an assortment of evil imagery including zombies, blood splattered walls, an evil clown and some sort of horned demon creature that looks to be straight from the deepest depths of hell.
Bad Candy
Release date: September 10
Format: September 10 (VOD), September 28 2021 (Blu-Ray)
Addams Family 2 – October 1, 2021
Following the, somewhat surprising, success of 2019's Addams Family animated reboot, it was quickly announced that a follow up would be going into development. This time, it looks like they're going with something a little different. We're going to be following the whole family on a road trip around the United States. Morticia and Gomez have become distraught that their children are growing up, skipping family dinners and slipping away from them, so they organise the trip in an attempt to bring the family together for one last family vacation. While not the scariest entry on this list, expect lots of pitch black comedy and supernatural hijinks a plenty in this star studded affair featuring the voices of Oscar Isaac, Charlize Theron, Chloë Grace Moretz, Nick Kroll, Javon Walton, Snoop Dogg, Bette Midler, and Bill Hader.
There's Someone Inside Your House – October 6, 2021
Netflix have certainly upped the chill factor this year with their horror release slate. There's Someone Inside Your House might not be among the most talked about Netflix releases this year but it certainly seems to be one of the most horrifying. Based on the 2017 Stephanie Perkins novel of the same name, the film follows Makani Young, who has moved from Hawaii to a remote town in Nebraska to live with her grandmother and finish high school. If that's not stressful enough, students at said high school are, one by one, being stalked and gruesomely murdered. To top it off, the killer is committing these murders whilst wearing ultra realistic masks of the victims. It definitely sounds like a must watch for all the 'die' hard slasher fans out there.
Muppets Haunted Mansion – October 8, 2021
Okay, so this isn't technically a movie, it's more of a special but I couldn't leave it off the list because… well, it's the Muppets! Earlier this year, Disney announced that 'The Great Gonzo – world famous daredevil artiste' who 'has done it all, seen it all, and survived it all' will be taking on the greatest challenge of his life this Halloween night by spending one very daring night in the most grim grinning place on Earth …The Haunted Mansion. Inspired by the iconic Disney Haunted Mansion theme park attractions, expect a whole plethora of puppet paranoia from all of your favorite muppets as well as a slew of celebrity cameos and three new original songs, 'Rest In Peace', 'Life Hereafter' and 'Tie The Knot Tango'.
Lamb – October 8, 2021
This little Icelandic flick looks as if it's definitely going to sit on the more left field side of the horror spectrum. Being distributed in the US by A24, a company that has never shied away from unique and offbeat horrors, the movie is about a couple who, upon coming across an abandoned baby on their farm, decide to take it home and raise it as their own. The twist? The baby appears to be some sort of mutant human-lamb hybrid creature. Other than that, not much else is known about the plot but it's sure to be one hell of a ride. This supernatural horror stars Noomi Rapace and Hilmir Snær Guðnason and marks the feature-length directorial debut of Valdimar Jóhannsson, who also co-wrote the screenplay with Sjón.
Lamb
Release date: October 8, 2021
Format: In theaters
Halloween Kills – October 15, 2021
What better way to kick this list off than with the latest sequel to the granddaddy of all Halloween horrors. Halloween Kills is a direct sequel to 2018's box office hit Halloween which itself was a direct sequel to the 1978 classic of the same name. Jamie Lee Curtis will once again be back reprising her role, playing the totally badass protagonist Laurie Strode facing off against notorious masked mad man Michael Myers, one the world's most iconic villains. Director/co-writer David Gordon Green will again be helming the project which precedes next year's Halloween Ends, which is reportedly the final installment in this trilogy. Halloween Kills is expected to will pick up immediately after the previous movie left off with Laurie, her daughter Karen and granddaughter Allyson.
Halloween Kills
Release date: October 15, 2021
Format: In theaters, streaming on Peacock the same day.
Antlers – October 29, 2021
Partly due to the many Covid related delays it has gone through and partly due to the nail-biting trailers that have been released so far, the Guillmero del Toro produced Antlers is definitely one of most anticipated horrors of the year. Guilmero de Toro is never one to stick to the beaten path and judging by what we know so far, Antlers promises something absolutely deranged. Based on the short story 'The Quiet Boy' written by Nick Antosca, it follows a school teacher and her police officer brother in a small Oregon town where they become convinced one of her students is harboring a man eating supernatural creature. The film stars Keri Russell, Jesse Plemons, Jeremy T. Thomas, Graham Greene, Scott Haze, Rory Cochrane, and Amy Madigan and is directed by Scott Cooper (Black Mass (2015) and Hostiles (2017).
Antlers
Release date: October 29, 2021
Format: In theaters
Last Night In Soho – October 29, 2021
Renowned director Edgar Wright is known to have flirted with horror genre frequently throughout his career, most notably with the terrifyingly funny Cornetto trilogy (made up of Shaun Of The Dead (2004), Hot Fuzz (2007) and The World's End (2013)). Last Night in Soho, however, marks Wright's first foray into pure horror. The time-bending thriller stars Thomasin McKenzie as Eloise Turner, a young woman with a passion for fashion design. Somehow Eloise finds herself inhabiting the body of an iconic club performer named Sadie and is now living back in 1966 London. While as Sadie, she pursues a romantic relationship with a man named Jack, played by Matt Smith. She soon realizes, however, that Sadie's life in the Swinging Sixties is not as glamorous as it appears to be and both past and present begin to fall apart with horrifying consequences.
Shepherd – November 5, 2021
Shot in 'one of the most beautiful, remote and less filmed parts of Britain', there seems to be a certain mystique surrounding the Russel Owens directed Shepherds. The plot centers on a man who, dealing with the grief following the mysterious death of his wife, takes a job as a shepherd in the remote UK countryside. While out there, he encounters a malevolent supernatural force. Soon his rural retreat becomes a heart pounding race to save his sanity and his life. Owens has been quoted as saying that the movie "allows its audience to decide for themselves the motivations behind (and the fate of) its protagonist by not giving its true foundations away," only adding to the mystique. Bring on November.
Shepherd
Release date: November 5, 2021
Format: In theaters
Ghostbusters Afterlife – November 11, 2021
After the mixed reactions and poor box office performance of the 2015 Ghostbusters reboot, fans of the series have been clamoring for some sort of redemption and it looks like that might be arriving this fall in the shape of the highly anticipated Ghostbusters Afterlife. The film certainly ticks a lot of boxes; it is a sequel to the original films set thirty years after and is directed by Jason Reitman – son of original Ghostbusters director Ivan Reitman. It even sees Bill Murray, Dan Aykroyd, Ernie Hudson, Sigourney Weaver and Annie Potts reprising their roles from the original films, joining newcomers Carrie Coon, Finn Wolfhard, Mckenna Grace and Paul Rudd. The plot is reported to revolve around a supernatural phenomena somehow connected to those seen in the original movie. This time round, though, it's up to the original ghostbuster's grandkids, along with their family and friends, to solve the mystery of their grandfather's relocation and use the Ghostbusters' equipment and, become their successors.
Resident Evil: Welcome to Raccoon City – November 24, 2021
After an impressive six movie run starring Milla Jovovich, starting from 2002's Resident Evil and finishing with 2016's Resident Evil: The Final Chapter, Sony Pictures have now rebooted the video game come horror movie sensation. The zombie survival flick stars Robbie Amell, Kaya Scodelario, Tom Hopper and Neal McDonough and has been directed by Johannes Roberts. The film is reportedly set in the abandoned wasteland of Racoon City. A group of survivors seeking the dark truths and secrets surrounding the town and the 'Umbrella Corporation' will have to make it through the night without being eliminated by an unspeakable evil that has been unleashed from below the surface.
The Texas Chainsaw Massacre – TBA, 2021
The new Texas Chainsaw Massacre movie is going to be a reboot in the same vein as the 2018 Halloween movie in that it will be rebooted in the form of a direct sequel to original 70's classic, whilst ignoring the numerous sequels, spin-offs and reboots that have come in between. The movie will be directed by David Blue Garcia from a screenplay by Chris Thomas Devlin from a story that Don't Breathe's Fede Álvarez was involved in. While the exact date has yet to be announced, we do know that it is set to come out this year and fans of the original will be glad to hear that, like the first, it will be R-rated and the monstrous Leatherface will be definitely be rearing his (or his victims'?) ugly head once again.
The Texas Chainsaw Massacre
Release date: TBA, 2021
Format: Streaming on Netflix
Jeepers Creepers: Reborn – TBA, 2021
The Jeepers Creepers franchise has become somewhat of a cult sensation amongst horror fans, so it's hardly surprising that it is amongst the horror franchises making a return this year. Currently in post-production, Jeepers Creepers: Reborn is set to be the beginning of a new trilogy for the franchise and follows a woman named Laine and her boyfriend as they attend a creepy horror attraction event. Laine begins to experience disturbing visions associated with the town's troubled past and the notorious 'Creeper'. Naturally, we expect the horror event to descend into blood soaked carnage. Exact information regarding the film's release is still scarce but we know that it should be released by Screen Media Films later this year.
Topics: Halloween
Fashion on Fifth: Week 2, Fall 2021 – The New School Free Press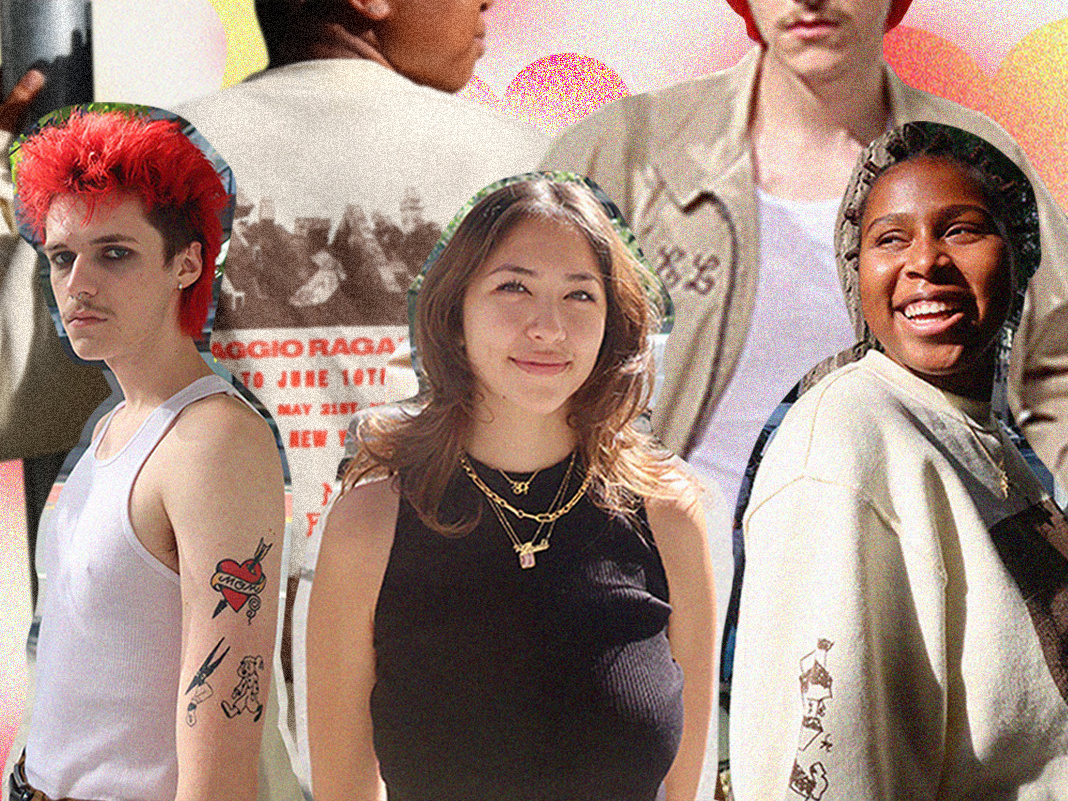 Welcome back to Fashion on Fifth, a beloved Free Press series showcasing New School students' unique and wide-ranging style. After seeing how this creative community translated their personal looks to Zoom, our reporters are taking to the streets of Greenwich Village once again. This semester we are bringing you more in depth profiles and thoughts from your peers about their style evolution throughout the pandemic and since being back in New York City.
Via Ace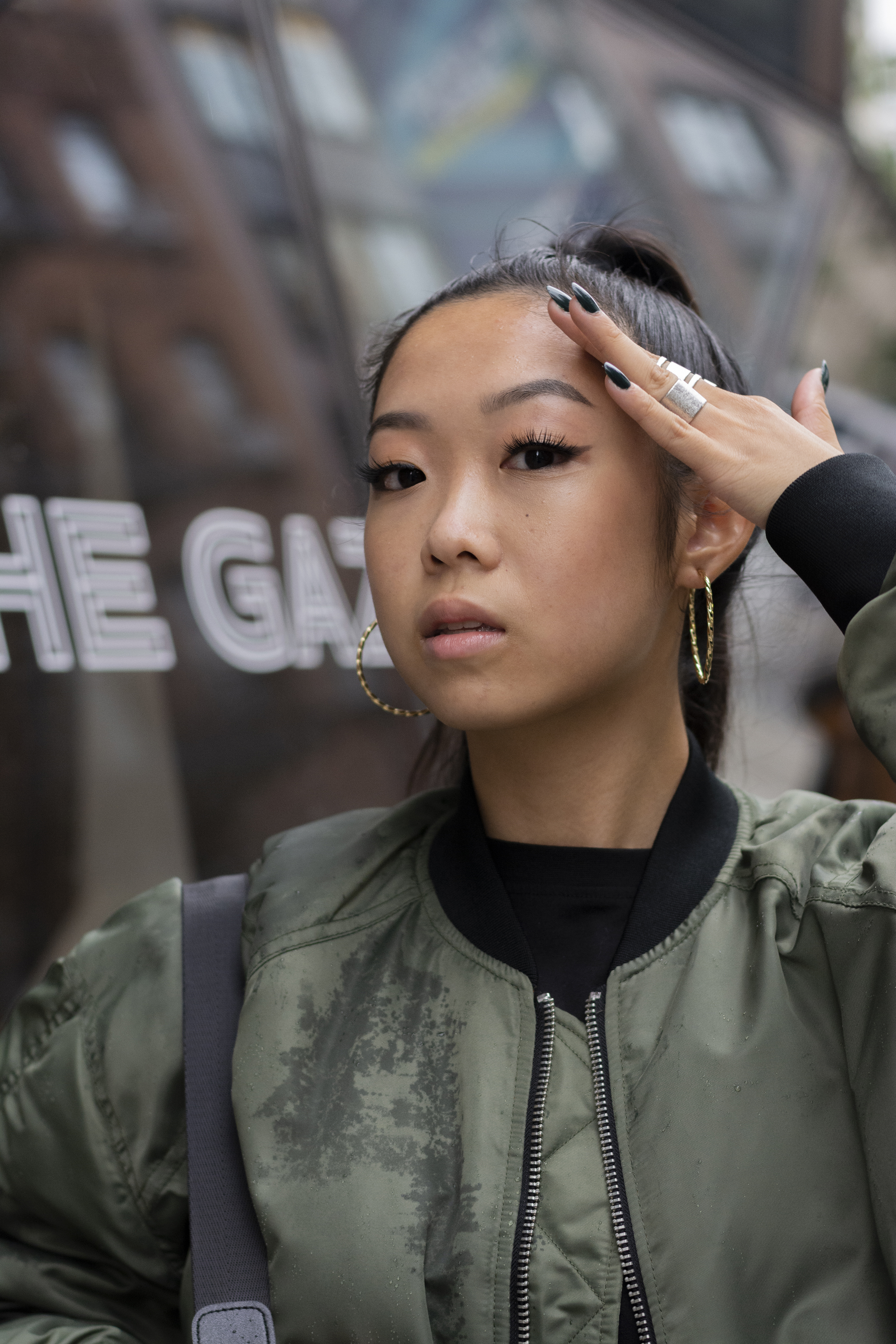 Via Ace, a second-year Strategic Design and Management student at Parsons who hails from New York City, described her style as "bold, in your face, and open. "I'm not scared of putting myself out there," Ace said.
Growing up on the South Shore of Staten Island, a more conservative part of the city, Ace felt "confined." Throughout her life, she has lived in Staten Island, Manhattan and Brooklyn. Ace was surrounded by predominantly white people with conservative political views wherever she lived. They would often judge her for being an Asian American woman in addition to how she dressed, she said.
Photographs by Alexandra Nava-Baltimore
On this rainy September morning, Ace wore platform boots from DSW (Designer Shoe Warehouse) and paired them with a chunky silver anklet. She has styled stackable silver rings from H&M with clip-on, gold hoop earrings from Amazon and a sleek high ponytail. "I like to mix my metals because I feel like no one does that," she said. Ace tends to gravitate towards more oversized clothing, and here, she paired an oversized black T-shirt from Missguided with biker shorts from Aerie that have pockets along the side. To complete the look and protect her from the rain, Ace wore an army green bomber jacket from Zara.
Ace thrifts most of her clothing at the L Train Vintage in Brooklyn and on First Avenue in addition to other "random thrift stores" that she "stumbles upon." She looks for her staples which include jewelry, tees, oversized jackets and jeans. Ace is constantly considering how her purchases will affect our planet and prefers to reuse and rework items over buying them new. She gravitates towards the men's section in any store she shops at because she likes to mix more masculine pieces with feminine accessories and shoes. Overall, Ace said she draws a lot of her fashion inspiration from Rihanna and the "I don't give a fuck' attitude of NYC."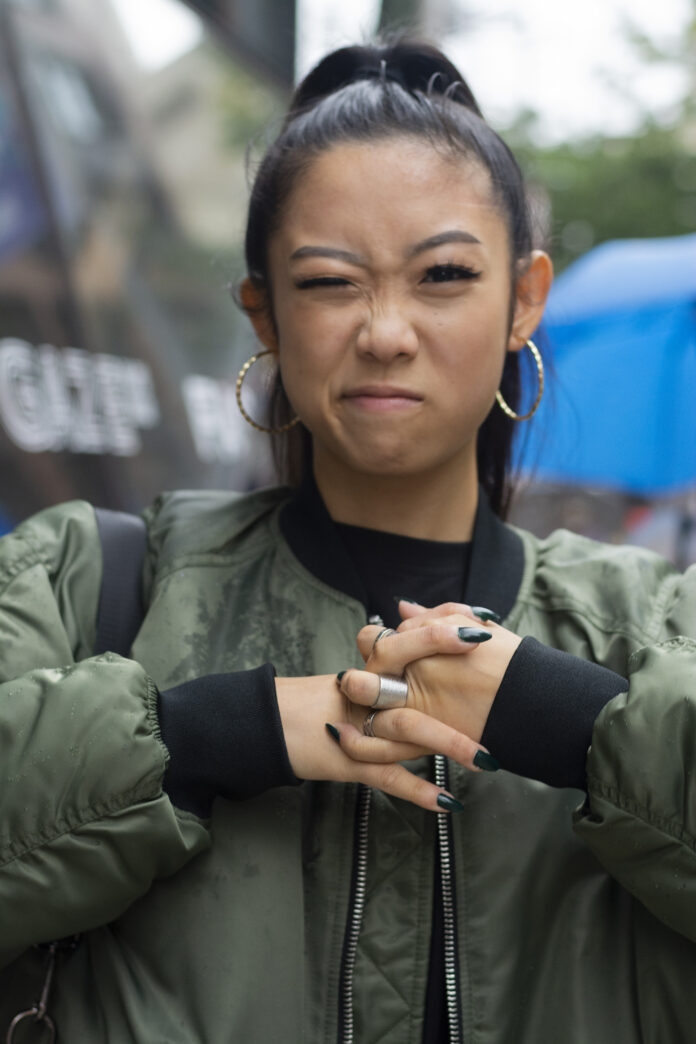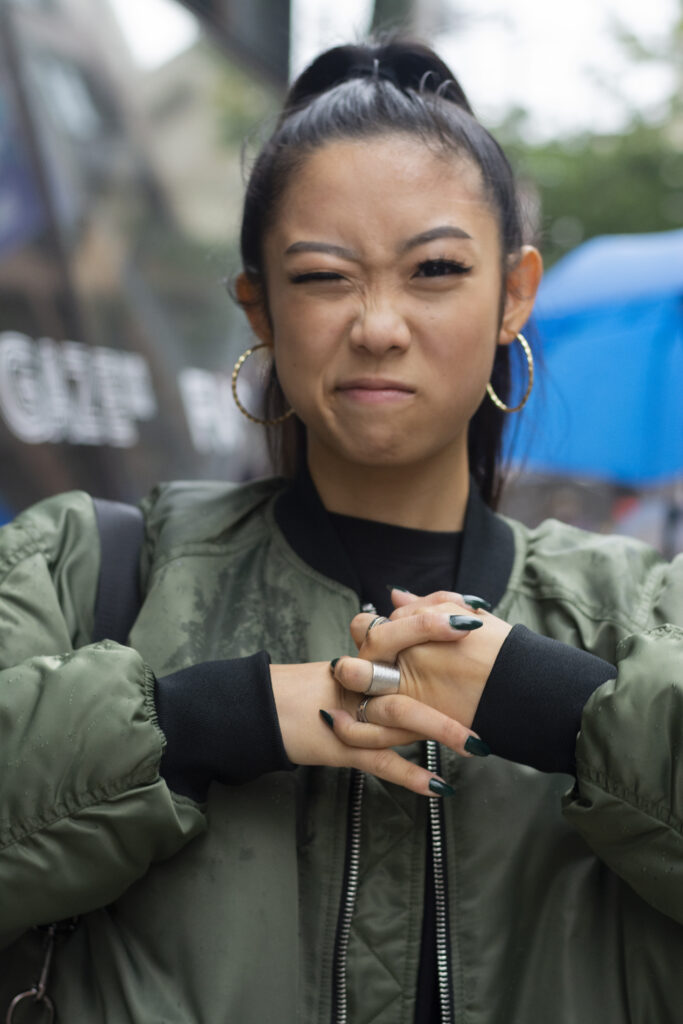 During quarantine and subsequent online semesters, Ace said she typically put makeup on every day for Zoom class but stayed in her pajamas. She feels a sense of relief being back on campus for in-person courses, as she can now express herself fully in head-to-toe looks. "[The more] I feel comfortable expressing myself, the better my work will be," Ace said. "I feel like I can conquer the world. I can do anything."
Ace described a renewed sense of "motivation" when picking out her outfits each day because she knows they will make her more productive. At The New School, Ace feels like no one will judge her, and she can wear whatever she wants.
Annelise Cornet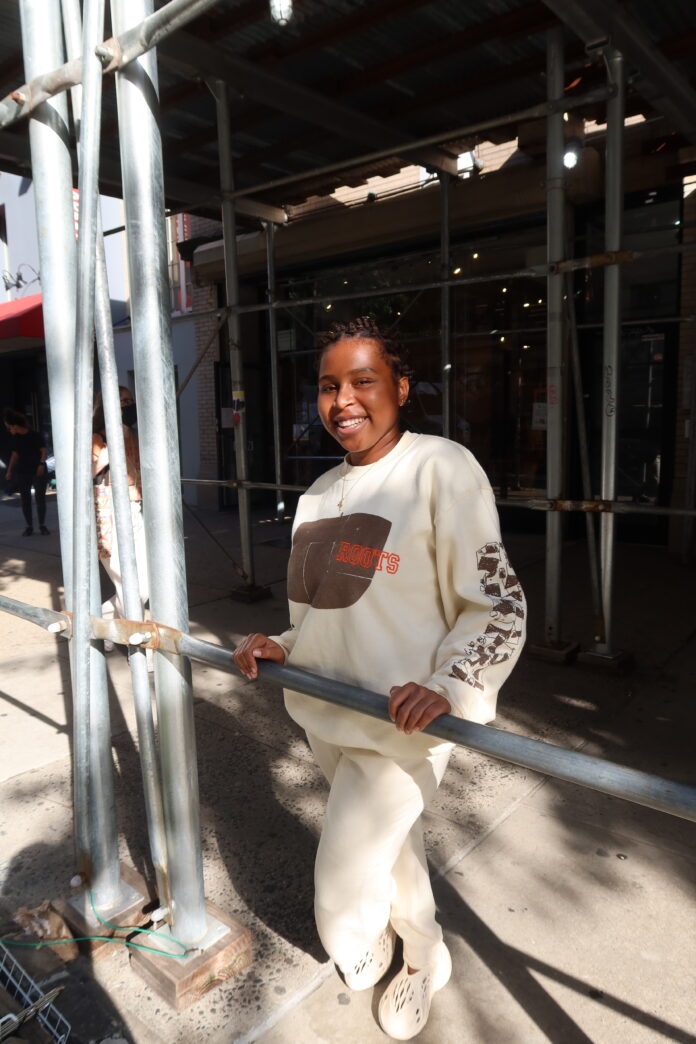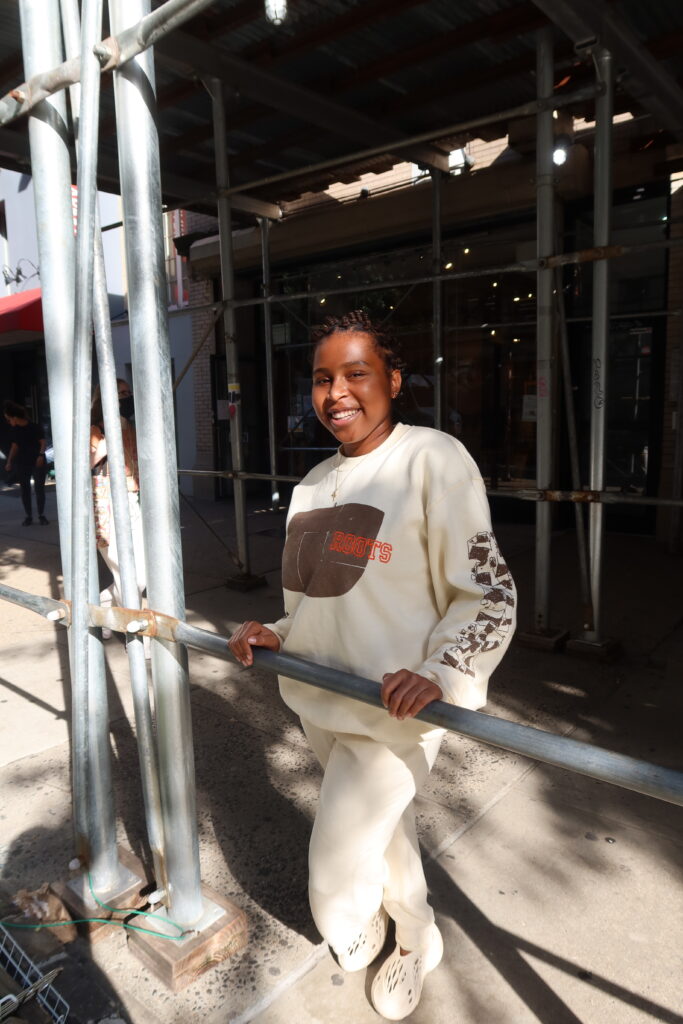 Annelise Cornet, a second-year Strategic Design and Management major at Parsons, sported an effortlessly chic monochromatic look. She wore Yeezy Foam Runners, thrifted white silk pants and a graphic sweatshirt. Her accessories included a necklace, which is a family heirloom, and a Madewell facemask.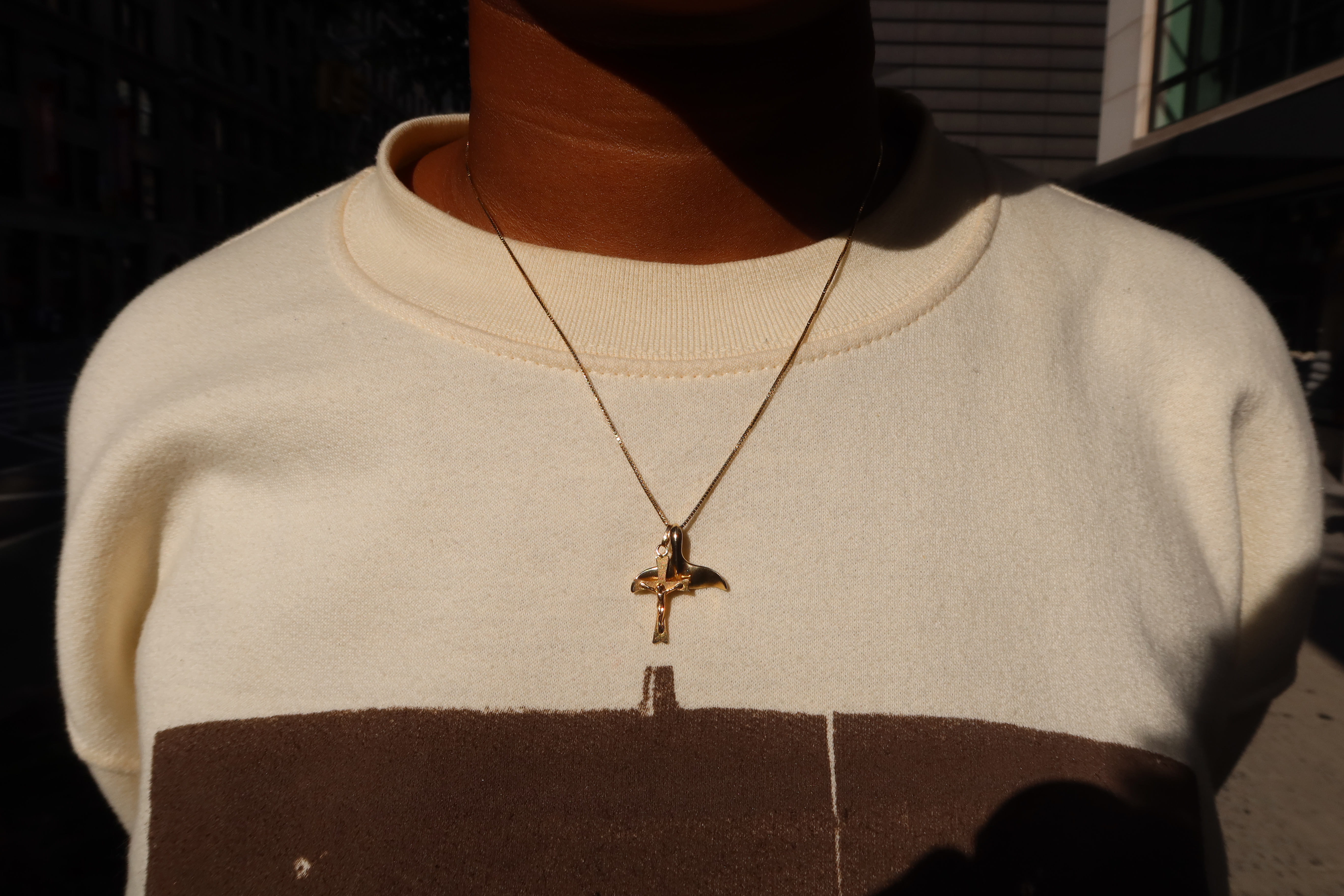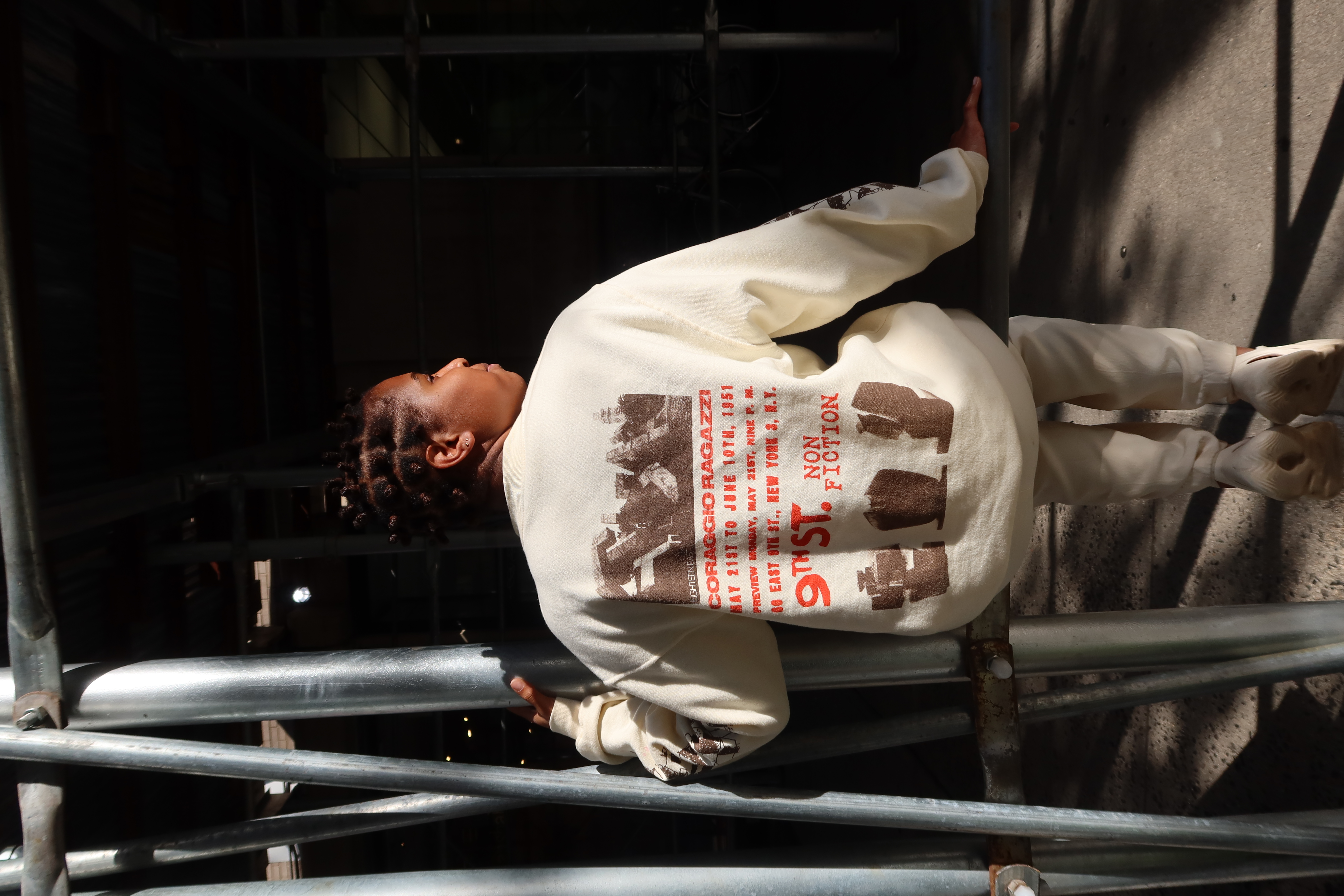 Photographs by Shivam Sachdeva

Originally from Atlanta, Georgia, Cornet finds living in New York City to be extremely liberating. "There are certain pieces I can wear because no one cares! Versus a small town in the suburbs, where people would stare," said Cornet. Comfort is Cornet's guiding principle for all school outfits . "I don't wear anything I can't move around in," she said. She shops at a variety of places, focusing on buying from small businesses and thrifting. Cornet is inspired to step out of her comfort zone by the breadth of fashion at Parsons. She said she is drawn to the intricacies of their outfits, and often feels inspired to incorporate similar elements into her own looks.
Reflecting on her style shift throughout the pandemic, Cornet said the main difference is her desire to experiment with combining pieces head-to-toe. On Zoom her outfits consisted of pajamas, sweatpants and leggings. "As long as I looked decent on top, that's what mattered to me," said Cornet. Now she is driven and excited about creating complete looks that illustrate her personal growth and renewed creativity. "Some days I am giving flower girl vibes and might wear a floral dress. Other days I'm giving more streetwear. It just depends on my mood," said Cornet.
Cornet reflected on her personal growth throughout the interview and, like many New School students, she fully expects her style to evolve as she does. "Being in college, I think it's time to try something different. I've lowkey been wanting to dye my hair! I also want to get into knitwear, specifically dresses, as well," said Cornet.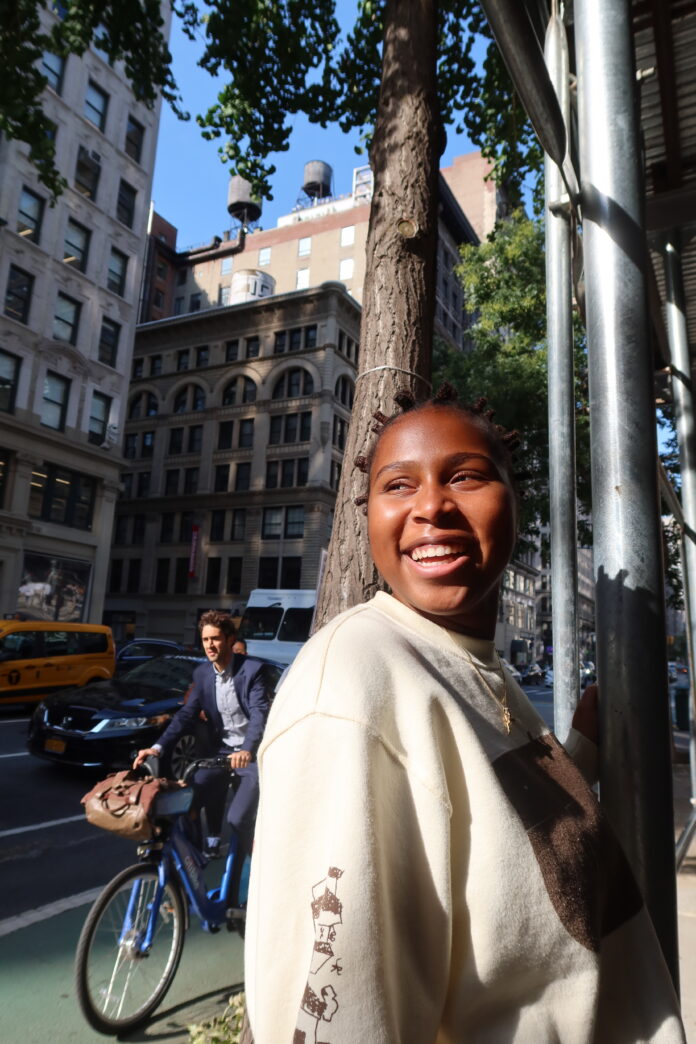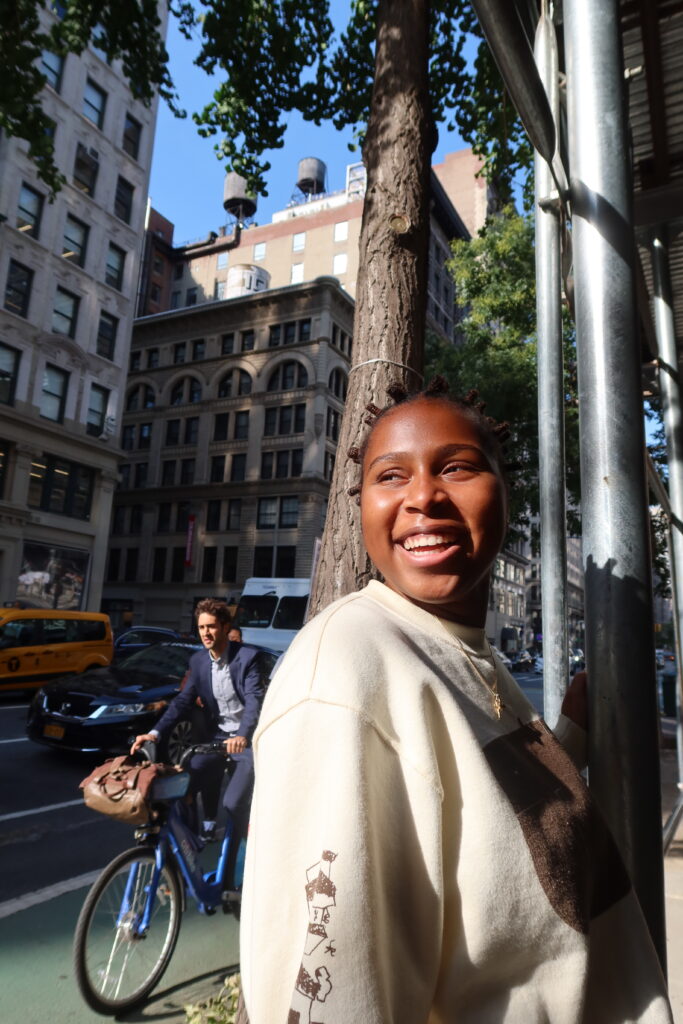 In closing Cornet offered some advice on discovering one's individual style. She said, "Just do you! People who appreciate your style, or appreciate you as a person, will naturally gravitate to you. So yeah, just be yourself, which isn't an easy thing to do, but once you start doing it you definitely will feel better!"
Ryan Minter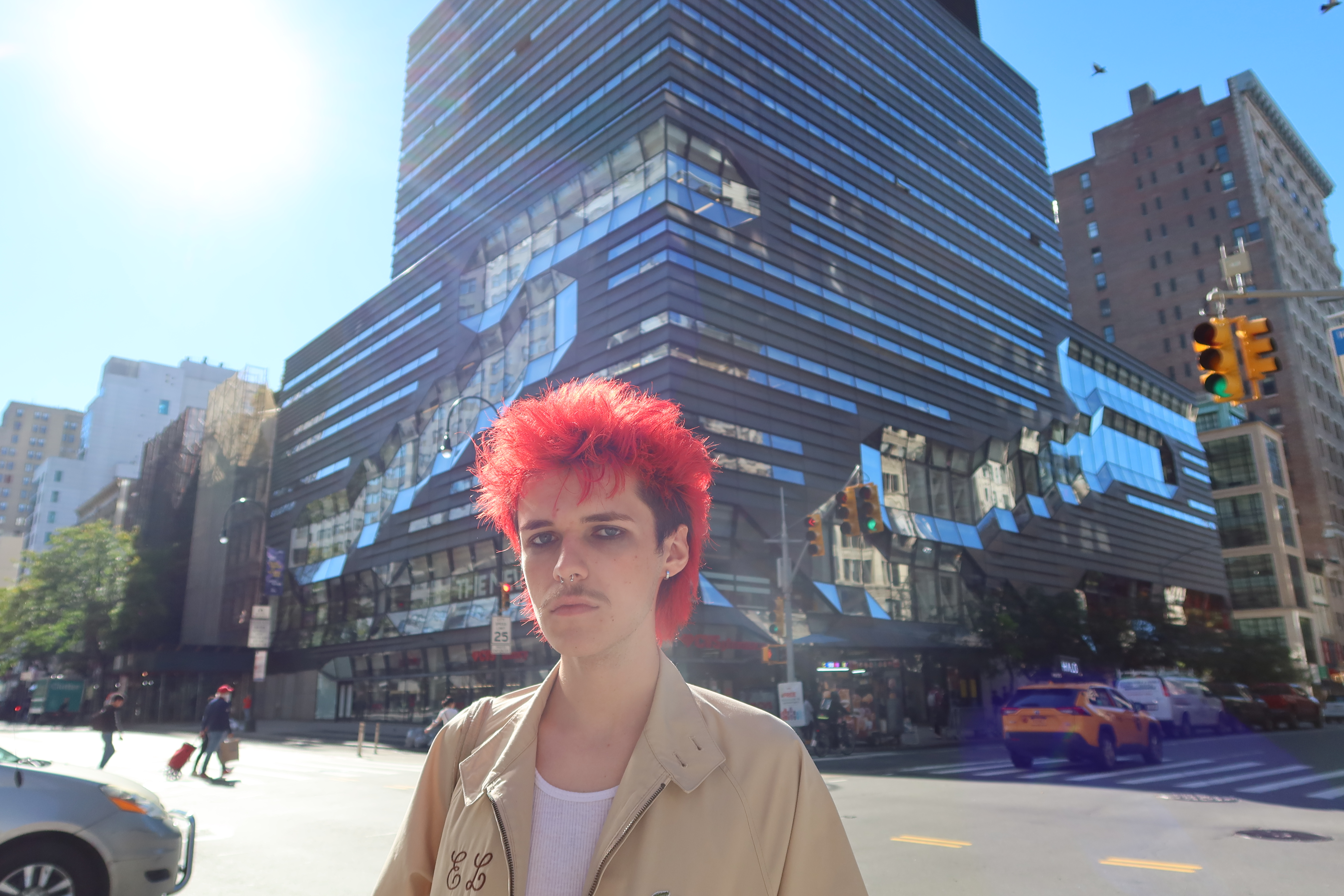 Artist, musician and Lang student Ryan Minter shared their dynamic approach to style.
"I like looking like a cartoon character a lot of the time! But I also like to be simple and let my hair do the rest," Minter, a second-year studying Culture and Media, said. Today, their look consisted of a chunky pair of '80s-inspired boots, thrifted women's trousers, an Ed Hardy tank top and a Lacoste rain jacket that they found at a friend's place. Minter said he is inspired by the oversized trend. "I'm really into oversized shirts [and] suits right now, which has been a big thing for me," said Minter. Minter purchases most of their clothes from thrift stores at home in Atlanta, Georgia. "I don't really have any favorite thrift stores in New York City, but in Georgia and Long Island there's great thrift[ing]," Minter said.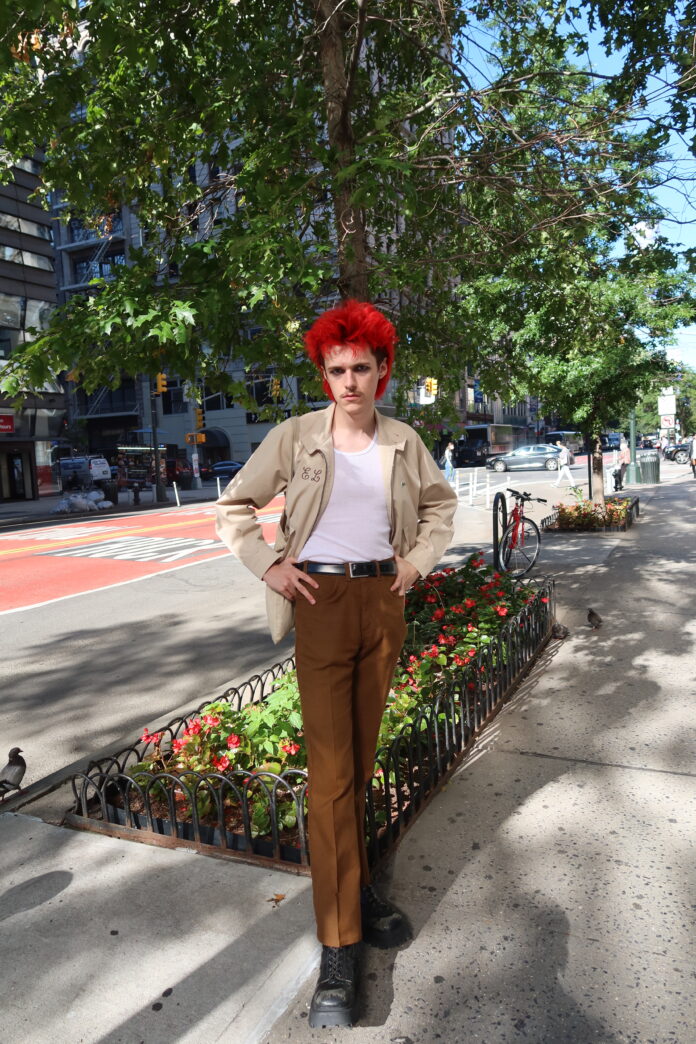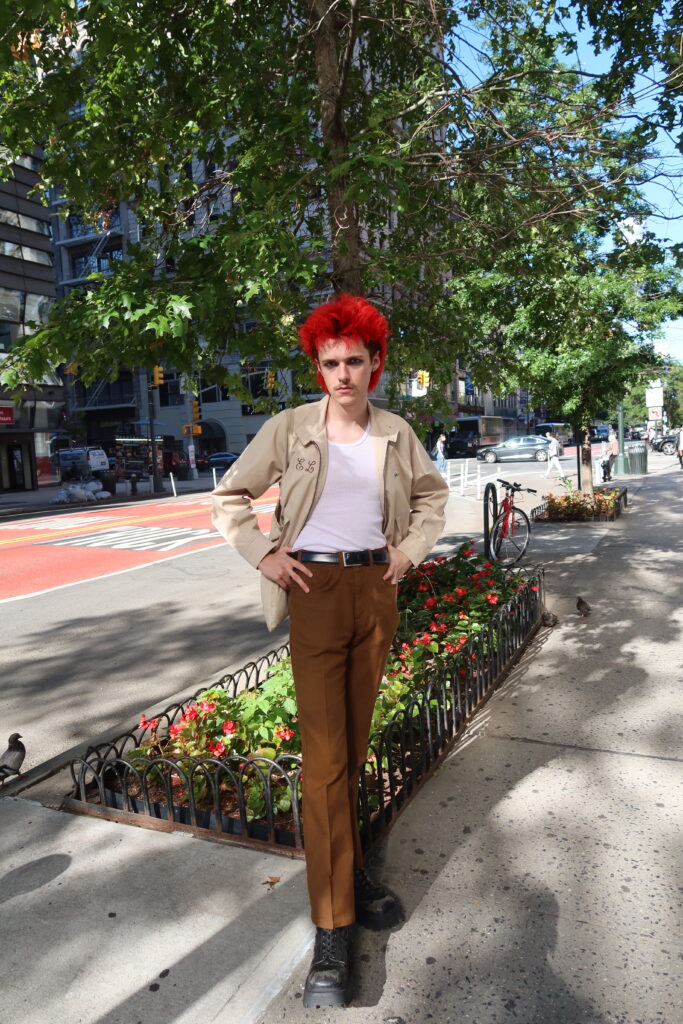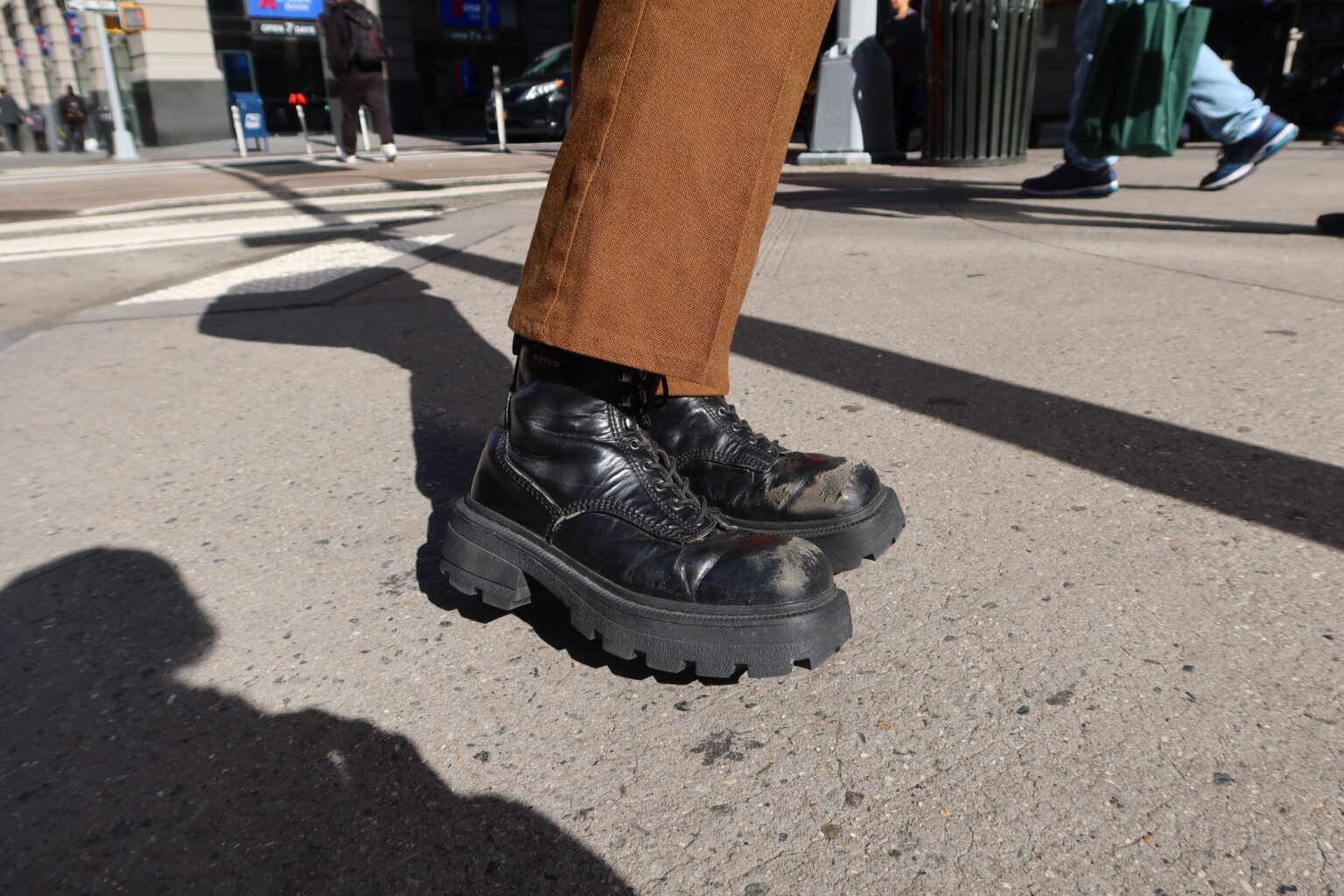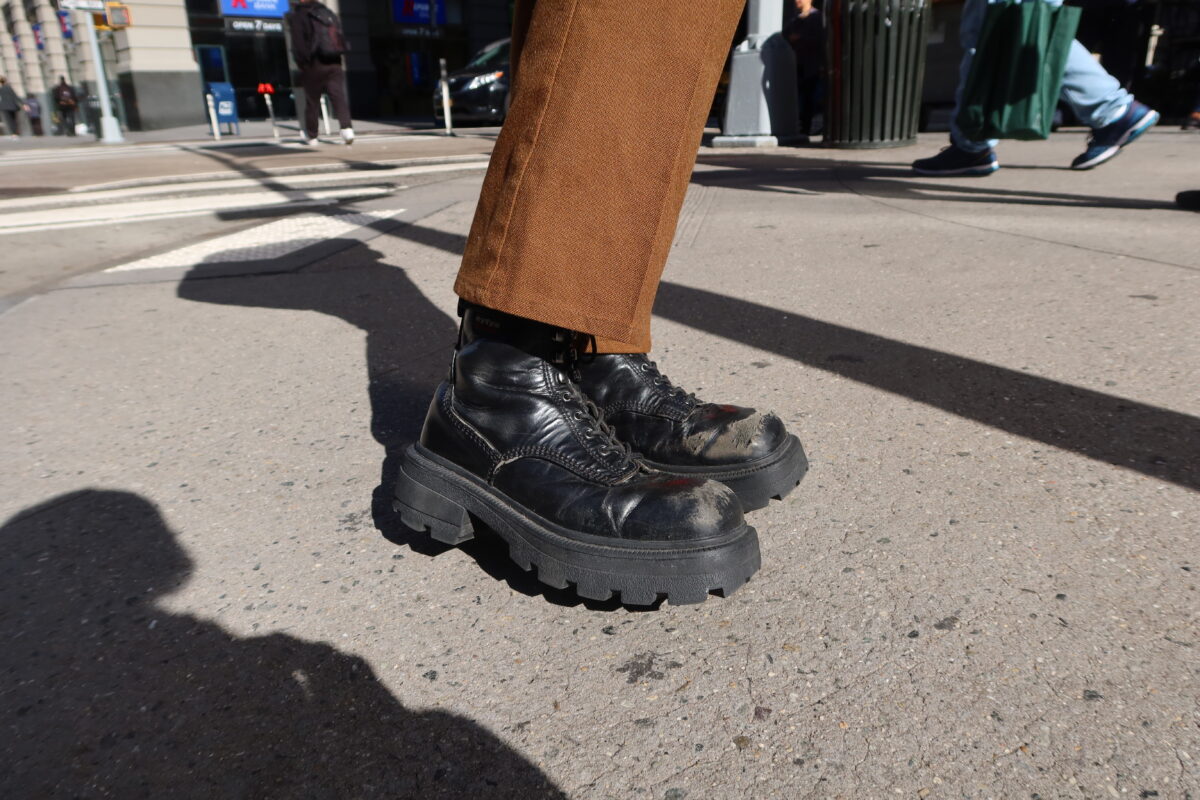 Photographs by Shivam Sachdeva
They mentioned that they no longer feel pressure to constantly have the perfect outfit. Minter said, "I care a lot less. I remember before Covid hit, I thought I had to dress my best all the time. But after Covid I realized I really don't need to. I can show up in a shirt and pants and call it a day!"
Minter describes picking outfits for class to be, "…kinda dreadful. When I wake up I am very focused on actually waking up, and everything else is on autopilot," they said. "I have a bunch of go-to outfits – recently it has been big pants and a t-shirt."
Their outfits often reflect work they're doing in their classes. "In my advanced screen print[ing] class I usually leave with ink all over myself," said Minter,"so I wear clothes I can get messy and be comfortable in. For my morning class, it's my JNCOs and a t-shirt!"
Reflecting on the difference between Zoom and in-person classes, Minter said "I wear pants now, so that's pretty wild!" Now that classes have finally returned to campus and there is a reason to be outside, Minter said they are excited to explore "interesting silhouettes," and begin experimenting with layering as the seasons shift.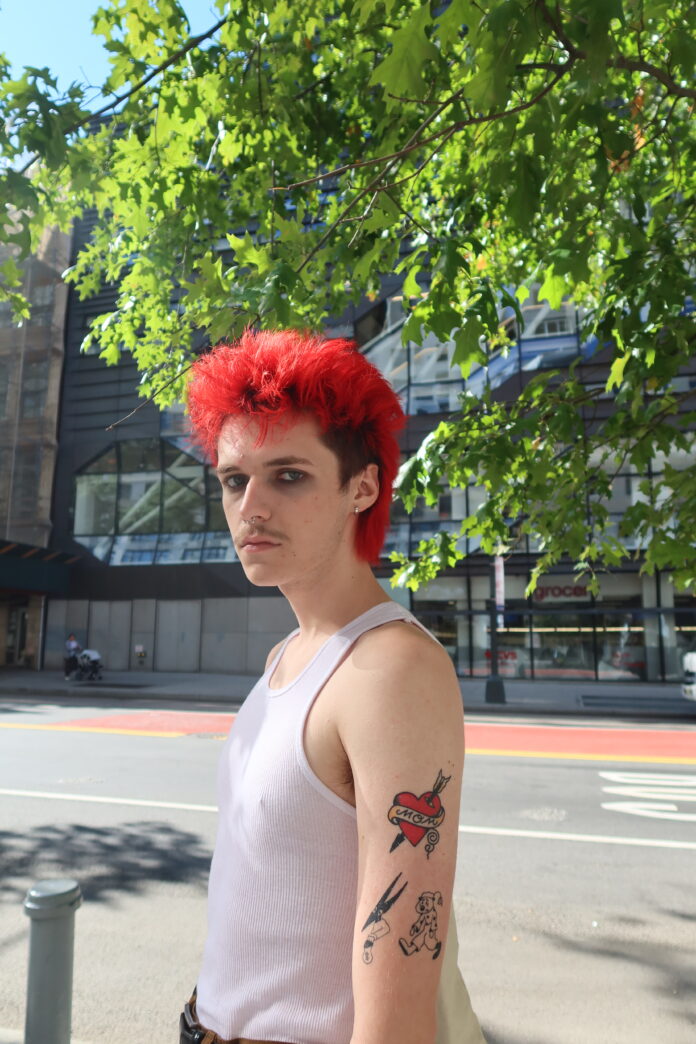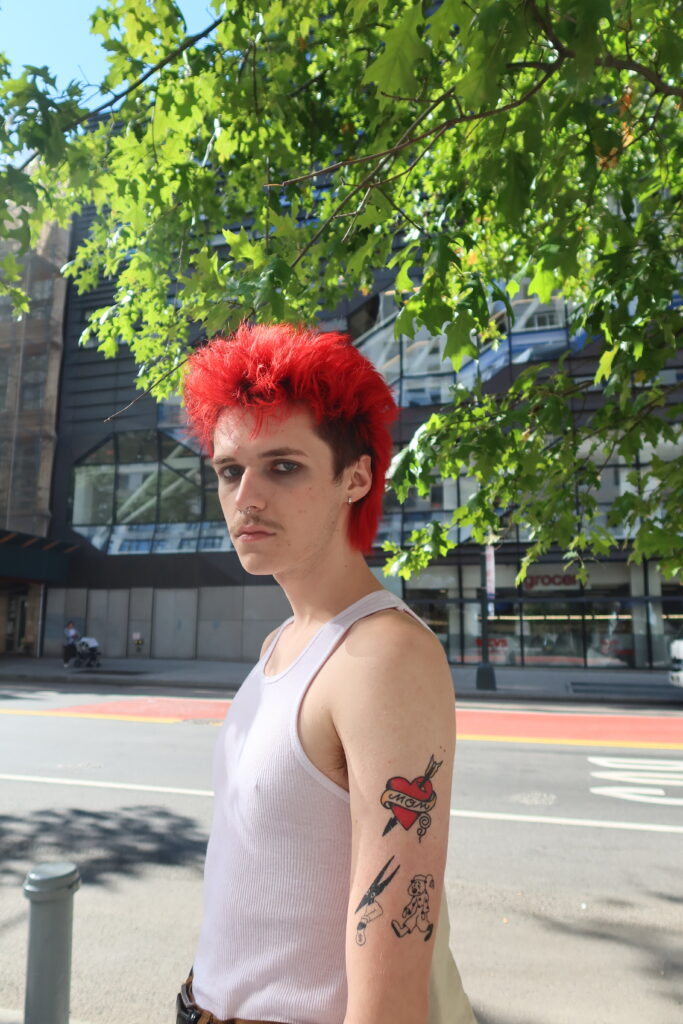 Minter shared with The Free Press that they, "came out as non-binary over the course of the pandemic, which has been a big step out," Minter said. "I've learned that I don't have to be over the top to look decent."
This new found confidence in their identity has unburdened Minter's relationship to fashion and their personal style, bringing  about a new era of growth for them."I can really, actually do what I want now and just be myself, which has been really good," they said.
Paula Kim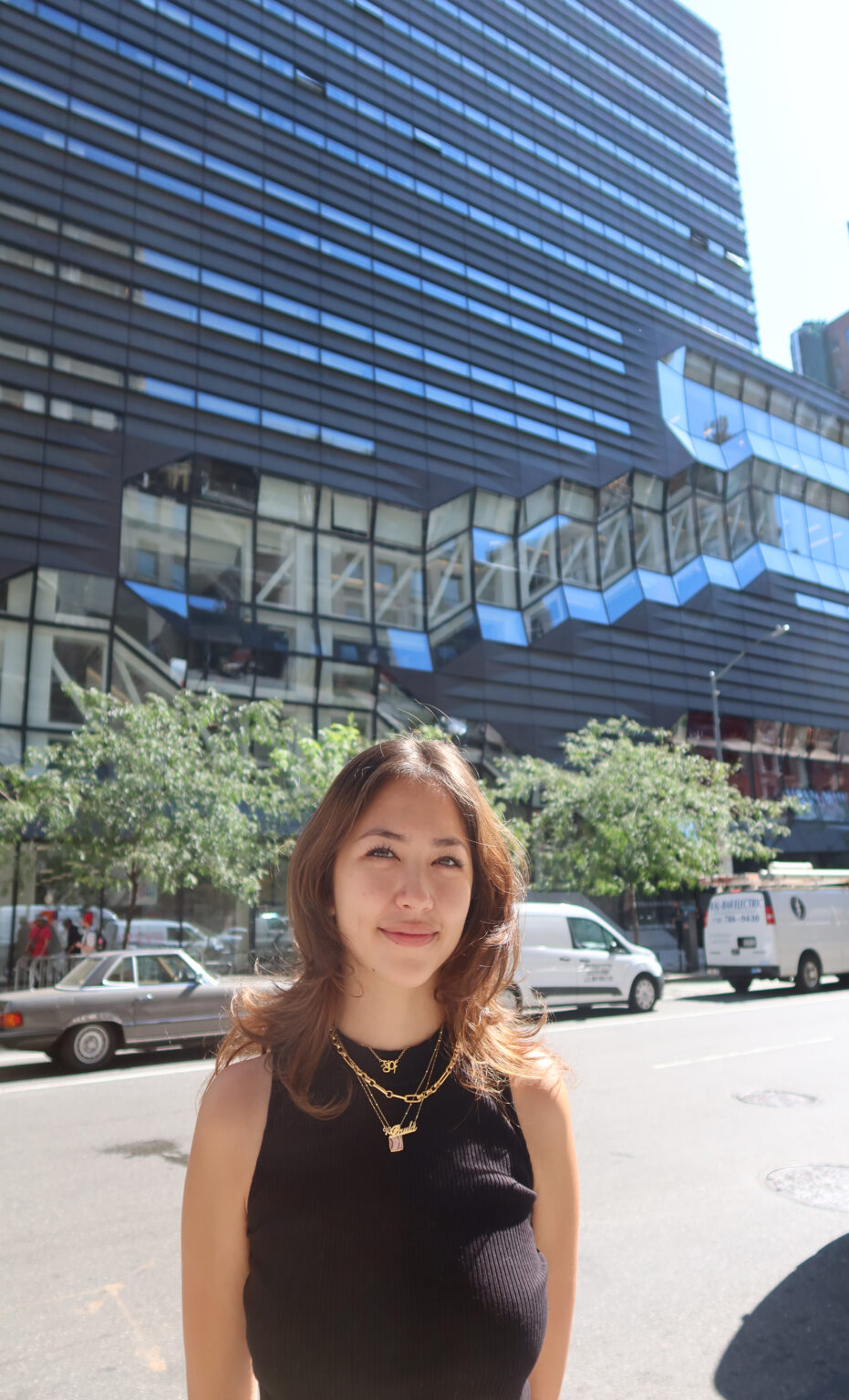 Paula Kim is a second year Strategic Design and Management student at Parsons with plans to minor in Fashion Communications. She described her style as a mix of girly, bohemian and chic aesthetics. "I think it's kinda a good mix," said Kim.
The outfit she wore for her interview with The New School Free Press highlighted the chic side of her personal style. She sported a pair of classic white, high-top Air Force Ones (which she thrifted for $15), linen Old Navy pants and a black turtleneck tank top from Uniqlo. Her necklaces hold a lot of meaning for Kim, as they were each gifts from her family. Most notably, the chain with her name, which was made from a baby bracelet gifted to her by her grandmother in her childhood. "The little bow is from the [original] bracelet," said Kim. Her go-to outfit for school is anything comfortable. "I'll probably do fun comfy pants and a cute little tank top," said Kim.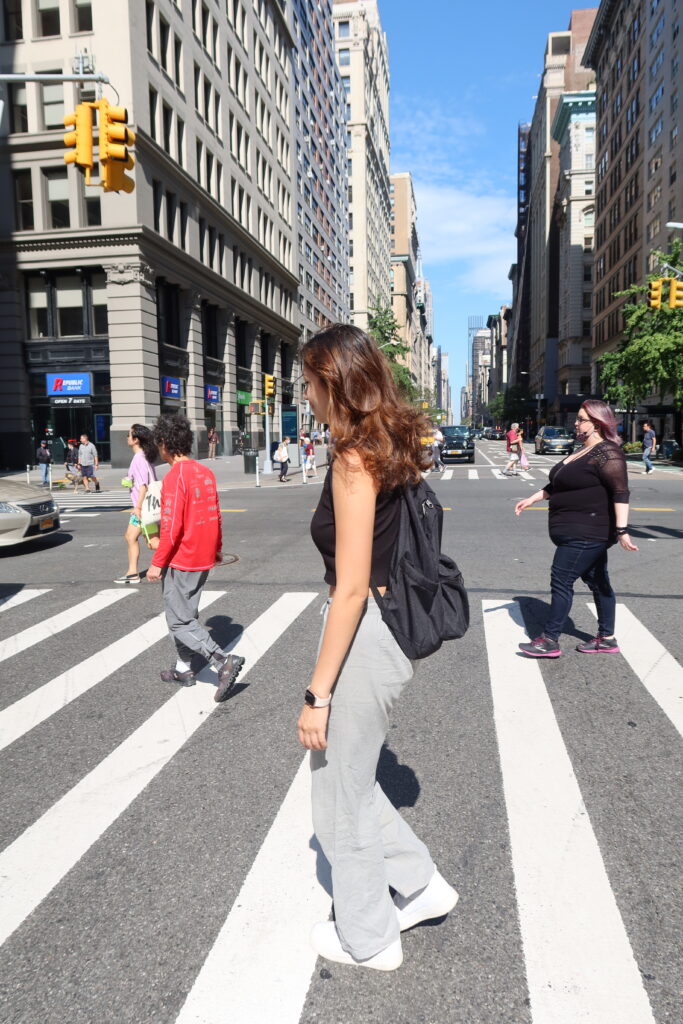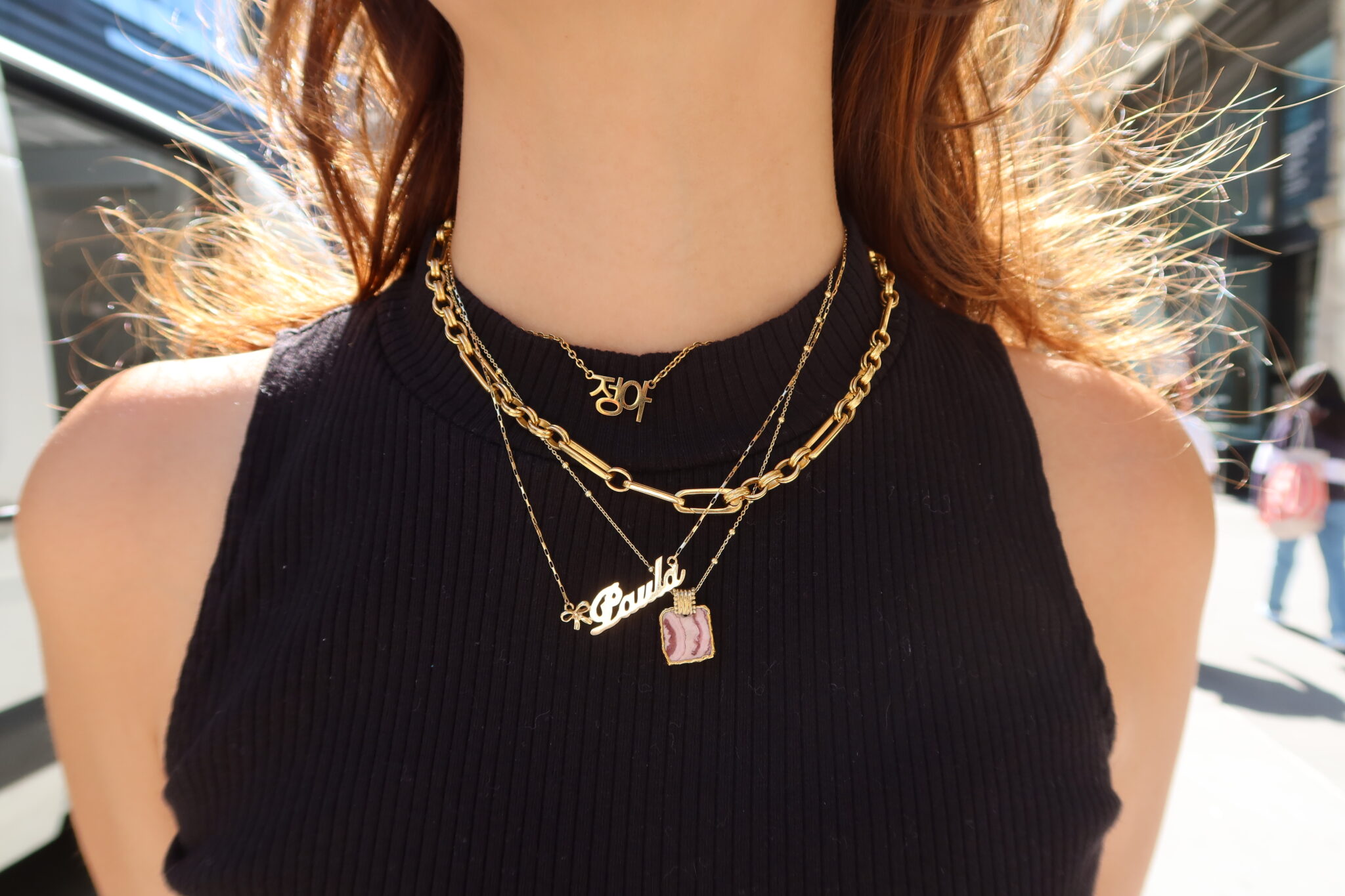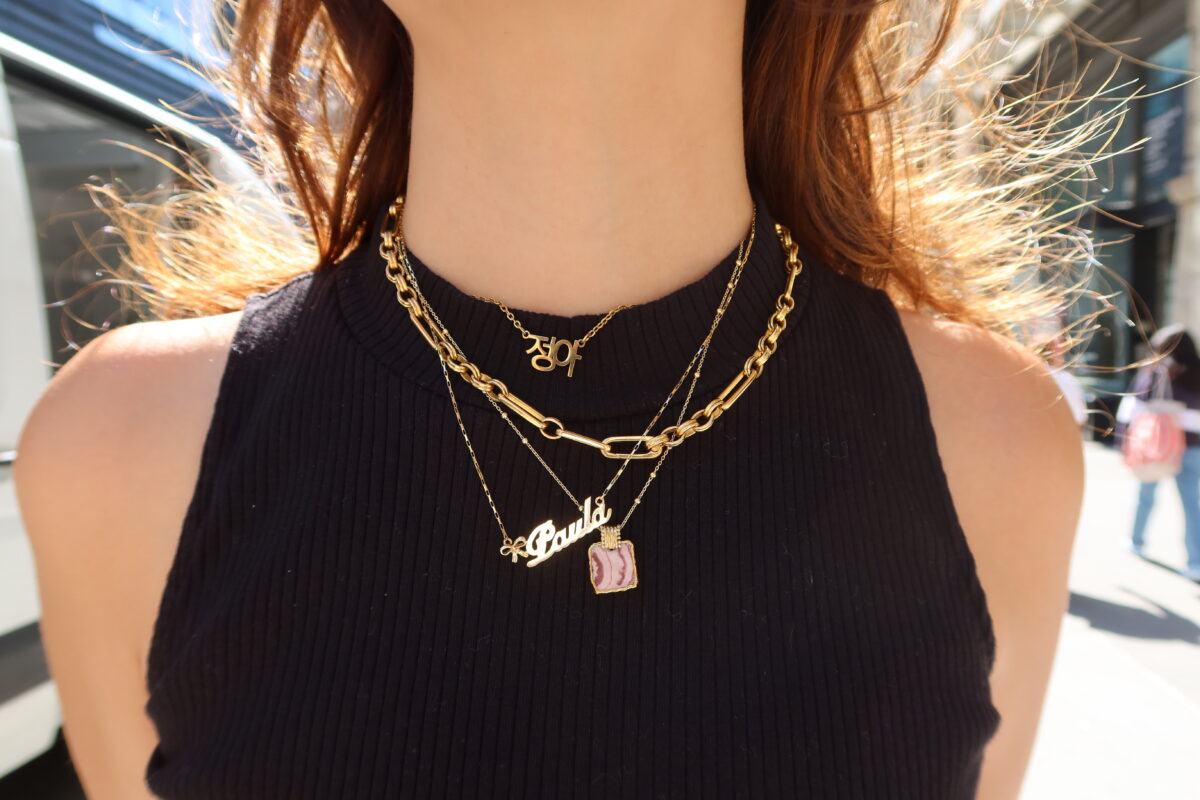 Photographs by Shivam Sachdeva
Kim said of her shopping habits, "a lot of my wardrobe has been in my closet for at least five years, I have a lot of clothes that I've had since high school! This past year and a half, I've only been buying second-hand, taking my friends' clothes or buying from consignment stores." She is motivated by the electric energy and variety of the city's street style. "I am always surrounded by inspiration," said Kim, and described styling outfits for school as a double-edged sword: stressful yet exciting.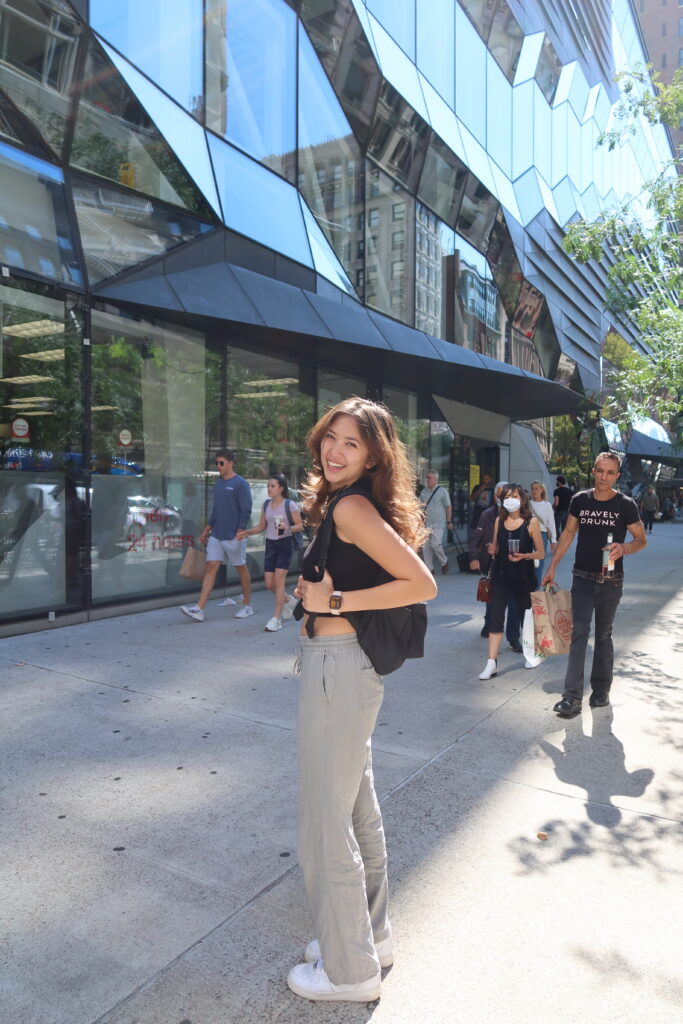 Kim said, "overall clothes are fun!" Her refusal to be yanked around by the chaotic pressures of the New School fashion landscape allows her to maintain a fun, carefree relationship to her personal style. "Experiment and do not let any outside factors get in the way," said Kim, advice she is intent on living by herself.
Kim is looking forward to fall and plans to experiment with layering. "I've been styling for myself, feeling comfortable and confident," said Kim. "I've been [getting] more into personal style and staying away from just wearing a white tank top and jeans!"
Maggie Keene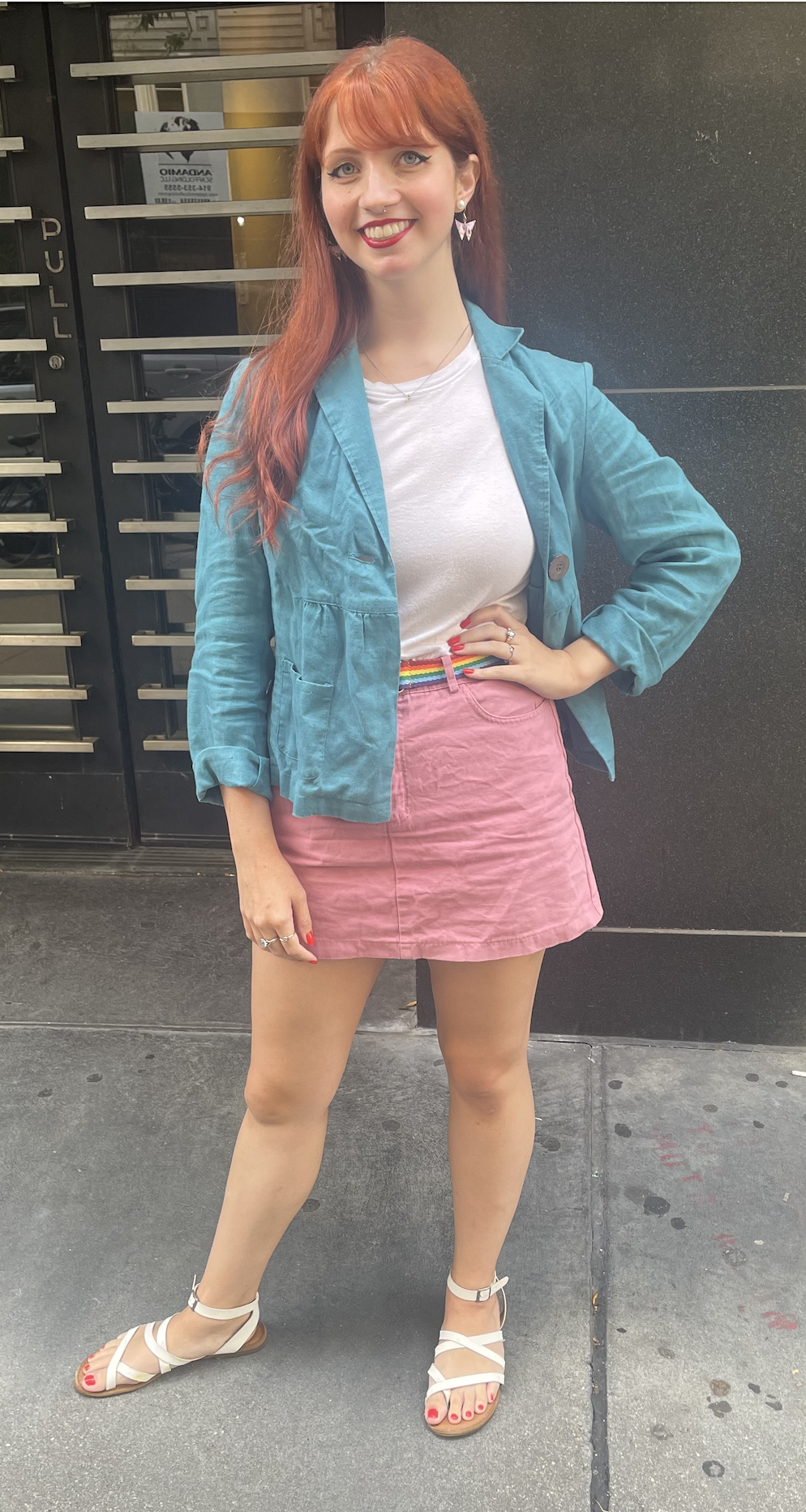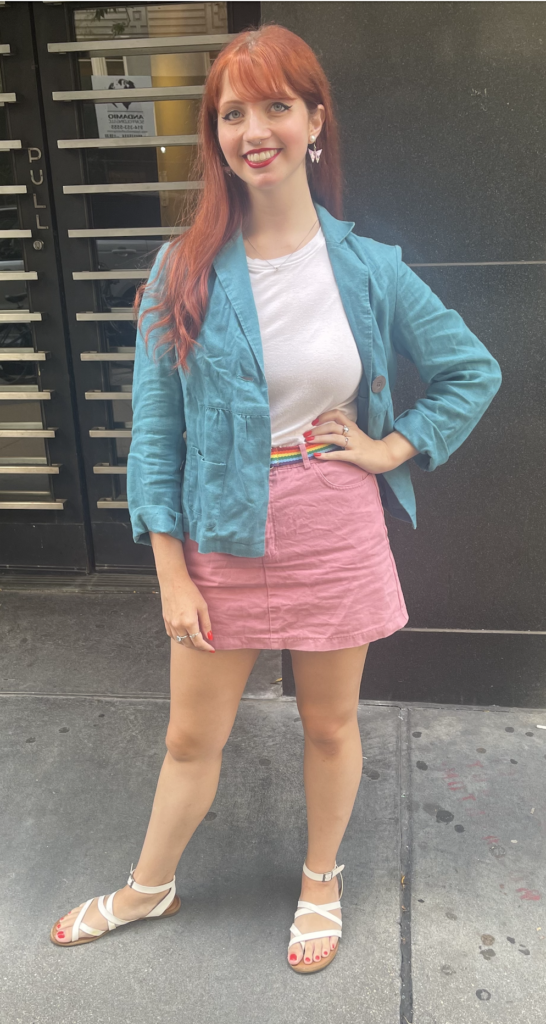 Maggie Keene, a fourth-year performing arts student at Lang, described her love of mixing classic and contemporary aesthetics as well as the nerves she feels getting dressed for class at an institution so renowned for its fashion.
On Tuesday, Keene wore white sandals and a pink skirt she paired with a rainbow belt. With it, she wore a bright, teal linen blazer with a white T-shirt underneath. To complete the colorful ensemble, she accessorized with butterfly earrings.
Keene, originally from Massachusetts, described having several iterations of her personal style that she rotates between and combines. She said she has an affection for more traditional "blast from the past" pieces. "I have a lot of things from the '50s and '70s that I like," she said. "Very feminine, older, housewife style is what I call that." She mixes this classic look with "super colorful modern street style." Keene admitted she sometimes opts for a more laid-back look when she simply needs to get to class. Her go-to class outfit is a fun dress or graphic tee with bike shorts. Either way, she always loves a color-coordinated outfit, including her makeup.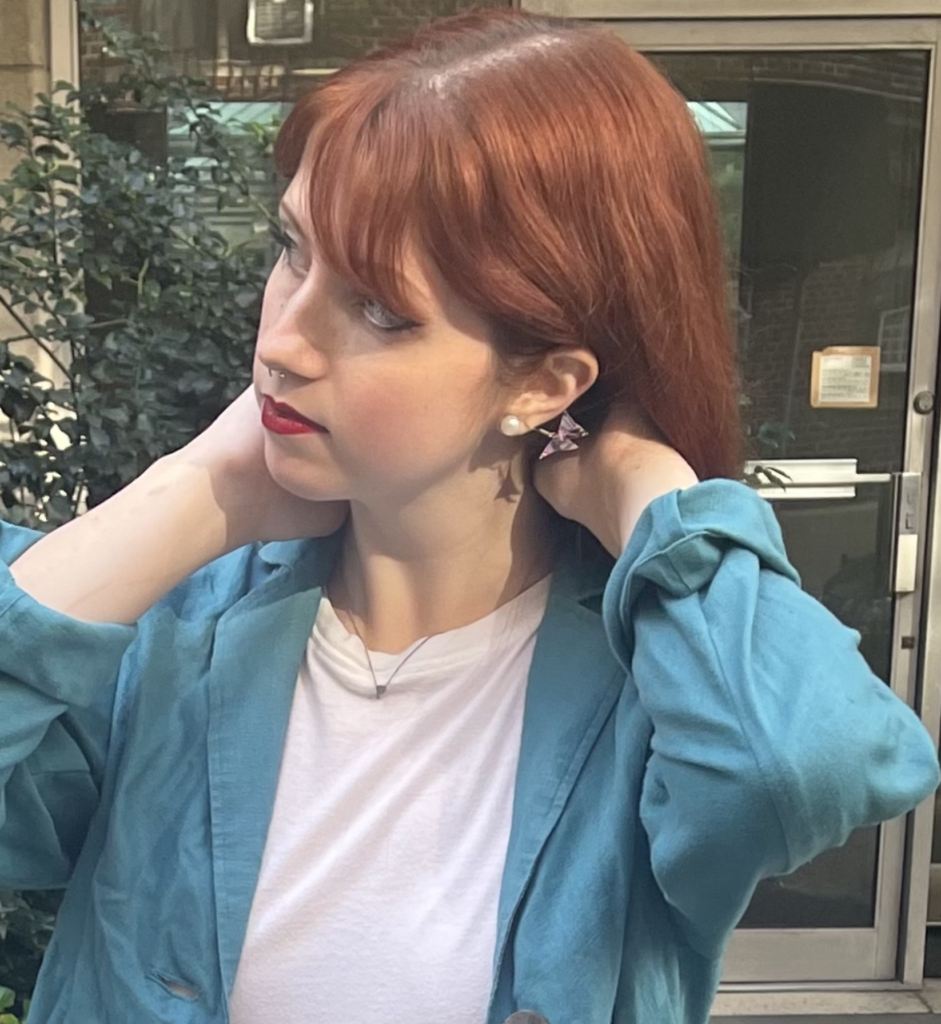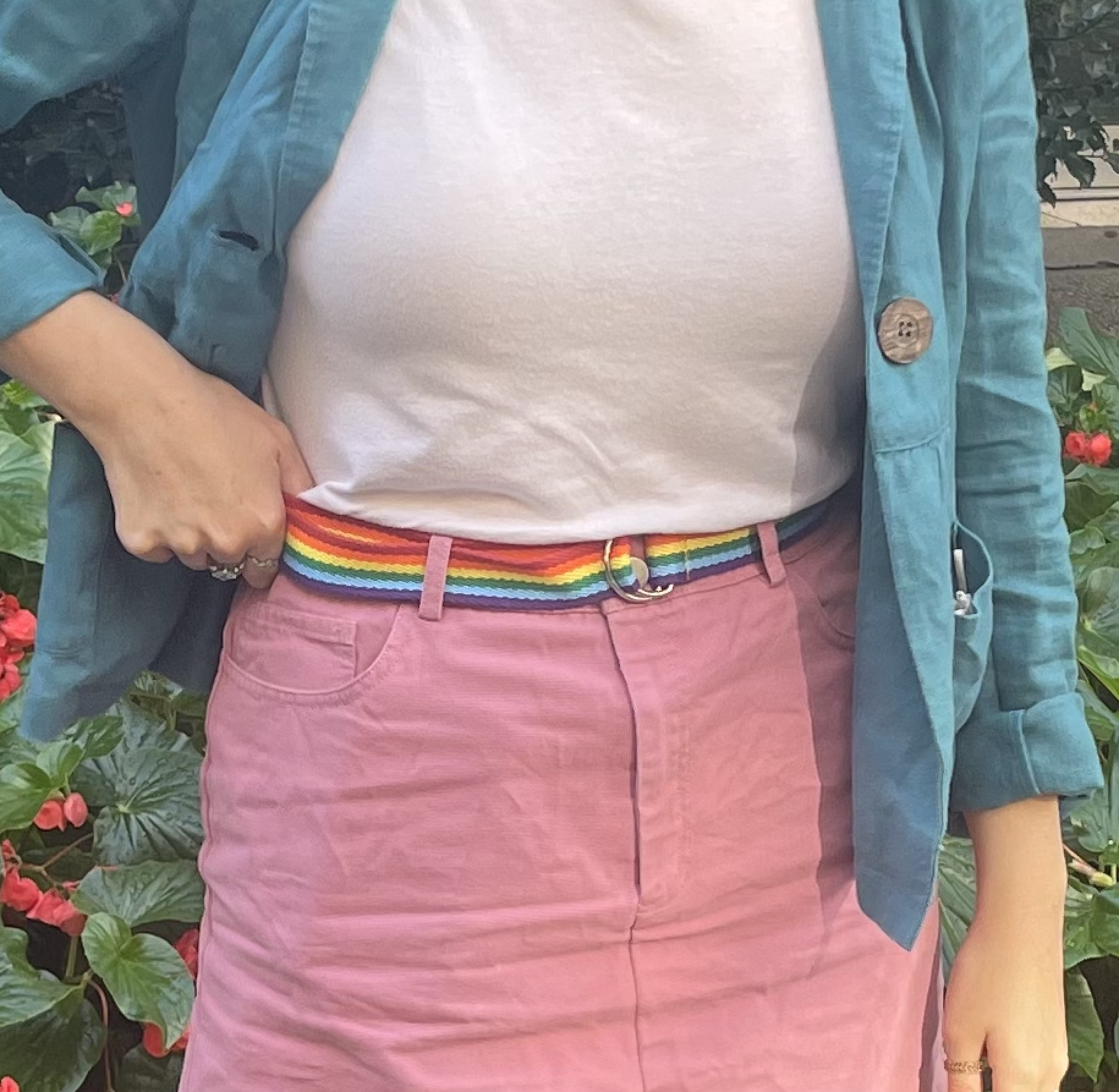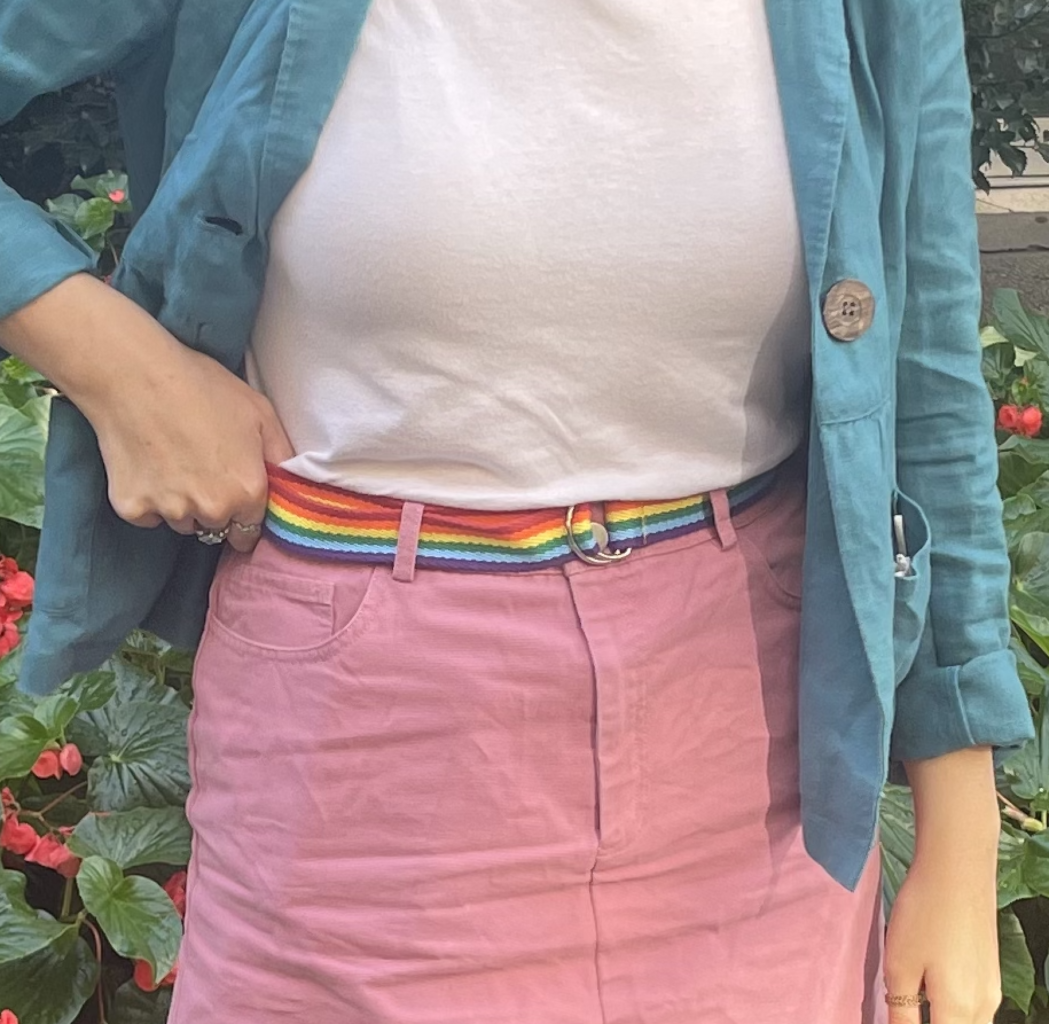 Photographs by Harry Batalingaya
Returning to in-person classes has prompted Keene to put more effort into her looks now that more eyes are on her. Opportunities to showcase her style have been slim during the pandemic, so Keene is now trying to take advantage of the ability to wear something nice to her in-person classes. Last year, Keene opted for very colorful shirts on Zoom, but since she could only be seen from the waist-up, she often opted for pajamas on the bottom.
Since returning to campus after nearly 18 months of virtual classes, Keene described how her confidence and willingness to take risks grew over that time. "I used to worry about wearing things that would make me fit in, but now I just wear what I want and wear what I like," Keene said. Her go-to outfit for class varies but is usually "either a dress or bike shorts and a graphic T-shirt," she said.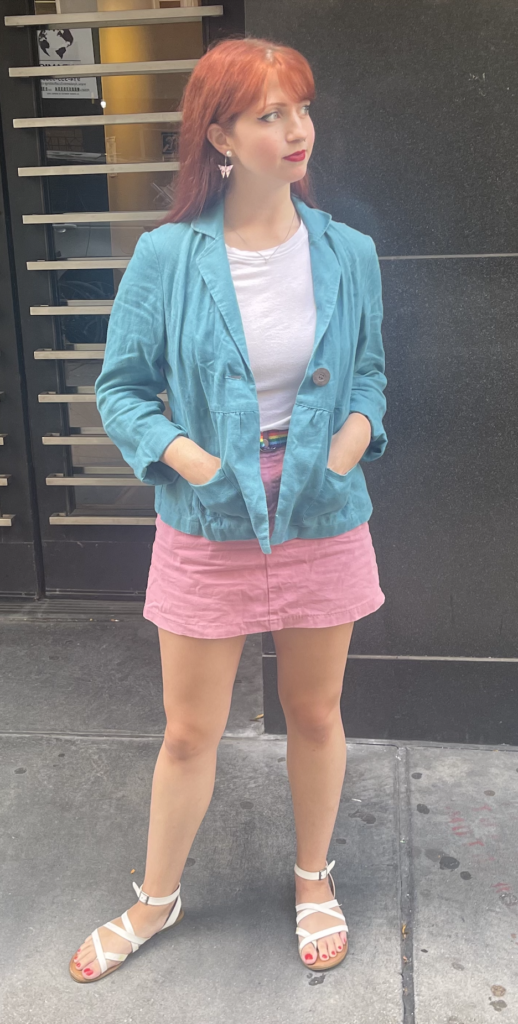 Keene shared that picking out outfits for school isn't always easy, though. "A lot of the people who go here have such good style," she said. She said she feels a lot of pressure to measure up. Keene said she often thinks, "Oh my God, they look so good, and I can't wear any of those things. I'll look like an idiot." However, Keene insisted that whatever pressure she feels is primarily overshadowed by the excitement of assembling an outfit she feels good in. "I'm usually very excited to pick out outfits and have people see them… other than my girlfriend," she said.
Health concerns stemming from factory pollution becomes a campaign issue in Kalamazoo
KALAMAZOO, MI — Multiple candidates running for four seats coming open on the Kalamazoo City Commission are taking aim at industrial polluters, presenting ideas to investigate environmental contamination and possible harm caused to residents.
The issue was hammered on several times during the city commission forum Thursday, Sept. 23. With no incumbents, a new majority on the commission will be selected from among the eight candidates, barring any write-in victories or other unexpected happenings.
Related: Kalamazoo City Commission candidates give opinions on guns, housing, contamination at election forum
MLive published reports in August revealing the state of Michigan, as well as the Environmental Protection Agency and others, are investigating health concerns, air quality and the prevalence of asthma in a part of the city located next to the Graphic Packaging International factory and the city's wastewater plant.
James Mitchell, Marshall Kilgore, Esteven Juarez, Stephanie Hoffman, Alphonso Harris, Qianna Decker, Don Cooney and Steven Chandler are vying for the four, four-year terms on the city commission.
WMUK Content Director Gordon Evans asked each candidate a question about the environment at the Thursday city commission candidate forum:
"What, if anything should the city do differently with regard to environmental contamination to better protect the health and safety of residents?"
Don Cooney, who served on the Kalamazoo City Commission for 22 years before retiring in 2019 and deciding to run again in 2021, suggested the city convene a "Blue Ribbon Committee" to come up with solutions.
"I think this is a huge issue," Cooney said, referring to a study that shows a census tract on the north side of Kalamazoo, where there is "almost an epidemic of asthma," and people living there have a life expectancy of 14 years less than the highest life expectancy in the county.
Related: Asthma is killing Kalamazoo family living near a stinking factory. Now the state is studying asthma in the neighborhood.
"So, we have to look at this issue very seriously," Cooney said. "We know that the state has been concerned about this. I think we should set up a Blue Ribbon Committee, which looks at this issue, brings in experts and makes recommendations. People deserve to live in decent surroundings in a community, which allows them to thrive, and you can't do that, when their whole neighborhood is being polluted."
A Blue Ribbon Committee is a term the city has used in the past, most notably in 2015 during its creation of a group of advisors from the community to determine how the city would solve its revenue shortfall. The panel offered several recommendations, but none fully addressed the shortfall.
Afterward, the city administration continued to develop the philanthropic funded Foundation for Excellence model, which was later adopted.
Candidate Qianna Decker said the city definitely needs to review some of the policies that are in place when it comes to big businesses.
"We really need to take a look at some of the businesses and organizations that are here within the city of Kalamazoo, that could be causing some of these outbreaks, shall we say, and health concerns," she said.
She also mentioned increasing use of solar energy and giving rebates to residents to make their homes energy efficient, as well as building up green spaces.
Esteven Juarez said educating residents about environmental issues is a huge thing.
"A lot of individuals growing up in the environment I grew up, we never thought about that stuff," Juarez said.
"That stuff was never concerning to us and how harmful it can be to us, right, and so I think that's huge. Education is a huge thing, educating our residents. The people who live here need to understand how that affects them."
Juarez said he thinks it is good what the city has been doing so far, "but I feel that it's super important to bring accountability to these individuals and companies that are causing contamination."
We should potentially fine actors for causing contamination, Juarez said. Cleanups have been good for the city, he said, and we need more, especially in places such as homeless encampments.
Related: Kalamazoo will use boats and floating curtain to fish for river trash near homeless camp
Alphonso Harris said he is disheartened with what's going on with Graphic Packaging International.
"I've lived on the Northside of Kalamazoo the vast majority of my life. I don't think that the Northside should have to deal with so much pollution, so many health problems coming from this pollution in order to make a dollar.
"I think that the health and well-being of our residents has to be taken into consideration as well as making a quote living wage," Harris said.
Marshall Kilgore said, "First and foremost, we've had a lot of folks say, we need to hold corporations accountable. That is true. But you know, I'm ready to also dangle that carrot and say hey, let's provide incentives for folks who are protecting our water, soil, and air."
During his remarks, he referenced MLive's reporting about asthma and pollution concerns on the Northside.
Related: Asthma is killing Kalamazoo family living near a stinking factory. Now the state is studying asthma in the neighborhood.
"…the state is now researching asthma because folks are getting symptoms that they never have before due to some of the pollution that we have in our city. That is totally unacceptable and something that we have to address," Kilgore said.
"The environment is one of my top concerns because it affects us all, and how we continue to make sure we have a safe environment is giving incentives to folks who are doing it the right way," Kilgore said.
Stephanie Hoffman said she is a firm believer in holding big corporations accountable.
"One way that we can do that is hit them in the pocket. So, people are making tons and tons of money, and they don't understand the voices of the people they choose not to hear the voices of the people," Hoffman said.
"What if we begin to work with them and say, 'Are you going to address that or not?'" she said.
Hoffman said it's about valuing residents.
"Hitting them in the pocket, to make sure they understand that we as a city are serious about our residents and the health of our residents," she said.
James Mitchell said one focus he has is on Pfizer Corporation. For 70 years, Pfizer has been sending their sewage from their Portage location for processing on the Northside of Kalamazoo, he said. However, Mitchell's was cut off before finishing his point on the issue in the allotted time.
Steven Chandler said he thinks the largest thing that the city can do is help hold businesses accountable.
"The damage wasn't done by residents just going about their daily lives and going through their work. It was the companies that are putting these things out into the water and out into the air, that they knew about, they knew about on day one. And they're the ones that need to be held accountable to help clean up the mess that they've made," Chandler said.
Read more: Kalamazoo spends $170K for PFAS testing following airport foam spill
Former city resident Brandi Crawford-Johnson, who has employed several legal remedies to seek justice for people in the Northside neighborhood affected by pollution, said she recently handed out packets of documents to the some candidates she met with last week. She has brought the concerns to elected officials before, and now she been seeking out candidates to talk about the issue.
Crawford-Johnson said the documents include an explanation of health impacts and industrial pollution in Kalamazoo, and a toxicology report she had commissioned that she believes should warrant more attention and action from officials. She said she has been trying bring attention to the issue for years, but government officials have not taken enough action to protect people.
She said the documents were also provided to Mayor David Anderson, who is running for reelection, and has talked to his opponent, Benjamin Stanley, and several of the candidates about the issue. She said she hopes current commissioners and the candidates take it seriously.
Crawford-Johnson said she believes GPI is responsible for health concerns happening in the neighborhood. A former resident of the area who has since moved outside of the city, she said she won't stop fighting until the truth is revealed and changes are made to protect people.
Meanwhile, the Kalamazoo City Commission is considering a recommendation from city staff at its Sept. 20 meeting to approve a 5-year tax abatement to Graphic Packaging International.
About 20 citizens including Crawford-Johnson, as well as DeAnn Winfield and her son, Deandre Jones, called on Monday to expressed health concerns that they believe may be tied to industrial pollution. Winfield and Jones both suffer from asthma and Jones uses a breathing machine to help him stay alive.
During Monday's discussion, extending the tax abatement did not have the full support of the commission.
Vice Mayor Patrese Griffin said she was not comfortable providing additional benefits to the company and she planned to vote no on the resolution.
Instead of voting on the abatement, commissioners approved a motion to delay the decision to the Oct. 18 meeting.
They said this would allow citizens and officials to attend an informational meeting hosted by state officials to brief the public on air sampling activities around Graphic Packaging International in Kalamazoo, to address environmental and health concerns brought to the Department of Environment, Great Lakes and Energy's (EGLE) attention.
Graphic Packaging makes paper-based packaging for a variety of products, including cups, cartons, boxes and other food containers. The company produces paper material as well as folds and labels the products. Over the last several years, the company has made changes or additions to its processes requiring air permits through EGLE, the agency said.
"During the air permitting process, other environmental and health concerns were brought to EGLE's attention," an agency news release announcing the meeting said. "Some were discovered during routine inspections of the facility by EGLE staff and others were identified by nearby residents."
GPI told MLive previously the state evaluated the potential for health impacts when it issued the company's air permit, and concluded that there would not be a health concern. GPI said it is below the limits of the permit and are confident that we do not have emissions that pose a health threat.
EGLE's online meeting will be held at 6 p.m. Tuesday, Oct. 5. Community members with limited or no internet access can also call in to listen and ask questions.
There are two ways to join the meeting:
Join online via computer: Pre-register at any time, or join at 6 p.m. on Oct. 5

Call in to the meeting: 636-651-3142, and use conference code 374288
To address health concerns, EGLE has partnered with the Michigan Department of Health and Human Services, the U.S. Environmental Protection Agency and the city of Kalamazoo to conduct air sampling. The air sampling program is currently underway and gathering both short-term and long-term air quality data, EGLE said.
Read more:
'Environmental racism happened in Kalamazoo,' commissioner says as city pauses decision on tax break for factory
2 months later, officials still haven't determined how woman died at Faster Horses Festival
8-foot waves, hypothermia risk for Lake Michigan on Friday, NWS says