Resurrect These Trends to Cultivate A Post-Pandemic Roaring '20s
CR is calling it now… the roaring '20s have arrived. Despite being one year late, an era of indulgence and glamour is only going to further develop across the next decade — eventually remembered as our world's post-pandemic glory. How better to commemorate an emerging epoch than by looking the part?
Though a tumultuous period that ended is disarray, the 1920s were infamously a dreamland of fashion decadence. Excessive glitz and embellishment paired with freeing, modern silhouettes. Coco Chanel radically transformed womenswear through her introduction of the LBD, Jeanne Lanvin built her revolutionary fashion empire, and a wave of silent film stars became style curators whose relevance remains one century later.
But in lieu of flappers we have influencers, underground "pandemic parties" replaced Prohibition speakeasies, and COVID-19 swapped out the Spanish Flu. Hopefully another Great Depression is not waiting for us at the end of our roaring '20s. And along with 21st century versions of historical events, fashion has developed its own parallels to be sported.
Browse through CR's roaring '20s trend musings below.

Slip Dresses
Underwear as outerwear had a mini-moment in the 1920s before an utter explosion in later decades. Specifically, silk slip dresses became a style staple. From burlesque dancers and flappers to the party-goers of Gatsby's fictional mansion, a new and far less conservative version of dress became the norm.
Slip dress designs of today have not evolved far beyond their '20s counterparts, though hem lines have risen and necklines have slightly dropped. Saint Laurent incorporated animal print for their Resort 2021 slips, while Fendi and Chanel elevated the undergarment into elegant evening wear with a midi cut.
Fur Trim
Detailing that has never quite gone out of style, fur trim adds a luxurious element to all outerwear and knit pieces. European women took the form of embellishment to new heights during the '20s, rarely dressed in coats sans fur trim. Why? Status symbol and obvious wealth connotations.
Recently relevant through social media's avant basic trend, the design is more pervasive than ever. Modern applications are variant, seen on coats, blazers, cardigans, and more. Balmain implemented the trend with harsher angles on a neckline in their Fall/Winter 2021 collection, while Saint Laurent preserved the soft and rounded approach during Fall/Winter and Pre-Fall 2021.
Feathers
Primarily pertinent due to their centric presence in burlesque, feathers were all the rage during the '20s. Fans, skirts, and even wings were designed with the animal fiber. Though their popularity rapidly declined after this era, feathers became a keystone of the flapper look. A single strand would ornate their signature headbands, the ideal accessory for boyish haircuts of the time.
Today, the feather look can be a fun addition to any piece. Saint Laurent played around with feather sleeves and hem lines throughout their ready-to-wear for Spring/Summer and Fall/Winter 2021, while Lanvin made the fibers each blouse's main event across their Fall/Winter collection this year.
Decadent Headpieces
Easily categorized as the epitome of roaring '20s aesthetics, glitzy headpieces of the era's nightlife are simply to die for. Cloche hats were worn by day, but as soon as the sun went down — beautifully intricate headwear became the cherry on top of every look. Cleopatra, who? The trend actually rose to fruition after a rampant search for King Tut's tomb during the period, resulting in every woman's desire to embody an Egyptian queen.
Paco Rabanne is singlehandedly reviving the decadent headpieces of last century, including them in both of his Spring/Summer collections over the past two years. Anne Hathaway even donned one of his beautiful headdress designs on the cover of CR Fashion Book China's second issue.
Pearl Necklace
Pearls are certainly not exclusively a roaring '20s trend, yet their classic elegance was a steadfast staple of the era. Long strands and excessive layering of the necklace style never quite stopped being à la mode, though iterations and lengths have varied over the years.
Just as hemlines shrunk, so did the span of pearl necklaces. 2021's version is all about the choker. Keep it short, and maybe add a charm or some additional beads. Vivienne Westwood's pearl chokers were incredibly sought-after at the end of 2020, and new-age designers such as Mudd Pearl have entered the trend with innovative structures.
Opulence
Excess. You can't have the roaring '20s without it. Minimalism had no place in the era, seen by the rapid rush of consumerism that resulted in a crippling '30s depression. "Nouveau riche" classes frantically attempted to flaunt their recently acquired wealth by throwing lavish soirées and wearing anything with sparkle. Fancy looks had to be donned at every hour of the day.
Let's ignore the decay beneath 1920s opulence and utilize finally being able to leave the house as an opportunity resurrect maximalism. Metallic tones, fringe, glitter details, and just about anything that is a bit extra. Dior and Fendi were no strangers to ornate designs throughout their Spring/Summer couture collections in recent years, while Balmain produced a Pre-Fall 2021 collection of a similar nature.
Art Deco Geometric Details
Visible through graphic prints and beaded detailing, art deco geometric designs took over the '20s fashion scene. Sonia Delaunay's ornamental renderings of the style were widely popularized in the fine art and clothing spheres alike, as were the art deco illustrations still visible in Miami and New York architecture. Every facet of creative expression was attracted to the trend.
Finding art deco prints in the 21st century is nearly as effortless as during its prime. Paco Rabanne's recent Spring/Summer 2022 collection was bursting with prints reminiscent of Delaunay's impression, while Balmain's PB monogram has a similar appearance as well.
Drop Waist
Anti-hourglass silhouettes are not exactly 2021 friendly… but give drop waist a shot. Instant elegance is added to any dress of the shape, ever since Chanel's popularization of the style with her LBD. Faux drop waists were sewn into evening gowns, while low-hanging belts were added to midi skirts. In later years, the waistline went away altogether.
Though a Kardashian may never be spotted in the look, drop waist pieces have been experiencing quite the moment in recent runway collections. Balmain featured the silhouette in their evening wear for Pre-Fall 2021, while Lanvin did an innovative version for Fall/Winter 2021. Chanel has even resurrected their early signature, as seen through a belted style in their Spring/Summer 2020 runway.
Eye-to-Cheek Blush
Side profiles must be coated in blush for a proper 1920s makeup look to be effective. Rouge lined the temples and full cheekbones of every flapper and film icon during the era, along with a bold lip and arched brow. One must appear flush at all times.
Valentino recently entered the beauty space with their signature hue in tow. No better way to attain the rosy look than by employing the ultimate shade of rouge — Valentino red.
Flapper Waves
To complete your new age 1920s look, soft flapper waves are essential. An archetype of the period, the dynamic hairstyle was a favorite of nearly every silent film star. Paired with a cigarette holder and feather headband, of course.
21st century recreations have not yet been widely incorporated into daily life, but TikTok beauty gurus such as Erin Parsons have released guides for achieving the look. Just some vintage hair clips plus a bit of gel, and you'll be Anita Page in no time.
This content is imported from Instagram. You may be able to find the same content in another format, or you may be able to find more information, at their web site.
Fashion on Fifth: Week 2, Fall 2021 – The New School Free Press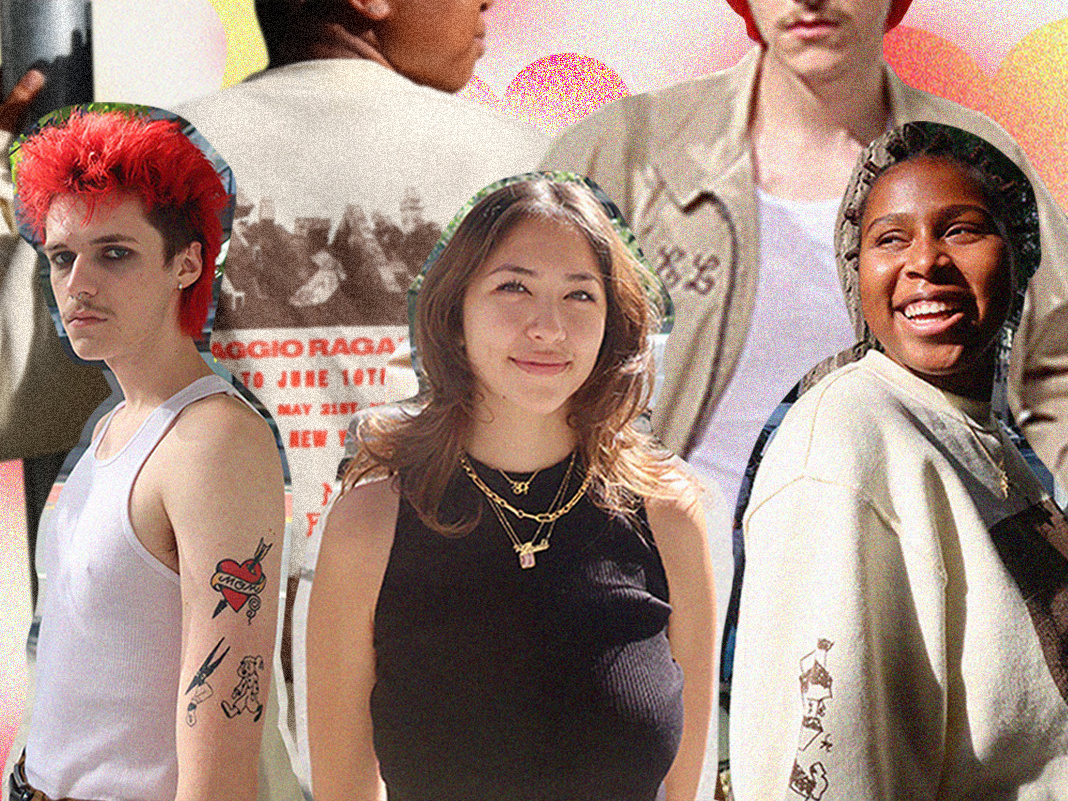 Welcome back to Fashion on Fifth, a beloved Free Press series showcasing New School students' unique and wide-ranging style. After seeing how this creative community translated their personal looks to Zoom, our reporters are taking to the streets of Greenwich Village once again. This semester we are bringing you more in depth profiles and thoughts from your peers about their style evolution throughout the pandemic and since being back in New York City.
Via Ace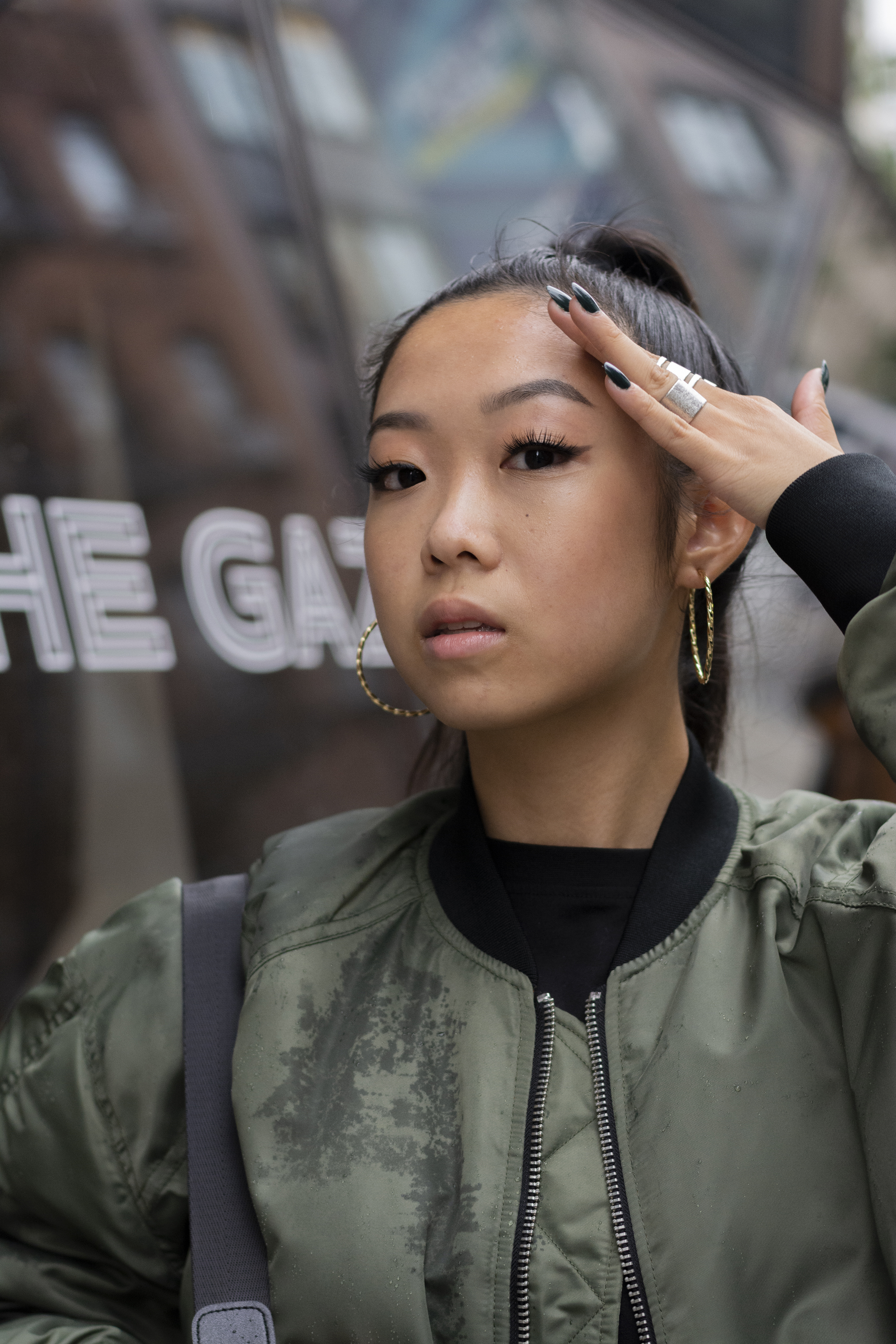 Via Ace, a second-year Strategic Design and Management student at Parsons who hails from New York City, described her style as "bold, in your face, and open. "I'm not scared of putting myself out there," Ace said.
Growing up on the South Shore of Staten Island, a more conservative part of the city, Ace felt "confined." Throughout her life, she has lived in Staten Island, Manhattan and Brooklyn. Ace was surrounded by predominantly white people with conservative political views wherever she lived. They would often judge her for being an Asian American woman in addition to how she dressed, she said.
Photographs by Alexandra Nava-Baltimore
On this rainy September morning, Ace wore platform boots from DSW (Designer Shoe Warehouse) and paired them with a chunky silver anklet. She has styled stackable silver rings from H&M with clip-on, gold hoop earrings from Amazon and a sleek high ponytail. "I like to mix my metals because I feel like no one does that," she said. Ace tends to gravitate towards more oversized clothing, and here, she paired an oversized black T-shirt from Missguided with biker shorts from Aerie that have pockets along the side. To complete the look and protect her from the rain, Ace wore an army green bomber jacket from Zara.
Ace thrifts most of her clothing at the L Train Vintage in Brooklyn and on First Avenue in addition to other "random thrift stores" that she "stumbles upon." She looks for her staples which include jewelry, tees, oversized jackets and jeans. Ace is constantly considering how her purchases will affect our planet and prefers to reuse and rework items over buying them new. She gravitates towards the men's section in any store she shops at because she likes to mix more masculine pieces with feminine accessories and shoes. Overall, Ace said she draws a lot of her fashion inspiration from Rihanna and the "I don't give a fuck' attitude of NYC."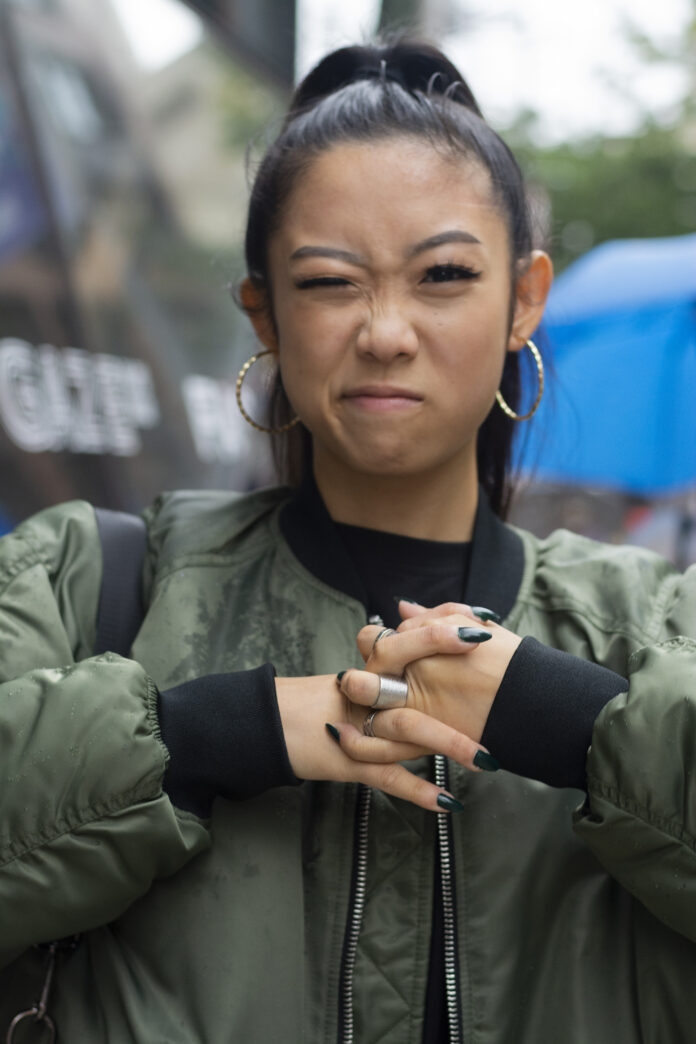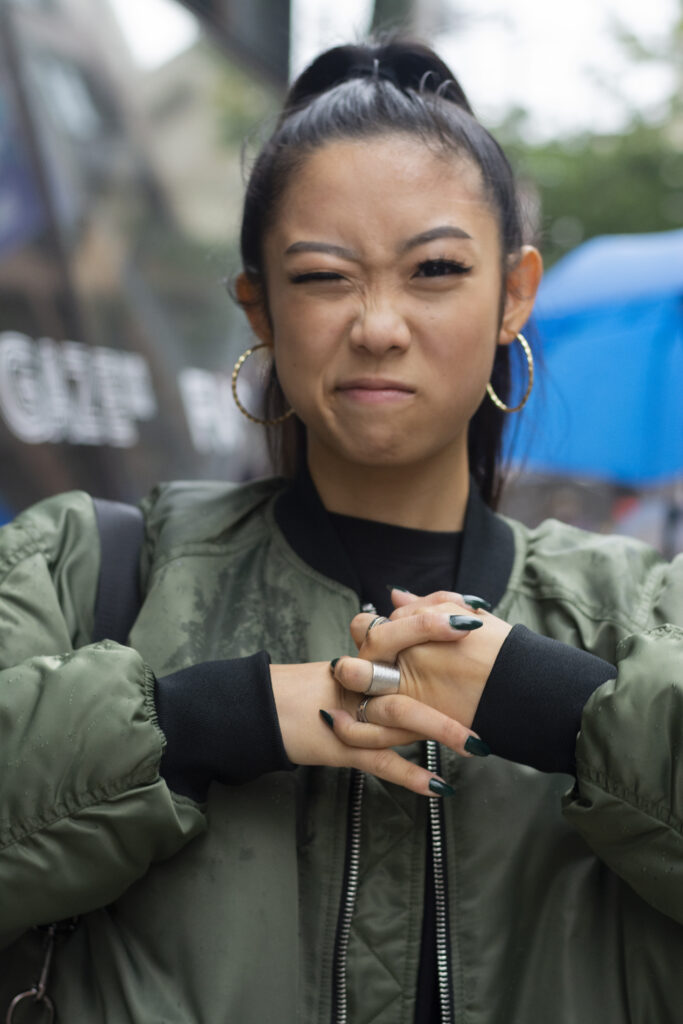 During quarantine and subsequent online semesters, Ace said she typically put makeup on every day for Zoom class but stayed in her pajamas. She feels a sense of relief being back on campus for in-person courses, as she can now express herself fully in head-to-toe looks. "[The more] I feel comfortable expressing myself, the better my work will be," Ace said. "I feel like I can conquer the world. I can do anything."
Ace described a renewed sense of "motivation" when picking out her outfits each day because she knows they will make her more productive. At The New School, Ace feels like no one will judge her, and she can wear whatever she wants.
Annelise Cornet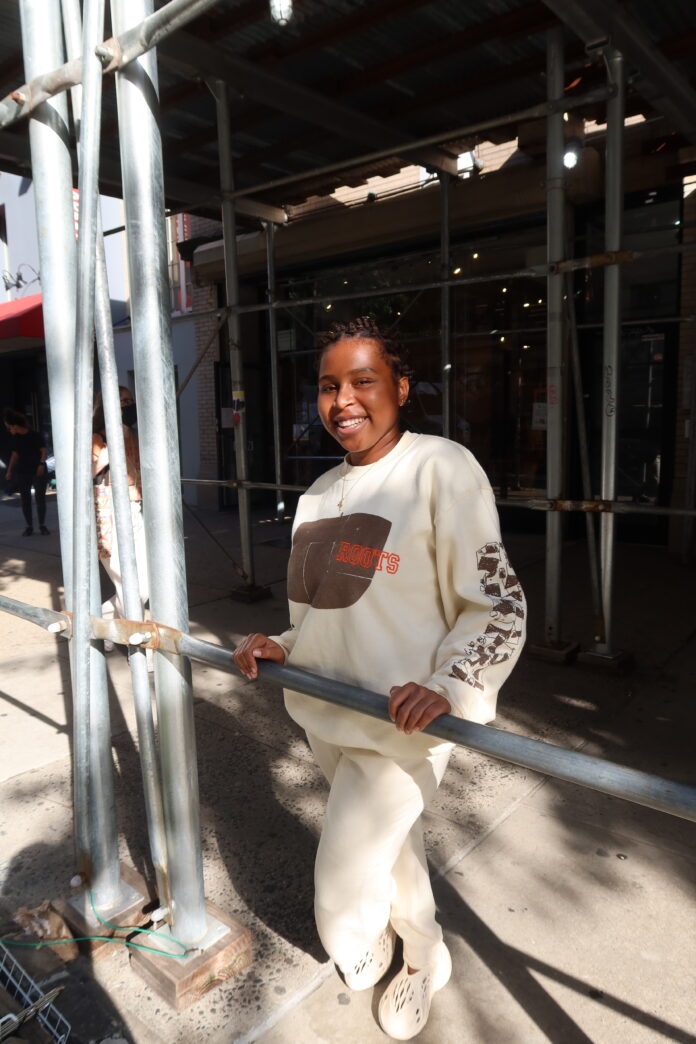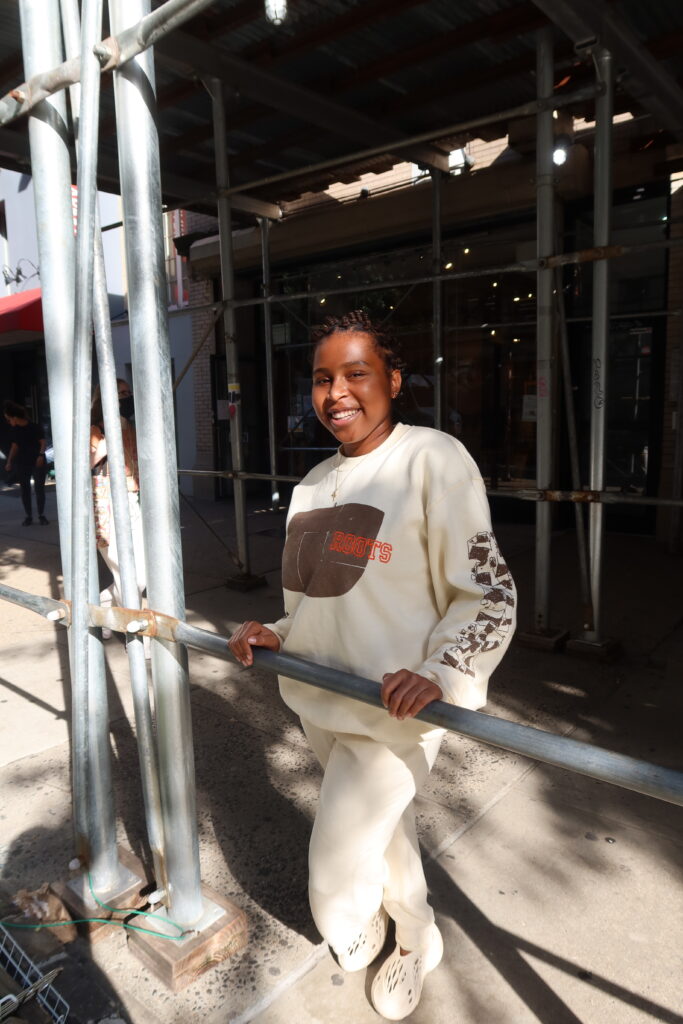 Annelise Cornet, a second-year Strategic Design and Management major at Parsons, sported an effortlessly chic monochromatic look. She wore Yeezy Foam Runners, thrifted white silk pants and a graphic sweatshirt. Her accessories included a necklace, which is a family heirloom, and a Madewell facemask.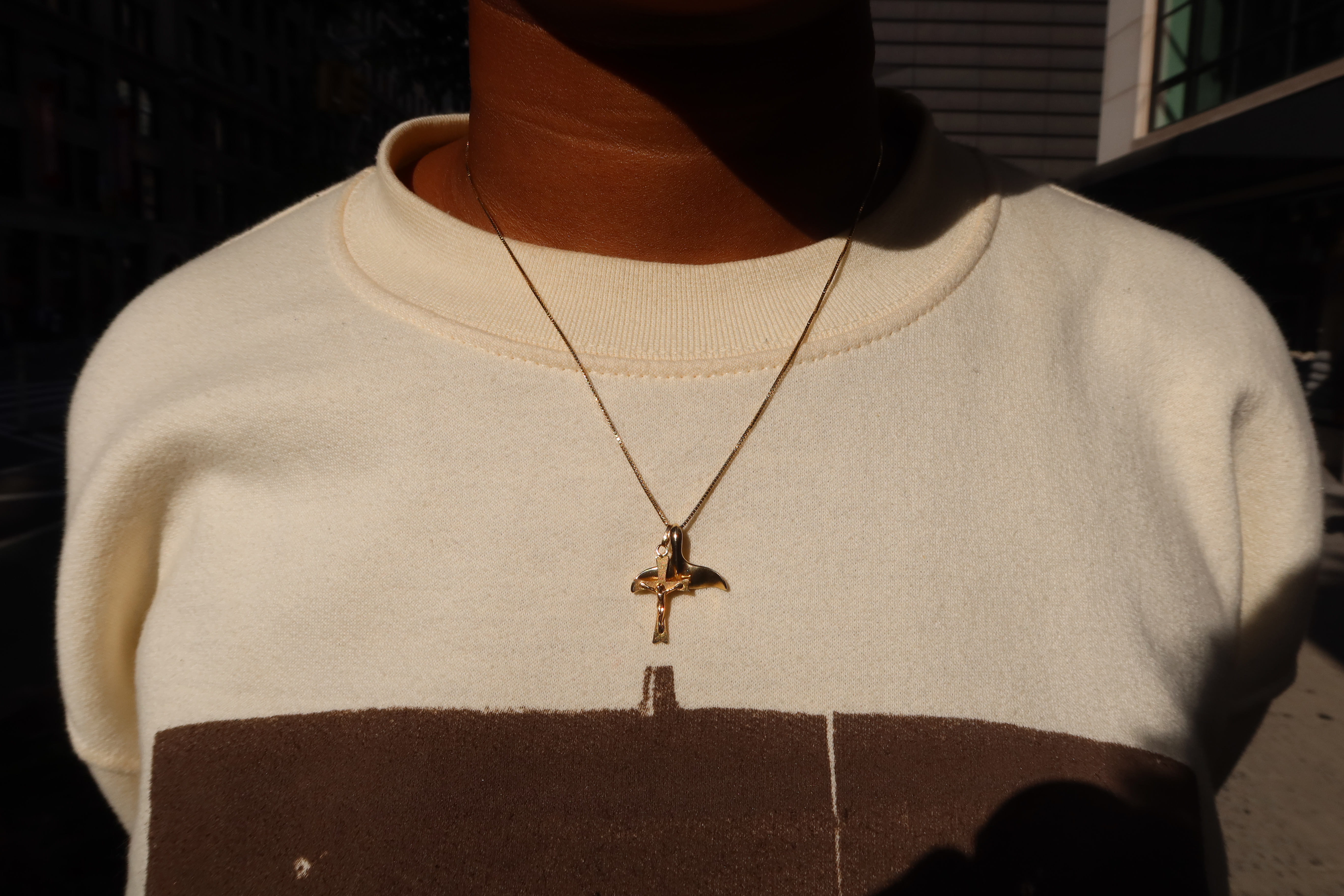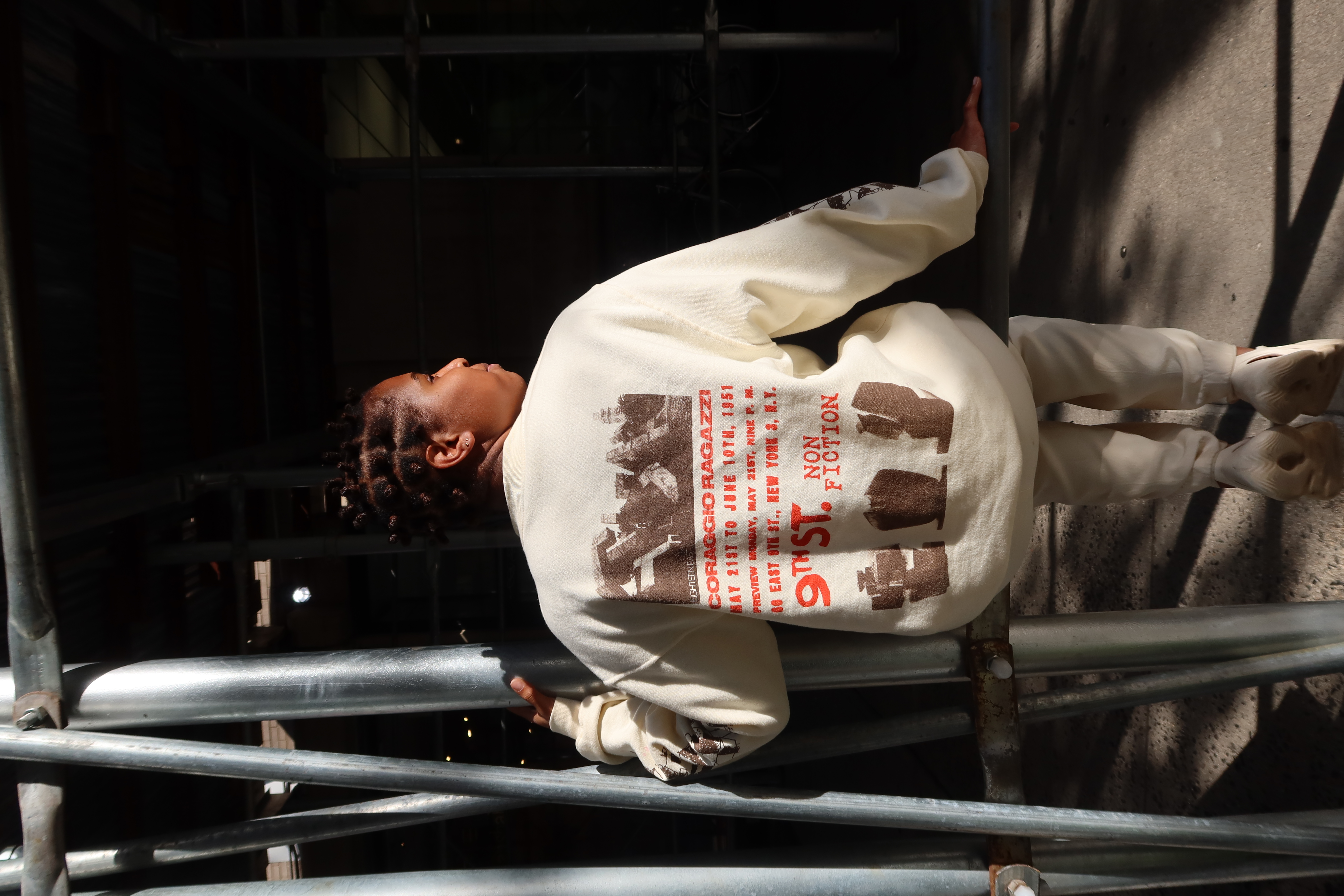 Photographs by Shivam Sachdeva

Originally from Atlanta, Georgia, Cornet finds living in New York City to be extremely liberating. "There are certain pieces I can wear because no one cares! Versus a small town in the suburbs, where people would stare," said Cornet. Comfort is Cornet's guiding principle for all school outfits . "I don't wear anything I can't move around in," she said. She shops at a variety of places, focusing on buying from small businesses and thrifting. Cornet is inspired to step out of her comfort zone by the breadth of fashion at Parsons. She said she is drawn to the intricacies of their outfits, and often feels inspired to incorporate similar elements into her own looks.
Reflecting on her style shift throughout the pandemic, Cornet said the main difference is her desire to experiment with combining pieces head-to-toe. On Zoom her outfits consisted of pajamas, sweatpants and leggings. "As long as I looked decent on top, that's what mattered to me," said Cornet. Now she is driven and excited about creating complete looks that illustrate her personal growth and renewed creativity. "Some days I am giving flower girl vibes and might wear a floral dress. Other days I'm giving more streetwear. It just depends on my mood," said Cornet.
Cornet reflected on her personal growth throughout the interview and, like many New School students, she fully expects her style to evolve as she does. "Being in college, I think it's time to try something different. I've lowkey been wanting to dye my hair! I also want to get into knitwear, specifically dresses, as well," said Cornet.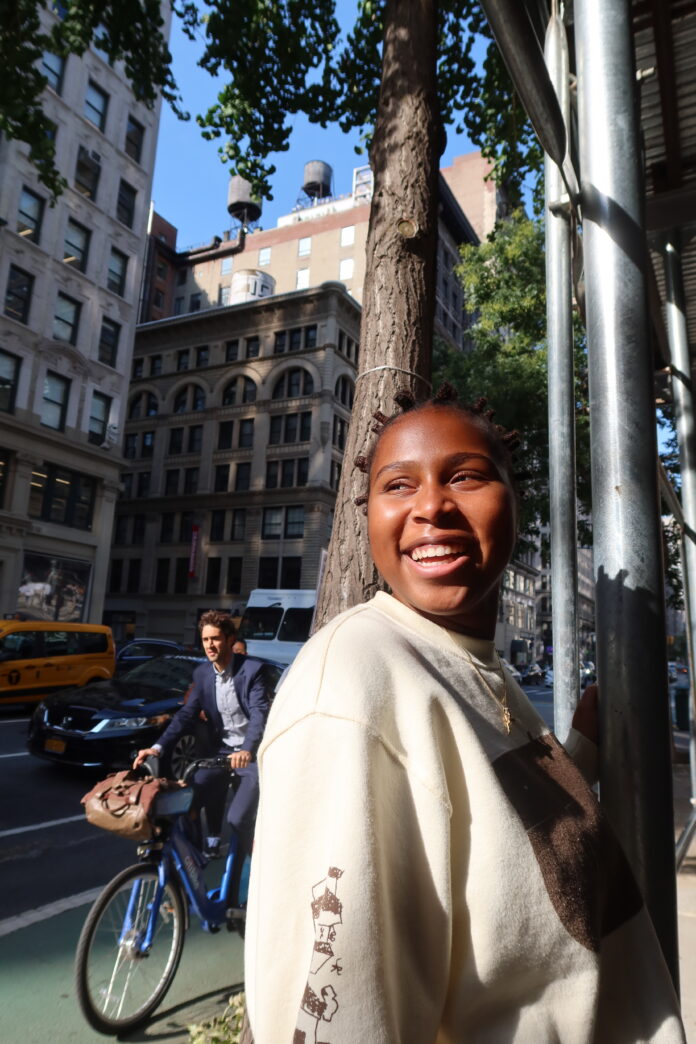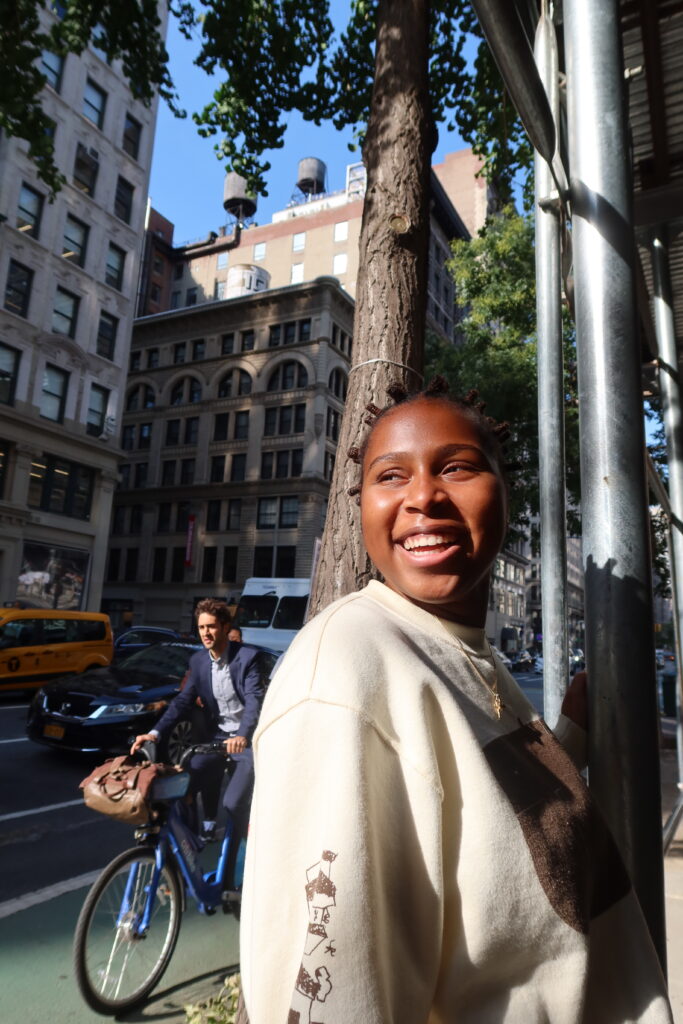 In closing Cornet offered some advice on discovering one's individual style. She said, "Just do you! People who appreciate your style, or appreciate you as a person, will naturally gravitate to you. So yeah, just be yourself, which isn't an easy thing to do, but once you start doing it you definitely will feel better!"
Ryan Minter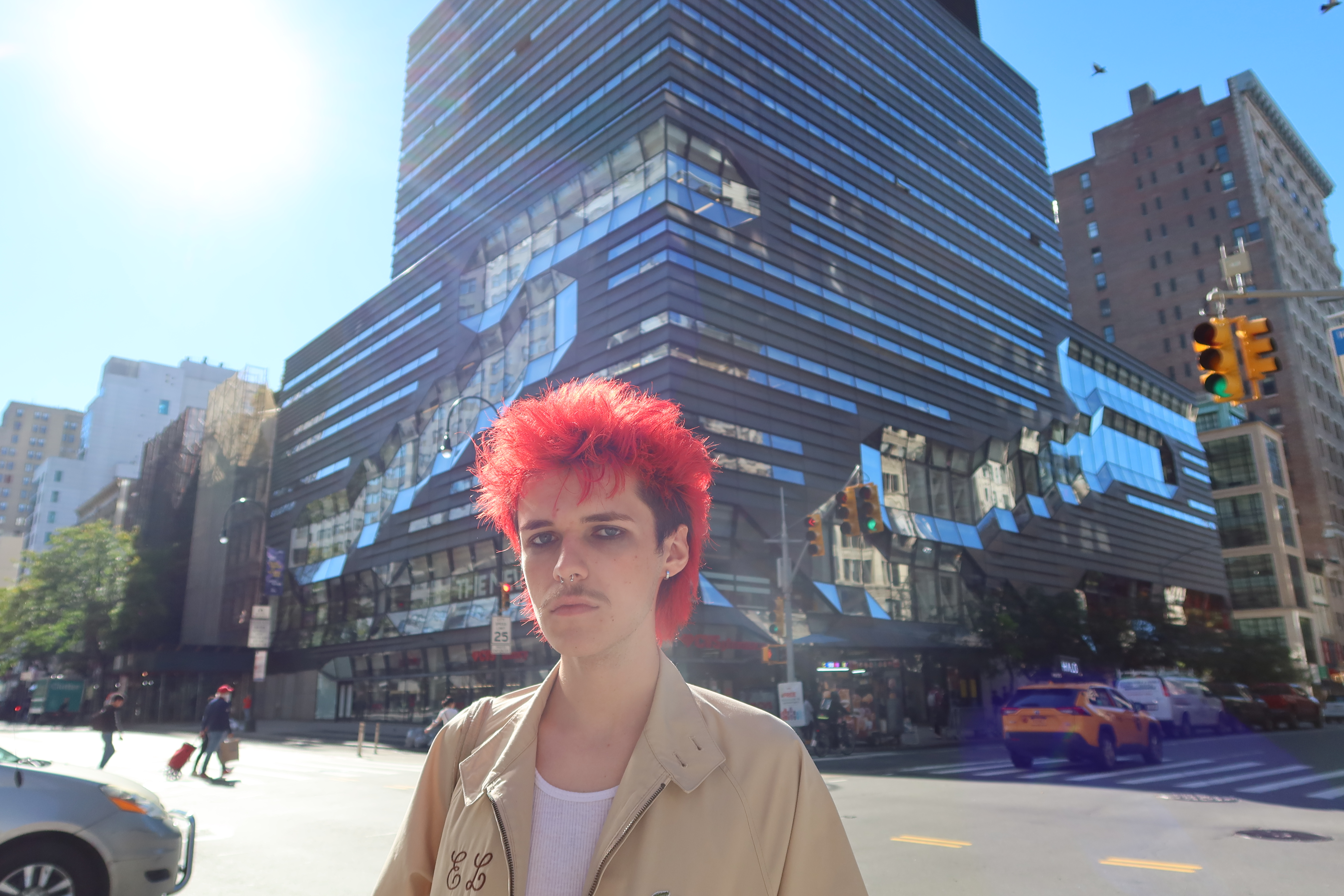 Artist, musician and Lang student Ryan Minter shared their dynamic approach to style.
"I like looking like a cartoon character a lot of the time! But I also like to be simple and let my hair do the rest," Minter, a second-year studying Culture and Media, said. Today, their look consisted of a chunky pair of '80s-inspired boots, thrifted women's trousers, an Ed Hardy tank top and a Lacoste rain jacket that they found at a friend's place. Minter said he is inspired by the oversized trend. "I'm really into oversized shirts [and] suits right now, which has been a big thing for me," said Minter. Minter purchases most of their clothes from thrift stores at home in Atlanta, Georgia. "I don't really have any favorite thrift stores in New York City, but in Georgia and Long Island there's great thrift[ing]," Minter said.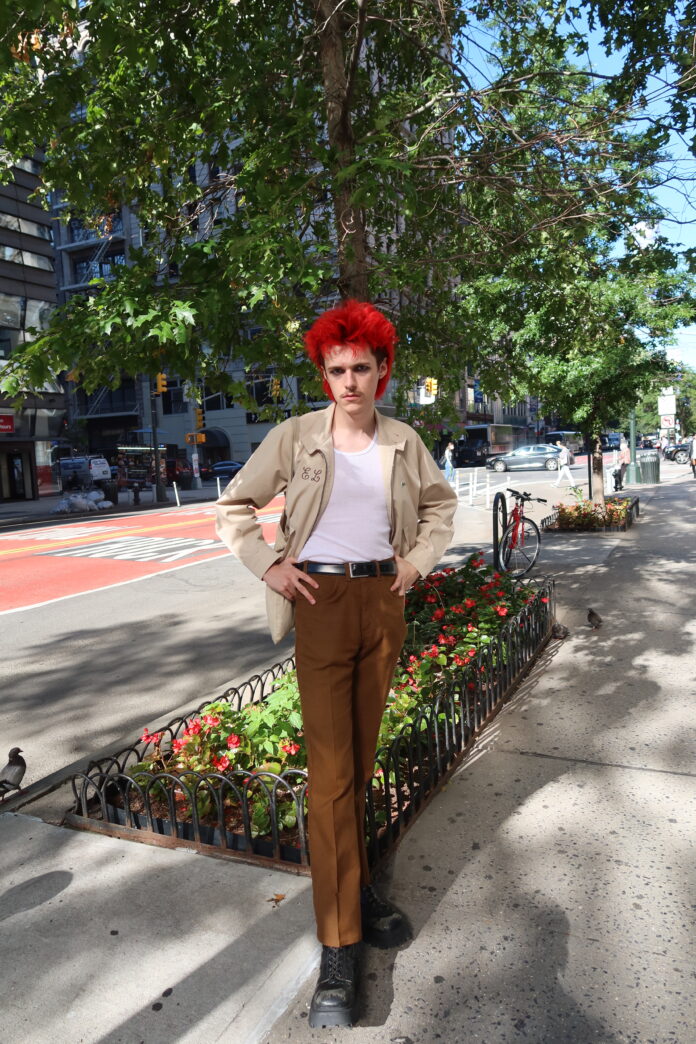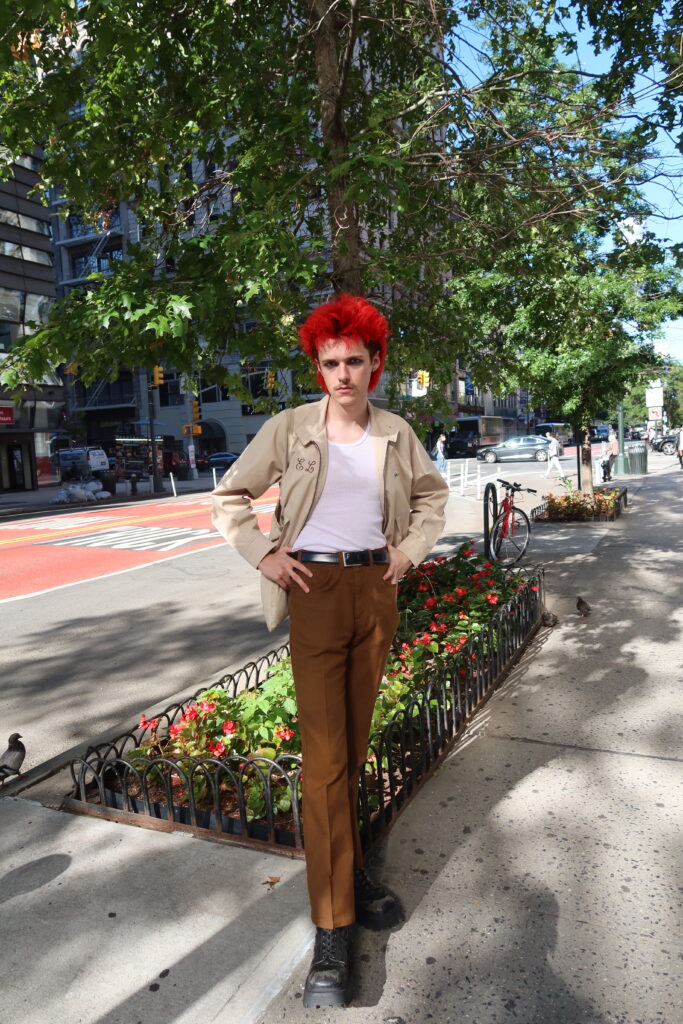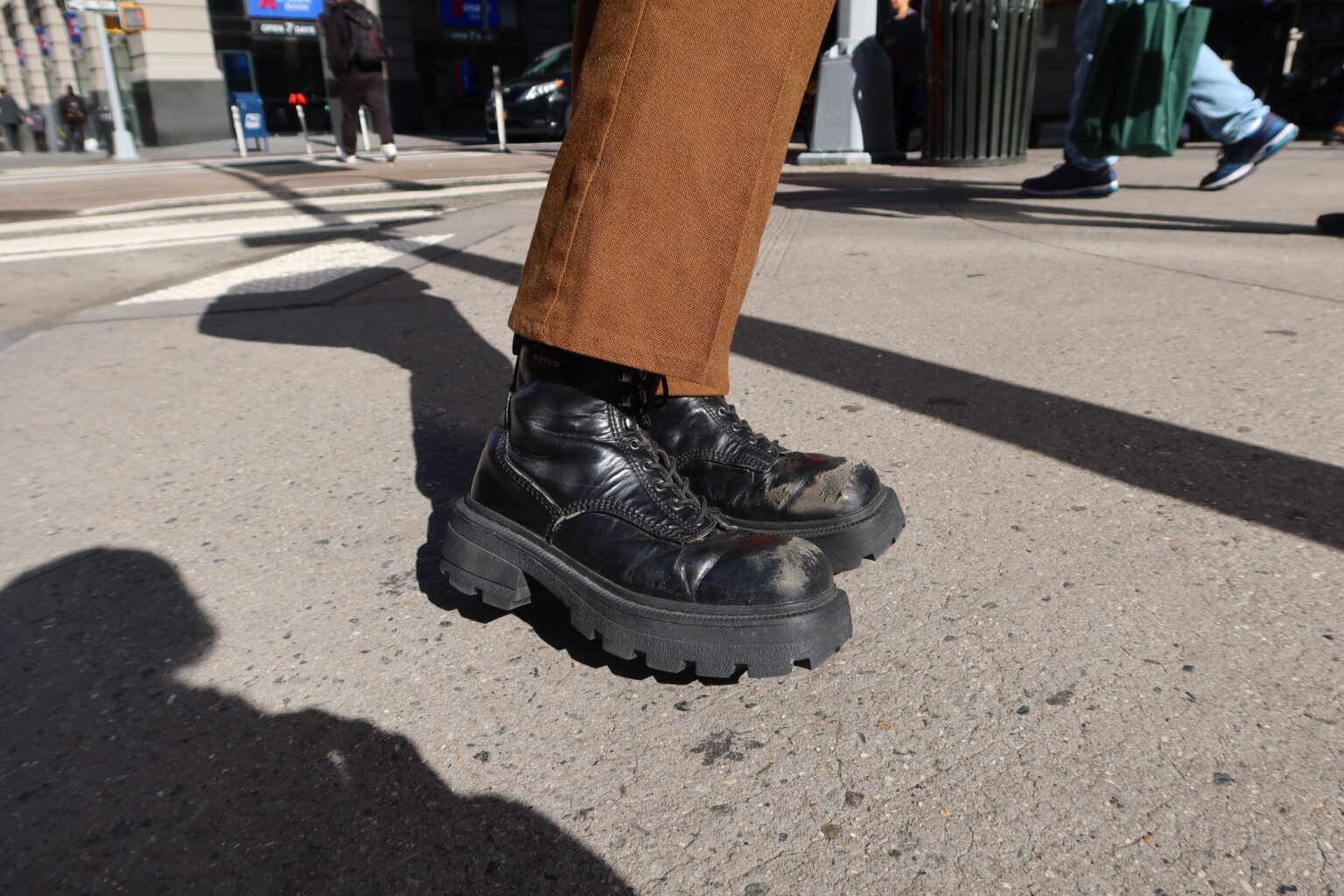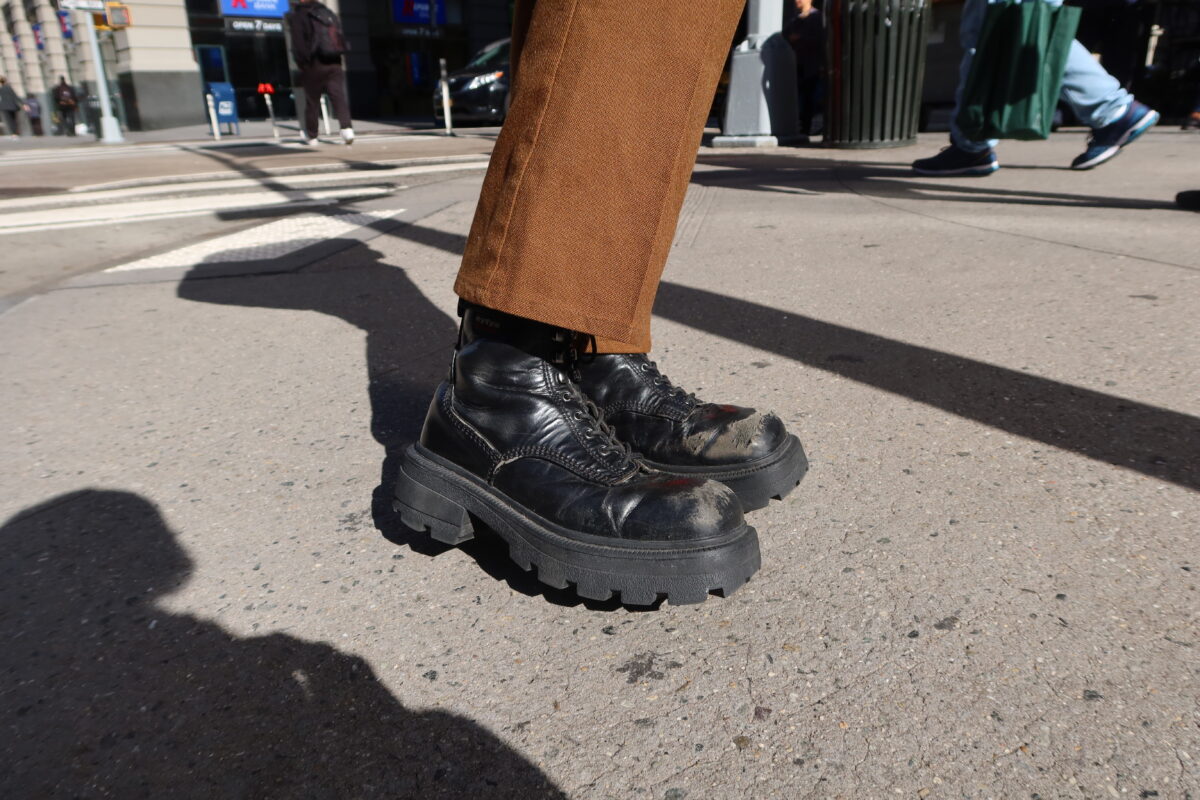 Photographs by Shivam Sachdeva
They mentioned that they no longer feel pressure to constantly have the perfect outfit. Minter said, "I care a lot less. I remember before Covid hit, I thought I had to dress my best all the time. But after Covid I realized I really don't need to. I can show up in a shirt and pants and call it a day!"
Minter describes picking outfits for class to be, "…kinda dreadful. When I wake up I am very focused on actually waking up, and everything else is on autopilot," they said. "I have a bunch of go-to outfits – recently it has been big pants and a t-shirt."
Their outfits often reflect work they're doing in their classes. "In my advanced screen print[ing] class I usually leave with ink all over myself," said Minter,"so I wear clothes I can get messy and be comfortable in. For my morning class, it's my JNCOs and a t-shirt!"
Reflecting on the difference between Zoom and in-person classes, Minter said "I wear pants now, so that's pretty wild!" Now that classes have finally returned to campus and there is a reason to be outside, Minter said they are excited to explore "interesting silhouettes," and begin experimenting with layering as the seasons shift.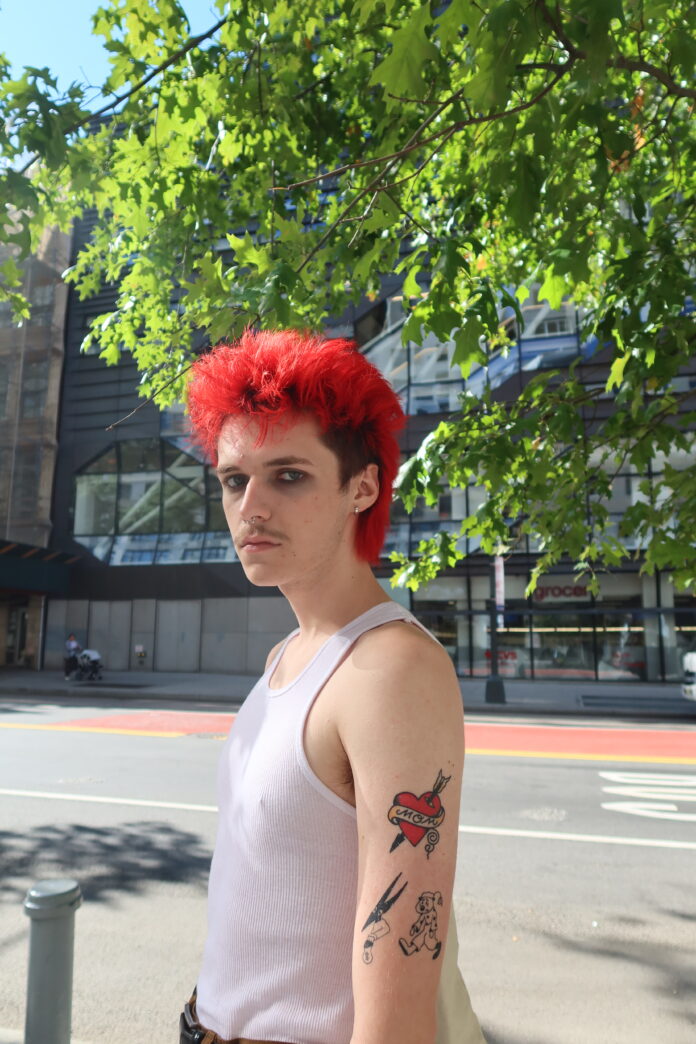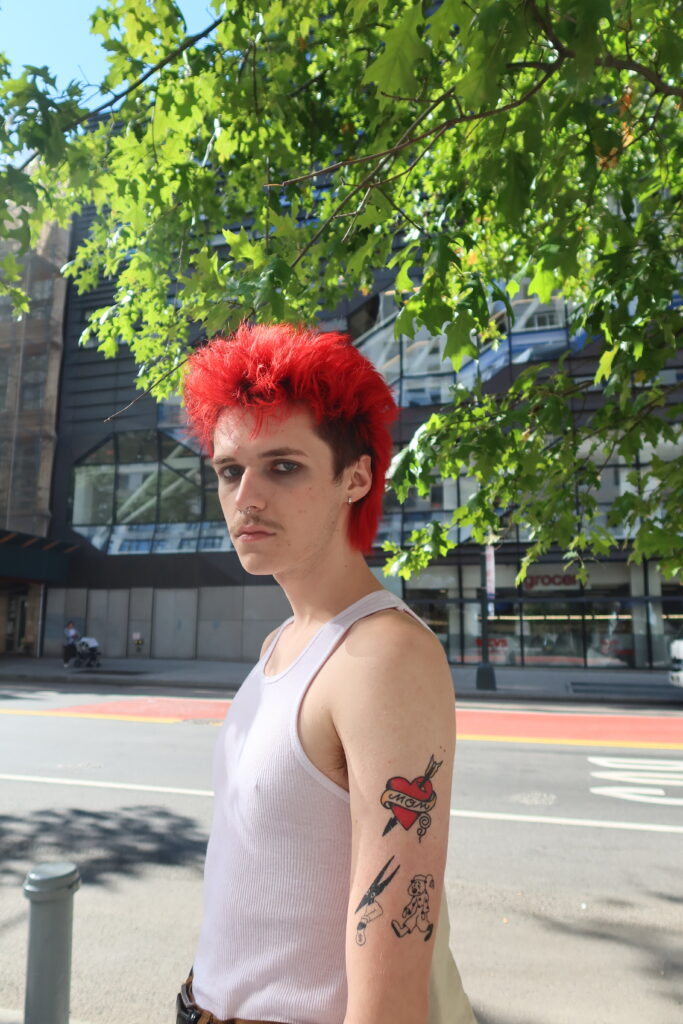 Minter shared with The Free Press that they, "came out as non-binary over the course of the pandemic, which has been a big step out," Minter said. "I've learned that I don't have to be over the top to look decent."
This new found confidence in their identity has unburdened Minter's relationship to fashion and their personal style, bringing  about a new era of growth for them."I can really, actually do what I want now and just be myself, which has been really good," they said.
Paula Kim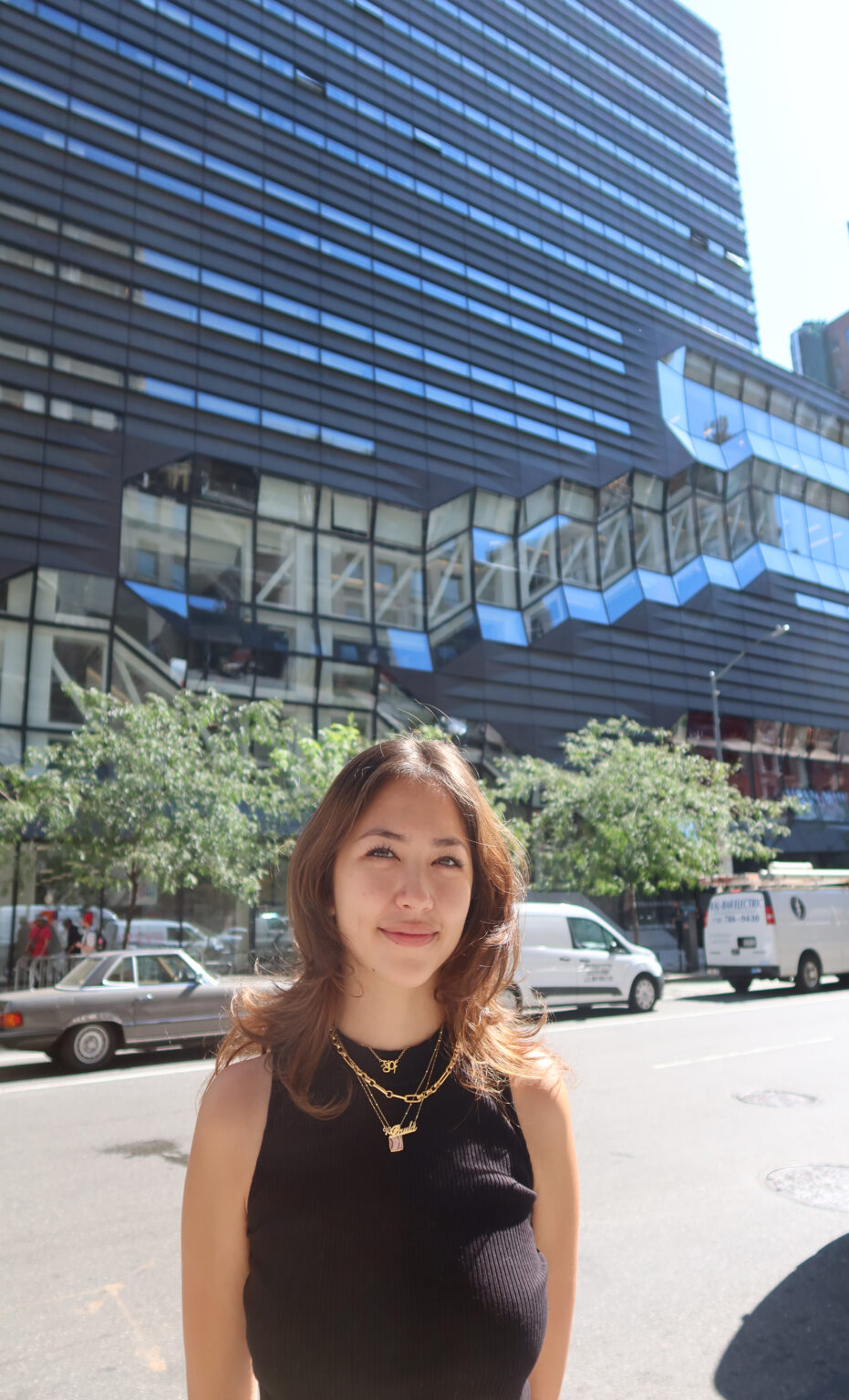 Paula Kim is a second year Strategic Design and Management student at Parsons with plans to minor in Fashion Communications. She described her style as a mix of girly, bohemian and chic aesthetics. "I think it's kinda a good mix," said Kim.
The outfit she wore for her interview with The New School Free Press highlighted the chic side of her personal style. She sported a pair of classic white, high-top Air Force Ones (which she thrifted for $15), linen Old Navy pants and a black turtleneck tank top from Uniqlo. Her necklaces hold a lot of meaning for Kim, as they were each gifts from her family. Most notably, the chain with her name, which was made from a baby bracelet gifted to her by her grandmother in her childhood. "The little bow is from the [original] bracelet," said Kim. Her go-to outfit for school is anything comfortable. "I'll probably do fun comfy pants and a cute little tank top," said Kim.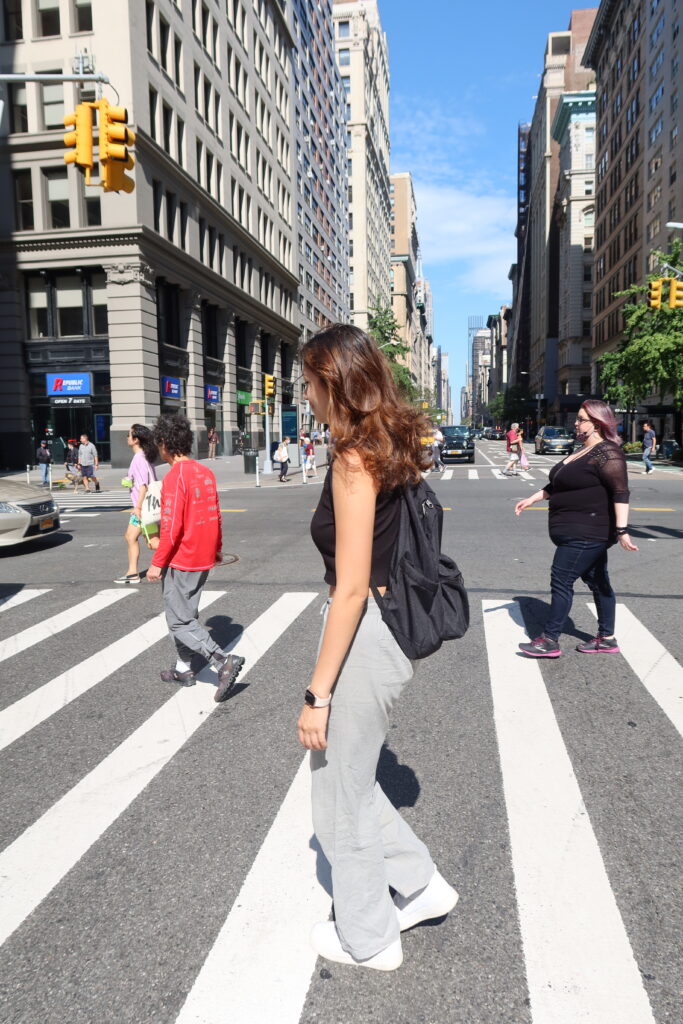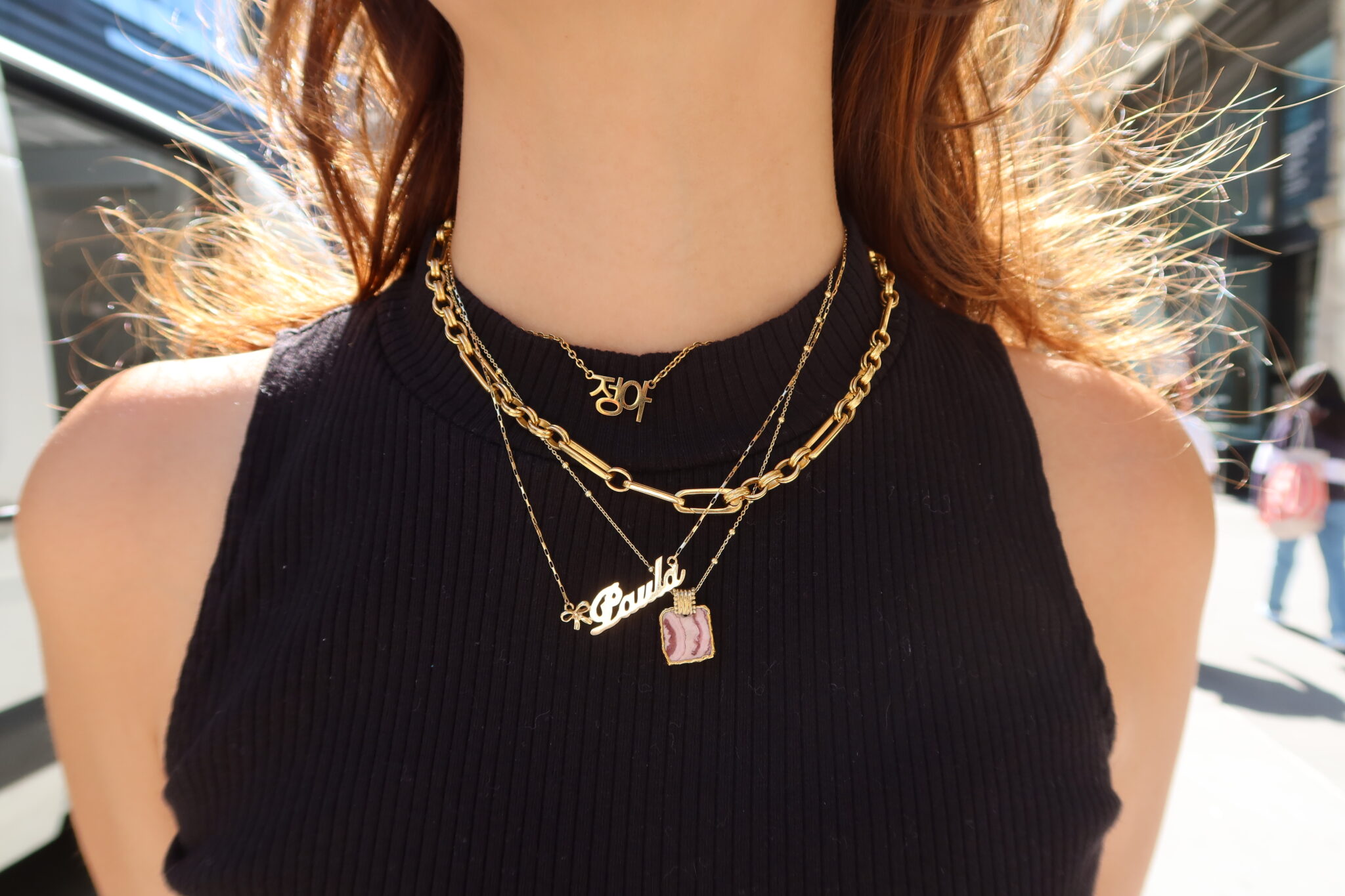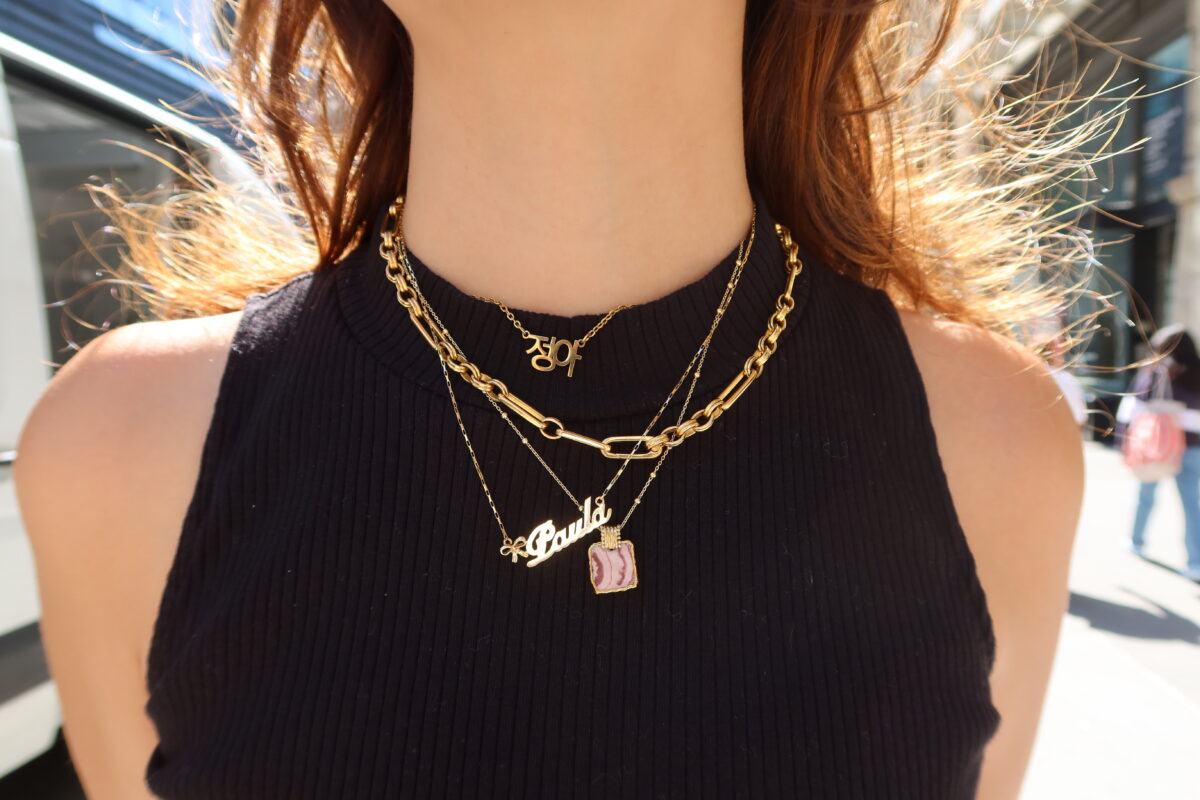 Photographs by Shivam Sachdeva
Kim said of her shopping habits, "a lot of my wardrobe has been in my closet for at least five years, I have a lot of clothes that I've had since high school! This past year and a half, I've only been buying second-hand, taking my friends' clothes or buying from consignment stores." She is motivated by the electric energy and variety of the city's street style. "I am always surrounded by inspiration," said Kim, and described styling outfits for school as a double-edged sword: stressful yet exciting.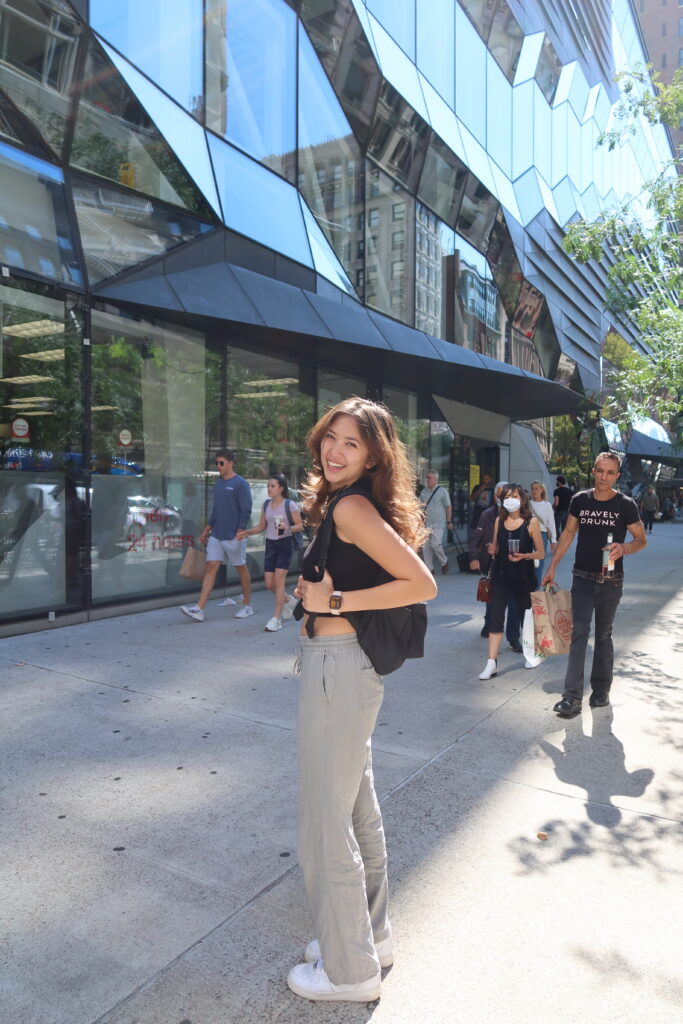 Kim said, "overall clothes are fun!" Her refusal to be yanked around by the chaotic pressures of the New School fashion landscape allows her to maintain a fun, carefree relationship to her personal style. "Experiment and do not let any outside factors get in the way," said Kim, advice she is intent on living by herself.
Kim is looking forward to fall and plans to experiment with layering. "I've been styling for myself, feeling comfortable and confident," said Kim. "I've been [getting] more into personal style and staying away from just wearing a white tank top and jeans!"
Maggie Keene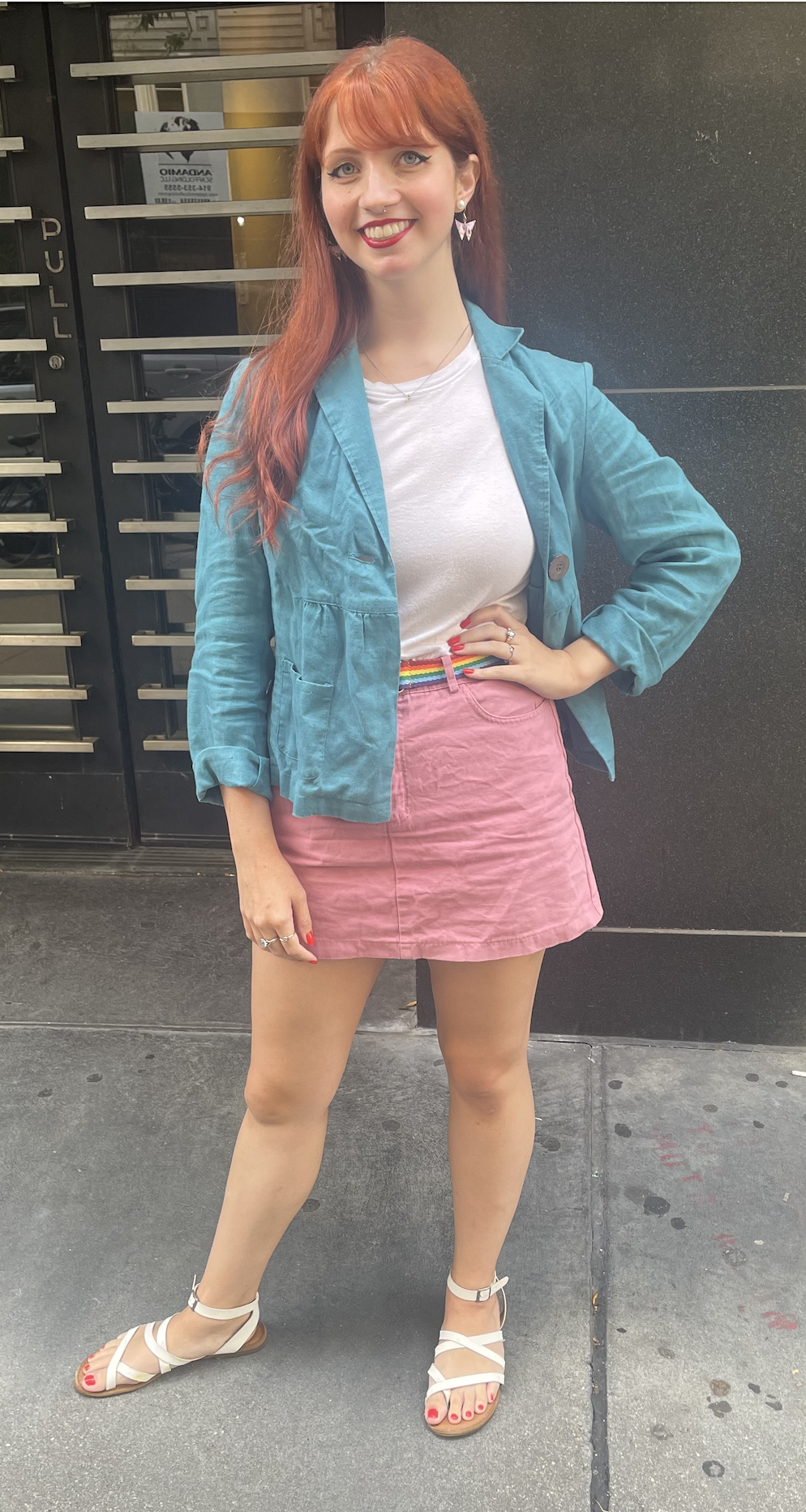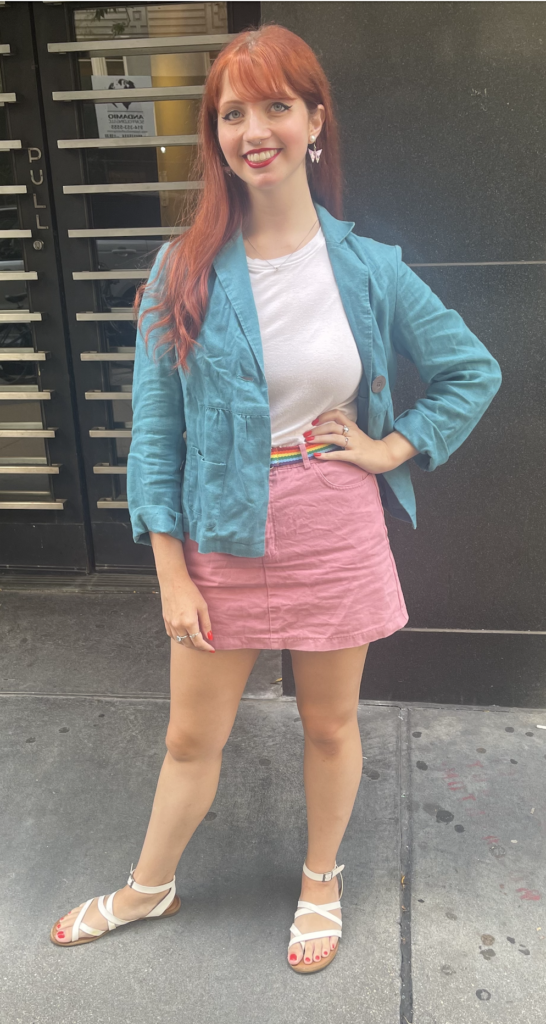 Maggie Keene, a fourth-year performing arts student at Lang, described her love of mixing classic and contemporary aesthetics as well as the nerves she feels getting dressed for class at an institution so renowned for its fashion.
On Tuesday, Keene wore white sandals and a pink skirt she paired with a rainbow belt. With it, she wore a bright, teal linen blazer with a white T-shirt underneath. To complete the colorful ensemble, she accessorized with butterfly earrings.
Keene, originally from Massachusetts, described having several iterations of her personal style that she rotates between and combines. She said she has an affection for more traditional "blast from the past" pieces. "I have a lot of things from the '50s and '70s that I like," she said. "Very feminine, older, housewife style is what I call that." She mixes this classic look with "super colorful modern street style." Keene admitted she sometimes opts for a more laid-back look when she simply needs to get to class. Her go-to class outfit is a fun dress or graphic tee with bike shorts. Either way, she always loves a color-coordinated outfit, including her makeup.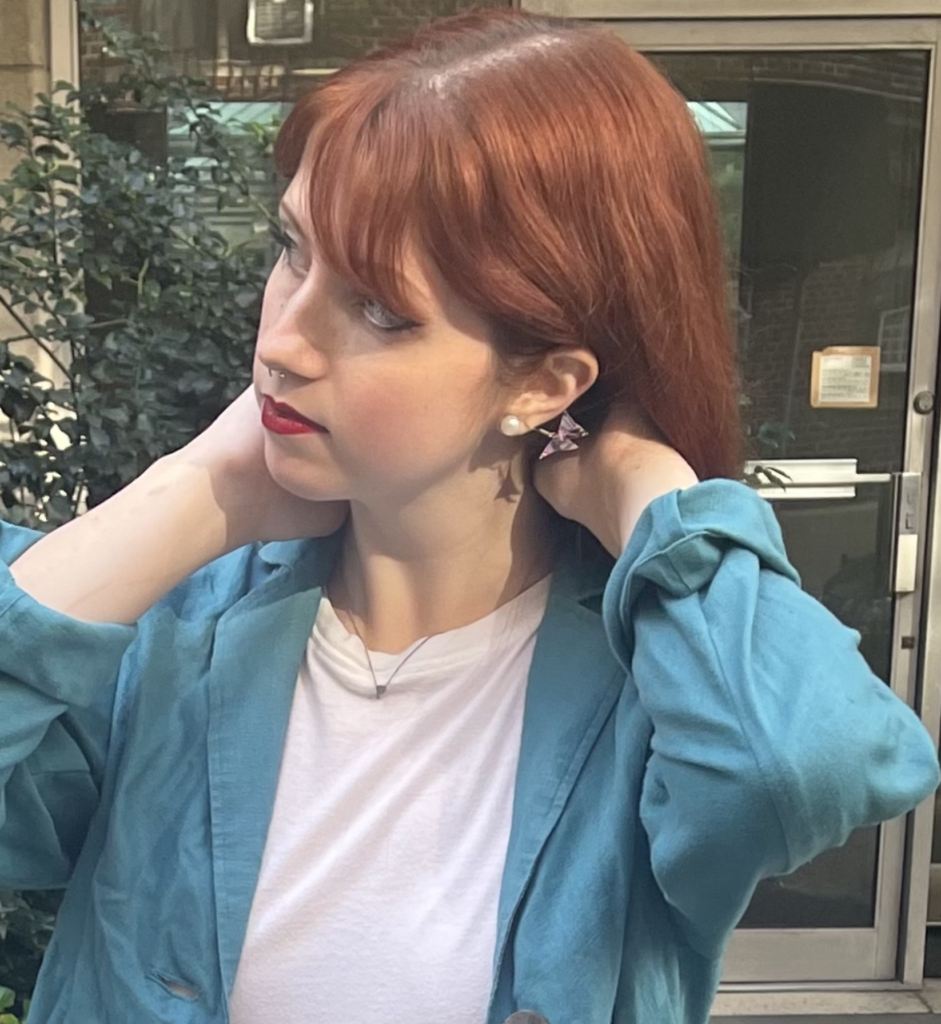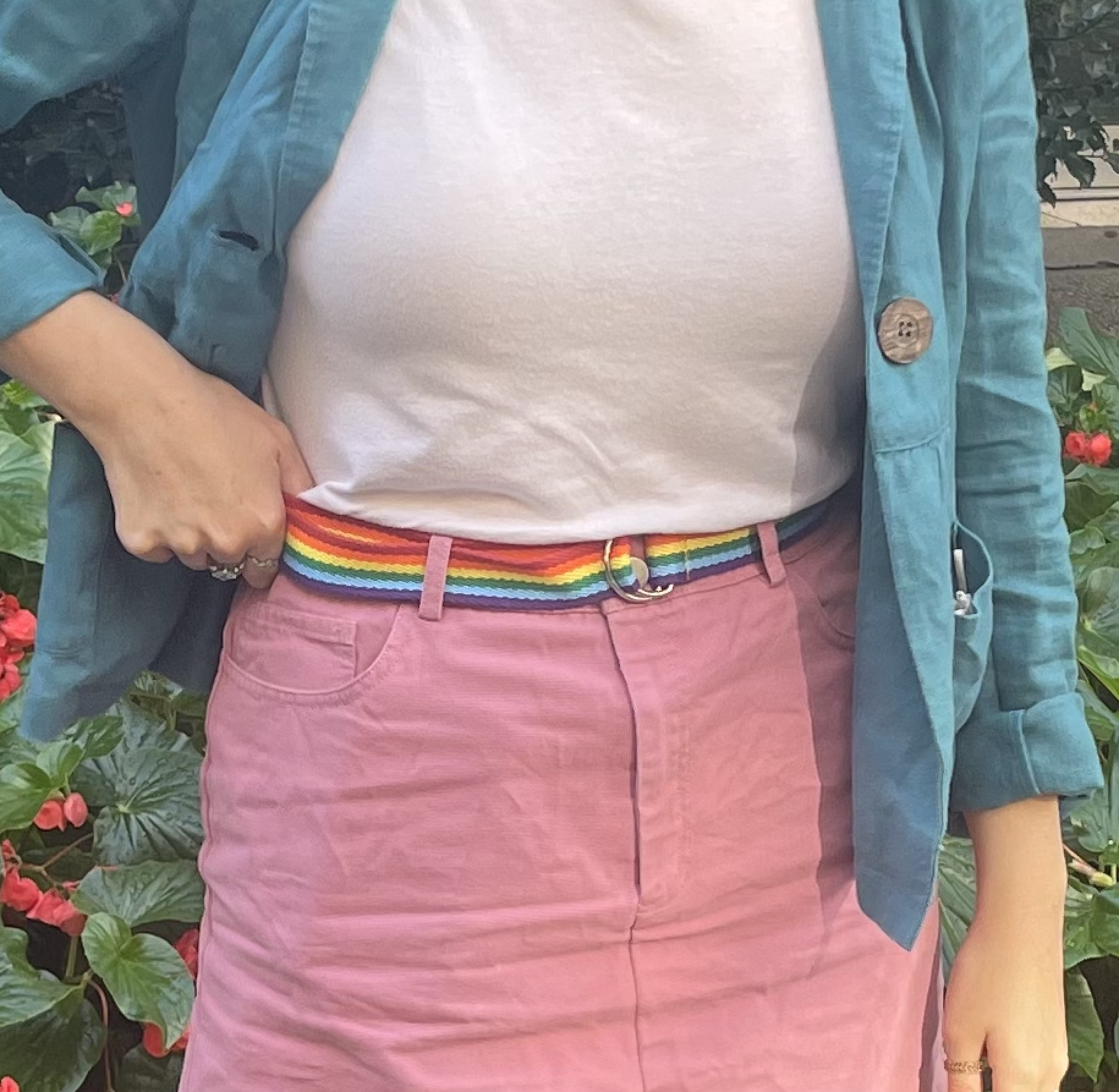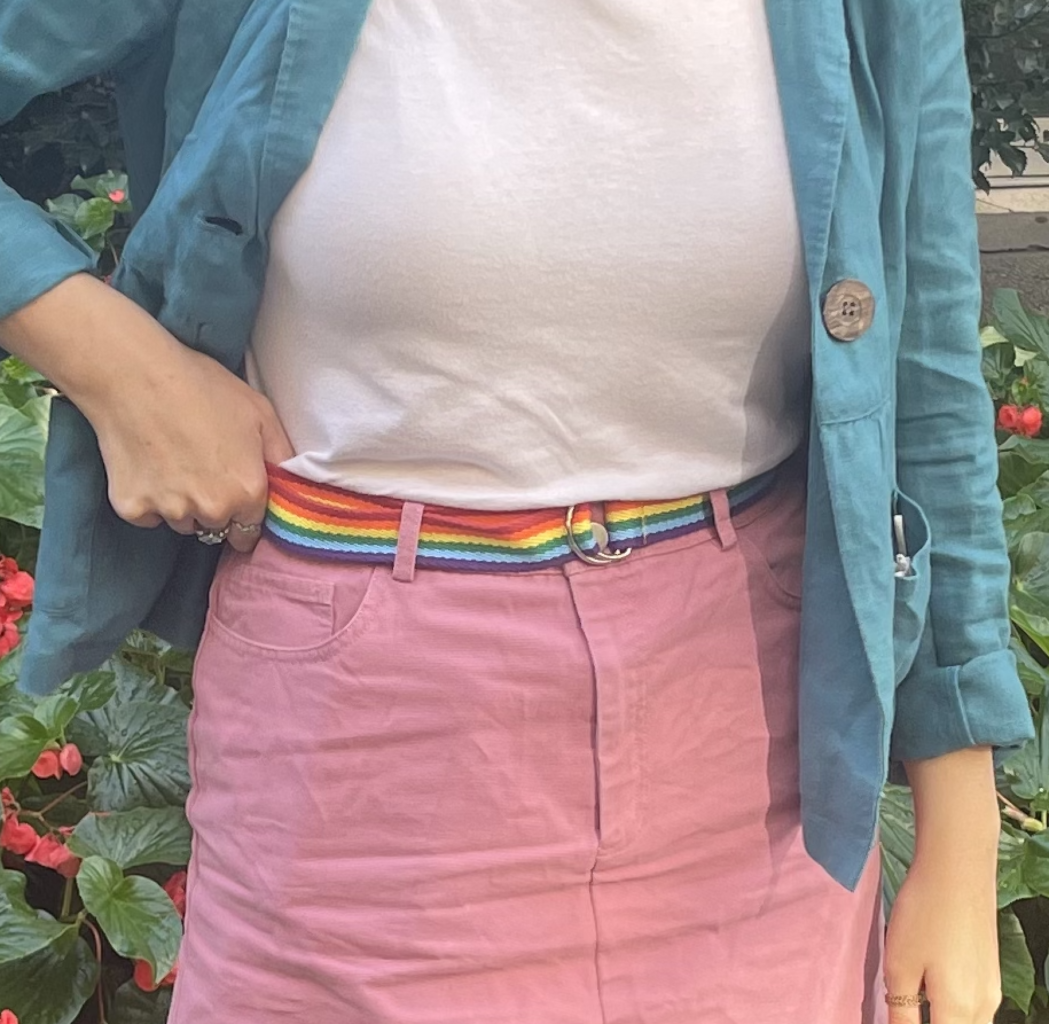 Photographs by Harry Batalingaya
Returning to in-person classes has prompted Keene to put more effort into her looks now that more eyes are on her. Opportunities to showcase her style have been slim during the pandemic, so Keene is now trying to take advantage of the ability to wear something nice to her in-person classes. Last year, Keene opted for very colorful shirts on Zoom, but since she could only be seen from the waist-up, she often opted for pajamas on the bottom.
Since returning to campus after nearly 18 months of virtual classes, Keene described how her confidence and willingness to take risks grew over that time. "I used to worry about wearing things that would make me fit in, but now I just wear what I want and wear what I like," Keene said. Her go-to outfit for class varies but is usually "either a dress or bike shorts and a graphic T-shirt," she said.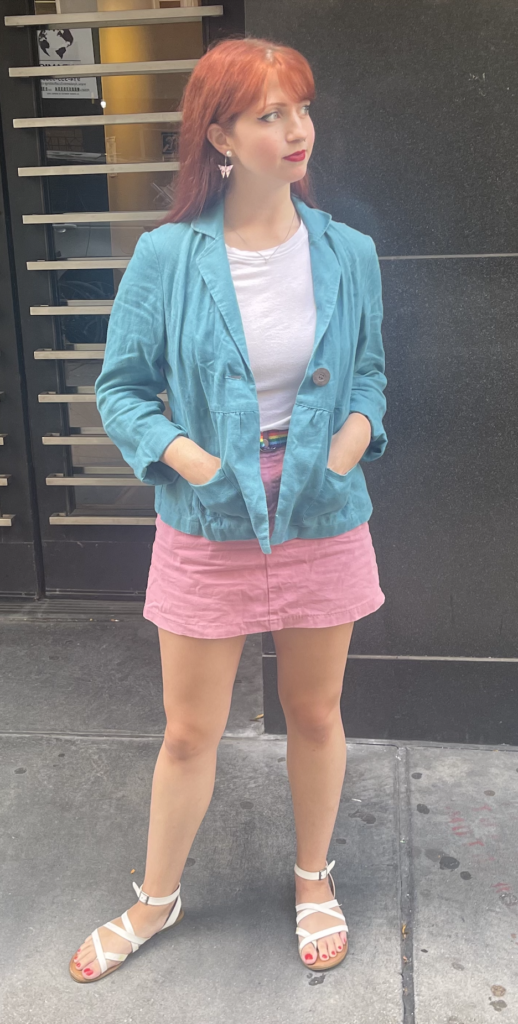 Keene shared that picking out outfits for school isn't always easy, though. "A lot of the people who go here have such good style," she said. She said she feels a lot of pressure to measure up. Keene said she often thinks, "Oh my God, they look so good, and I can't wear any of those things. I'll look like an idiot." However, Keene insisted that whatever pressure she feels is primarily overshadowed by the excitement of assembling an outfit she feels good in. "I'm usually very excited to pick out outfits and have people see them… other than my girlfriend," she said.
Versendi, Versendi, Versendi and Chopova Lowena SS22: What's in fashion?
Hello, loves! We know that Milan Fashion Week may be well under way, but there is, of course, still fashion news aplenty while all the shows are happening! This week, we're bringing some of the most stunning collections to have dropped off the official schedules, vaccine chic for a good cause AND some juicy fashion GOSSIP! Ah, how good it is to see the rumour mill spinning again. So, what's the tea, you ask? Well, it's… read on and find out! Here's what's in fashion.
Surf's up for Chopova Lowena SS22
Though they may not have shown their collection on the London Fashion Week runway last week, Chopova Lowena remain hands down one of the city's most exciting talents. Proof of that can be found in the SS22 collection they released this week, this season as a film created with longstanding collaborator Charlotte Wales. Echoing the narrated, parlour-style fashion shows popular in the 60s, the video sees a group of street-cast stunning young things (the youngest being 9-year-old Kaya!) strutting through a concrete skate park in zanily bright looks — with temperaments to match. For the clothes themselves, this season saw Emma Chopova and Laura Lowena draw upon the visual vernacular of surf culture as well as Laura's recently discovered Germanic heritage as their primary sources of inspiration. Printed lycra swimsuits and wetsuit tops are paired with flocked pleated dresses with cutout necklines, and signature belted skirts and marble-dyed denims are joined by a new expanded menswear offering, highlights of which have to be this season's painterly outerwear pieces. If you know what's good for you, then get on your board and ride the Chopova Lowena wave, ma dudes!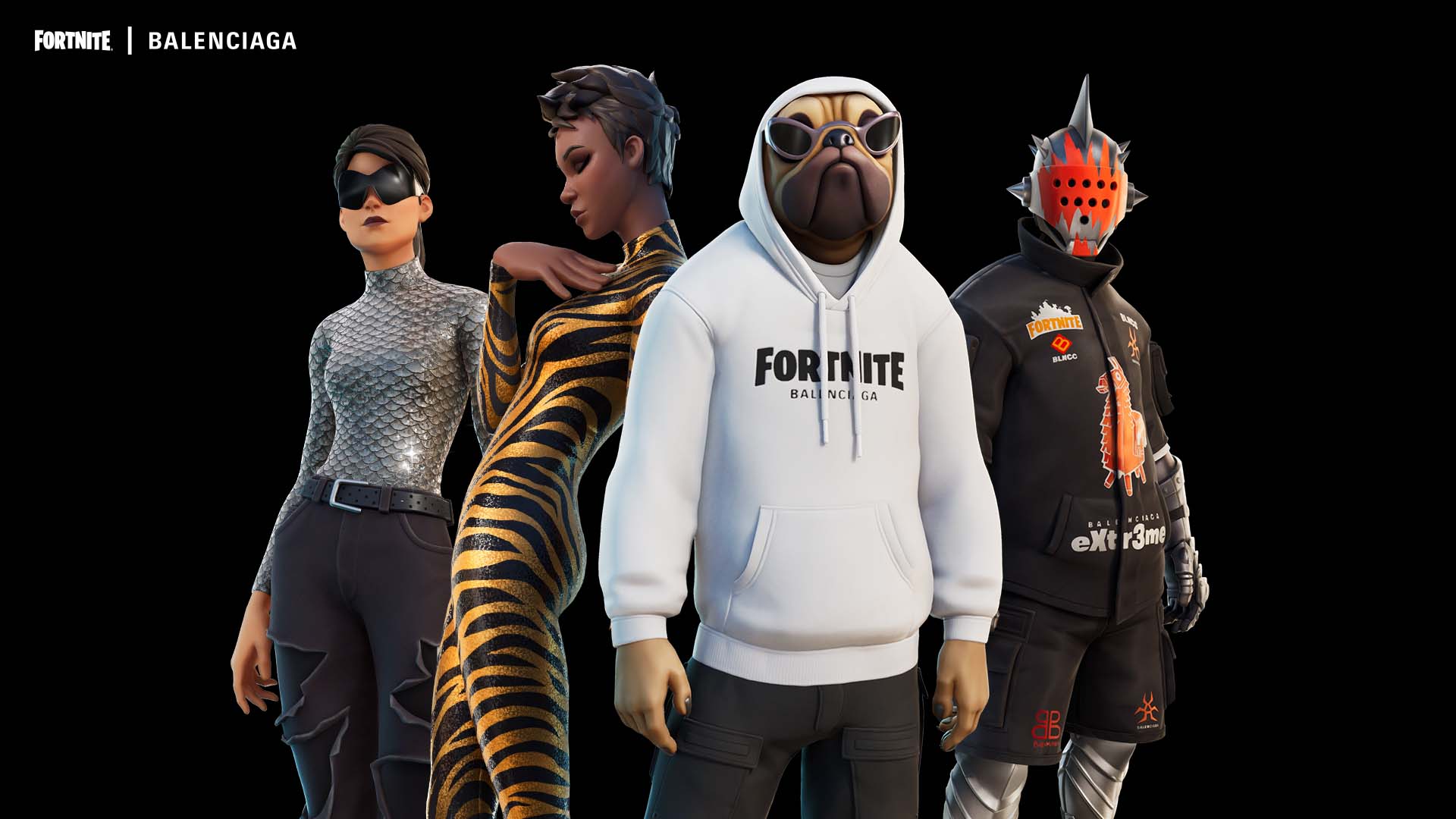 Balenciaga knows how to play the game
The intersection of fashion and gaming is quickly proving to be one of the most fruitful there is. In just the past 12 months, we've seen Burberry team up with Twitch to live stream their show, Louis Vuitton release a fully-fledged video game for its namesake founder's 200th birthday, and, now, Balenciaga join forces with online gaming platform Fortnite. This, of course, is hardly new territory for the French luxury house — famously, they presented their AW21 collection as a playable video game, in what was without doubt one of the most innovative presentations we've seen to date. How this differs, though, is that Fortnite players will now be able to buy virtual Balenciaga skins and looks for their avatars to wear within the game, as well as backpacks, Triple S Sneakers and "tools inspired by iconic products, like a Speed Sneaker Pickaxe and an Hourglass Bag Glider", a release reads. What's more, here in the real world, the partnership will be commemorated by a limited-edition capsule of Fortnight x Balenciaga merch — hoodies, shirts, jackets, caps and all!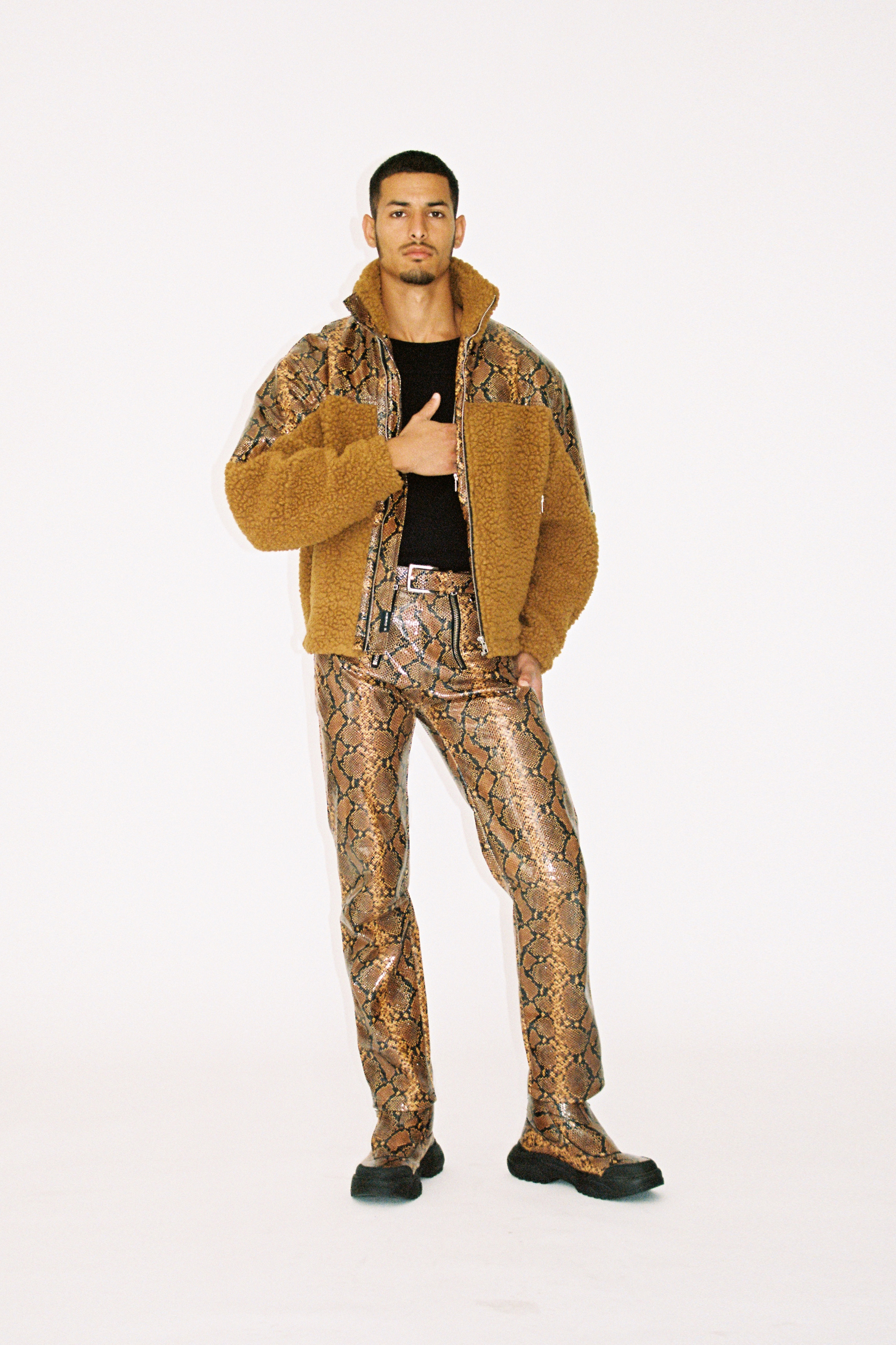 Photography Davit Giorgadze. Styling Christian Stemmler. Image courtesy of GmbH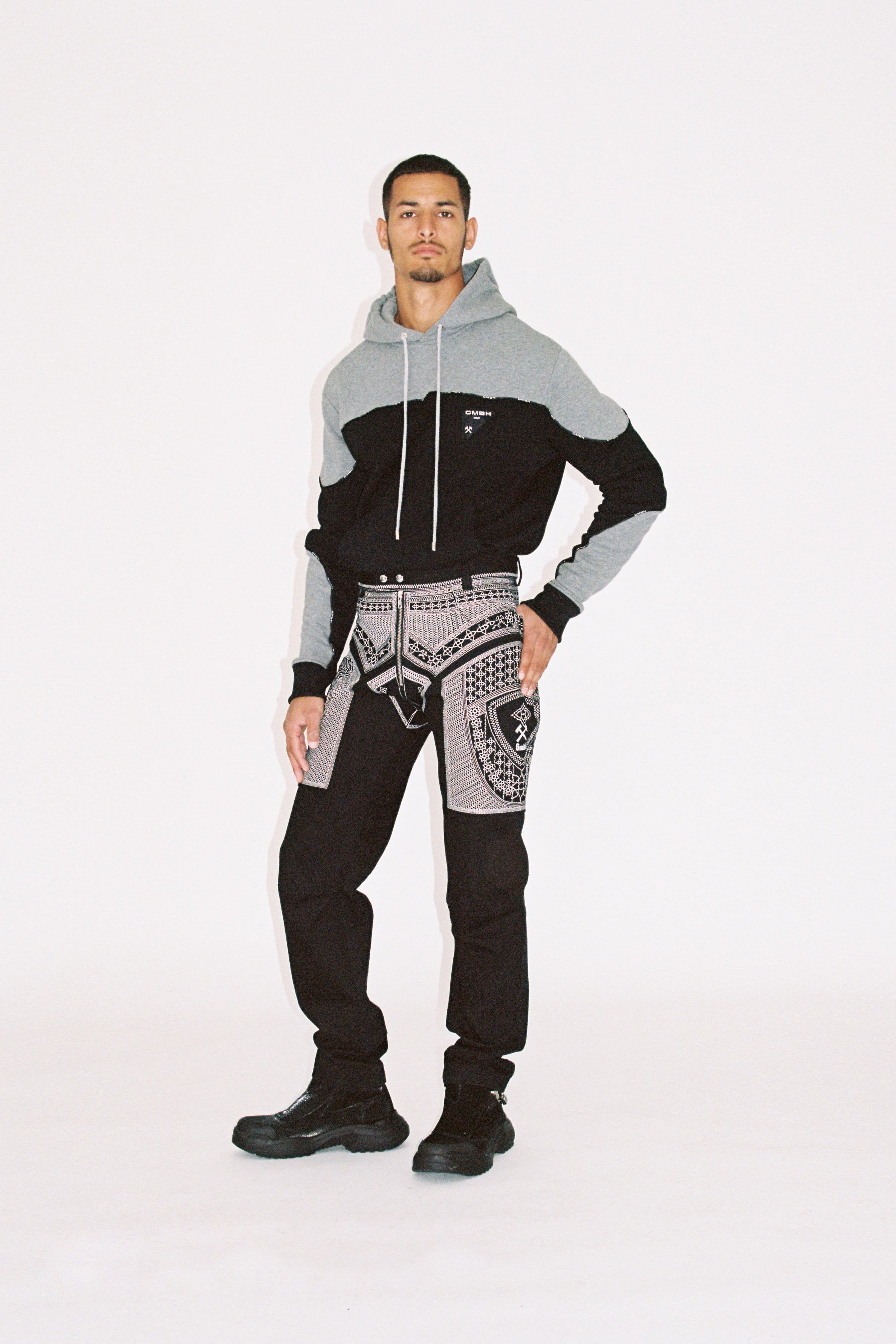 Photography Davit Giorgadze. Styling Christian Stemmler. Image courtesy of GmbH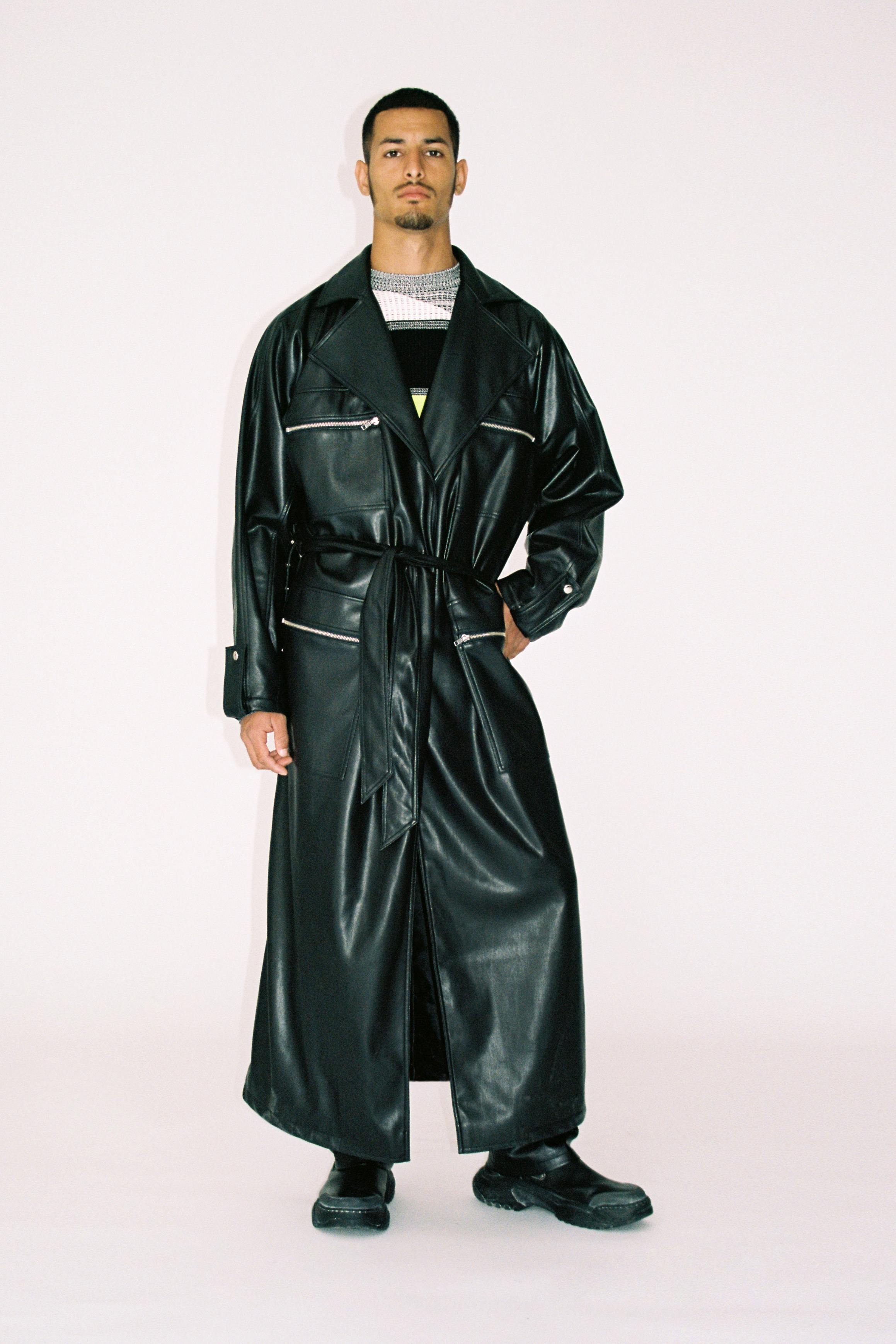 Photography Davit Giorgadze. Styling Christian Stemmler. Image courtesy of GmbH
Hungry for more GmbH? We have just the treat for you…
The arrival of autumn always warms the cockles of our hearts — not for the turning of the leaves or pumpkin spice lattes or anything like that, silly, but rather for the arrival of the autumn/winter collections we've been lusting after for the past six months! This season, one of those high on our list is GmbH's Welt Am Draht, the neo-noir collection that spanned leatherette club gear, cosy Nordic knits and the debut of the label's clamoured-after demi-couture line. Anyone hankering after a slice will be doubly pleased to hear that this season heralds the arrival of GmbH's first-ever pre-collection, a 27-look variation on the themes they explored in the mainline show. Comprising lycra and mesh clubwear and a faux-python panelled fleece jacket alongside gym-ready silhouettes, a range of double-zippered trousers, and vegan leather jackets and shoes, it offers "a way to bring the glamour of our shows into our everyday lives," say Benjamin Huseby and Serhat Işık, the two designers behind the label. "By making it more real, and stripping away the drama, it very much echoes the very first GmbH collections — which were based around very simple, wearable but subversive items we designed for ourselves and our friends." We only wish we had friends as chic and generous as them!
This latest designer collab is Ver-sending us
As you well know, fashion people love a rumour, but even this one has left most of us slack-jawed. Though yet to be confirmed by the houses themselves, today, BoF reported that two of Italy's fashion giants are set to pair up for a behemoth of a cross-pollinated collection. Yes, at a secret show on Sunday, Versace and Fendi are pegged to present a brand new line, the result of a collaboration between Donatella Versace and the Roman house's two creative directors, Kim Jones and Silvia Venturini Fendi — and that's not it! Kim Kardashian West could be part of the surprise, too, with rumours around her involvement swirling ever since the Calabasas queen posted a picture of the trio together a couple months back. So, what will come of all this hubbub? Only time will tell! Tune back in here on Sunday!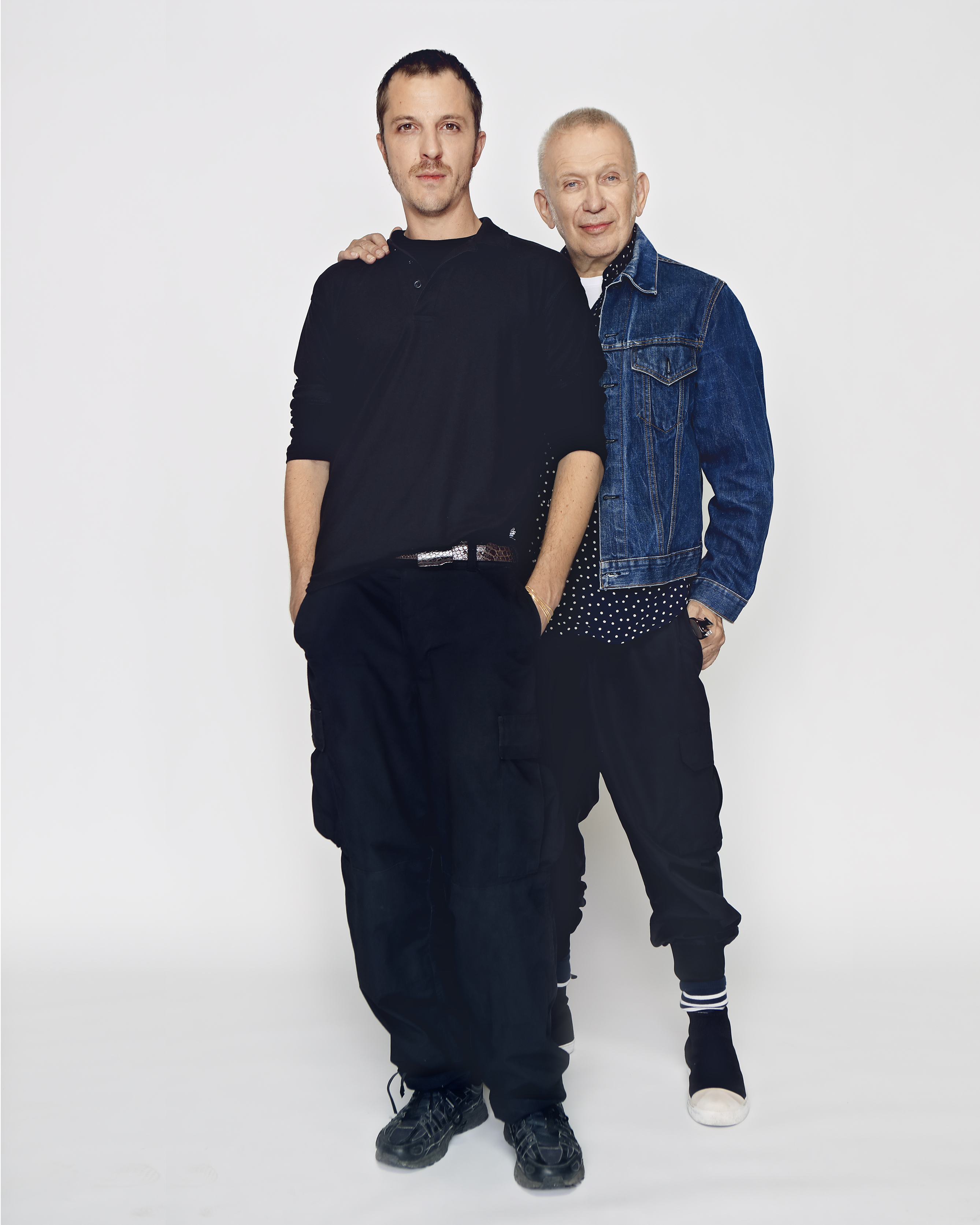 Photography Laura Pelissier. Image courtesy of Jean Paul Gaultier
Glenn Martens is about to give Jean Paul Gaultier a Y/Project spin
After the runaway success of Chitose Abe's takeover of the Jean Paul Gaultier couture atelier back in June, the venerable Parisian couture house has just announced the next designer who'll be taking over the reins for the SS22 couture season — and by god is it a good'un! In January, Glenn Martens, creative director of Y/Project and Diesel, will present a collection that sees his warp-minded, highly experimental and meticulously executed approach to fashion fused with the noble heritage of one of France's best-loved fashion houses. While it'll be a while till we get a taste of what Glenn's cooking up, there's good reason to suspect that he'll be going big. "Couture creations are not meant to be part of the everyday," he says. "This is art. It goes beyond ready-to-wear; beyond clothing. With Gaultier, I want to celebrate my love for movement and versatility, but using more architecturally structured silhouettes." January can't come sooner!
Margaret Howell unpacks the art of shirtmaking
You probably think of a shirt as one of the most rudimentary fashion items — so commonplace that you almost take it for granted. The craft involved, however, in constructing a good shirt immense. From the gauntlett to the placket, the collar band to the cuff, the sheer amount of components that make one up place it among the most technically difficult garments to make. In an ambient new video, Margaret Howell runs us through the process from start to finish, as executed by the shirtmakers in the label's North London workroom. From patternmaking to sewing, button holing to pressing, we see the label's exquisite, handmade shirts come to life by some of the most skilled hands in the business. If you're after a dapper new look, get yourself down to the label's Wigmore Street flagship store post-haste!
Valentino wants you to get vaxxed!
If you're reading this and you're still on the fence about getting vaxxed, here's something that should help convince you to. In support of UNICEF's vaccine delivery effort, Valentino have released a (V) Vaccinated hoodie, with all net profits from sales to be donated to the humanitarian organisation. "Getting vaccinated has become the most effective way to fight this global pandemic, as well as  a symbol of respect for others and social responsibility," says Pierpaolo Piccioli, the Roman house's creative director, noting the global inequity in access to the vaccine that he hopes to go some way in addressing by selling the limited edition hoodie. "Unfortunately, not all countries have equal access to Covid-19 vaccines. With this collaboration, Valentino supports  UNICEF in the delivery efforts of life-saving Covid-19 vaccines." Public health advocacy never looked so chic.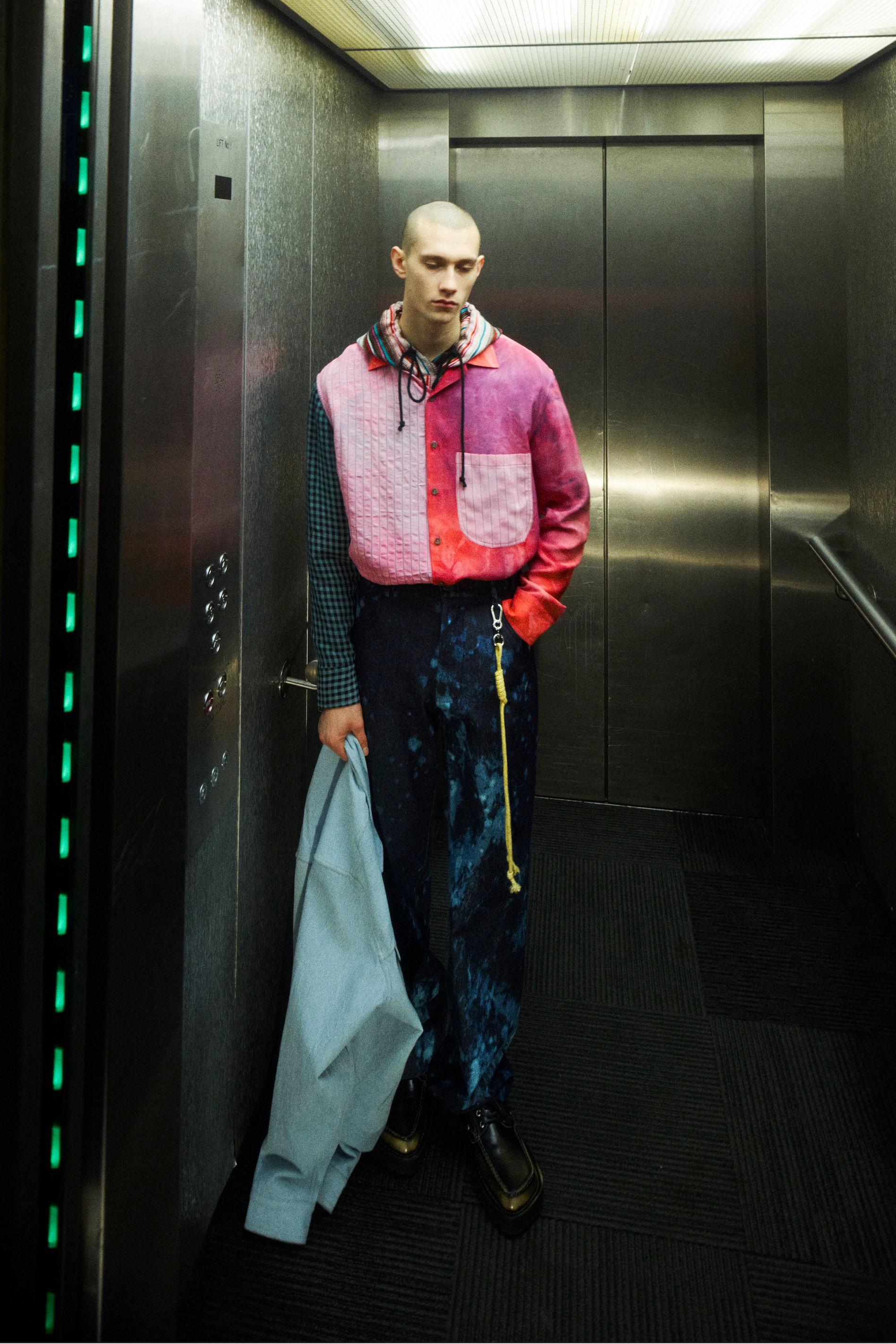 Image courtesy of Song for the Mute
Meet Song for the Mute, Sydney's label du jour
When you think about it, lifts are pretty intense places. There are few places where you find yourself in such close proximity, for a sustained amount of time, with passers-by. For Lyna Ty, one half of the Sydney-based label Song for the Mute, memories of the people she passed in the elevator of the Parisian tower block she grew up in served as the preliminary material for the brand's latest collection, 22.1 Avenue d'Ivry. Working alongside her design partner, Melvin Tanaya, the pair have made a name for their intricate, hand-wrought pieces, each of which is seemingly laden with narrative. This season's no exception, with Lina's fleeting memories of trolley-toting grannies, teens in trackies, and even an old man carrying a baguette percolating down into the final collection. Here, Lyna and Melvin tell us all you need to know.
Hello! Give us a quick intro to Song for the Mute. How did the brand get started, and what would you say are its core design values?
Lyna: Melvin and I met when we were only 10 years old, we went to school together as kids. Although we spent our youth studying separately, we reconnected in our early twenties over our shared passion for design, and Song for the Mute was born!
Melvin: When we were first starting out, we just wanted to make a few graphic T-shirts. Our first season ended up being an 11-piece menswear collection, and we haven't stopped running since. At the core of our brand are narrative and storytelling. Each collection can be seen as a chapter of Lyna's life, it's how she documents her own experiences. To us, design isn't necessarily about creating something beautiful. It's about the imperfections and the unexpected. To us, this is where true beauty is found.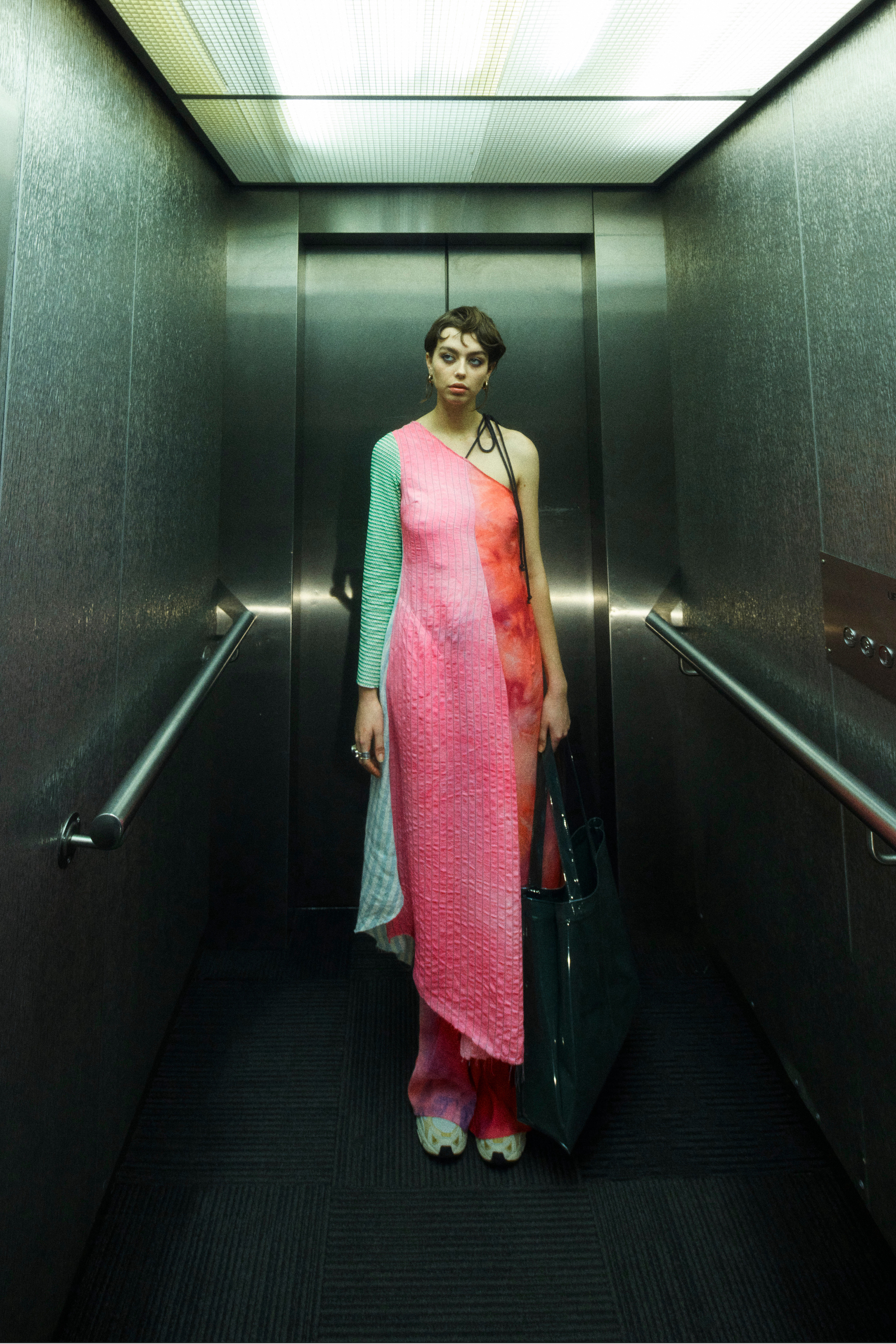 Image courtesy of Song for the Mute
What five words represent the brand?
Nostalgic, poetic, mismatched, narrative-laden, familial.
What's behind the title of your new collection, 22.1 Avenue d'Ivry?
Lyna: Until I was 10, I lived in Paris, in the 13th arrondissement on Avenue d'Ivry. The collection is a sentimental ode to my first memories, formed by the communal lifestyle of growing up in an apartment block, but warped through the lens of a child's obscure point of view.
What's the general mood you were going for this season?
Lyna: Through 22.1 Avenue d'Ivry, I wanted to capture the fleeting moments spent in lifts with a total stranger, a memory familiar to anyone accustomed to life in an apartment block. Crossing paths with people who I can only remember by what they were wearing; my cousin's bleach-splattered jeans, grandmas with trolleys in long plastic raincoats, aunties with overly blow-dried hair and too much makeup, an old man carrying a baguette and newspaper, a young woman in a flared dress paired with sports socks and her boyfriend's jacket.
For a few seconds, travelling from floor to floor, we would create stories for who these people were, wondering who they might be or where they came from. It is the odd, colour-blocked, mismatched yet strange balance of opposites that has become representative of my childhood on Avenue d'Ivry and permeates the collection itself.
Are there any particular pieces or looks that really encapsulate this season's message?
Melvin: Our hero piece for the collection is definitely the V-Lad jacket. When developing the collection, Lyna would go deep into recounting memories of tacky teenagers, all wearing matching tracksuits with their pants tucked into their socks. For anyone who grew up in the 90s, the image is easy to conjure. We've created the jacket as a nostalgic sentimental nod to the era, designed to feel as if you've owned it forever.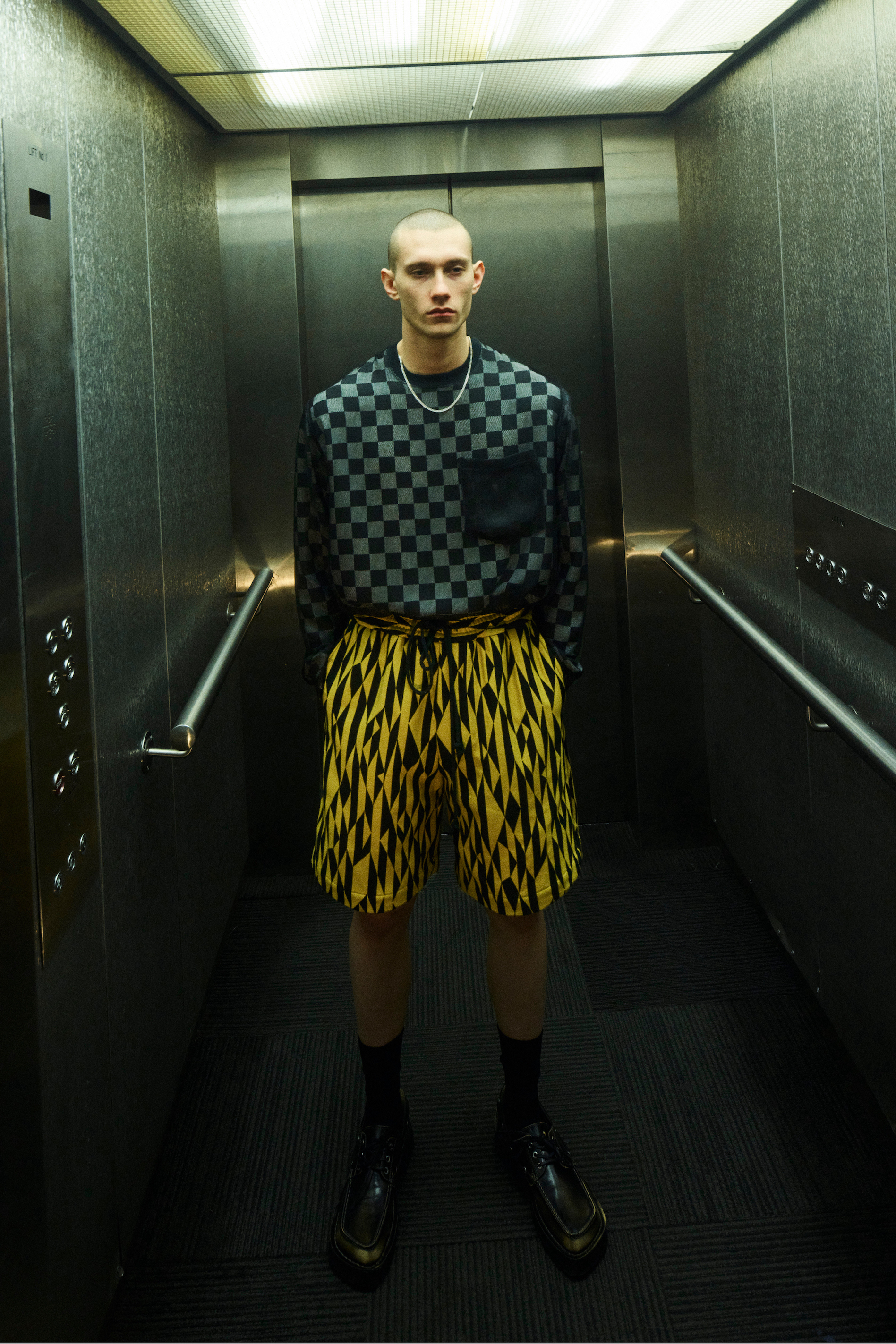 Image courtesy of Song for the Mute
Where will you be wearing the collection?
Melvin: After nearly four months in hard lockdown, our team would be stoked to simply wear the collection anywhere other than in the office or at home.
Lyna: In Paris when we can travel again!
What Can Fashion Media Learn From the 'Elle' Latinx Issue?
The Hearst glossy's September 2021 issue was meant to be "a celebration of our community" — but for many, it missed the mark.
Each September, an all-too-familiar and predictable pattern emerges in media: National Hispanic Heritage Month, which takes place from September 15 to October 15, a federally-designated period intended to recognize "the contributions and influence of Hispanic Americans" (the U.S. Census Bureau uses "Hispanics" and "Latinos" interchangeably), which is typically met with a flurry of Latinx-driven articles and other types of content.
President Lyndon B. Johnson signed the month into law in 1968, so it's far from new. And, I would argue, it does have value: Growing up in (very white) Middle America, I remember local NHHM celebrations on my alma mater's campus being one of my few ties to understanding and having any sort of connection with my Mexican heritage. It provided a "safe space" before the phrase became common vernacular. It's where I remembered that, even if on most days I'd look around and not see many others like me, my community was there. And having this month inscribed into the government's official calendar gave me a way of knowing where to find them, even in the most non-diverse of places.
But in recent years, NHHM has morphed into more of a lightning rod than a unifying force. There is, of course, the fact that it's still officially called Hispanic Heritage Month, although some organizations (like the Human Rights Campaign) and individuals (including myself) have begun referring to it as Latino, Latinx or Latine Heritage Month. Plus, this heightened focus on the Latinx community and the accompanying "themed" content that surrounds it can leave many Latinx writers, editors and content creators across the board feeling frustrated.
Thatiana Diaz, editor-in-chief of Remezcla, a global media company aimed at a Latinx audience, argues that telling these stories exclusively from mid-September to mid-October can be too limiting, and make the reader feel as if "you're part of a marketing project."
"You don't see Latine designers, critics or influencers getting opportunities when it's not Latino Heritage Month," she says. "They're most likely getting panels and booked for fashion shows during this time, but not any other time of the year."
Media's insistence on relegating all things Latinx to a single month rings more hollow than ever as new 2020 census data reveal that Latinos accounted for more than half of the country's population growth in the last decade. How can a group with so much cultural and economic influence still struggle to secure seats at the table?
"It's really making sure you have the right people in the room," Diaz, who previously launched Refinery29's Somos vertical and People Chica, says. "What I love about consumers now is they're able to smell authenticity from a mile away. They're cracking down on brands because they want things to be aligned with them — it has to be meaningful. If you're missing the mark, consumers will catch on to that."
Last month, She debuted its annual September issue. This one starred Selena Gomez, and was billed as the magazine's inaugural "Latinx issue," an effort that had personal implications for Editor-in-Chief Nina Garcia.
"It's been a longtime passion project of mine to create a Latinx issue that's really a celebration of our community, that honors Latinx culture and is representative of the world we live in today," Garcia tells Fashionista. "I'm very proud of my Colombian heritage and when preparing for this issue, I couldn't stop traveling to my hometown of Barranquilla. This beautiful coastal town is where my love for fashion began."
In addition to Gomez's cover story (written by Arina Chocano), the issue featured various public figures whom Garcia describes as "trailblazers for Latinx individuals in the fashion and entertainment industries." She partnered with the Council of Fashion Designers of America (CFDA) to spotlight Latinx designers like Narciso Rodriguez, Lázaro Hernandez and Gabriela Hearst, in addition to emerging fashion creatives like Kika Vargas, who recently became the first-ever designer from Colombia to be a finalist for the LVMH Prize. Peru-born, Franco-Chilean curator Pamela Golbin wrote an accompanying essay that analyzed their impact in fashion, coupled with words from the designers themselves; the piece was shot by Emmanuel Sanchez-Monsalve, styled by Felicia Garcia-Rivera and featured models Joan Smalls and Manuela Sanchez.
Other stories in the Latinx issue included an exploration of who the "Latinx model" is today and a series of vignettes of nine Latinas, from "West Side Story" star Rachel Zegler to Texas Congresswoman Veronica Escobar.
"We're so proud to shine a light on the Latinx community and have received so much positive feedback from our audience," Garcia says. "We really wanted to honor this community and the way it has shaped American fashion and global fashion."
She's Latinx issue has, however, been on the receiving end of some criticism, too.
"No shade to [Gomez], but I questioned that decision, especially today, when there are so many other artists that could also be a part of this conversation," says Jose Criales-Unzueta, a designer, consultant and freelance writer. "Why don't you make it multiple covers? Imagine having Indya Moore in Barragán or Shakira, [who is] still a legend."
In an Instagram post, Criales-Unzueta called out She for not styling Gomez in any of the Latinx designers it profiled within the same issue. (She wore Chanel on the cover, which was shot by Inez & Vinoodh and styled by Alex White; other brands in the spread: Moschino, Louis Vuitton, Prabal Gurung, Brandon Maxwell, Alessandra Rich and Gucci.)
"If you show me the editorial with the designers, that was actually beautifully shot," Criales-Unzueta says. "And they put it right next to the cover story. I'm like, 'How are these part of the same issue?'"
View the original article to see embedded media.
In the piece accompanying said editorial, Golbin suggests that these designers handpicked by She and the CFDA represent a new wave at the cross-section of fashion and Latinx identity, juxtaposed with trailblazing heavyweights like Oscar de la Renta and Carolina Herrera. She characterizes them as "the current crop of Latin designers bring[ing] fresh perspectives" to fashion. She uses that framing to describe both "emerging" talent like Vargas and more established, influential figures like Narcisco Rodriguez, who burst onto the scene in 1996 when he designed Carolyn Bessette Kennedy's iconic bias-cut wedding dress and has remained a force within the industry, or Hernandez, whose designs for Proenza Schouler have been racking up CFDA Award nominations for almost 20 years.
It's worth noting that there's little to no recognition of Afro-Latinx talent in the spread; race as a topic is glossed over without so much as a sidebar on little-known, emerging Afro-Latinx designers from across the diaspora. It feels a bit jarring, especially given the unmistakable role colorism has played — and continues to play — in the community at large.
Danielle Alvarez, founder and CEO of Latinx-owned public relations agency The Bonita Project, had similar conflicting feelings about the issue. While she calls it "a great first step," the leading visual is what ultimately fell flat for her.
"We all know, as fashion enthusiasts and magazine readers, the cover is what draws the attention and what will trigger you to purchase the magazine to begin with," Alvarez says. "It would've been nice to have seen a cover with Selena Gomez, but dressed in Latinx designers and/or have a backdrop that paid tribute to her Mexican heritage."
Gomez, a popular cover star, has done that kind of visual before: For her October 2020 Allure cover spread, she was outfitted in several looks that honored her Mexican heritage, including a nod to her namesake, Selena Quintanilla-Pérez, in the form of a crystal-embellished Romeo Hunte jacket and a The Way We Wore vintage bustier referencing one of the late Tejano singer's most recognized on-stage ensembles. In that same spread, as well as in her artwork for 'Revelación,' there were other cultural tributes, including Frida Kahlo-inspired floral headpieces and big gold hoops, a signifier of chola subculture. So, there's a precedent.
In the end, Alvarez argues, Latinx Heritage Month is about paying tribute and honoring our roots. "Nothing about the She cover spoke to her/our roots," she says. "Instead, the look had her resembling a platinum blonde Marilyn Monroe and dressed in European designers. This was a big opportunity missed."
In response to criticism, Garcia says that she and her team spend a lot of time thinking about cover stars, as each one adds to the magazine's "legacy and speaks to She's DNA," and when brainstorming choices for the Latinx issue, they ultimately "couldn't think of a better ambassador" than Gomez.
"Selena has been in the spotlight from a young age, and she inspires millions of people around the world by showing strength in her vulnerabilities," Garcia says. "I think what makes her so compelling and why we continue to be fascinated by her is that she's been so open and honest about her mental health and health struggles, and she's also so focused on making sure her projects have a charitable component, so the work she's doing is helping others. She's exactly what a strong Latina is — driven, smart, open."
Garcia references Gomez's recent Spanish-language debut as another reason for why she was an ideal fit to grace the cover: "She really embraced her roots in a big way this year with the release of her first-ever Spanish-language album. We all danced through 'Baila Conmigo' and felt her heal through 'De Una Vez.' The way Selena's music allows people to feel and relate shows the impact she has on her fans and why she's a global superstar."
For Diaz, both facts can simultaneously coexist: that Gomez is among the most recognizable Latinas in the world who's in the process of learning more about her own heritage, and that the cover could've been approached in different, fresher ways.
"There's so much talent, and for the Latinx issue, what [Gomez] has been doing in regards to connecting with her culture and releasing a Spanish language album is incredible," Diaz says. That's not to say Gomez isn't "worthy of the cover," she clarifies — but rather that an inaugural Latinx issue would've been an opportunity to broaden the list of talent that people know and recognize from the community, to push a lesser-known or emerging artist into the spotlight with Gomez.
"What a moment it would have been to highlight Latina talent that's not typically highlighted [on the cover]," she says. "I actually said this to someone, 'Selena Gomez could be on the cover for May or February.'"
One immediate solution for fashion titles: Don't feel like you need to relegate all this content into these four government-designated weeks. It's great to commemorate the occasion, but expanding this storytelling beyond that not only creates more opportunity, it also allows for more breadth and depth, for capturing the richness and diversity within this community.
"Specifically in fashion, these article roundups, shopping guides or profiles on fashion designers, they're usually just for Latino Heritage Month," Diaz says. "If we have our eyes on these communities year-round, the coverage and content will be so much more authentic. It's about looking at the Latine communities outside of Latino Heritage Month."
Never miss the latest fashion industry news. Sign up for the Fashionista daily newsletter.