The young designers shattering stereotypes around Indian fashion
In a country of 1.3 billion, diversity in dress is a given. Still, perceptions of Indian fashion — both within and beyond the country's borders — remain bound by stale visions of saris in blinding hues, traditional clothing and elephant, peacock and tiger motifs. These lazy assumptions are compounded by the fact that some of the largest players in the luxury fashion industry quietly contract thousands of the country's artisans to embroider eyewateringly-expensive products in factories that fail to meet basic safety standards, as reported by GFN. And while outside of India, members of the diaspora such as Supriya Lele, Kaushik Velendra, Priya Ahluwalia, and Ashish Gupta are among the names known for helping to dismantle stereotypes attached to 'Indian dress', it's time for the fashion world to acknowledge the young, India-based designers doing so, too.
These non-conformist minds deliberately refrain from dipping their feet into the nation's lucrative $50 billion wedding market (in India nuptials are typically extravagant affairs spread over multiple days, and the quest for the perfect bridal outfit stokes high demand for full-time couturiers). By refusing to jump on the bandwagon and taking the path less trodden, the designers behind AKHL Studio, Bloni, Bodice and Aroka are consciously bypassing staid exoticist perceptions of India to celebrate how far we've come. Rooted in tradition but not restricted by it, their clothes are proudly 'Made in India' but globally relevant.
Image courtesy of AKHL Studio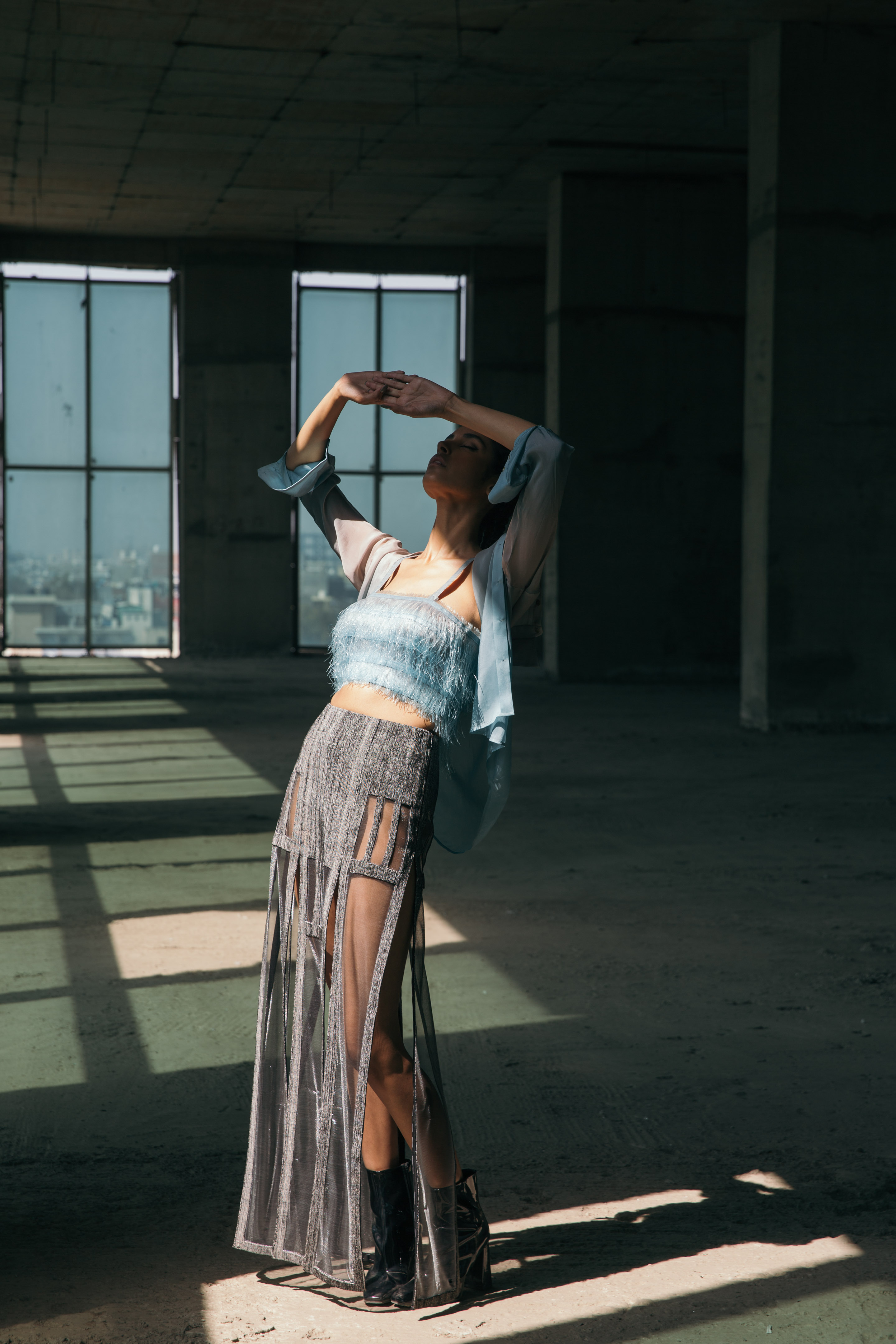 Image courtesy of AKHL Studio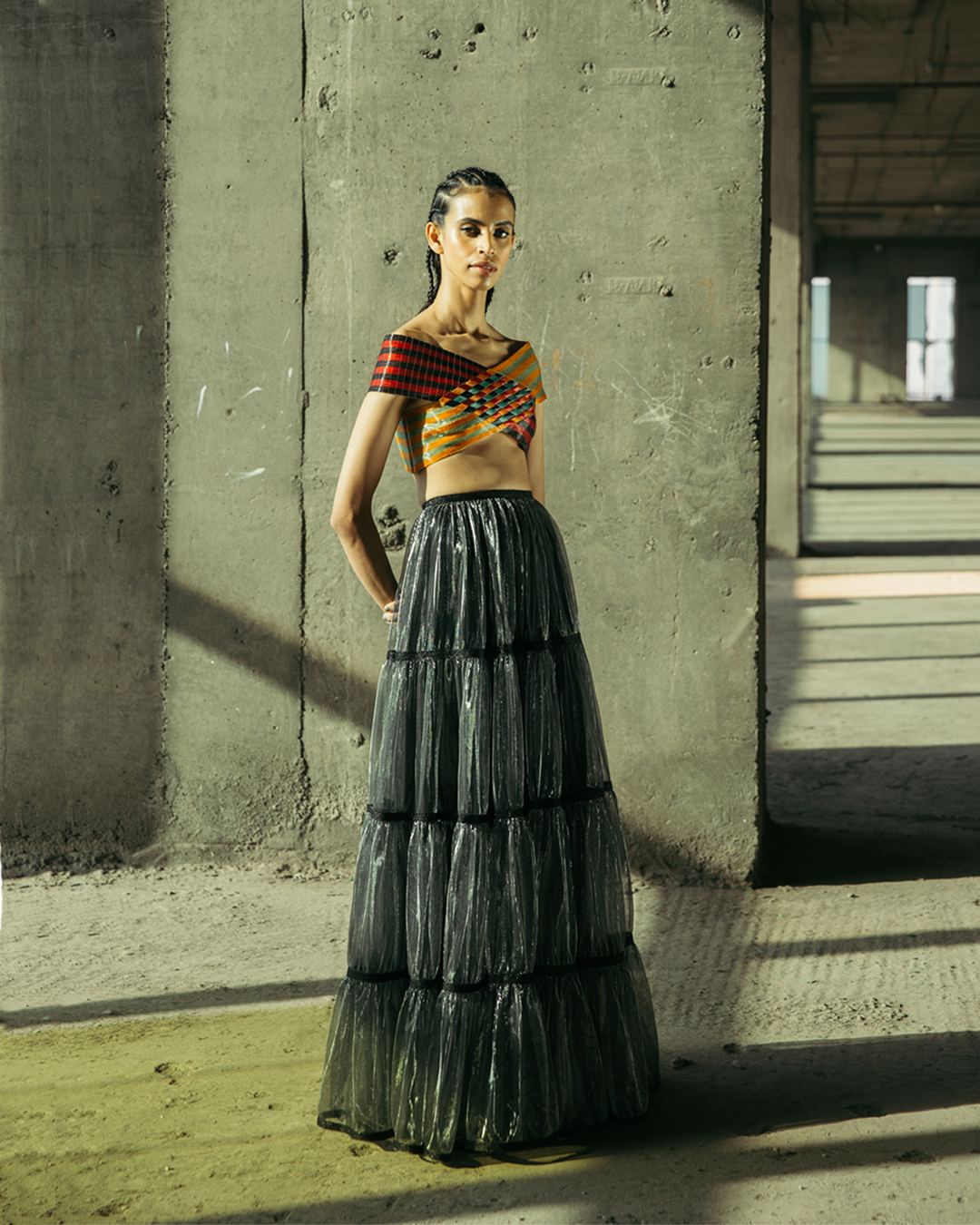 Image courtesy of AKHL Studio
AKHL Studio
"We need to stop turning our craft into clichés just because we feel like the West will lap it up", is Akhil Nagpal's immediate response when asked to explain the premise of his Delhi-based avant-garde label. At first glance, AKHL Studio's iridescent, sculptural silhouettes may not seem like an average Indian fashion consumer's cup of chai (tea), but that's precisely the point – the CSM alum's driving motivation is to rewrite the narrative of what the global fashion community expects from the country's fashion designers; to "push the envelope with what can be achieved with the Indian hand".
With its metallic tulle dresses spliced with vivid lurex tapes, gradient-dyed silk organza tops and robust bustiers embellished with hand-embroidered glass yarn fringes, AKHL Studio's latest collection, 'Reflektor', embodies this vision. A clue for what makes the collection so appealing is right there in its title. "The key garments in this collection have first been handwoven on the loom and then interlaced with upcycled yarn to achieve interesting shapes. Some of the biodegradable materials used such as thermoplastic polyurethane are light-sensitive and thus the title Reflektor seemed apt", Akhil reveals.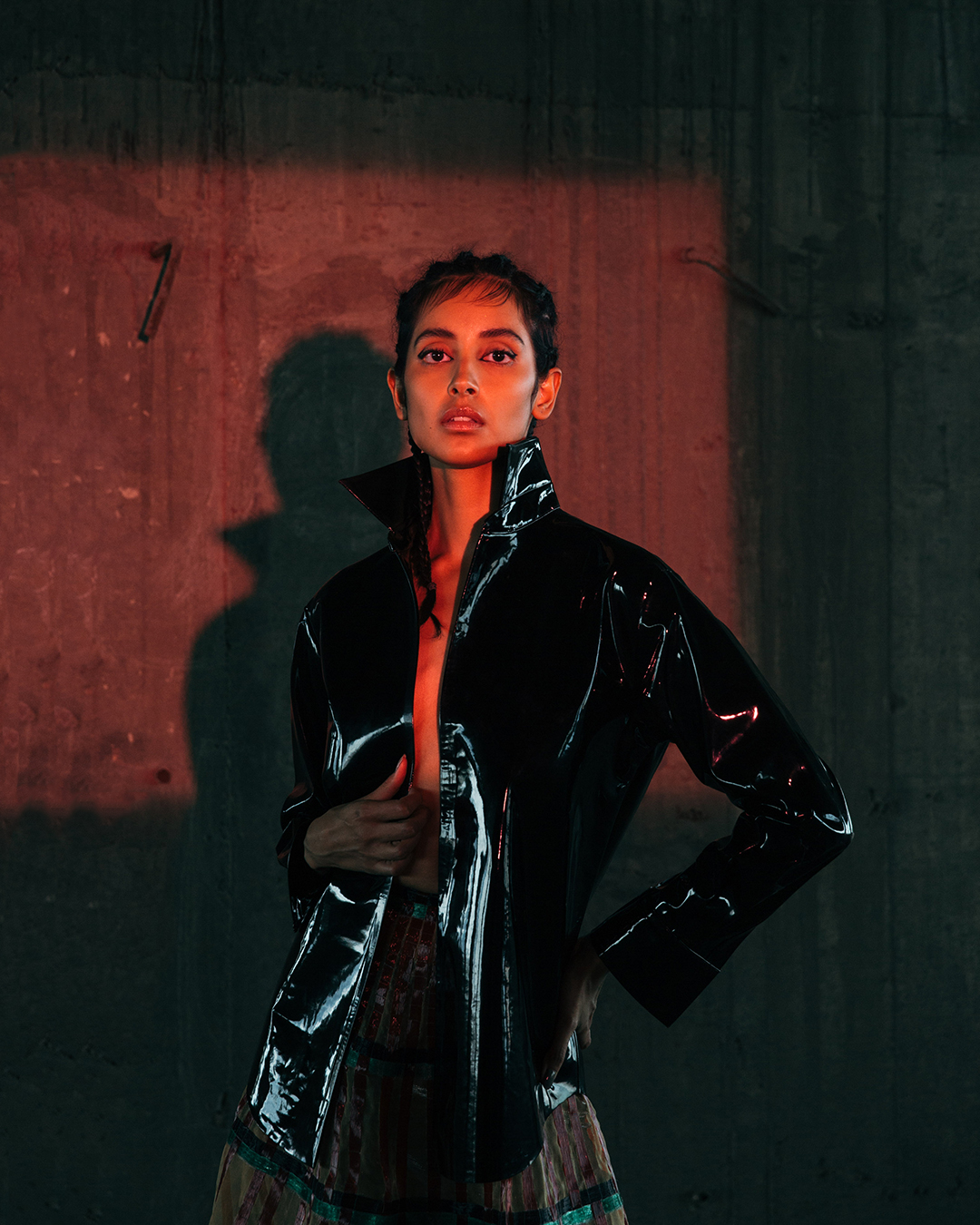 Image courtesy of AKHL Studio
The designer's desire to create multidimensional pieces of wearable art was further consolidated by the support of his atelier, a group of weavers and artisans from villages across India, who shared a similar zeal for delivering the unexpected. "Our artisans can execute modern patterns and styles, however, it's up to designers to push them in that direction and lead the way in contemporising Indian craft", he says. What makes his practice yet more impressive is that he's able to do that without succumbing to the "hamster wheel" of the seasonal fashion calendar. Instead, Akhil has opted to preserve the value of slow, ethical Indian craft which his tight-knit community cherishes. An important guiding principle for the designer is "creating something new and letting it find its people", he notes.  It's safe to say that AKHL Studio found theirs.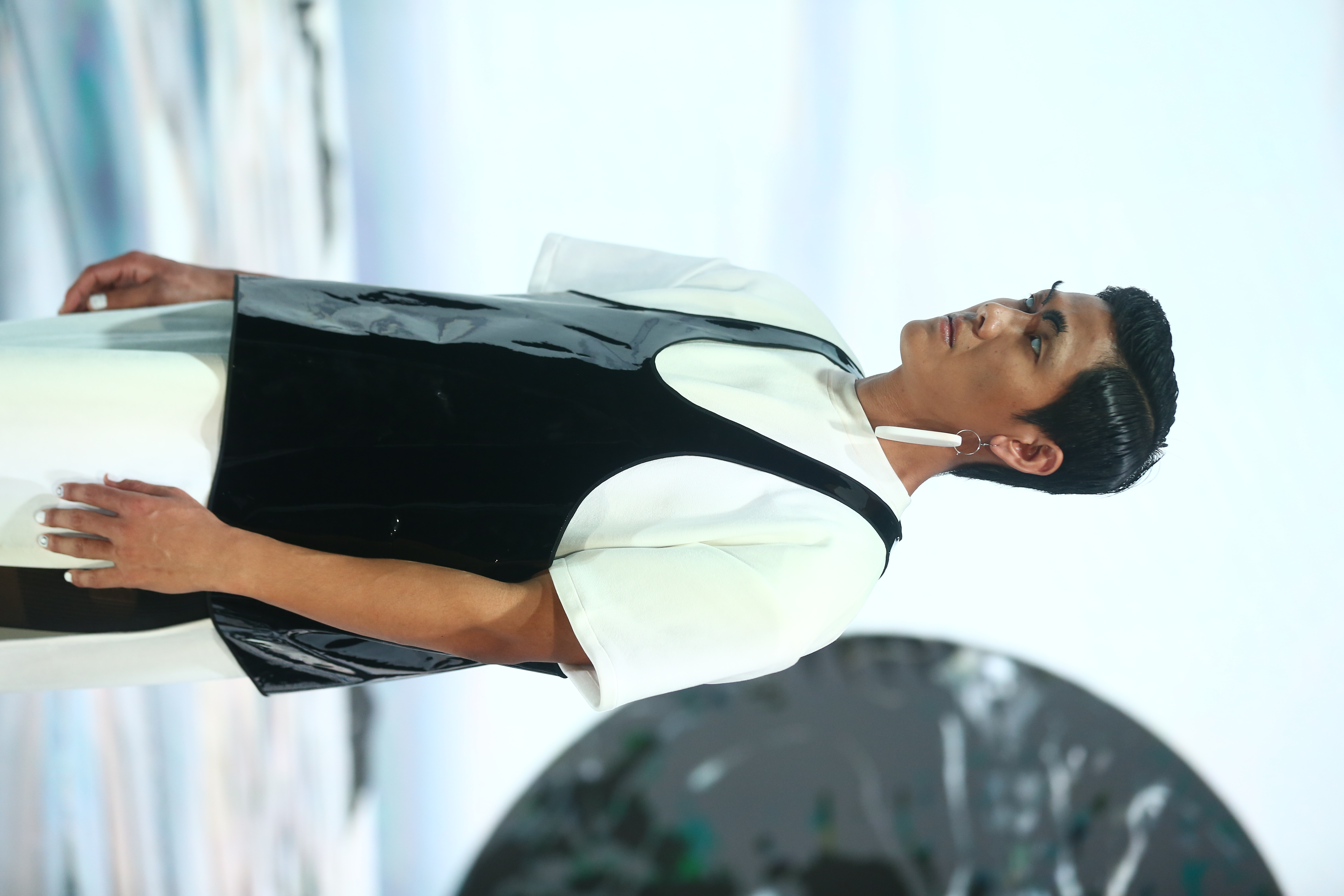 Image courtesy of Bloni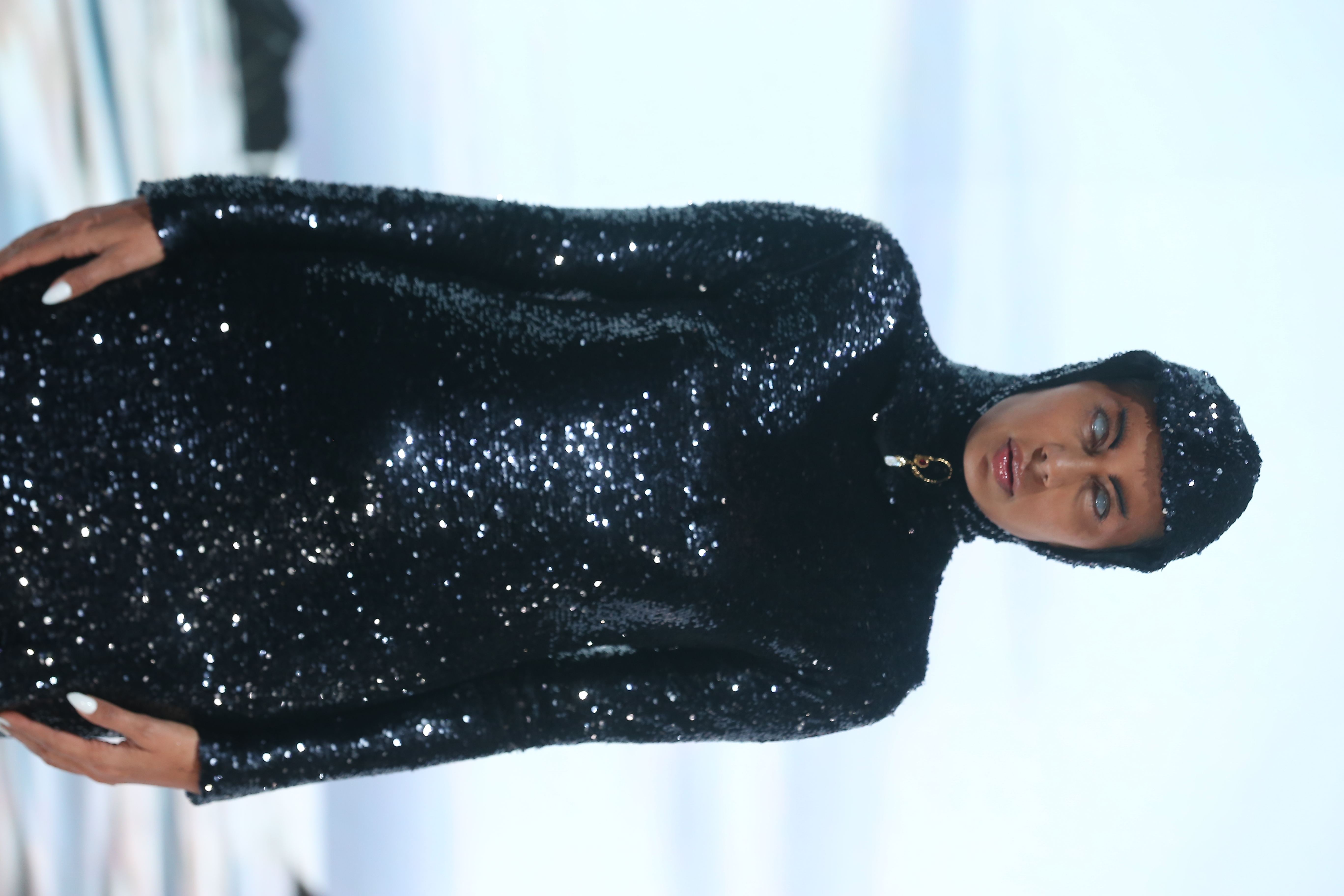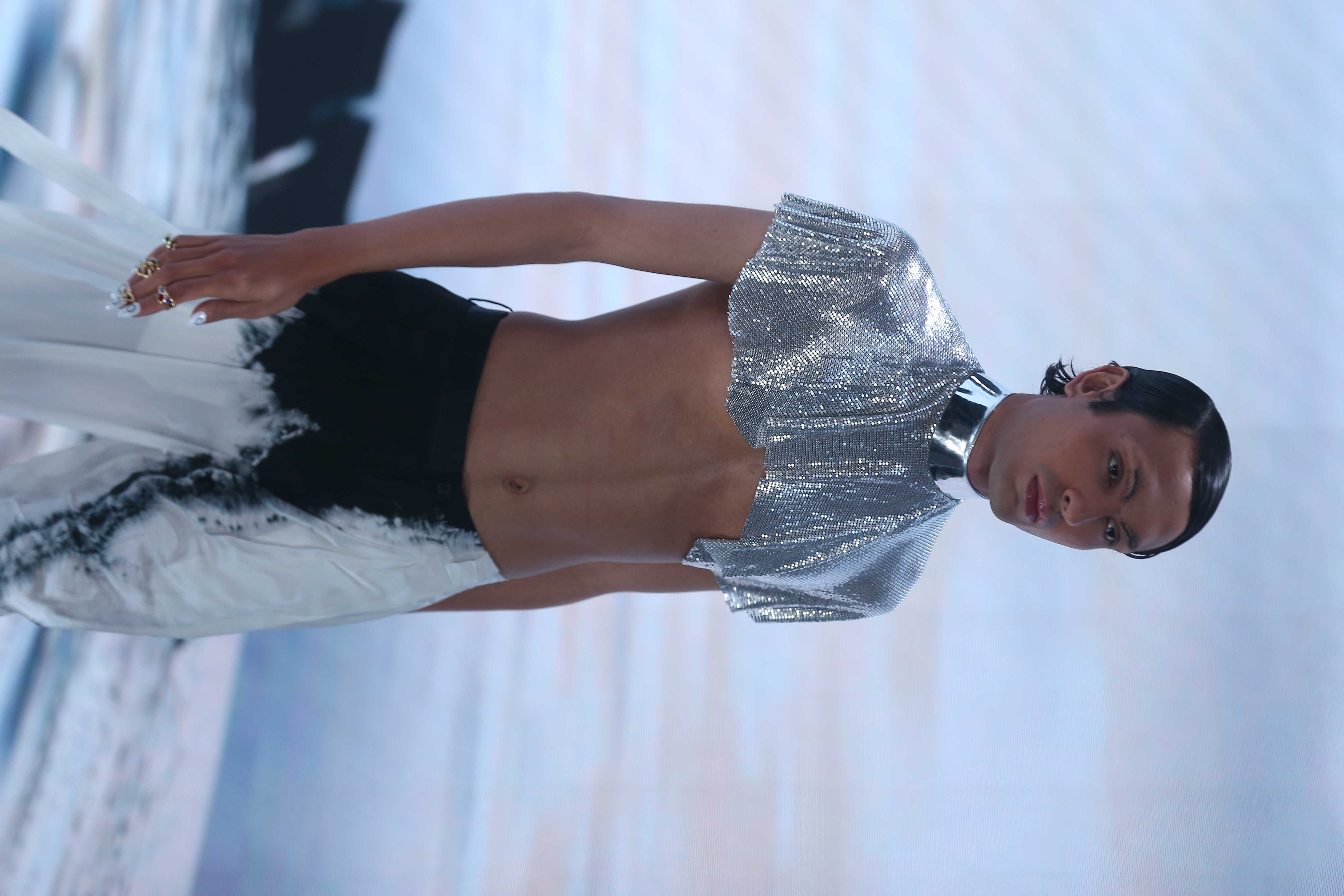 Bloni
While boys his age spent their days playing gully (street) cricket and football, Akshat Bansal pored over yards and yards of intricately printed fabrics in the back of his father's sari store. He wasn't just a mesmerised kid in a sartorial candy shop, however. Instead, the interest in textiles he demonstrated back then was an indication of things to come.
After completing a formal fashion education at National Institute of Fashion Technology (NIFT), Mumbai, before heading on to Central Saint Martins, he then landed a coveted apprenticeship at Cad & the Dandy on Savile Row. It was there that he received a year-long fastidious schooling in tailoring, learning to appreciate the importance of consistency, discipline and the accuracy of every stitch. Akshat then flew back to India only to realise the absence of homegrown brands catering to something other than the country's booming wedding and occasion-wear market.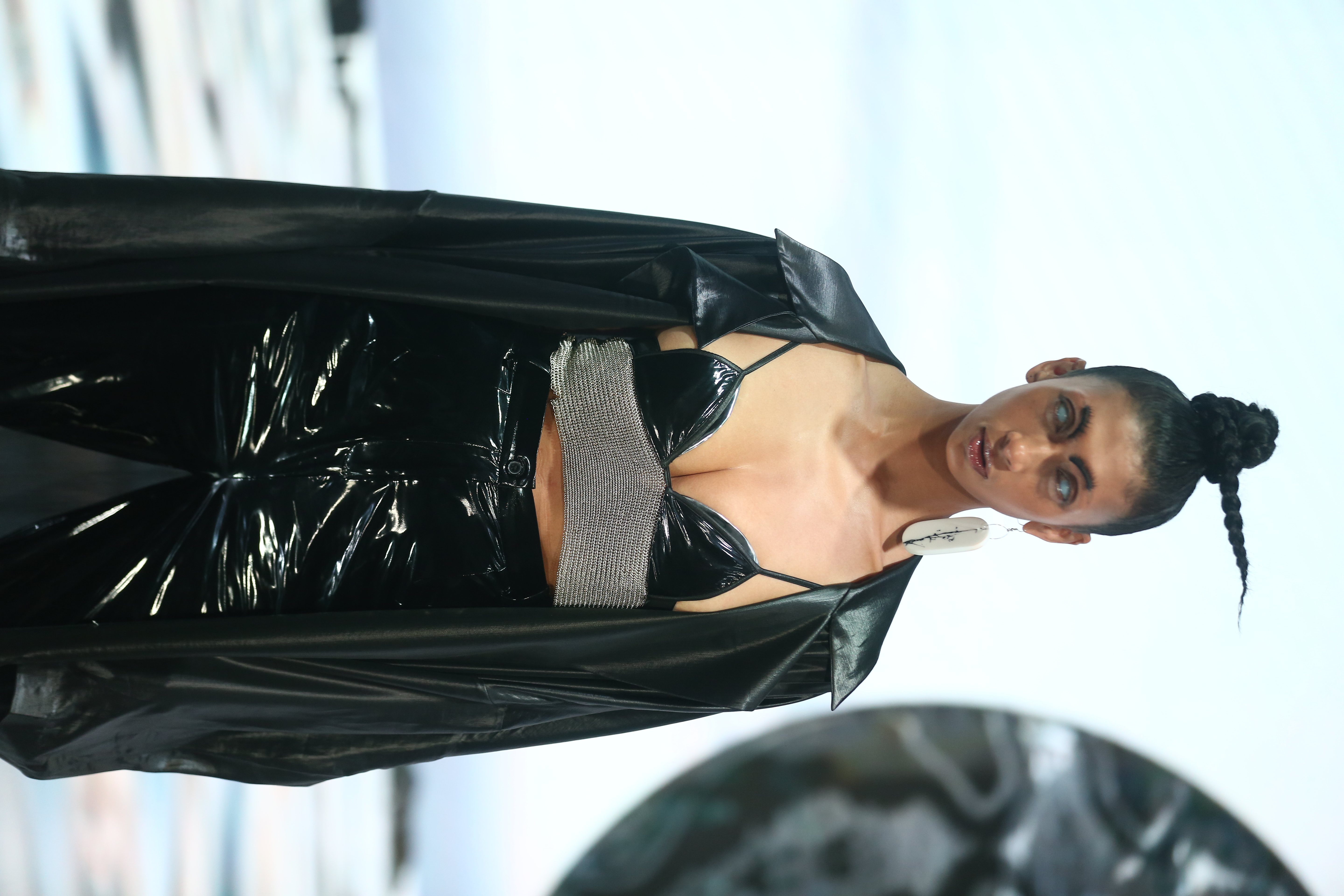 And so, in Delhi in 2017, Bloni was born – a demi-couture brand that questions fashion's norms through free-spirited storytelling and futuristic, genderless designs. "It's all about cross-pollination and fluidity right now. Thanks to social media, we are all hybrids of sorts who aren't limited by borders – our wardrobe needs to reflect that too," Akshat says. A quick look at the brand's previous collections – think jet black leather finished satin saris, flouncy skirts, fun tie-and-dye and cutout bodysuits made with nylon from ocean waste –is all it takes to confirm that.
If you're after further proof of the brand's sustainability credentials, step into Bloni's flagship store in Delhi's Dhan Mill compound. While you'll find plenty of peppy clothing on the rails, these aren't pieces you can pick up at whim. Be it their fluorescent tie-dye overcoats (hand-dyed by Akshat himself) or sequinned hoodie dresses, every garment is made-to-measure, and fitted to the body like a second skin. "I think the future of fashion comes down to this – if it's more personal, it's more sustainable," he says. "If it feels special to you, then you want to cherish it regardless of the trend cycle."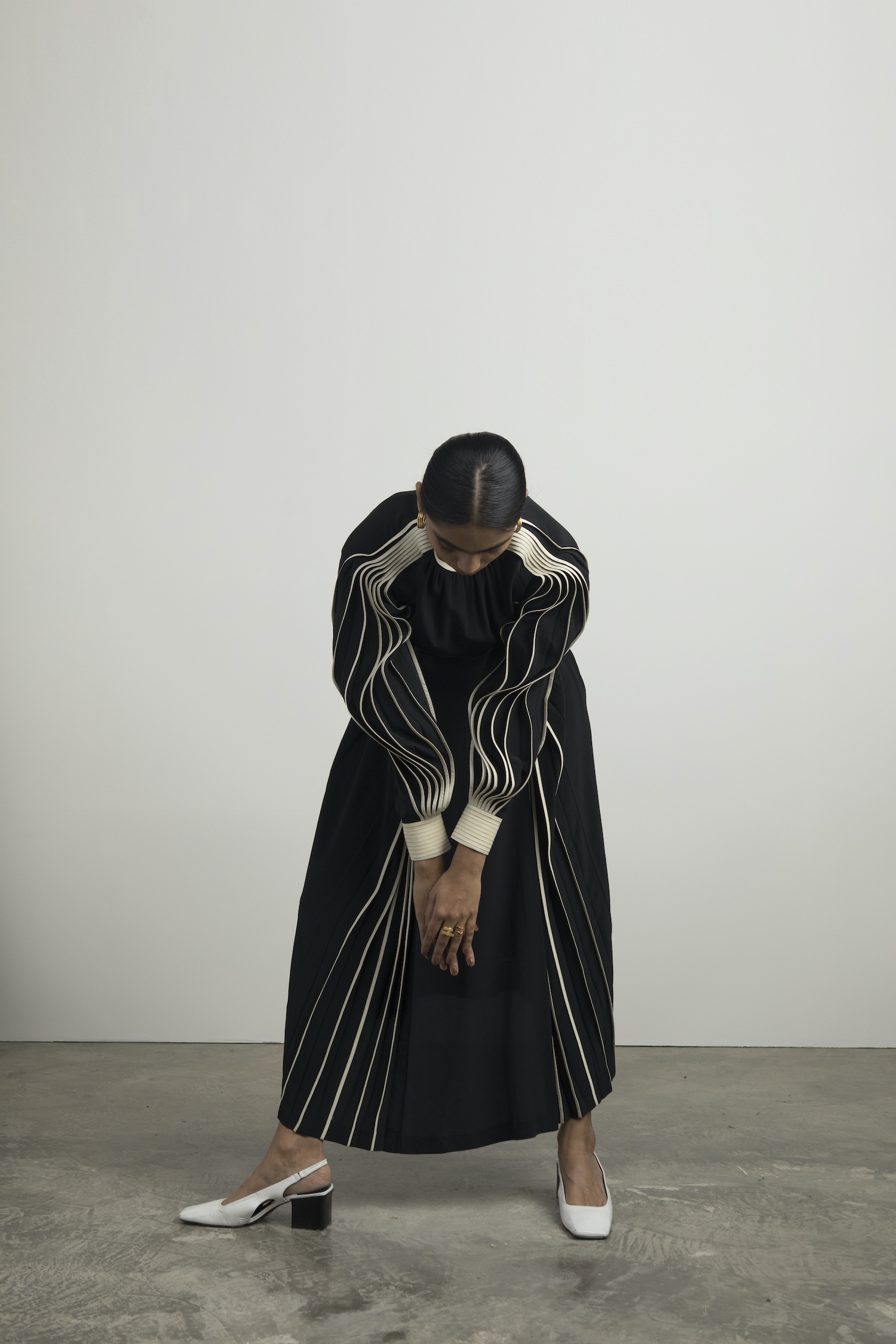 Image courtesy of Bodice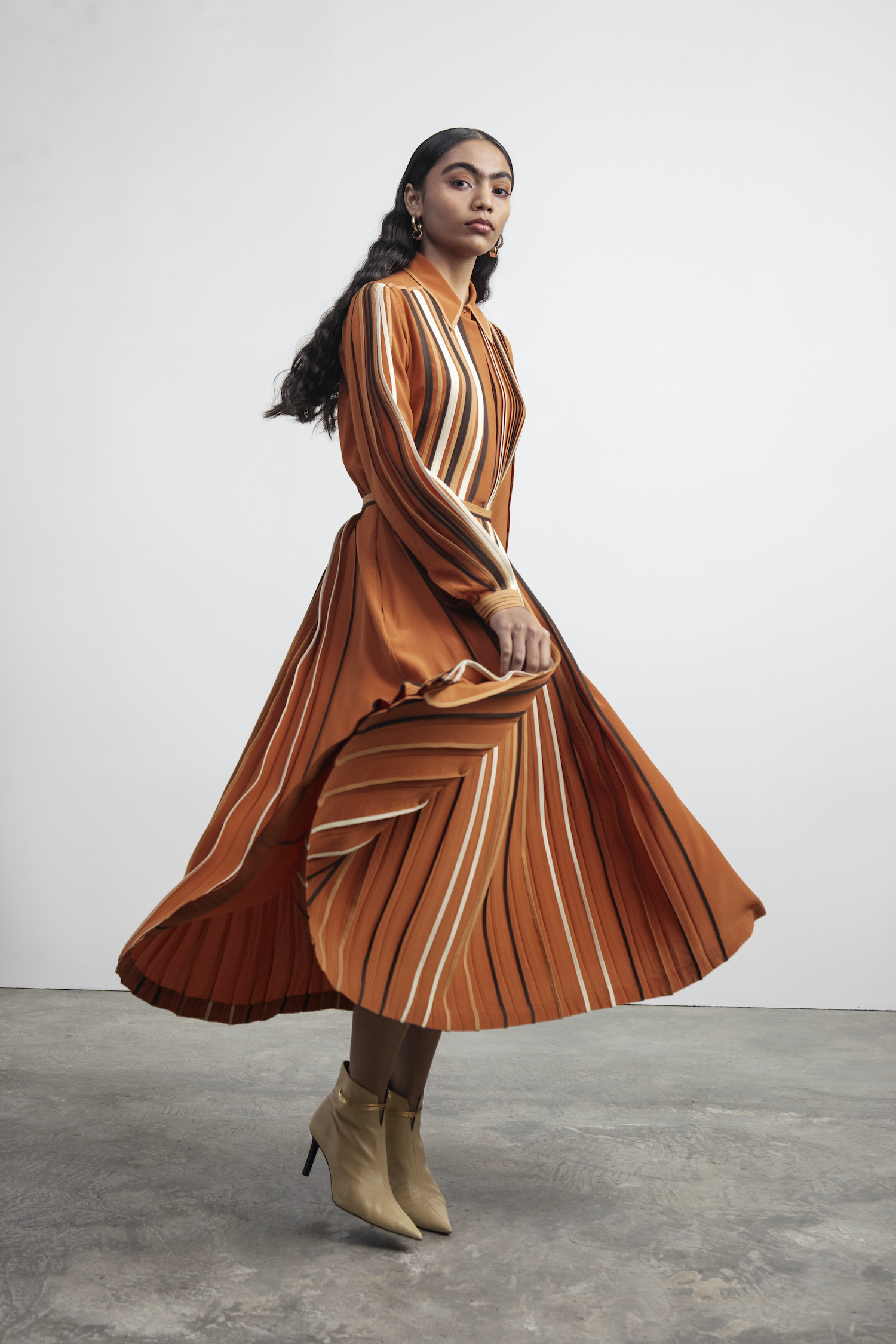 Image courtesy of Bodice
Bodice
"If I knew as much as I know today, there's no chance I would have started Bodice back in 2011. It takes a certain naivety to plunge into a completely new space", Delhi-based designer Ruchika Sachdeva admits. With the aim of challenging externally imposed distinctions between Indian and Western fashion, the London College of Fashion alum drew up the blueprint for her textile-driven contemporary label within a year of graduating. This line of thought may not be perceived as radical today, but it certainly was 10 years ago when Ruchika arrived back home to find a lack of options that celebrated India's wealth of craftsmanship without succumbing to conventions of flamboyance, colours and bling galore.
Armed with enthusiasm for offering minimalist ensembles for the modern Indian woman, Ruchika built Bodice to highlight the nuances of Indian fashion that often get buried beneath all the glitz. "It might look pared down on the outside, but there's so much going on inside – the seams, the cut and the fall need to come together perfectly so that a dress is tucked in just the right places and highlights a woman's curves", she says.
Just as crucial to Ruchika as the construction of her garments is minimising the environmental impact involved in making them and forming long-lasting relationships with artisans in different corners of the country. Bodice's garments are made exclusively using locally procured natural fibres such as recycled cotton from Kolkata, silk and wool directly sourced from Bhutti weavers in the Kullu region of Himachal Pradesh, all in a bid to support India's fibre producers. "Being in Delhi, the air you breathe is a constant reminder of the fact that you've got to be conscious and do your bit – if not now, then when?", Ruchika says. Keeping in mind that India's capital tops the list in having the worst air quality in the world and recently went into lockdown, not because of coronavirus, but because of the toxic smog that engulfed the city – it's imperative for brands, now more than ever, to be mindful about the environment.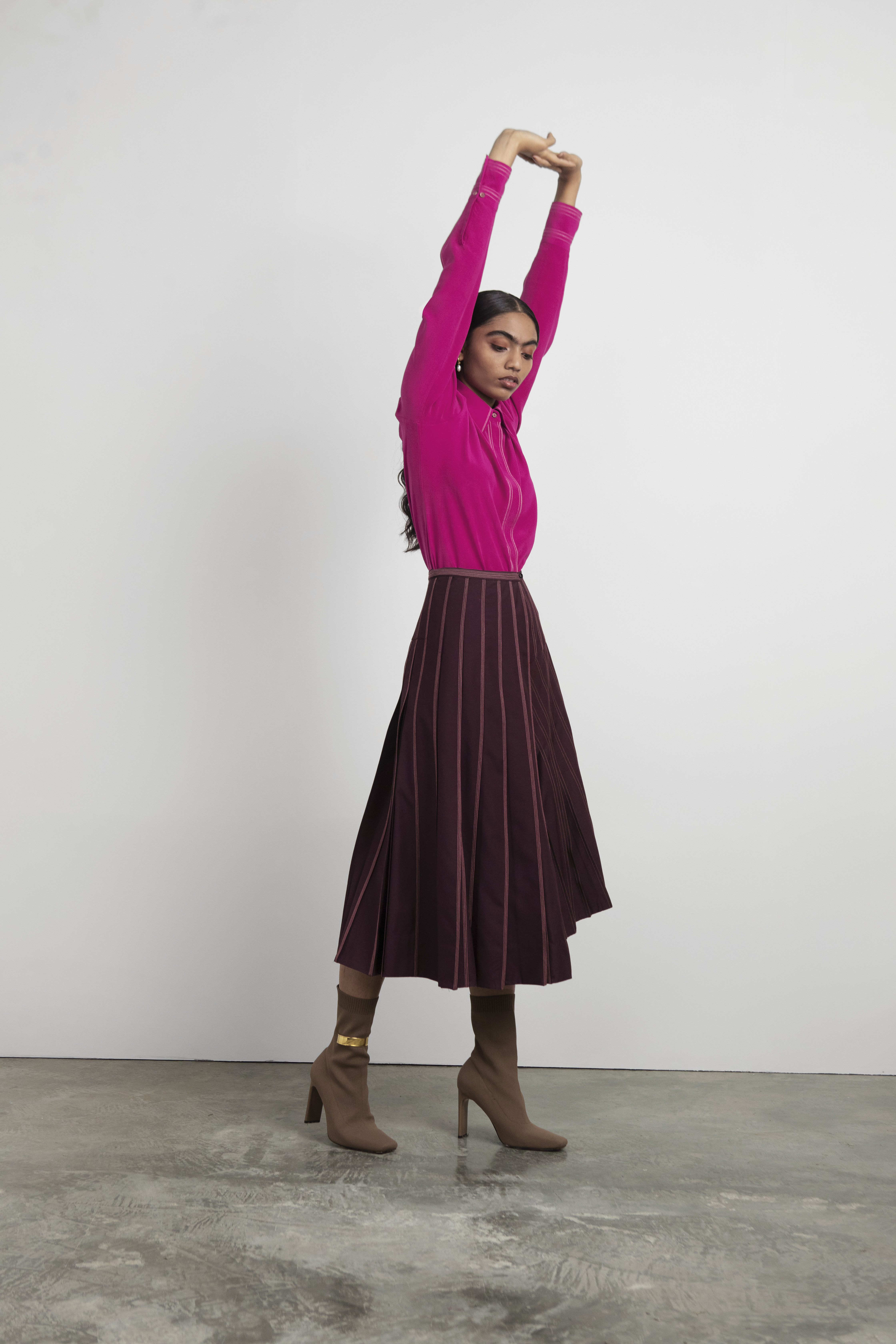 Image courtesy of Bodice
Apart from having a strong focus on sustainability and versatility, there's another defining feature of Bodice's trans-seasonal apparel – pleats. Giving fluid silhouettes a "powerful" structure, she says, her yen for the technique was a reactionary result to her daily environment. "Being born and brought up in India, I'm used to an overload of sensory experiences; there's a million things happening and it's so chaotic. Sometimes I think my love for pleating stems as an innate response to that, almost like a need to streamline things and indulge in some sort of repetitive practice."
Despite it being a time-consuming technique that requires mathematical precision, Ruchika relishes the challenge. What helps? Visualising the woman she designs for: "I like the fact that my customer is me – in her early 30s, independent and finally able to put her foot down. At Bodice, we are always striving to help this woman occupy space quietly but with a steadfast attitude. I believe that clothes are the first conversation you have with anybody without even opening your mouth; it's a form of art that's the closest to your body", she says. Who knew pleats could be the new pillar of power-dressing?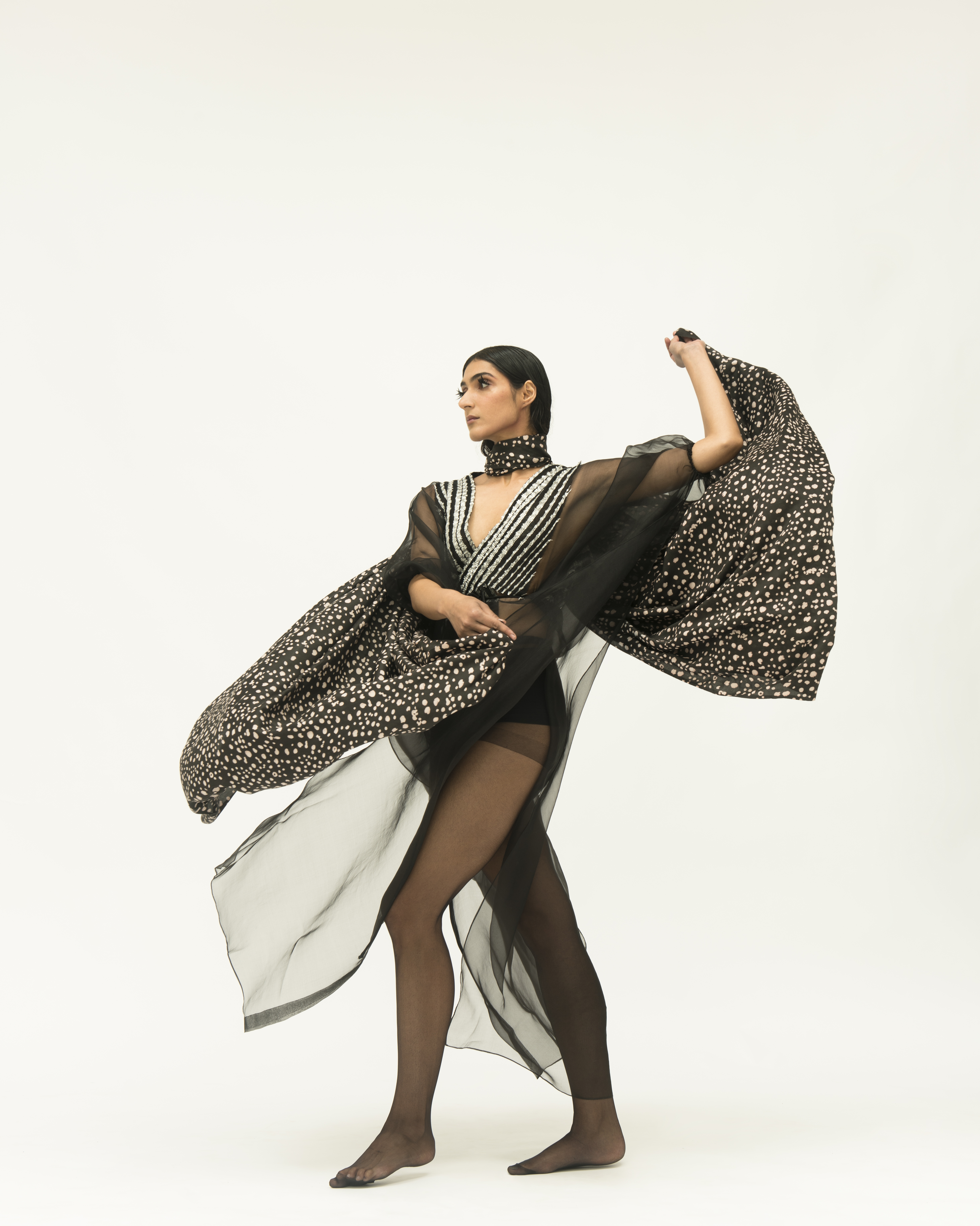 Image courtesy of Aroka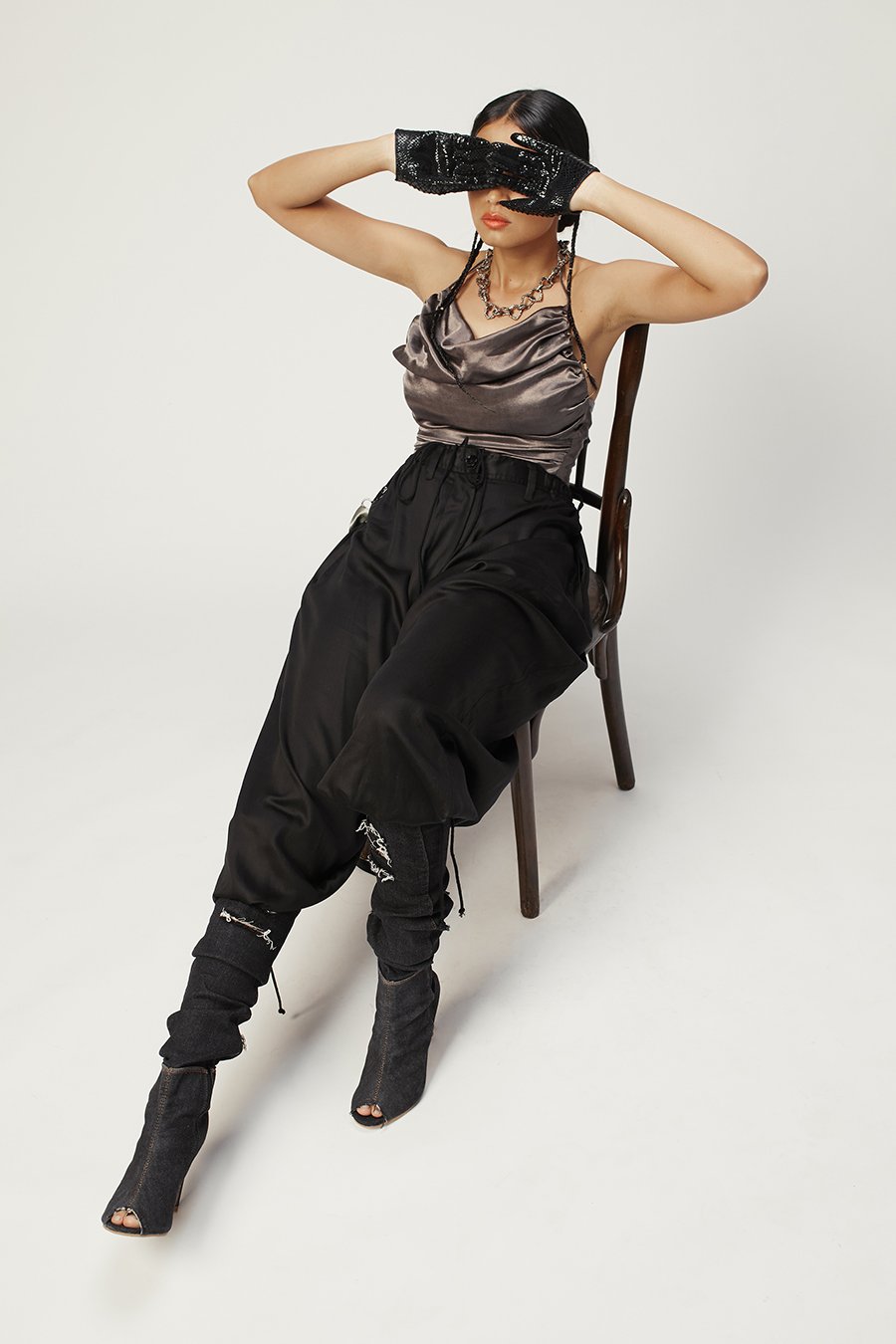 Image courtesy of Aroka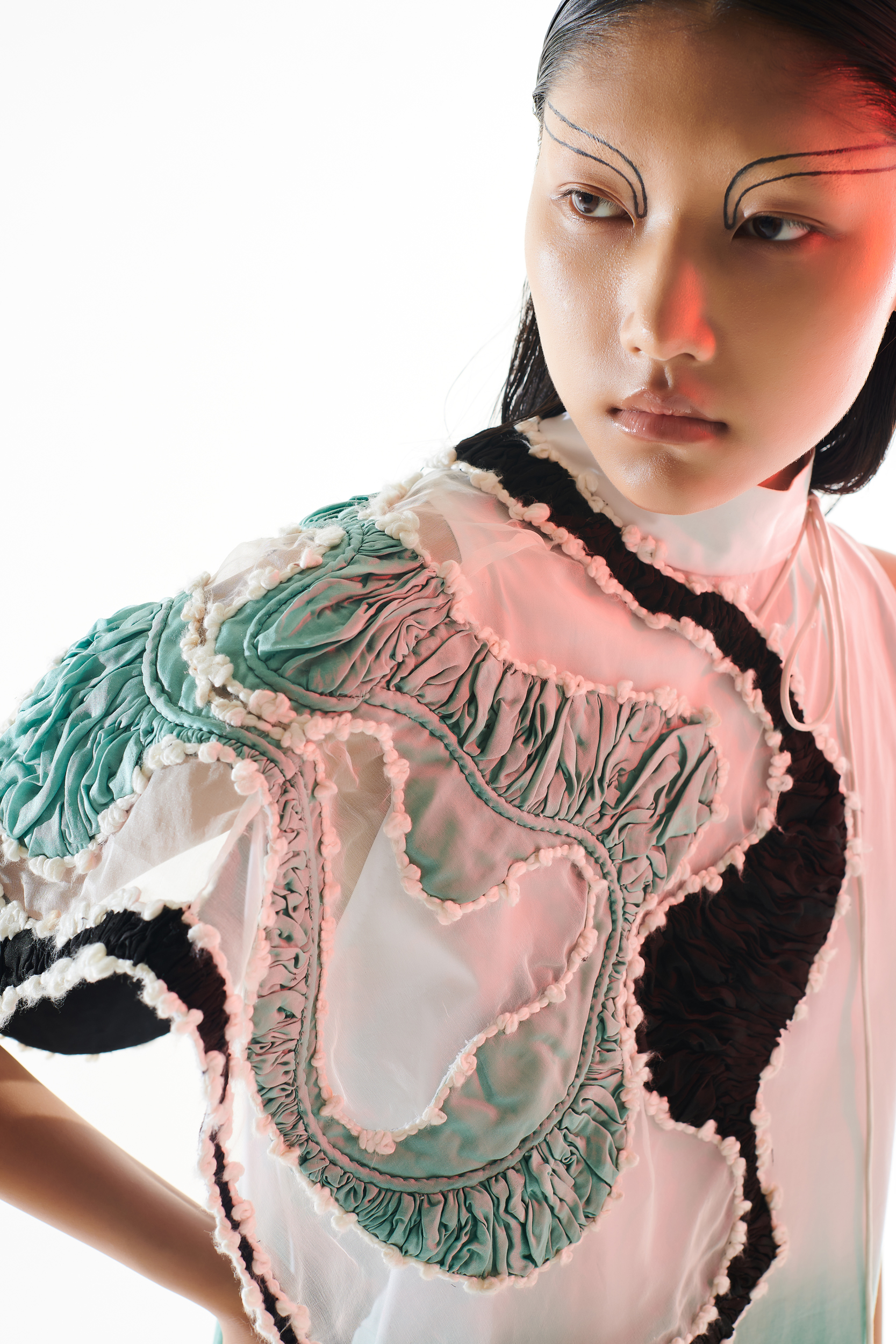 Image courtesy of Aroka
Aroka
Āroka's (a Sanskrit word that translates to light shining through woven threads) debut collection of vibrant pieces interspersed with traditional silhouettes like the lehenga and sari played it safe and won hearts.  However, it wasn't close to the paradigm shift that its co-founders Karan Ahuja and Shweta Aggarwal wanted to accomplish. The duo yearned to cut through the existing noise and experiment with Indian textiles to present them in a globally relevant light. Despite the looming risk of losing its existing customer base and entering uncharted territory, they decided to push ahead with a complete revamp of Āroka's design philosophy in 2019.
"I enjoy challenging the usual use of local fabrics. For example, we have re-introduced handwoven muslin with ruching techniques to create slinky halter necks and crop tops. India is well-known for its khadi (handloom cotton), but I give it a textural treatment by incorporating raw, frayed edges", says Shweta, an Instituto Marangoni graduate who is also Āroka's creative director. The Mumbai-based label's repository now consists of understated jewel-toned slip dresses, funky asymmetrical outerwear they tag as 'half and half jackets', sultry bandeau tops and easy-breezy kaftans that gained a cult following which continued to grow even during the pandemic.
Image courtesy of Aroka
Shedding light on social issues that plague today's society is the foundation upon which they built their proposal. Inducing conversations around sustainability, fair trade and mental health, where Āroka's garments do all the talking, is pivotal to its DNA. Notice the subtle yet hopeful messaging embroidered onto the sleeves of its linen tops, belts and bomber jackets such as 'This too shall pass', 'Still, I rise', and 'It's okay to not be okay'.
When the nation was hit by a devastating second wave of the pandemic in April earlier this year, Āroka launched 'Quote Your Price', an initiative to recognize the unwavering efforts of its artisanal community. "Our karigars (artisans) can create something no one else can anywhere in the world. Yet, most of them are severely underpaid, exploited by middlemen and subjected to unethical working conditions – even more so during the pandemic. Through this initiative, we wanted consumers to become conscious of the handiwork and attention to detail our artisans pour into the making of each garment and then quote the amount they wished to pay for the same", the duo explains. Proceeds from those sales were donated to Dastkar – a non-profit organization supporting Indian craftspeople.
The 18 best fashion podcasts to listen to right now
Conventional wisdom might say to let your outfit do the talking, but if the growing phenomenon of fashion podcasting is anything to go by, that's only the start of the conversation. Whether investigating overlooked style cultures around the world, the day-to-day grind of working in the industry, or the urgency of addressing systemic problems from sustainability to racial inequality, fashion podcasters have quickly proven themselves to be among the most agenda-setting voices in industry media today.
That podcasts should prove to be such a compelling platform to explore fashion might initially sound counterintuitive. How could the medium of sound capture the tactile pleasure of a coat lining or the satisfying swish of a perfectly cut skirt or gown? The answer is, of course, by not attempting to re-create the experience of clothes at all. Instead, the best style podcasts communicate why clothes matter—whether that's the cultural history that informs them, the machinations of the broader industry that produces them, or the simple (or not-so-simple) appeal of the trends that make you want to buy more of them.
Here, find the best fashion podcasts to listen to now across six categories covering history, trends, careers, sustainability, the industry at large, and finally, a new wave of podcasts being created by the brands themselves.
Fashion History
Arguably the gold standard of fashion podcasting, Cassidy Zachary and April Calahan's series for iHeartRadio has built a loyal audience with its eclectic lineup of deep dives into fashion past and present. From interviews with specialists in traditional Arab dress and Black dandyism to examinations of the history of specific pieces, including sunglasses and jumpsuits, Dressed is the ideal entry point for those looking to expand their fashion knowledge, with Zachary and Calahan's overviews of key moments in the history of style balancing erudition and wit with an easy charm.
First established in 2015 by fashion scholar Jasmine Helm, textile conservator Dana Goodin, and fashion and history scholar Joy Davis, Unravel's M.O. is to unpack and challenge the hegemony of white Western designers within the canon of fashion history. Alongside their one-off interviews with fashion academics and incisive forays into onscreen costuming on everything from The Crown to The L Word, the trio's recurring series on Black, Indigenous, and queer designers have expanded their global and inclusive vision into a podcast that feels both purposeful and poignant.
Admittedly it's a newer addition to the stable of podcasts, and yes, we might be a little biased, but this list wouldn't be complete without Vogue's series exploring the fashion world's seismic shifts throughout the 2000s. Hosted by international editor at large and walking fashion encyclopedia Hamish Bowles, the series touches on everything from the stratospheric rise of Juicy Couture to the influence of Sex and the City to the blogger phenomenon. With its starry lineup of guests—where else would you find Gisele Bundchen herself musing on her extraordinary decade in front of the lens?—it's an unmissable window into a pivotal chapter in fashion history.
Style and Trends
Hosted by Rebecca Arnold, the highly respected fashion history lecturer at London's Courtauld Institute, and Beatrice Behlen, the fashion and decorative arts curator of the Museum of London, Bande à Part might at first glance seem forbiddingly highbrow. Quite the opposite: The charm and obvious rapport between its cohosts make it as accessible as podcasts come; indeed, it feels like you're sitting in on a conversation between friends. Whether they're diving into the annals of fashion history, devoting an episode to the fashion photographers whose worlds they would most like to inhabit, or discussing the new Savage x Fenty show, Arnold and Behlen wear their erudition lightly, but their knowledge and experience always shine through.
If you're looking for a podcast sitting right at the fashion zeitgeist, Corporate Lunch—hosted by GQ editors Noah Johnson, Rachel Tashjian, and Samuel Hine—is the one for you, with hot takes on everything from Christian Girl Autumn to their favorite Timothée Chalamet fits. A major part of Lunch's appeal is its guests, who seem chosen for their ability to see beyond the myopia of the fashion industry; episodes have featured playwright Jeremy O. Harris, musician Phoebe Bridgers, and pro skater Alex Olson.
Created by Avery Trufelman as a miniseries within the hit public radio show 99% Invisible, Articles of Interest stands out both for the truly impressive level of research that underpins it, and the way in which it translates this information into self-contained narrative arcs that feel as gripping as any true crime series. The subjects for each episode might initially appear broad—knockoffs, Hawaiian shirts, childrenswear—but Trufelman has a knack for teasing out rich and fascinating stories packed with unexpected twists and turns.
Working in Fashion
Hosted by Vogue's market editor Naomi Elizée, So…What Do You Do Again? highlights the lives and journeys of women of color within the fashion industry with humor, warmth, and intimacy. Elizée brings a rare honesty and insight into the wide-ranging backstories of her guests, be they model Precious Lee or celebrity stylist Ade Samuel. While its mandate is to serve as a resource for young people of color looking to break into fashion, the candid conversations—many of which touch on the obstacles faced by women of color on their way to the top—should be required listening for anyone working in the industry at any level.
While some of the bigger fashion houses have launched podcasts featuring their head creatives, it's rare for a designer to take the initiative to start a podcast on their own. But Recho Omondi is not your average designer. Omondi's interviews with figures from the fashion world—Diet Prada, Heron Preston, and Bethann Hardison among them—are notable for her willingness to broach topics that other podcasters might shy away from, specifically the industry's reluctance to talk openly about its complicity in environmental destruction and systemic racism. Her probing, inquisitive nature makes her a brilliant interviewer—even if, with fans of her label including Issa Rae and Solange Knowles, she shouldn't be giving up the day job anytime soon.
A new podcast launched by London-based fashion community platform ClickerMe, The Fashion Slashie—hosted by fashion journalist Lara Johnson-Wheeler—looks at the ever-evolving phenomenon of the "slashie," the freelancer jack-of-all-trades creatives that increasingly dominate the fashion landscape. With the likes of artist, publisher, art director, and stylist Theo White, who has collaborated with Mowalola and styled for the Cut and Dazed, and the creative director and entrepreneur Tayler Prince-Fraser on board as guests, it's a compelling window into a side of the industry that often gets overlooked.
Industry Insights
With new episodes dropping biweekly, The Business of Fashion Podcast is known as one of the most reliable sources for up-to-date fashion news and industry goings-on. Hosted by the publication's founder and CEO, Imran Amed, its standout quality is its willingness to tackle the big issues facing the industry today—from retail to style culture to global politics—with an informed, clear-headed impartiality.
For a more on-the-ground take on the industry today, Fashion: No Filter ticks all the boxes. Its hosts are influencer Camille Charrière and fashion journalist Monica Ainley, and their shared interest in the conversation between the fashion industry and pop culture makes for compelling listening at a time when the two have never been more intertwined. Whether interviewing Bryanboy or Instagram's fashion guru Eva Chen, the pair's fluency in the worlds of social media, street style, and sustainability offers a relatable take on the machinations of the fashion industry that has earned them a loyal following.
Since writing a viral Facebook post about being dropped by her modeling agency for being "too big" in 2015, British model Charli Howard has become one of the U.K.'s most prominent voices advocating for a more inclusive set of body standards. And with her BBC Sounds podcast Fashion Fix, Howard broadened the conversation further, exploring how those working within it can make efforts to address some of the biggest issues it faces, from diversity to sustainability to adaptivity. Earlier this year, model Naomi Shimada took the reins, shifting the focus to include insiders' experiences of the beauty industry as well, and has proven a worthy successor, interviewing the likes of Zandra Rhodes and Sinéad Burke.
Sustainability Matters
There are few issues the fashion industry needs to address as urgently as the climate crisis, a fact that Clare Press, Vogue Australia's first sustainability editor, has been all too aware of over her two decades working in media. Launched in 2017, on the cusp of sustainability entering the mainstream fashion discourse, Press's The Wardrobe Crisis podcast is a valuable resource for those looking to understand the horrifying impact of the apparel industry on the environment. More importantly, perhaps, its focus lies equally on the innovators finding solutions to move fashion forward by way of a circular economy and ethical production. Never judgmental or patronizing, Press's approach to environmental advocacy within fashion is truly admirable—and one we can all learn from.
For vintage obsessives, Bay Garnett will need little introduction. The influential former fashion editor at British Vogue made her start with cult favorite magazine Cheap Date in the 1990s, featuring fashion shoots memorably styled with thrift store finds, while a vintage banana print tee she styled Kate Moss in for her first Vogue shoot in 2003 was borrowed by Phoebe Philo afterwards, only to show up on the Chloé runway the following year and become a high street phenomenon. Garnett's new podcast sees her invite a starry lineup of guests—Rachel Weisz, Sienna Miller, and Chloë Sevigny have all made appearances—to go through some of their most beloved pieces from across the years, with Garnett's warmth and humor making it more than obvious why she's one of the most beloved figures in fashion. Come for the celebrities, stay for the stellar thrifting tips.
Hosted by the Irish DJ and broadcaster Tara Stewart, Dirty Laundry came to be after Stewart watched the documentary The True Cost and began questioning the impact of the clothes from fast fashion brands she was often paid to wear at DJ gigs. Since then, Stewart has made it her mission to educate both herself and her listeners on the real-world impact of the clothes we wear, challenging brands to address the climate crisis effectively, and creating helpful solutions for consumers to shop and dress more responsibly in our day-to-day lives. Given her radio experience, it's no experience that Stewart is a natural host: as inquisitive and curious as she is firm in her convictions.
Brand Chatter
As fashion podcasts have undergone a modest boom over the past few years, it didn't take long for brands to get in on the action too. One of the most compelling is Chanel Connects, one of a host of podcasts the French house has invested in, which brings together some of the world's foremost cultural figures (albeit most from within Chanel's orbit) for conversations about the future of art, film, fashion, music, and more. The starry but eclectic lineup includes the likes of Keira Knightley, Tilda Swinton, Edward Enninful, Pharrell Williams, and Arthur Jafa, with the conversations around just what our museums, galleries, and stages might look like as the world reopens proving to be particularly compelling.
While Gucci's podcast also revolves mostly around conversations between creatives, its approach is more itinerant, focusing on the sprawling array of projects patronized by the house, from its Chime Zine, to its collaborations with Dapper Dan, to its recent "brand hacking" with Balenciaga. (For that, a conversation between Alessandro Michele and Demna Gvasalia proved particularly intriguing.) A recent highlight was a deep dive into the brand's Vault project that invited a coterie of young designers to reimagine pieces from the Gucci archive, with a guest appearance from Vogue's archive editor Laird Borrelli-Persson. It's a podcast with all the shapeshifting playfulness of Michele's distinctive vision for the house.
Under Maria Grazia Chiuri, Dior's runway shows have become one of fashion's most visible forums for feminist messaging, whether via her Chimamanda Ngozi Adichie-quoting "We Should All Be Feminists" tee or the various female artists Chiuri has invited to craft theatrical sets that feel more like installations, from Judy Chicago to Anna Paparatti. So it's no surprise that Dior's podcast has a particular emphasis on the role of women in the creative sphere, from its first season on feminist art to its most recent, more politically charged season featuring friends of the house including actor Felicity Jones, choreographer Sharon Eyal, and poet and activist Robin Morgan. Billed as an invitation to "step inside the contemporary Dior mind," it certainly lives up to its initial impression as the most cerebral offering from the big fashion houses in the podcasting sphere.
This article first appeared on Vogue.com
Also read:
16 podcasts that provided complete aural satisfaction in 2021
12 podcasts you can listen to for all your diverse interests
12 beauty podcasts that every enthusiast needs to tune in to
22 Fashion Trends You Need to Know for 2022
Predicting the themes that will influence fashion in a time when new covid variants and related safety protocols put work, school, travel and fun in a constant state of flux may seem like a fruitless endeavor. Trends, however, continue to guide not only the way consumers shop but the things they shop for, too.
What is certain is that celebrities and entertainment continue to be unstoppable forces of style inspiration, retailers are willing to try almost anything to reignite their businesses and social media is breeding trends—and killing them off—at lightning speed.
Combined, it should make for an interesting and exciting year in fashion. Here's our 22 trends to know for 2022.
Y2K
Fashion and pop culture are in full Y2K mode. From headlines rhapsodizing over Paris Hilton's weekend-long wedding and Britney Spears regaining her freedom, to Hulu's documentary on 2000s 'It' brand Ed Hardy, the past year has schooled Gen Z in the personalities and styles that rocketed to fame in the early aughts. Though the era's fashion is already popular with trendy consumers, expect to see Y2K influences enter mainstream fashion for the masses in 2022. Psychedelic prints, tiny backpacks, platform footwear and a sprinkle of rhinestones are coming to a store near you.
Aesthetic
Merriam-Webster defines the word "aesthetic" as "of or relating to art or beauty." Gen Z TikTok users, however, have adopted the word as their new go-to way to describe a winning look or style, as in "that is so aesthetic." With young consumers subscribing to styles, color palettes and eras that influences their choices for fashion, beauty and home, the narrative is shifting away from singular trend-driven items to creating complete essences, or aesthetics, that can be visually expressed on social media.
Carrie (and Emily) effect
From music videos to TW shows, the entertainment world regained its influence on fashion when consumers were confined to their homes in 2020, and it hasn't let up. With the second season of Netflix's rom-com "Emily in Paris" and hotly anticipated "Sex and the City" reboot "And Just Like That" finally hitting streaming services, expect the patterns, designers and eclectic styling seen on both shows to be discussed, dissected and duped well into the new year, no matter how unrelatable the plot lines may be.
Mono-fiber jeans
The content that makes up a pair of jeans has become a mosaic of cellulosic, regenerated, and synthetic fibers in recent years, with ingredients serving up stretch, recovery, durability and more. But with demand for circular products growing, and consumers increasingly aware of the issues that come with recycling blended fabrics, denim mills are ramping up their promotion of fabrics made with a singular traceable and recyclable fiber.
Collaborations
Collaborations will go down in fashion history as a hallmark of the new millennium—a result of the era's fondness for ironic and high-low designs that blur category lines. Two decades in, and fashion is still birthing surprise partnerships—some nonsensical (here's looking at you, Pepperidge Farm and JNCO) while others are blatant attempts to cash in on clout (Fendi x Skims). Following the buzzy 2021 debut of Fendi and Versace's "Fendace," and Gucci creative director Alessandro Michele's Balenciaga "hack," expect to see more fashion houses lend their logos to their brethren—all in the name of collaboration.
Lower rises
Though it's popular to blame Gen Z as the cause of every cringe-worthy trend cycling back into style, rises on jeans are dropping for the simple fact that they have nowhere else to go. With brands like Good American, Reformation and Everlane adding the adjectives "super," "extra" and "ultra" to the names of their high-waisted jeans, the pendulum was bound to swing back in the opposite direction. But with 12-inch rises (and higher) now the ho-hum norm in the women's category, brands may first need to recalibrate what they deem a mid-rise and low-rise to help consumers assimilate to the new styles.
Hobby hype
From gardening and knitting and backyard games, to revisiting book, film and television series from their childhoods, months-long quarantines freed up time for people to rediscover the long-lost allure of hobbies and fandom. Expect to see fashion emerge as one way for consumers to flaunt these interests through licensed apparel, accessories and thoughtful details like patches, pins and charms.
Hipster 2.0
Now that Y2K is once again a full-blown commercialized trend, it's prime time to re-examine what came after that era of glitzy, celebrity-inspired fashion to understand where the industry might go next. Enter the Tumblr-meets-hipster aesthetic of the early 2010s, characterized by Doc Marten boots, American Apparel basics, slouchy beanie hats and cutoff jean shorts styled with black tights. The 2022 revival, however, will center on "indie sleaze," the trend's provocative, smudged makeup, party-going side, with celebrities like Olivia Rodrigo, Bella Hadid and Machine Gun Kelly serving as the new icons.
Outdoor/indoor retail
Outdoor activities like gardening and hiking provided a much-needed respite from quarantine in 2020, and outside—be it a park or a restaurant's sidewalk dining—became the go-to safer setting for reuniting with friends and family in 2021. And consumers are not in a hurry to give up the fresh air. Though retailers like Candiani Vision in Milan have used plant life to tell sustainable product stories, expect to see retailers incorporate more trees, natural elements and outdoor spaces like a back patio into their store design.
Old-meets-new merchandising
If you're not mixing a curated range of pre-owned and vintage products in with your new merchandise, you are missing a big retail opportunity. According to a recent report from research firm McKinsey & Company, the luxury resale market is projected to see an annual growth rate of 10-15 percent over the next decade. Denim retailers are leading the way in this new mode of retail. Through a partnership with online reseller ThredUp, Madewell Forever incentivizes consumers to bring in their pre-owned denim to Madewell stores to earn Madewell shopping credit. Levi's and Diesel have their own secondhand programs as well. Expect to see more brands and retailers introduced a thrifted component to their store floors in 2022.
Humanwear
This time last year, the fashion world and its critics were in a tizzy over Harry Styles wearing a Gucci dress on the cover of Vogue. Cut to the present day and Kid Cudi, Pete Davidson, 'Satan Shoes' collaborator Lil Nas X and more have since graced the red carpet in designer dresses. Meanwhile, Thom Browne's "men's skirt" was one of the most-searched fashion items of 2021. The narrative around gender lines in fashion continues to progress with forecasting firms like Fashion Snoops discussing "humanwear" as fashion's future and brands offering non-gender-specific sizing for products beyond unisex-friendly sweats and tees.
Ocean life
Tranquil, soothing blue and aquatic motifs are a perfect fit with the denim category. Mainstream fashion continues to reference Versace's influential Spring 2021 collection, which featured under-the-sea prints and scuba-like fabrics, while the 2023 release of Disney's live-action "The Little Mermaid" is bound to inspire consumers to channel their inner mermaid or merman. Expect to find denim statement pieces with lasered wave and ripple effects, as well as shimmery trims and coatings. Tie the marine-inspired story together by swapping recycled ocean plastic for virgin polyester and using water-saving dyeing and finishing techniques.
Goth
Celebrity 'It' couple Kourtney Kardashian and Travis Barker are not only a nostalgic match made in millennial pop-culture heaven—but the duo's coordinating dark and edgy style is also responsible for igniting a goth fashion revival. One-part Hot Topic and one-part designer-led (by names like Rick Owens and Vivienne Westwood), the latex, leather, spikes and skull-laden looks might be a welcome contrast to the cozy and conservative cottagecore and cabincore trends that have blanketed fashion of late. Look for denim brands to get into the game with leather coatings, subversive patches and aggressive metal hardware.
Hemp
Touted as a quick-growing, carbon-absorbing fiber, hemp is becoming a common ingredient in jeans brands' capsule collections. The last year alone saw companies like Wrangler parent company Kontoor Brands and AGI Denim ink deals with Panda Biotech, a leading company in the U.S. industrial hemp fiber industry, and brands like Ganni, Levi's, Unspun and Madewell expand their use of the fiber in cottonized form. Couple these investments with the rising cost of cotton, and hemp may have its strong year in denim yet.
Embroidery
Though embroidery had a strong run in the early 2010s, decorating everything from ankle boots to jean jackets, the technique disappeared as a wave of basic and logo-driven streetwear washed over fashion. That could change in 2022. As handcrafted details like patchwork, crochet and mending become symbols of high-quality, heirloom-worthy pieces, fashion brands will be turning to artisanal techniques like embroidery to spruce up their denim offerings. But beware of cultural appropriation. Brands like Bode have set the tone with embroidery designs bearing personal, storytelling elements.
Durability
Fast-fashion's grip on the consumer wallet is loosening as millennials and Gen Z-ers come to terms with the damaging impact their disposable purchases have on the environment. With more consumers paying closer attention to how products are made, expect to see brands deliver stronger messages about the durability of their jeans by highlighting fabric weights and compositions and implementing strategic details from workwear like reinforced knees and Cordura fibers.
Statement tops
The dress category had a stronghold on the women's market prior to the pandemic. The prevalence of "Zoom" dressing, however, has shifted the sartorial narrative back to tops. But with more consumers unplugging to attend meetings, parties and brunches in real life, expect to see tops take on a more theatrical and celebratory flair with mesh, ruching, sequins, feathers and cutouts. Denim will be the go-to companion to help dress down and balance these statement-making pieces.
Metaverse
Consumers' lives are increasingly taking place online, surfacing new financial and creative opportunities for fashion brands to explore nonfungible tokens (NFTs), virtual fashion and gaming. From releasing NFTs to mark the launch of a new product, to creating designer wardrobes for digital avatars, these online concepts are ways for brands to connect with younger demographics most likely to spearhead the shift to the digital community. And companies are investing deeply in the virtual world. Most recently, Diesel's parent company OTB announced the launch of Brave Virtual Xperience, a new business unit dedicated to developing products for the metaverse.
Custom jeans
The face of custom jeans is changing, shifting away from being a service provided only by men's heritage-focused brands and into one geared toward the women's market and younger eco-minded consumers. From Candiani Denim's microfactory in Milan to E.L.V. Denim's bespoke service in London to digital-first brands like Sene and Unspun widening their audience through collaborations, custom jeans are becoming more accessible and fashionable with a myriad of fits, washes and trims to choose from.
Supply chain issues
Though they have long kept apparel executives awake at night, supply chain issues have entered the zeitgeist. By wreaking havoc on deliveries and costs of everything from apparel, footwear and furniture to paper products, Christmas trees and chicken nuggets, "supply chain issues" have become the meme-worthy scapegoat for all problems as of late, including dating and career growth. Content creators have found a way to poke fun at the crisis, but the issues will continue to influence retail. In fact, Edited described "restocks" as the new "drop" when it comes to new merchandise.
Rewards programs
Between traditional, online, social and secondhand retail, consumers are spoiled for choice when it comes to snagging their next purchase, meaning rewards and loyalty programs are bound to become critical tools for retention. Madewell, Levi's and American Eagle reported success with their programs in 2021, upping the ante with special promotions and access to exclusive products. What constitutes a reward, however, is evolving. Crypto rewards, WGSN reported, are bridging the gap between traditional loyalty systems and the booming cryptocurrency market.
Mini-me fashion
Designer children's fashion peaked in the 2010s thanks to stylish celebrity parents stepping out with their spawn dressed in "mini-me" looks from labels like Burberry, Marc Jacobs and Stella McCartney. Sized-down adult fashion for kids is making a comeback with Off-White, Thom Browne, Frame, Batsheva and more co-signing the trend. Children's apparel remains the focus for this revival but also expect to see "fur babies" get the designer treatment, if millennial pet parents have their way. Diesel, Fendi, Versace and Moncler already have dog apparel lines covered.
Ring In 2022 With the Best New Year Fashion Sales
You can reinvigorate your wardrobe or test-drive a new look at any time. Yet there's something about the end of one year and the start of the next that inspires style introspection—and sometimes, shopping to go with it. To start 2022 on a high note, a wave of major fashion sales are primed to refresh your closet.
This year, designers and brands saved their best fashion deals for the new year. We're already clocking major discounts from Saks Fifth Avenue, Farfetch, Moda Operandi, and more. By major, we mean up to 70 percent off, with rare finds from Bottega Veneta to Manolo Blahnik in the mix. Then, there are standalone sales at the likes of Coach and Reformation to peruse.
Maybe it's just us, but it sounds like an ideal time to reassess your closet and pick up a new closet hero or two. Keep reading for the best end of year (and new year) fashion deals you can already shop for 2022.
---
The Best Year End Department Store Deals
Run, don't walk: Bandier is taking up to 80 percent off activewear, loungewear, and more in its end of year sale. Our first buy? Pieces from Bandier's sought-after collaborations, like this Sincerely Jules sports bra.
Bergdorf Goodman's designer sale is underway with up to 70 percent off designers like Oscar de la Renta, Tom Ford, and Victoria Beckham. New markdowns and designers are added to the sale each day, so it's an event worth visiting twice.
Bloomingdale's
Find fashion, beauty, and home items with an "Extra 30" sticker, save up to 65 percent in Bloomingdale's new year sale. You'll have all New Year's Day to shop before the event ends on January 2.
SHOP NOW
Farfetch says it has the "world's best designers" at up to 50 percent off. That isn't hyperbole: If you can shop the sale before it ends, you'll find new pieces from the likes of The Attico and Khaite, plus one-of-a-kind Chanel vintage on sale.
FWRD's sale section is overflowing to end the year, with designers from Acne Studios to Zimmermann marked down.
MatchesFashion is taking up to 70 percent off designer fashion in its new year sale. Whether you gravitate toward frothy Giambattista Valli gowns or streamlined Marni totes, there's something for your closet here. On New Year's Day, sale items are an extra 10 percent off with code EXTRA10 at checkout.
Bottega Veneta shirt dresses. Nili Lotan shearling coats. Proenza Schouler pillow bags. They're just a few of the rare designer deals at Moda Operandi's winter sale, where luxury pieces are up to 65 percent off now. (Pro tip: You'll save an extra 10 percent on your first order by signing up for Moda's email newsletter.)
This luxury retailer is currently offering up to 60 percent off select sale designer sale items. Look out for winter staples and covetable luxury finds alike.
Nordstrom will give you up to 50 percent off the best fashion, beauty, and home items to round out your new year wardrobe in its Half Yearly sale. Check out our 20 favorite sale picks or shop the entire sale below before it ends on January 2.
Net-a-Porter's winter sale is getting bigger each week. Right now, sale items are up to 70 percent off. We've spotted everything from a cozy Frankie Shop wool dress to Alighieri gold plated rings added to the deals.
Previous markdowns are up to 65 percent off in Revolve's Last Chance sale. An end date hasn't been shared yet—better get on those deals now.
Saks brought back its epic designer sale to close out the year, where labels from Akris to The Row are up to 75 percent off.
SSENSE
SSENSE is entering 2022 with 70 percent off designers from Chloe to Jacquemus. This is the sale to find an investment piece you'll cherish for seasons, like this Isabel Marant coat.
SHOP NOW
Visit Shopbop's new year sale section for casual-cozy essentials like Donni sweatsuits and Avec Les Filles jackets.
To start your new year in ultra-rich style, luxury designers at The Outnet are an extra 40 percent off. Some exclusions apply.
The Yes isn't holding a year end specific sale, but its seasonal markdowns qualify as a must-shop moment in our book. You'll find hundreds of contemporary and designer pieces for at least 20 percent off.
Designer gems in extended sizes are an extra 15 percent off in 11 Honoré's year end sale. Code BYE2021 at checkout will grant you access to deals on Rachel Comey, Veda, and more.
The Best Year End Fashion Deals
Build your 2022 wardrobe capsule at ADAY's year end sale. The brand's tailored wardrobe essentials including effortless black pants and linen dresses are up to 50 percent off.
From holiday dresses to plush knit sweaters, Anthropologie's current sale—40 percent off already-reduced styles—includes can't-miss pieces.
With code 2022, thousands of ASOS pieces are an extra 22 percent off in its new year sale.
Sale styles including hundreds of in-season items are an extra 60 percent off during Banana Republic's ongoing winter sale. You'll have all the way until January 5 to shop.
Want to start off the new year with a new work bag? Coach's sale will have you covered with up to 50 percent off sale styles including timeless leather tote bags.
Cos
This home for elevated essentials is taking 50 percent off in-season styles for a limited time.
It's your last chance to find a pair of designer boots or mules on sale. Dear Frances is offering 25 percent off sale styles with code EXTRA25 for a limited time.
This destination for chic plus-size clothing is taking up to 60 percent off sale styles in its new year event. Just enter NEWYEAR at checkout to take advantage.
New styles and forever essentials from Everlane are up to 60 percent off during its year end sale.
This editor-favorite denim brand is putting its sale items on extra sale for a post-holiday splurge. Start with a pair of Frame's best denim at more than 50 percent off, then add a discounted knit cardigan to go with it.
J.Crew usually has a lineup of sizable sales on its preppy staples through the end of the year. Right now, previously discounted styles are an extra 70 percent off—and (almost) everything else is 25 percent off.
Kate Spade
Live more colorfully by shopping Kate Spade's winter sale, where previous markdowns are an extra 40 percent off with code EXTRA40.
Lululemon restocked its "We Made Too Much" section with hundreds of year-end treasures. Catch its ultra-soft Align leggings, long-sleeve tech shirts, and more at rarely-seen prices.
With code BYE2021, sale denim, sweaters, and more at Madewell are an extra 30 percent off.
From December 26 until January 2, you can save up to 40 percent on Maison Miru's dainty jewelry at its annual sample sale. All sales are final.
For Mango's year end event, you'll find everything from basic boots to a reader-favorited coat for up to 50 percent off.
Your accessories collection deserves some newness in 2022. Mansur Gavriel's year end sale can assist. There, you'll find previous markdowns at an extra 15 percent off with code SALE15.
Take up to 60 percent off Michael Kors handbags, shoes, and more in its winter sale, happening now. With code BONUS15, some markdowns are an extra 15 percent off.
Select jewelry from Missoma is up to 50 percent off during its year end sale. You'll find everything from signet rings to gold chain necklaces in the lineup, if you hurry.
Cashmere season is in full swing, but it's not too late to bring home another soft sweater. Naadam is extending a (fitting) 21 percent off select cashmere styles with code BYE2021 for a limited time.
Outdoor Voices
New year, new wardrobe for doing all the things. Outdoor Voices added several new styles to its "OV Extra" sale section, where you'll find favorites like the exercise dress and megafleece crewneck for up to 50 percent off.
SHOP NOW
Bring home a new investment piece from Rebag's new year sale. With code SPARKLE, you'll unlock 10 percent off everything.
Thought the best deals at Reformation ended on Cyber Monday? Think again. Reformation is holding a year-end winter sale where its eco-conscious clothing is up to 70 percent off. Hurry: Styles will go fast.
Give your nighttime routine an extra dose of luxury with Sleeper's year end sale. Its best-selling party pajamas are 30 percent off, along with staples like linen sleep dresses and fuzzy slippers.
New year, new sale styles at up to 50 percent off at & Other Stories. Their shackets and winter dresses tend to go fast, so make a pit stop now.
Colorful dresses, skirts, and more were added to Tanya Taylor's sale section in time for the new year.
ThirdLove
Third Love is a destination for bras small, big, and anywhere in between. For the new year, it updated its sale section with underpinnings in all sizes for up to 50 percent off.
SHOP NOW
Tory Burch
At Tory Burch's semi-annual sale, previous markdowns are an extra 25 percent off. If you can't decide which piece you want today, you'll have until January 9 to shop the sale.
SHOP NOW
Uniqlo
Uniqlo's end of season sale isn't a blanket discount, but hundreds of individual deals on basics, outerwear, and even pieces from its best-selling collaborations. Whether you're looking for the perfect white t-shirt or a new puffer jacket, it's the event to shop.
SHOP NOW
Find more than 200 best-selling styles in sizes 00 to 40 at up to 75 percent off. The deals will end on January 2.
Find more than 2,400 bra, underwear, and pajama styles for up to 50 percent off at the return of Victoria's Secret's semi-annual sale.
Zara's year end sale is a belated holiday gift that'll keep on giving through the start of 2022. You'll find deals in every category—outerwear, tops, bottoms, dresses, the works—through New Year's Day.
This content is created and maintained by a third party, and imported onto this page to help users provide their email addresses. You may be able to find more information about this and similar content at piano.io